This post may contain affiliate links. Read the full disclosure here.
Lemon Chess Pie is a such a classic southern dessert that yields phenomenal flavor. The curd-like filling rests on a flaky pie crust and it all comes together with just a handful of ingredients!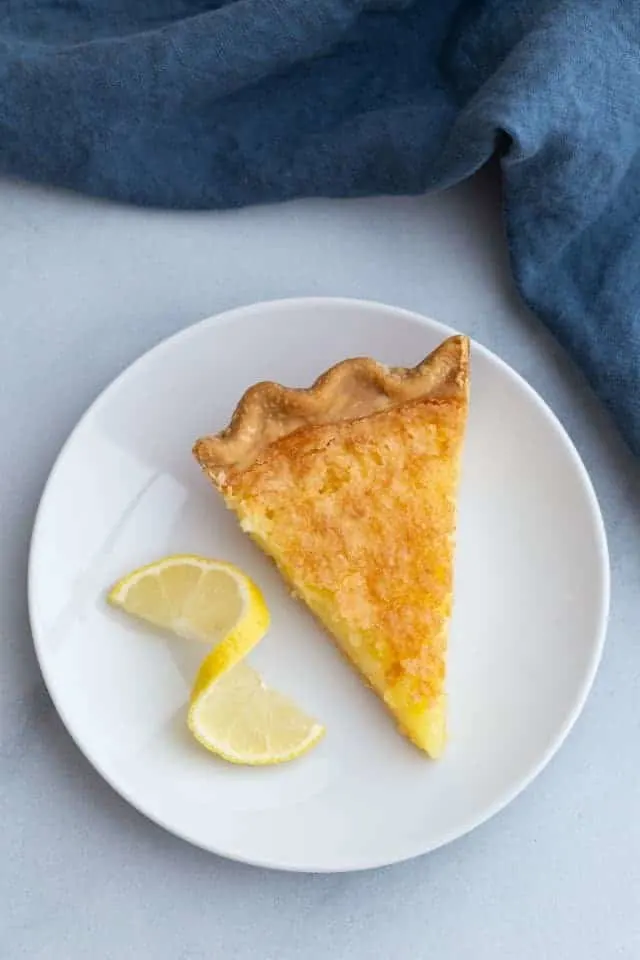 Lemon Chess Pie
Another fantastic reader request coming at you today – Lemon Chess Pie!
I received an email several months ago asking if I could make a lemon chess pie. I had never had chess pie before so I put the request on the back burner until I had the chance to taste one then try to make one of my own.
The incredible thing about this pie is it is so easy. You bake the crust, whisk the filling together and pour it into the hot crust, then pop it back in the oven until the filling is almost set.
The filling reminds me of my lemon curd. It's tangy, sweet, and oh so creamy. You should know by now I'm a sucker for creamy desserts. If you need a reminder, check out my honey pie!
Why is it called chess pie?
It's debatable as to why they call it chess pie. Some say it is a mispronunciation of "cheese" pie while others say it got its name because it was served to men as they played chess. However it came about, we do know it is a classic recipe commonly made in the American South.
What does lemon chess pie taste like?
It tastes just like lemon curd and this is why I love it so much. Classic chess pie uses vinegar and reminds me of vinegar pie but the lemon version is by far the best. If you are a fan of lemon curd and lemon bars, you'll love this pie.
Do you need to refrigerate lemon chess pie?
You can serve this pie immediately after it has cooled to room temperature without refrigerating it. If you have leftovers, it is best to refrigerate them. The pie will keep for up to 2 days in the refrigerator.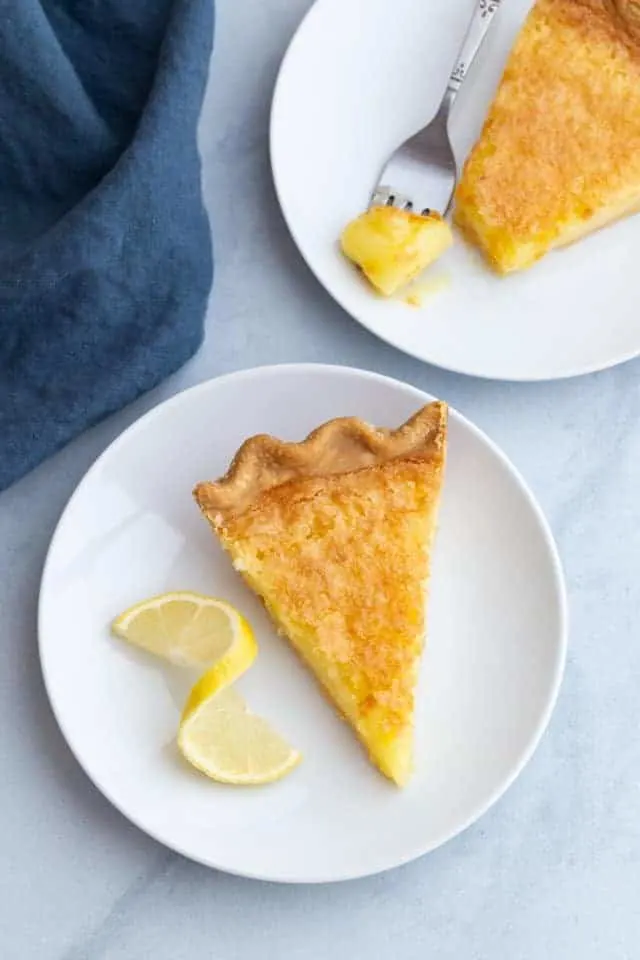 Ingredients for lemon chess pie
Pie crust – Make your own homemade pie crust or use store-bought refrigerated pie dough.
Sugar – The tanginess of lemons needs to be offset with a good amount of sugar. This recipe uses just enough sugar to do that without being overly sweet.
Lemons – The recipe calls for the zest and juice which is around one to two lemons depending on their size.
Cornmeal & flour – Both are used together to stabilize the filling.
Butter & eggs – There wouldn't be a curd-like filling without butter and eggs!
---
How to make lemon chess pie?
Step 1: Bake the crust
Prebake the pie crust until it looks dry and begins to bubble, about 8 minutes.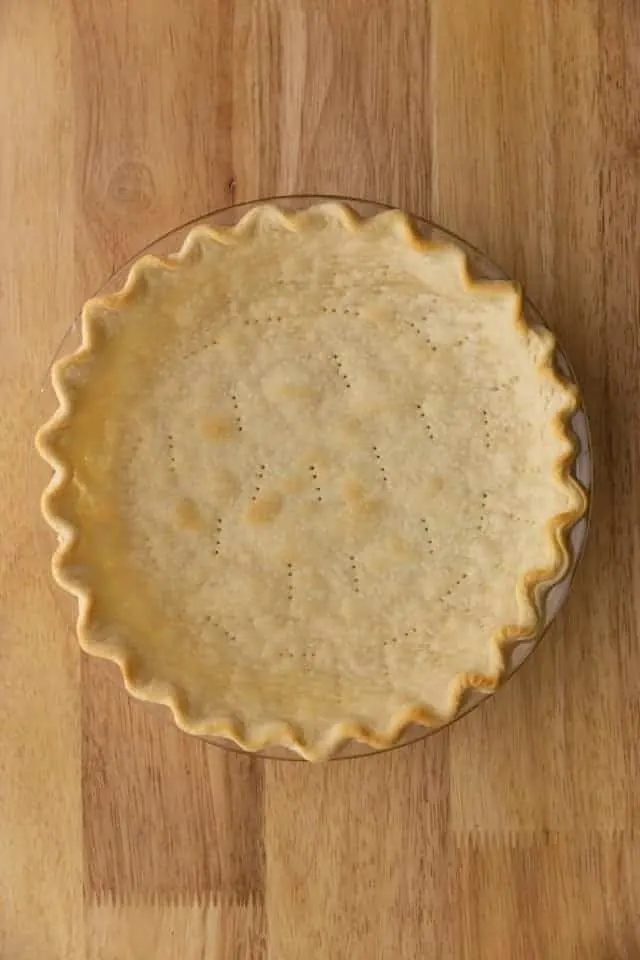 Step 2: Prepare the filling
Whisk the ingredients for the filling together and pour them into the hot pie crust.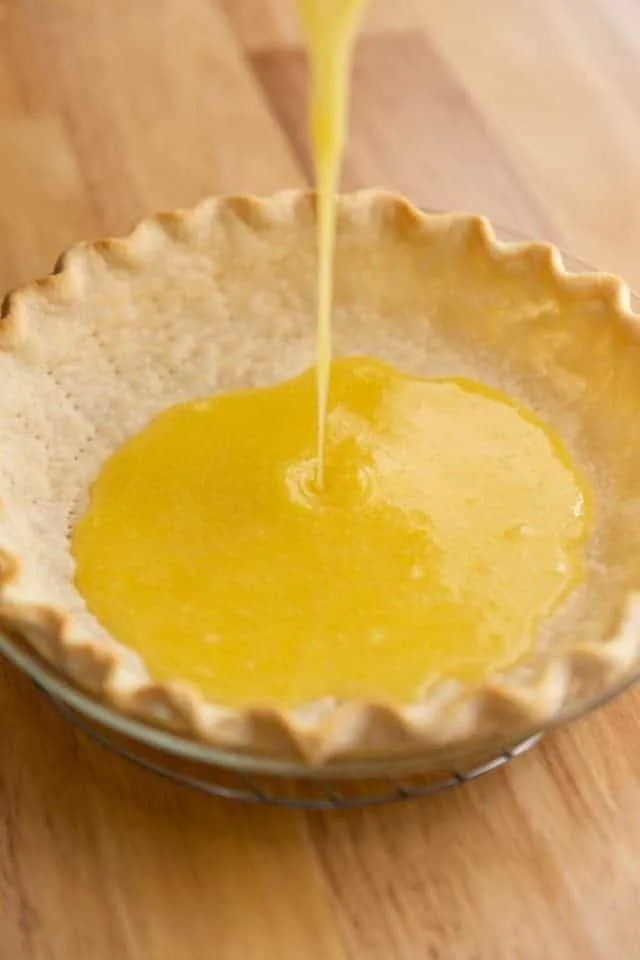 Step 3: Bake the pie
Bake the pie for an additional 40 minutes or until the edges are set but the center jiggles slightly when shaken.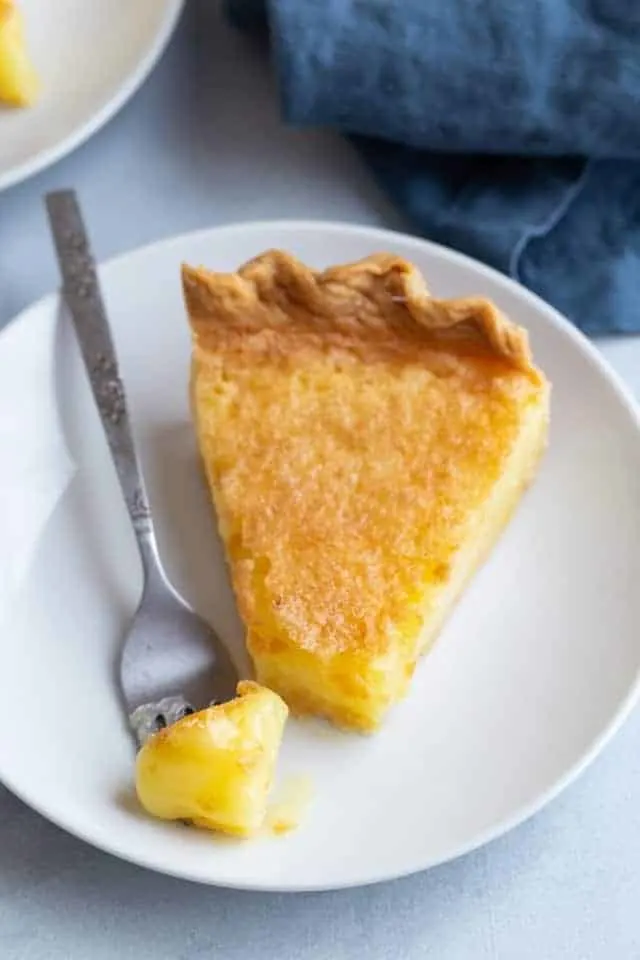 Tips for lemon chess pie recipe
Freeze the pie crust for 20 minutes before putting it into the oven. This helps it keep its shape and it won't "shrink" as much.
Whisk the ingredients for the filling together while the crust is baking. The filling needs to be poured right into the hot crust so have it ready when the crust comes out of the oven.
You don't need to refrigerate the pie before serving it. Simply let it cool on a wire rack for 4 hours then it can be served. Do store leftovers in the refrigerator, though.
More lemon recipes you'll love
Did you try this recipe? I would love for you to leave me a 5-star rating or comment. This way, I have a better understanding of which recipes you like and can create more of them.
Please take a moment to follow me on Instagram, Pinterest, Facebook, Youtube or sign up for my free newsletter to never miss the newest recipes and blog updates.
You can also shop my favorite baking tools. Thank you so much for your support!