How to Toast Coconut (3 Ways)
This post may contain affiliate links. Read the full disclosure here.
An in-depth tutorial on how to toast coconut flakes three different ways — In the microwave, on the stovetop, and in the oven. You decide which way is best for you!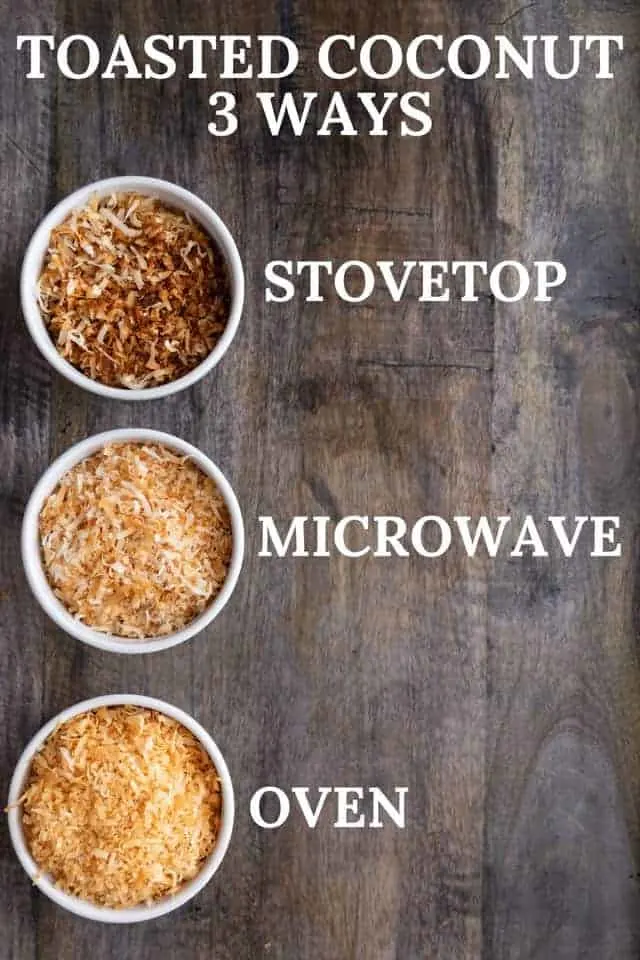 How to toast coconut flakes
There are a few recipes on my blog that call for toasted coconut. White chocolate chips with coconut being the most popular one but I also use it for the nest on top of my chocolate Easter cake!
I love the nutty aroma of toasted coconut and favor the crispness that's added to the flakes. You should know by now, I'm all about texture when it comes to any type of food.
There are actually several different ways to go about toasting coconut and each method will yield you entirely different results. My absolute favorite is to use the oven but I'll let you decide which one is best for you.
---
How do you toast coconut?
On the stovetop
Put 2 cups of coconut in a medium-sized pan and heat it over medium-low heat for 3-6 minutes. Be sure to stir continuously as it's heating to promote even browning.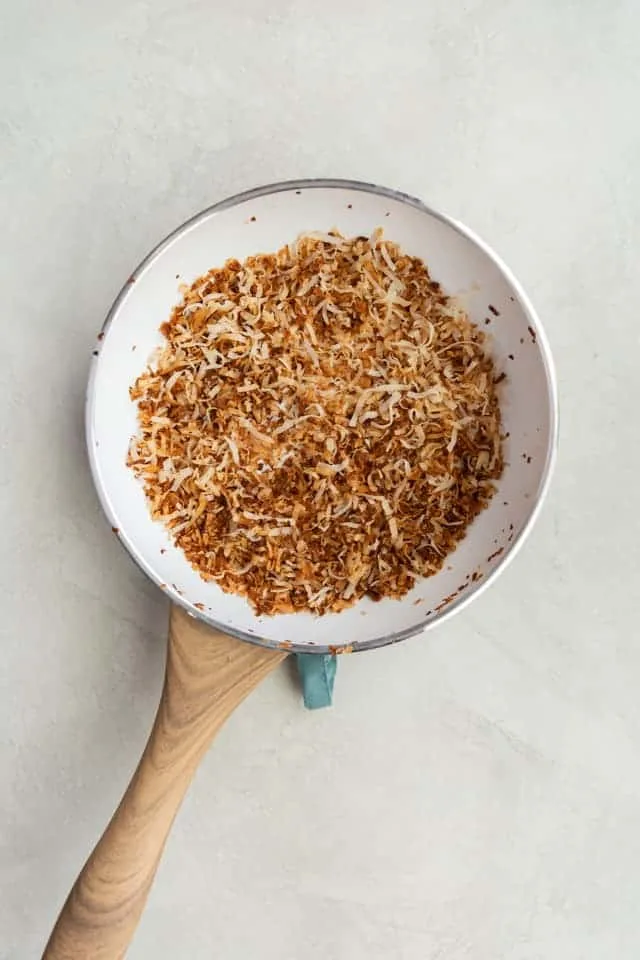 This is my least preferred way to toast coconut. The coconut didn't brown evenly despite my constant stirring. Some of the coconut flakes were almost burnt while others were barely toasted.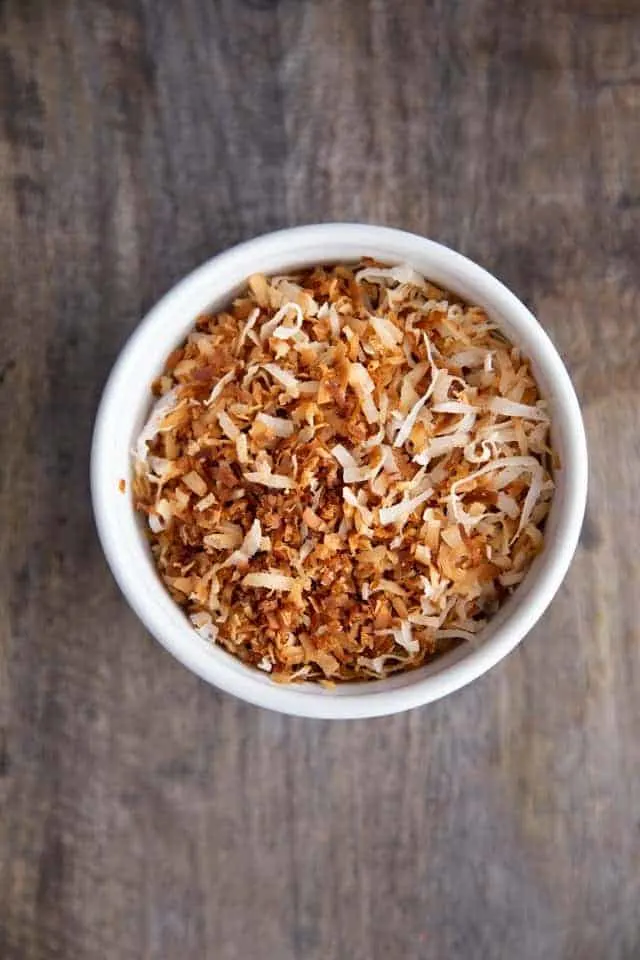 In the microwave
Put 2 cups of coconut in a medium-sized glass dish that's microwave safe. I used a 6-cup pyrex storage container. Microwave on high for 4-5 minutes, stopping to stir after every minute.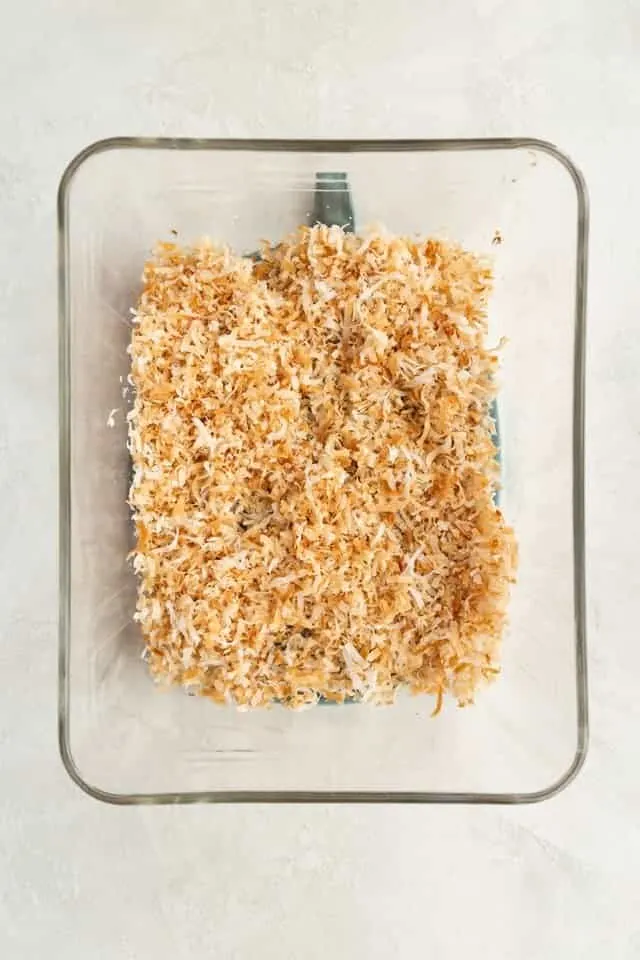 This was the fastest way to toast coconut and yielded more even browning than the stovetop method. However, the coconut didn't crispen. It remained soft and slightly chewy.
In the oven
Spread 2-cups of coconut in an even layer over a large baking sheet and bake at 350°F for 8-10 minutes. Stop to stir every two minutes.
This is my favorite way to toast coconut! It only takes a few minutes longer but look at how even that browning is. Every single piece of coconut is toasty and crisp.
Tips for toasting coconut flakes
Unsweetened coconut flakes take less time to toast and sweetened flaked coconut takes more time to toast. Watch the coconut closely as it's toasting and remove from the heat source as soon as it turns light golden brown.
Be sure to stir the coconut often as it's toasting to promote even browning.
Did you try this recipe? I would love for you to leave me a 5-star rating or comment. This way, I have a better understanding of which recipes you like and can create more of them.
Please take a moment to follow me on Instagram, Pinterest, Facebook, Youtube or sign up for my free newsletter to never miss the newest recipes and blog updates.
You can also shop my favorite baking tools. Thank you so much for your support!