This post may contain affiliate links. Read the full disclosure here.
This Easter cake is the perfect festive dessert to accompany your Easter dinner. It's fun for the whole family to make together.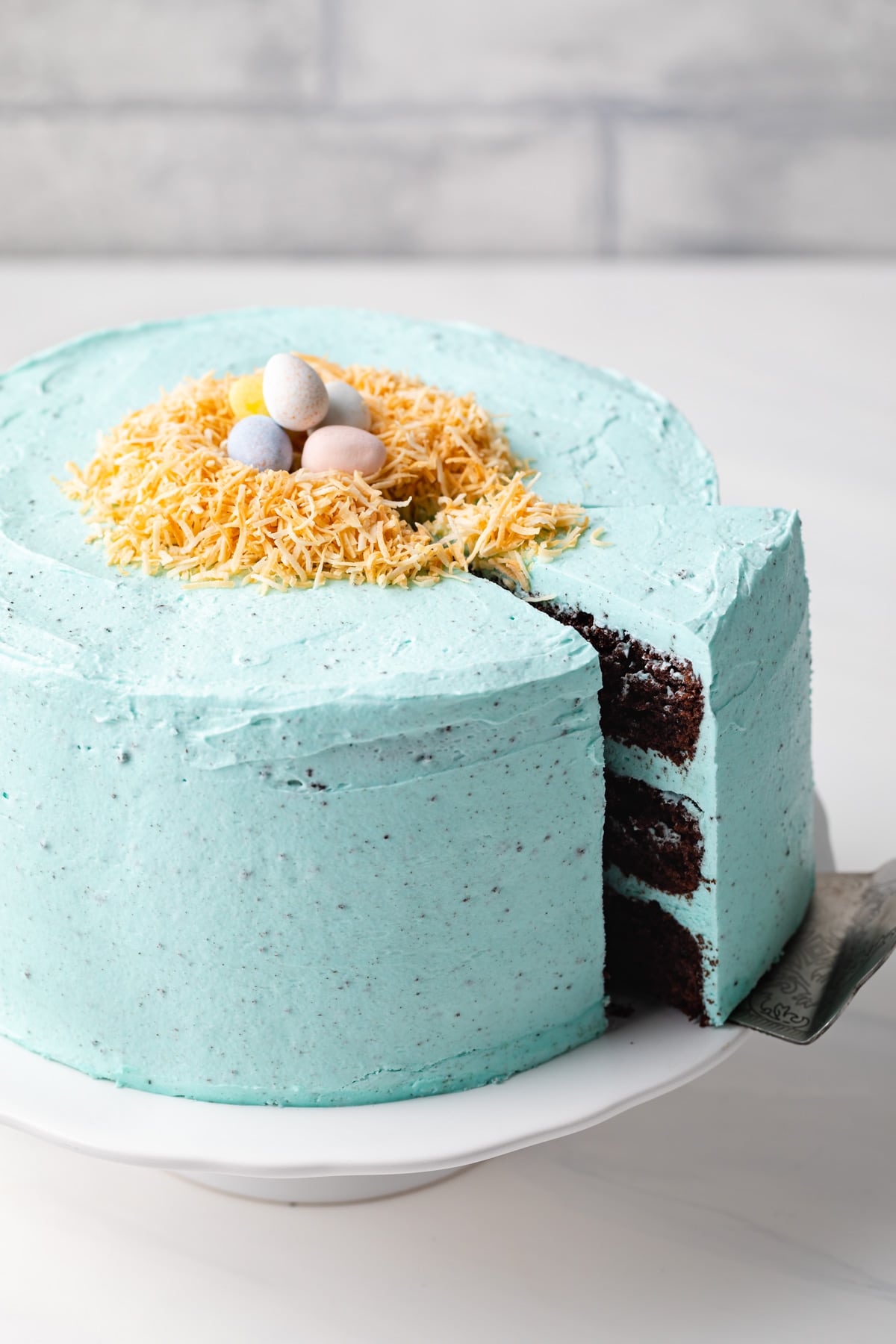 Easter egg cake is an easy and festive treat to make during the springtime. Kids will love decorating the top with coconut and chocolate eggs.
The chocolate layers in this cake are adapted from my chocolate pistachio cake. This cake is also used for my delicious Nutella cake.
You'll find it to be a rich and dense cake with tons of chocolate flavor. Adding melted chocolate and cocoa powder produces a powerful chocolate punch in each slice.
I love the American buttercream frosting that tops this dessert along with the cute little robin's egg nest.
You can read my basic vanilla buttercream post for tips on how to make the perfect frosting.
---
Why this recipe works
You'll bake a chocolate layer cake in three separate cake pans. This way, there's no tricky slicing of cakes horizontally. Plus, your layers will be perfectly even.
Adding both melted chocolate and cocoa powder to the cake means there is tons of flavor in every bite. Plus, it stays super moist.
Simple whipped vanilla buttercream keeps the cake light and the flavors balanced.
This is such a fun and festive recipe to make with your kids. The color, candy eggs, and chocolate flavor make it a holiday favorite.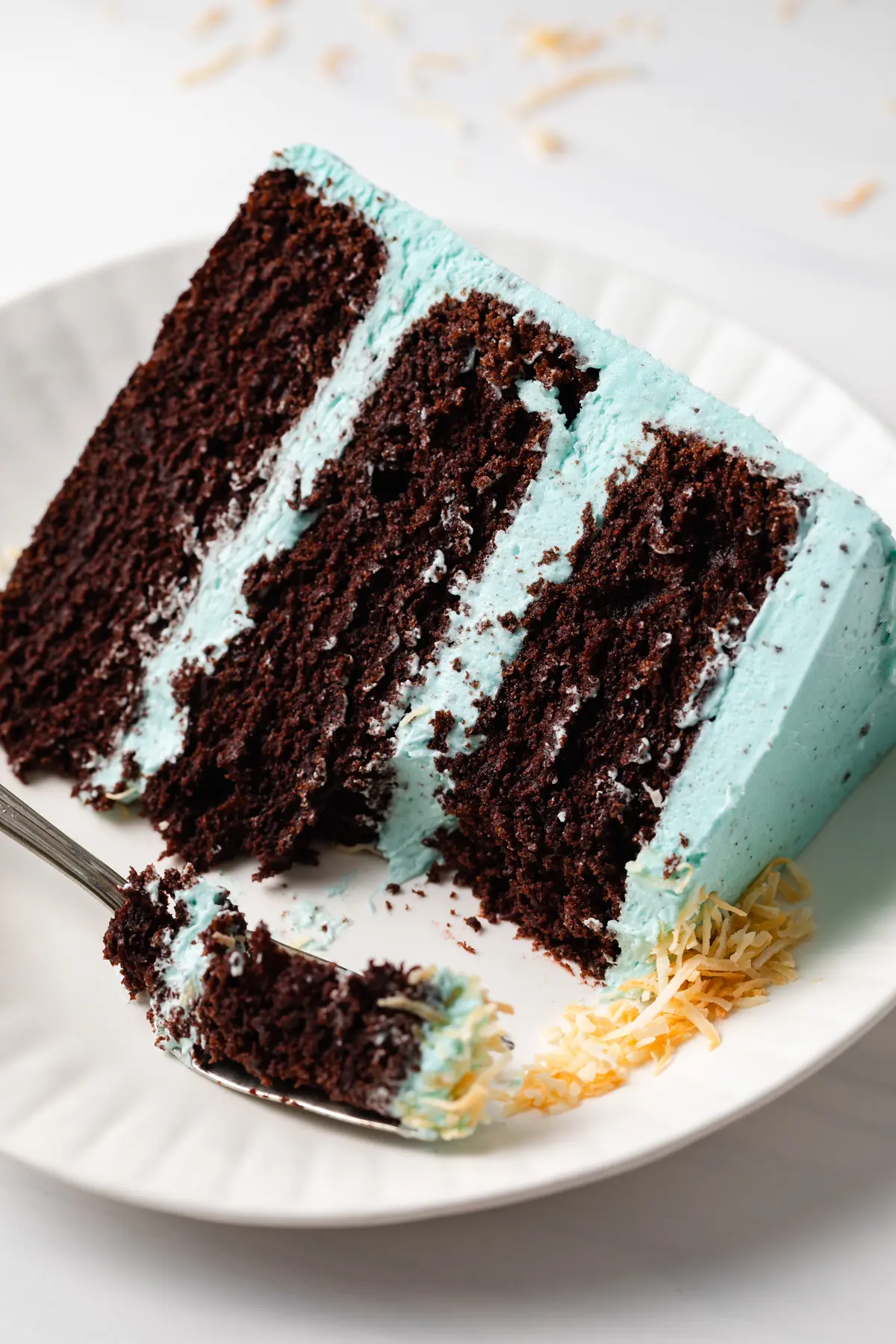 What you need to make it
The components for this speckled egg cake create a moist, chocolate Easter dessert. Let's discuss just a few of the key ingredients:
Ingredients
This is a short overview of the ingredients I used and why I chose them. The full recipe can be found at the bottom of the post!
Flour & leavening: I recommend using all-purpose flour and using a kitchen scale to weigh the flour for accuracy. Meanwhile, baking soda and baking powder act as leavening agents in this recipe.
Cocoa powder & unsweetened chocolate: Use Dutch-processed cocoa powder because it is neutralized and won't react to the buttermilk. Use only unsweetened chocolate to maintain the balance of sweetness.
Sugar: Both types of sugar in the recipe add the perfect touch of sweetness to the Easter cake and its frosting.
Vanilla & salt: Vanilla adds a warm, woody taste and sweet aroma to the cake, while salt works to enhance the flavors in the cake.
Fats: Butter adds richness to the cake, while eggs add structure to the batter. You can substitute buttermilk with sour cream or whole milk yogurt.
Equipment
This is a list of tools I used to make the recipe. Some of the links are affiliate links.
---
How to make an Easter cake
1. Make the chocolate cake
You'll combine the dry and wet ingredients to create the batter. Then, you'll bake 3 cake layers for the Easter cake.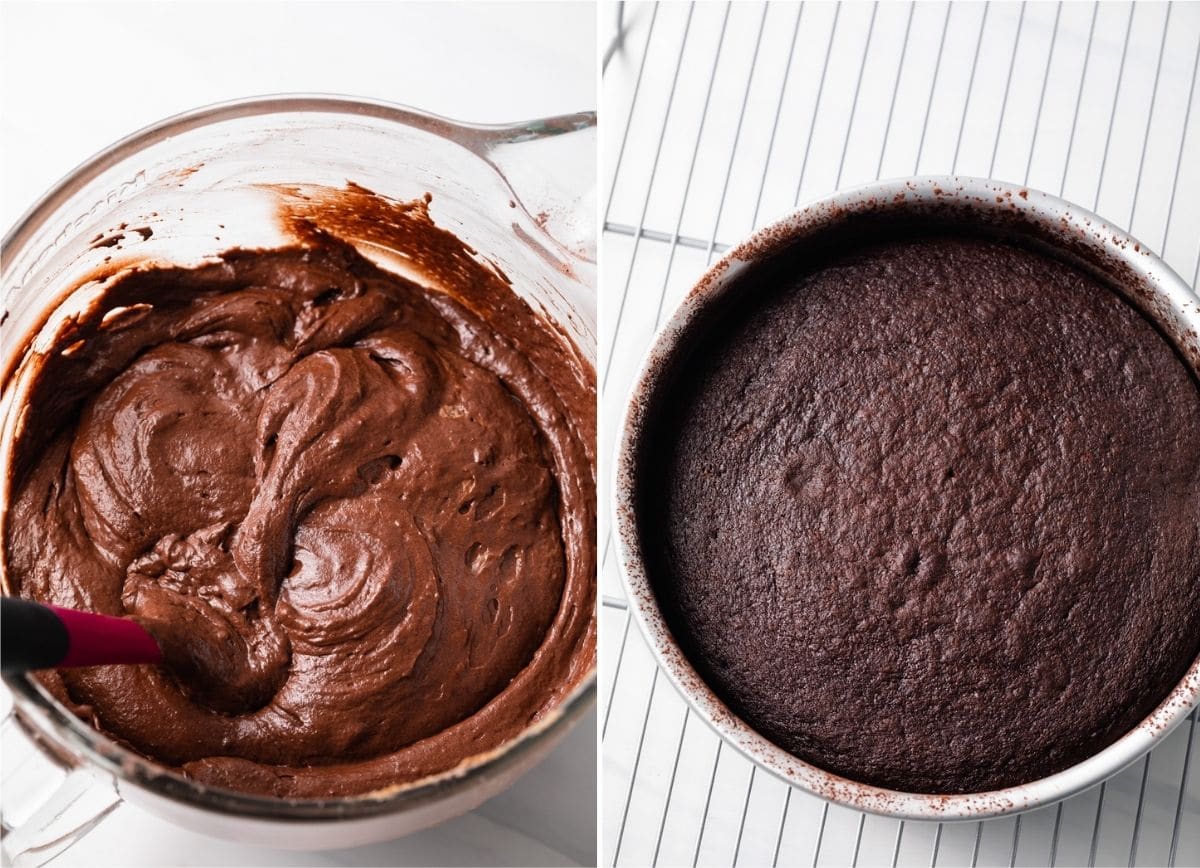 While you preheat your oven, prep your pans for baking with nonstick spray and parchment paper.
Combine dry ingredients to create the flour mixture.
Melt chocolate over simmering water.
Then, beat sugar and butter together with a mixer.
Beat in eggs one at a time. Then, beat in vanilla. And, then beat in the melted chocolate.
Slowly add half of the flour mixture into the wet ingredients. Then, add buttermilk; and then, add the remaining mixture.
Divide batter among your 3 prepared pans. Bake for 25-30 minutes or until the toothpick method indicates it is done.
Cool cake layers in pans for 10 minutes. Then, invert layers onto wire racks to cool completely. Peel off parchment paper.
2. Make the blue frosting
Next, you'll craft the signature pastel blue frosting of the Easter cake from an American buttercream recipe.
Beat butter with a mixer until creamy and pale, or about 5 minutes.
Add half of the confectioners' sugar, also called powdered sugar, and then, beat as directed from low speed to medium-high speed.
Then, add remaining confectioners' sugar. Repeat beating on low speed until moistened, then increasing to medium-high speed until well blended.
Add in vanilla and salt to the mixture. Then, turn the mixer to low and slowly add 3 tablespoons of heavy cream.
Then, turn the mixer up to medium-high until well blended.
Check the consistency. Add more cream, ½ tablespoon at a time, if needed.
Then, mix in one drop of food coloring at a time until you reach your desired color.
Add cookie crumbs. Then, mix on low until evenly distributed.
3. Assemble the cake
Now that you've made the cake layers and crafted the frosting, you can assemble the Easter cake into its finished form.
Place one layer onto a serving platter.
Then, add a generous amount of frosting and spread it with a spatula.
Repeat with a second layer. Top it with a generous amount of frosting.
Finally, add the third layer. Cover the top and sides with frosting.
Create a "nest" in the center of the cake out of toasted coconut. Then, place candy eggs in it.
---
Variations
You can personalize this cake to fit your taste preferences.
Chocolate speckles: Instead of cookie crumbs, mix 2 tablespoons vanilla with 2 teaspoons cocoa powder and use a small pastry brush to splatter it over the cake.
Vanilla cake: If you don't like chocolate, you can make this recipe with moist vanilla cake instead.
---
Storing & freezing
To store: Let baked layers cool prior to wrapping in plastic wrap and storing in the fridge. Prepare the frosting and cover it in the fridge overnight. Cake must be assembled within 2 days.
To freeze: A frosted cake may be stored in the freezer for no more than 2 months. Then, thaw it overnight in your fridge. Let the cake reach room temperature before serving.
More treats to make for Easter
Make your Easter dinner so fun and festive this year. Try out even more of my seasonal cake recipes and the eternal Easter classic, Hot Cross Buns.
Did you try this recipe? I would love for you to leave me a 5-star rating or comment. This way, I have a better understanding of which recipes you like and can create more of them.
Please take a moment to follow me on Instagram, Pinterest, Facebook, Youtube or sign up for my free newsletter to never miss the newest recipes and blog updates.
You can also shop my favorite baking tools. Thank you so much for your support!