This post may contain affiliate links. Read the full disclosure here.
Loads of shredded carrots, raisins, and warm spices make this moist carrot cake recipe the ultimate treat.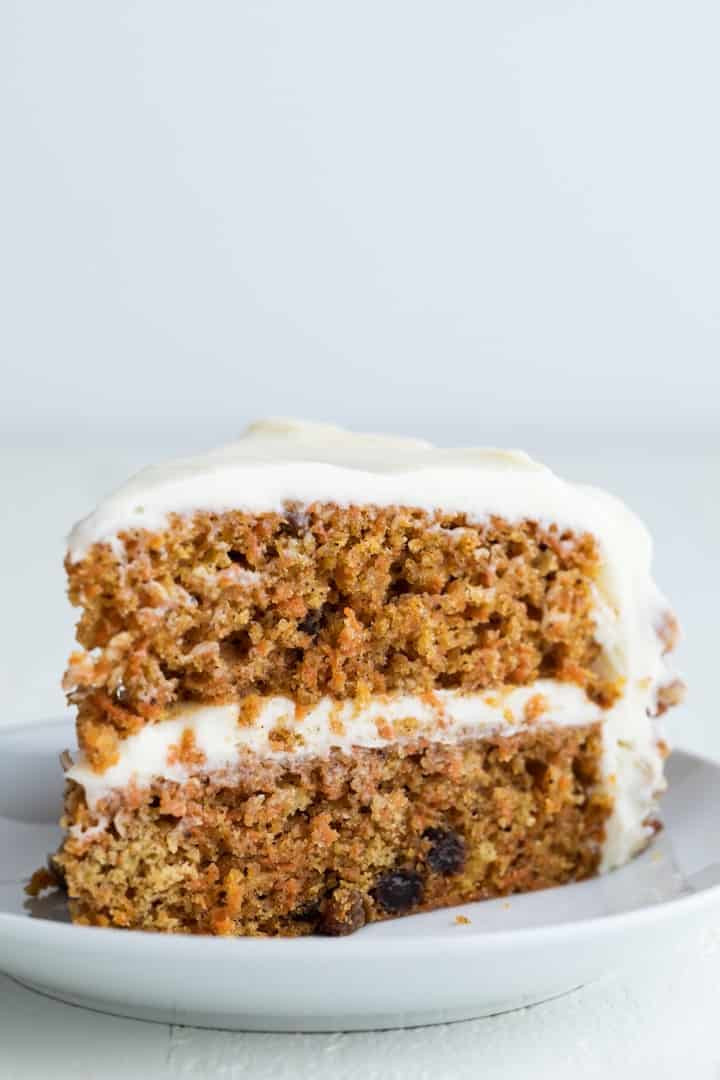 It's so easy to make and tastes amazing with silky cream cheese frosting.
A simple carrot cake recipe or carrot cake cupcakes immediately come to mind when I think of Easter and spring recipes.
I'll tell you how to make a carrot cake that is better than all the rest. The key is fresh carrots! Avoid store-bought shredded carrots.
I've shared the ultimate pineapple carrot cake before and today's version is just as moist and flavorful, but with different spices and more carrots.
This easy carrot cake is covered in my favorite cream cheese frosting and decorated with chopped pecans. You can skip the nuts if you wish.
If you're not a fan of carrots but love the spices, try my spice cake instead.
---
Why this recipe works
The carrots are shredded with a grater, so they are finer in texture as opposed to using a mandoline.
Greek yogurt is used to help keep the carrot cake moist.
Oil is used instead of butter, which also adds to the moisture of the cake.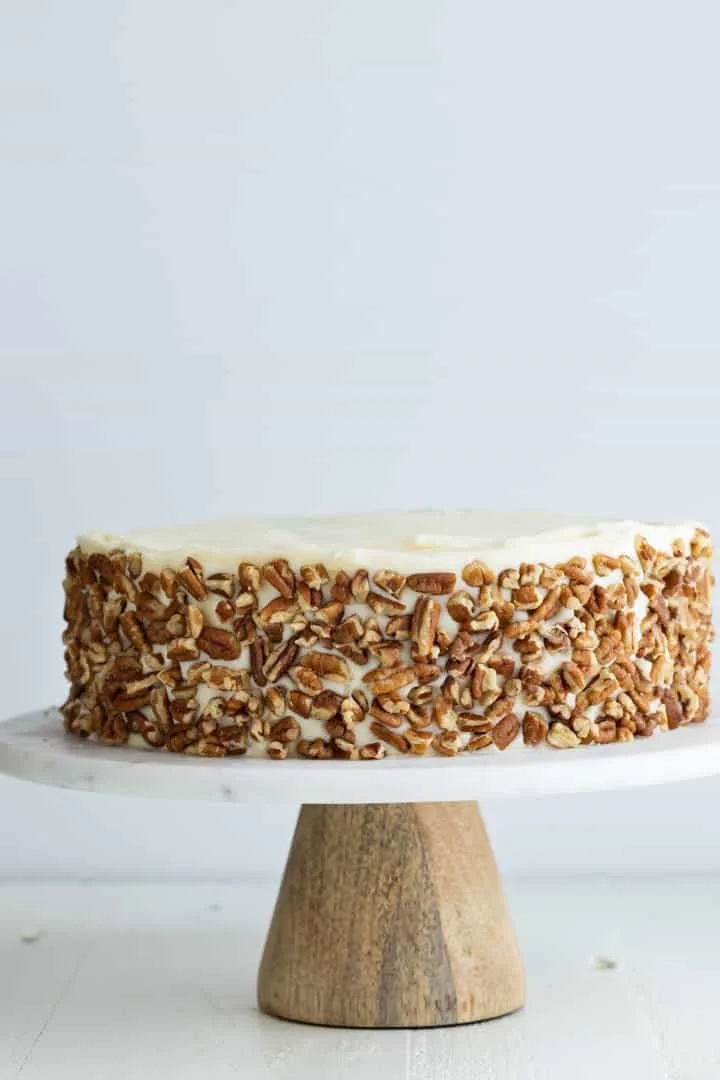 What you need
Freshly grated carrots are so important to quality of this recipe. Let's discuss just a few of the key ingredients:
Ingredients
This is a short overview of the ingredients I used and why I chose them. The full recipe can be found at the bottom of the post!
All-purpose flour: Make sure to measure the flour correctly because it affects the moisture level in the cake.
Baking powder & baking soda: These act as leavening agents in the recipe, which cause the cake to expand.
Cinnamon, salt, nutmeg, cloves, & vanilla extract: These add tons of flavor to the cake, especially cinnamon. However, you may leave out nutmeg and cloves.
Sugar: I prefer brown sugar because it adds flavor depth. You may also substitute with coconut sugar or use all white sugar.
Oil & yogurt: You may use any flavorless oil. I prefer yogurt, but you can substitute it with sour cream.
Eggs: These create the right level of structure and stability in the recipe.
Carrots: Don't use store-bought shredded carrots because they are too dry and thick. I prefer to use a box grater to shred fresh carrots.
Raisins: These are completely optional. Leave them out if you don't like them.
Equipment
This is a list of tools I used to make the carrot cake recipe. Some of the links are affiliate links.
Box grater: You'll need a box grater to finely shred the carrots for the recipe.
Baking pans: You can use a 9×13-inch pan for this recipe. For Bundt cake, use a 10 to 12-cup Bundt pan.
---
How to make carrot cake from scratch
The Cake Batter – The batter is super simple to prepare. It doesn't require a mixer like my vanilla cake, white cake, or chocolate cake.
All you need is a whisk and a large mixing bowl.
The Frosting – I used my favorite cream cheese frosting with one small change to make sure the frosting wasn't too soft for a two-layer carrot cake.
1. Prepare the cake pans
Lightly grease and flour two 9-inch cake pans. Then, line the bottoms with parchment paper.
The parchment paper will ensure the cake doesn't stick to the pan.
2. Make the batter
Use a whisk to stir brown sugar, granulated sugar, oil, Greek yogurt, eggs, and vanilla together.
Stir in finely shredded carrots and raisins.
Then sift flour, baking powder, baking soda, cinnamon, nutmeg, salt, and cloves into the batter.
Stir it until everything is just combined.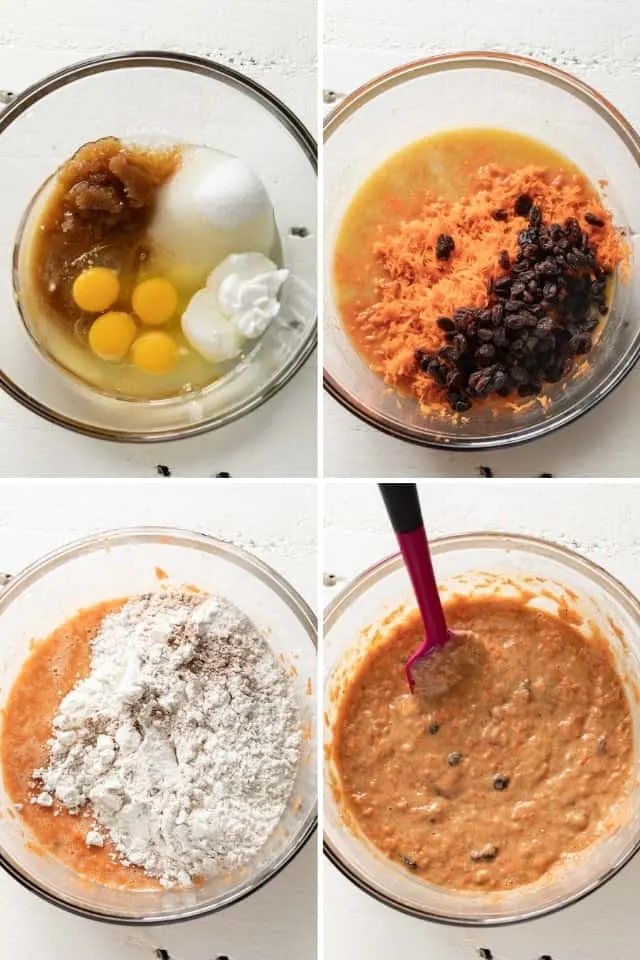 3. Bake
Divide the batter evenly between the two pans and bake for 20-25 minutes or until a toothpick inserted in the center comes out clean.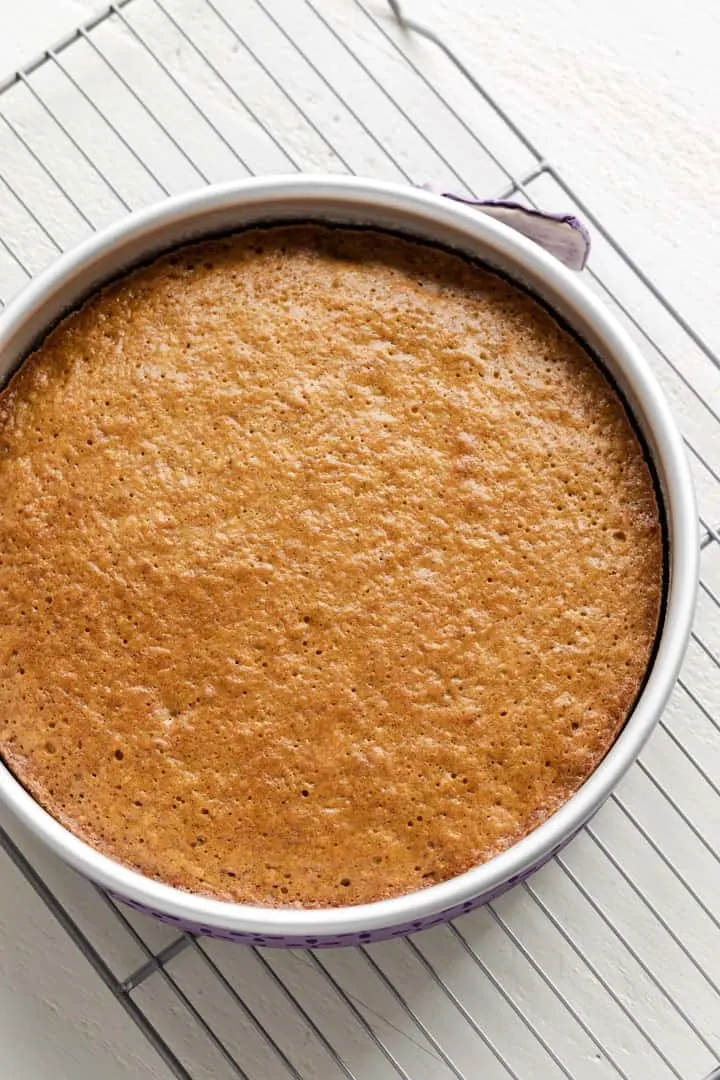 4. Make the frosting
Beat cream cheese and butter together until smooth and creamy.
Then, beat in confectioners' sugar, meringue powder, vanilla, and salt until well combined.
5. Frost the cake
Once the cake layers have cooled, place one of the layers on a serving platter and cover the top with frosting.
Set the second layer over the top then cover the entire cake with frosting.
Garnish if desired. If you like pecans or walnuts, coarsely chop about ½ cup. Then, press them into the sides of the carrot cake.
Refrigerate. Refrigerate the assembled cake for 1 hour before slicing and serving. This will set the frosting and make the cake easier to slice neatly.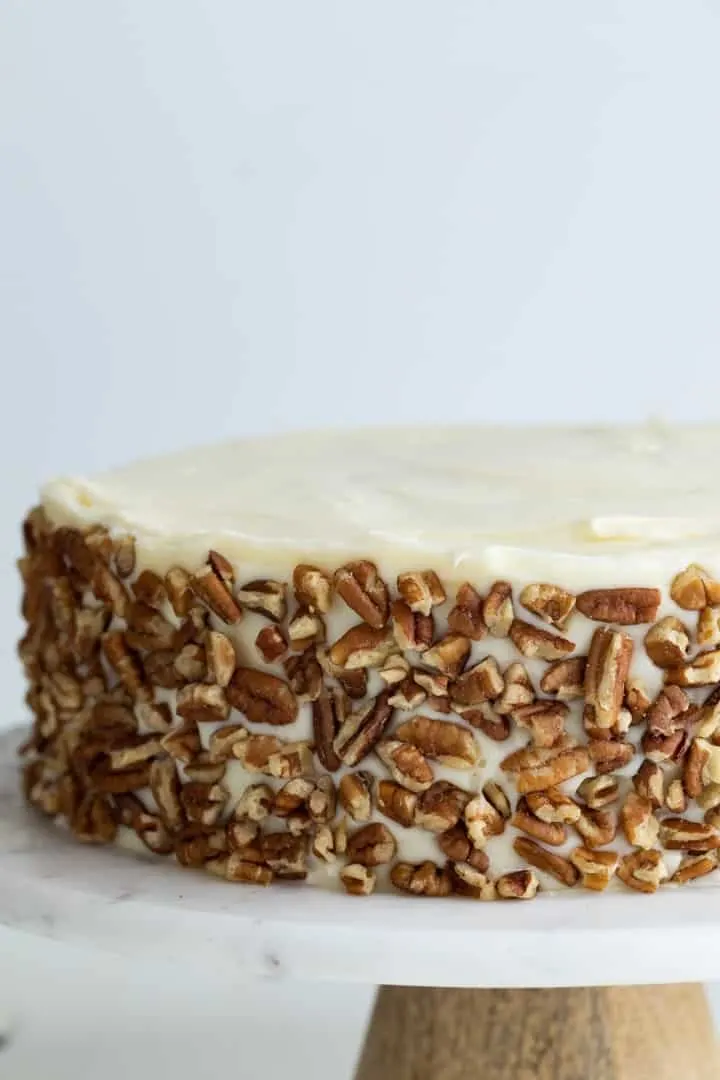 Frequently asked questions
What's the best way to shred fresh carrots?
I like to use a box grater to shred carrots. Wash and peel them before shredding.

Avoid buying pre-shredded carrots from the grocery store. They are too thick and too dry for carrot cake.
Can I make carrot cake cupcakes with this recipe?
Absolutely! Many of our readers have done this… Divide the batter among 24 paper-lined muffin cups and bake for 15-20 minutes. Cool the cupcakes in the pan for 5 minutes, then transfer to a wire rack to cool completely.
Can I make a Bundt cake with this recipe?
Yes, but the baking time will need to be increased. Use a 10 to 12-cup Bundt pan and bake for 55-75 minutes.

All ovens are different, that's why the bake time varies. Keep a close eye on it.
Can I leave out the raisins?
The raisins are completely optional! If you're not a fan, leave them out. Shredded coconut, chopped pecans, or walnuts are also great add-ins.
Storing & Freezing
To store: Keep carrot cake covered tightly and store in the refrigerator for no more than 5 days.
Unfrosted carrot cake layers can be covered tightly. Then, stored at room temperature overnight.
Frosting may also be made a day in advance. Keep refrigerated and bring to room temperature just before using.
You may need to mix it once again with the mixer.
To Freeze: Alternatively, the frosted or unfrosted carrot cake can be frozen for no more than 3 months.
Thaw in the refrigerator overnight and bring to room temperature before decorating/serving.
---
What else can I make with shredded carrots?
If you have leftover shredded carrots to use up, try making my carrot cake scones. They are almost better than cake!
These tender carrot muffins and morning glory muffins are also fantastic!
---
Watch how to make it
Did you try this recipe? I would love for you to leave me a 5-star rating or comment. This way, I have a better understanding of which recipes you like and can create more of them.
Please take a moment to follow me on Instagram, Pinterest, Facebook, Youtube or sign up for my free newsletter to never miss the newest recipes and blog updates.
You can also shop my favorite baking tools. Thank you so much for your support!