This post may contain affiliate links. Read the full disclosure here.
Lush sweet potato pie with the perfect balance of fall spices and brown butter will be a hit on your Thanksgiving day table!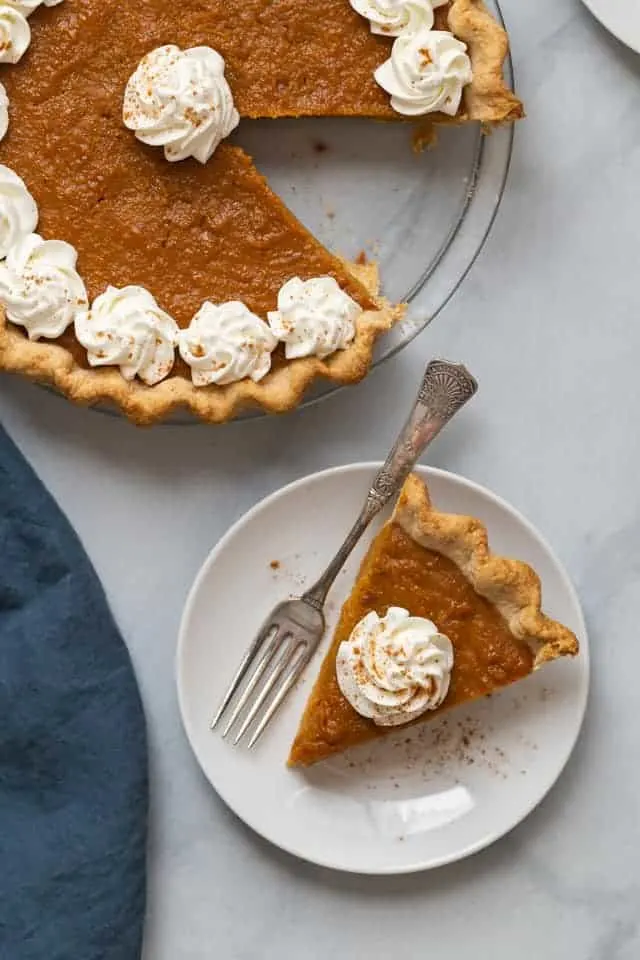 Remember this pumpkin pie? I turned that delicious silky pie into a sweet potato pie!
And I really have no words to describe how incredible it is!
I love sweet potatoes and I'll order them/make them any chance I get. So I knew right away I wanted to make a pie with them.
I've made a caramel sweet potato pie before but today's version is new and improved. It's like eating candied yams without the marshmallows. Although, marshmallows on top of this pie sounds fantastic…
I used brown butter in the crust and the filling for added richness. I've been using brown butter in everything lately. The sweet nutty flavor pairs so well with all the fall spices.
And it does something magical when mixed with sweet potatoes making this the best sweet potato pie recipe!
What does sweet potato pie taste like?
Sweet potato pie tastes very similar to pumpkin pie. Of course, pumpkin and sweet potatoes have their own unique flavor but the spices used in each pie are the same. Everyone has their favorite spices to use and for sweet potato pie, I tend to stick with cinnamon and nutmeg.
What goes in sweet potato pie?
Naturally, you're going to use sweet potatoes. The recipe I'm sharing with you today has brown butter, brown sugar, white sugar, eggs and egg yolks, cinnamon, nutmeg, salt, vanilla, and milk. When I make candied yams, I always use both white and brown sugars so I decided to use both in the pie and it turned out to be a great decision.
---
How to make sweet potato pie crust?
Any type of sturdy crust will work. I love using my brown butter pie crust for fall-flavored pies. Brown butter is like a secret ingredient that gives the crust extra special flavor.
I added shortening to the crust also. I often use a combination of shortening and butter because I find they each offer something unique. The butter adds flavor while the shortening makes the crust tender and flaky.
Sometimes I'll add an egg but I skipped it for today's pie.
The crust works best if it's prebaked. This will prevent it from coming out soggy.
How to make sweet potato pie?
Before I even begin to make the crust, I like to roast the sweet potatoes. Most recipes call for peeling and boiling the sweet potatoes but I find them to be more flavorful when they are roasted whole.
Just place them on a baking sheet and a bake them for about 50 minutes at 475°F. Let the potatoes cool slightly then you can cut them open and scoop out the pulp.
Mash the pulp as best as you can. It's okay if it's not perfectly smooth, though. I actually like for my pie to have some texture and look a bit "rustic".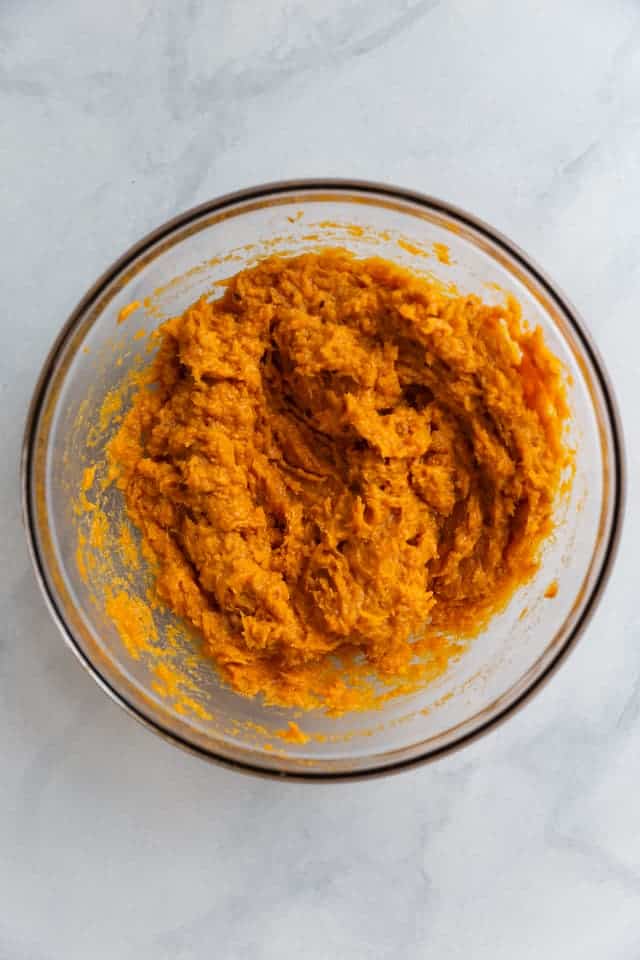 There's no special technique for making the filling. I just toss everything a bowl and whisk it together.
And remember, it doesn't have to be perfectly smooth. You can see in the picture below, there are still lumps of sweet potato visible.
The filling will be thick. It's not quite as runny as my pumpkin pie filling. But it will still be super creamy after it bakes.
Pour the filling into the prebaked crust and bake it for 40-50 minutes at 350°F. If you notice the crust browning too much before the pie is finished baking, you can cover it with a pie shield or some aluminum foil.
How to tell when sweet potato pie is done?
The pie is done once the filling has become firm around the outer edges but is still jiggly in the center. It will continue to set and firm up as it cools.
Be careful not to overbake it. Overbaking is the main reason the filling will crack.
If you look closely, you can see teeny tiny cracks in the middle of mine. I wasn't watching it closely and let it bake a few minutes too long.
Those cracks can easily be covered with whipped cream, though.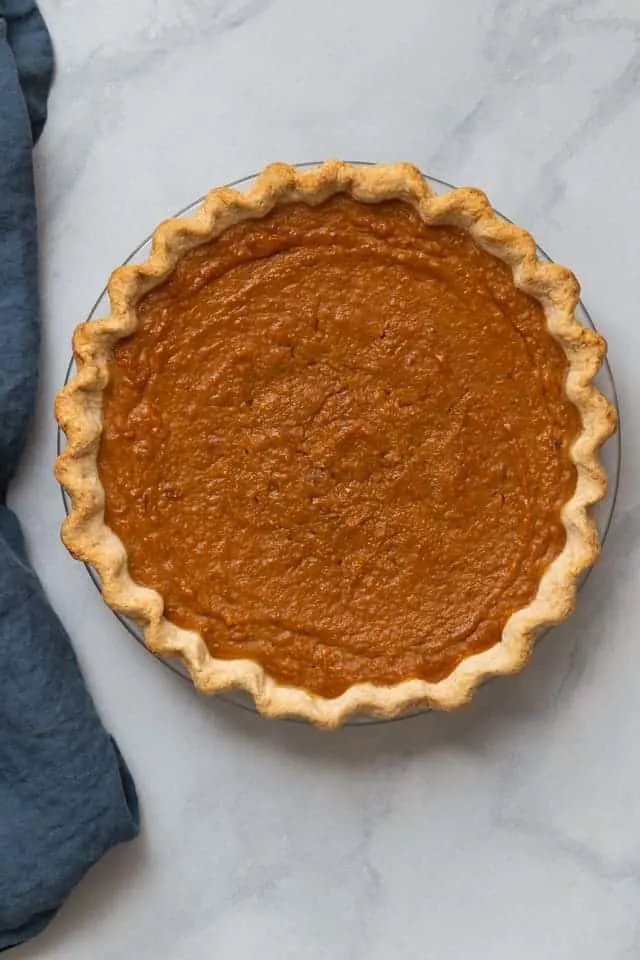 How to store sweet potato pie?
Once the pie has cooled completely, it should be covered and kept stored in the refrigerator.
How long does sweet potato pie last?
The baked and cooled pie will keep for up to 4 days stored in the refrigerator. It will also keep for up to 1 month in the freezer.
How to freeze sweet potato pie?
Make sure the pie is in a freezer-safe pie plate. These disposable aluminum pie pans work great for this. They can be baked in the pan and then transferred to the freezer.
Once the pie has cooled completely, wrap it tightly in several layers of plastic wrap. Make sure the plastic wrap is sealed all the way around. Then wrap the pie in a layer of aluminum foil and freeze the pie for up to 1 month.
Allow the pie to thaw in the refrigerator overnight before serving.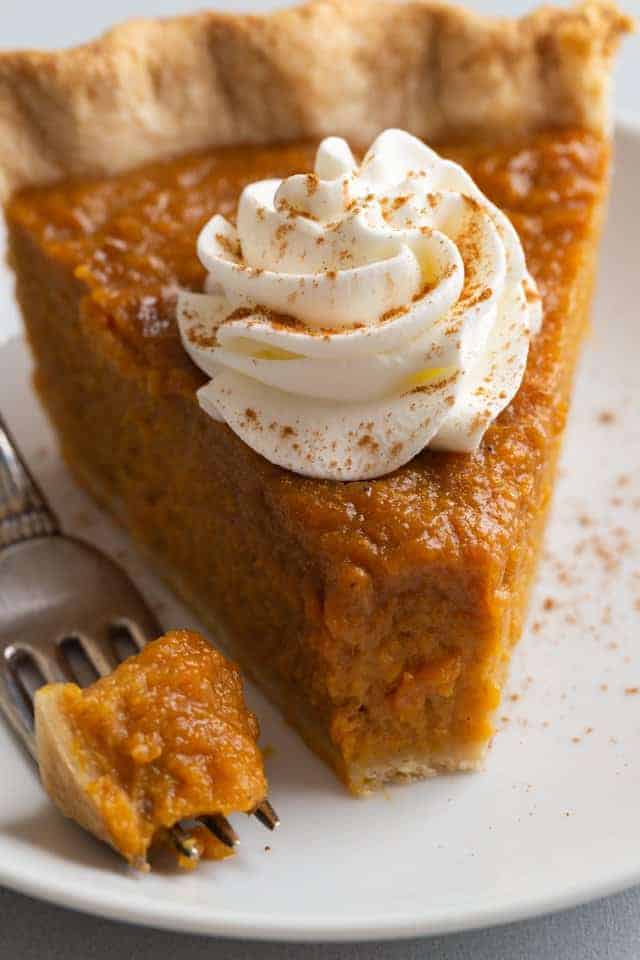 More sweet potato recipes you'll love
Did you try this recipe? I would love for you to leave me a 5-star rating or comment. This way, I have a better understanding of which recipes you like and can create more of them.
Please take a moment to follow me on Instagram, Pinterest, Facebook, Youtube or sign up for my free newsletter to never miss the newest recipes and blog updates.
You can also shop my favorite baking tools. Thank you so much for your support!