Pumpkin Muffins with Streusel Topping
This post may contain affiliate links. Read the full disclosure here.
These pumpkin muffins are loaded with cozy fall spices and topped with a spiced streusel topping.
Pumpkin Muffins
It's the time of year where everything is pumpkin flavored! And I've been making a boatload of pumpkin recipes like pumpkin pie, pumpkin cheesecake, pumpkin jam, and pumpkin oatmeal cookies.
Naturally, I had to add pumpkin muffins to the list. I don't eat breakfast as I should but a tasty muffin is usually enough to sway me.
This recipe makes super fluffy, bakery-style muffins and each one is topped with a crunchy streusel. I just love the texture contrast between the streusel and tender muffin.
The spices are perfectly balanced and the muffins aren't overly sweet. It has to be one of my favorite recipes!
I adapted today's pumpkin muffins from my pumpkin chocolate chip muffins. I only made a few small changes to get them the way I wanted.
How to store pumpkin muffins?
It's best to store the muffins in an airtight container. They'll keep for up to two days at room temperature of up to one week in the refrigerator.
---
Streusel topping for pumpkin muffins
The streusel is very simple to make and is spiced with the same cozy spices that are in the muffins.
I used flour, brown sugar, cinnamon, ginger, nutmeg, allspice, and butter. Just melt the butter and mix everything together until it forms a crumbly dough.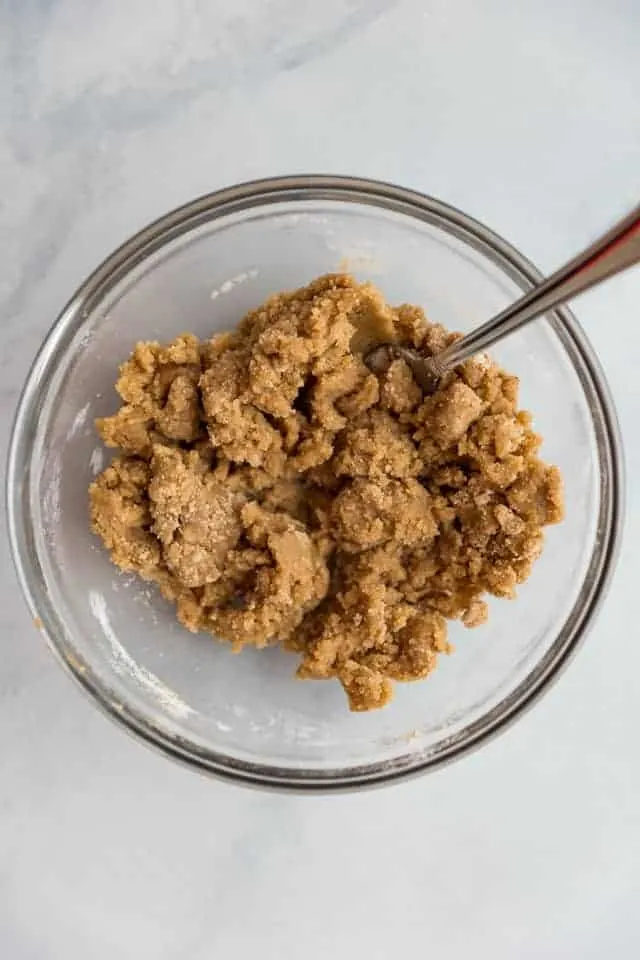 How to make pumpkin muffins?
The muffins are also very easy to whip up. And they bake up so tall and fluffy!!
I used the muffin method for making the batter. This simply means that I mixed all the dry ingredients together, all the wet ingredients together, then combined the two.
I prefer to use this method because it gives the best texture!
The dry ingredients consist of flour, cinnamon, ginger, nutmeg, allspice. There's also baking powder for leavening.
The wet ingredients are butter, white sugar, brown sugar, eggs, milk, and vanilla.
When you mix the dry and wet ingredients together be sure not to overmix. Use a gentle folding motion and stop as soon as all the flour is incorporated.
You're not really aiming for a super smooth batter here.
The batter makes just enough for 12 super tall muffins which means you'll be filling those muffin cups to the top.
I find it best to line my pan with paper liners but you can easily just spray the pan with nonstick cooking spray.
To make things even easier, I like to use a large ice cream scoop to drop the batter into the cups. Most ice cream scoops hold three to four tablespoons.
Drop one scoop into each cup. If you have a little batter left in the bowl you can use a regular spoon to top of the cups.
I forgot to snap a photo of the streusel going on top of the batter but you just crumble it evenly over each cup.
Use your fingertips to gently press the streusel down so it's snug on top of the batter. This will help keep it in place.
I have had instances where the streusel ended up all over the pan instead of on the muffins so be sure to give it a good press.
The muffins bake for about 25 minutes in a 375°F oven. You'll know they are done when a toothpick inserted into the center comes out clean.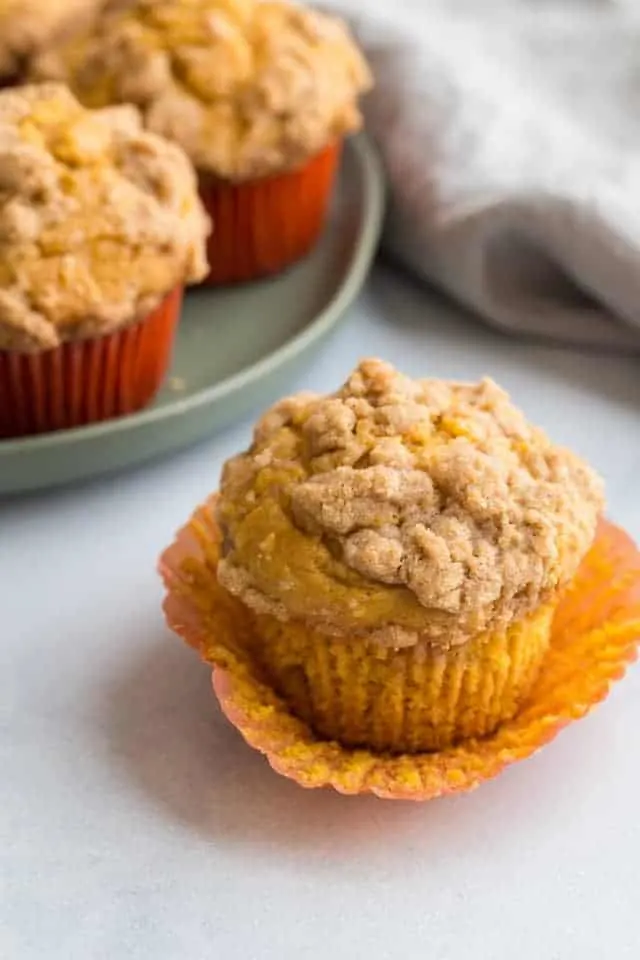 Tips for making this pumpkin muffins recipe
Don't overmix the batter. A few lumps or streaks of flour is perfectly fine when it comes to muffins. This will ensure they come out supremely tender.
Use an ice cream scoop to portion the dough between the muffin cups and don't be afraid to fill the cups past ⅔ full. These muffins will bake up super tall!
Don't let the muffins cool too long in the pan. Wait 5 minutes then move them to a wire rack so they don't become soggy on the bottom.
More recipes you'll love
Did you try this recipe? I would love for you to leave me a 5-star rating or comment. This way, I have a better understanding of which recipes you like and can create more of them.
Please take a moment to follow me on Instagram, Pinterest, Facebook, Youtube or sign up for my free newsletter to never miss the newest recipes and blog updates.
You can also shop my favorite baking tools. Thank you so much for your support!