This post may contain affiliate links. Read the full disclosure here.
These pumpkin oatmeal cookies are a fall favorite! They are supremely soft and slightly chewy with warm cinnamon and pumpkin flavor.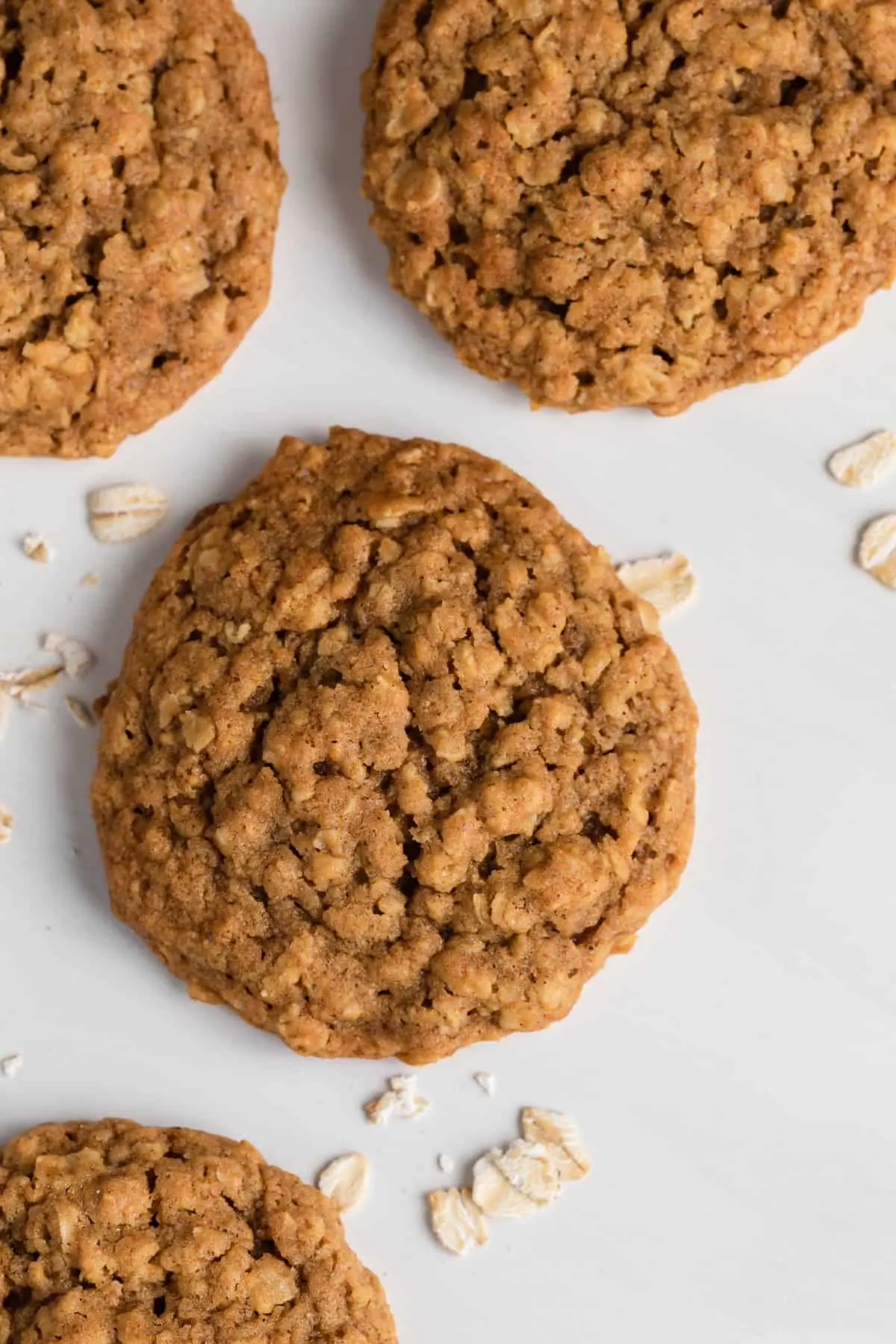 These homemade pumpkin oatmeal cookies are an incredible twist on classic oatmeal raisin cookies. The best part is they are made completely from scratch.
With hints of cinnamon and molasses, these fall-themed oatmeal cookies taste phenomenal. This recipe is soft and chewy with loads of flavor. It's the perfect dessert for your holiday table.
One of my favorite cookies is oatmeal cookies. They are just so darn tasty and versatile. Add in dried fruit, chocolate chips, or candies, and you have a great snack.
They're also great for making pumpkin oatmeal cream pie cookies!
---
Why this recipe works
The pumpkin is blotted so it doesn't release too much moisture into the cookie. The extra moisture will lead to a cakey cookie.
The cookie dough doesn't require chilling! This is because the ratio of ingredients is calculated in such a way that cookies will bake perfectly without chilling the dough.
A slightly higher bake temperature will create a crispy surface on the cookie. It also prevents the cookies from spreading too much.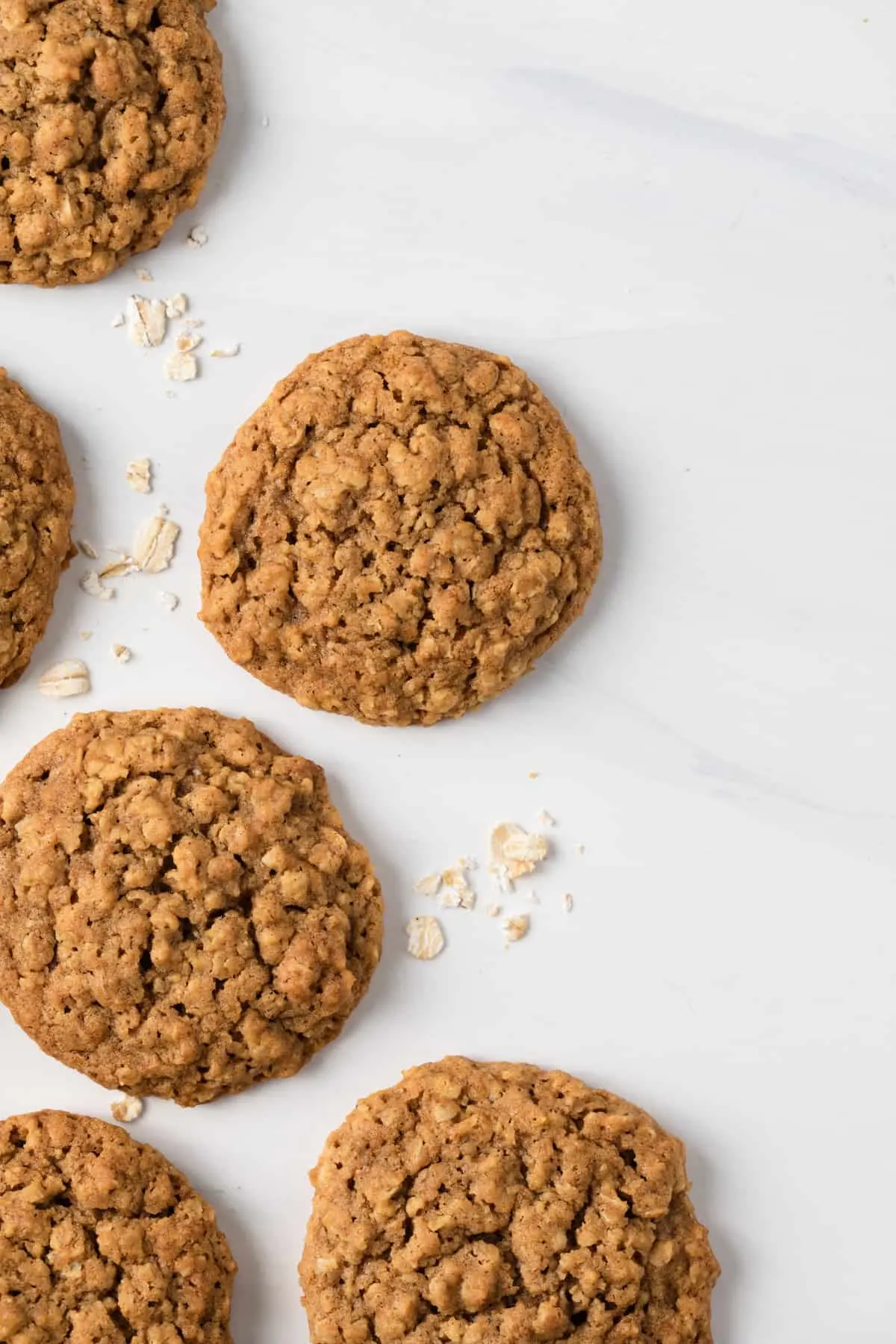 Pumpkin oatmeal cookies
Soft in the center with crisp, chewy edges and full of fall aroma. These pumpkin oatmeal cookies need to be added to your baking list.
One thing I found when developing this recipe is pumpkin cookies lean toward the cakey side. And almost no one likes a cakey cookie.
I made it a mission to create a pumpkin-flavored oatmeal cookie that was far from cakey and this recipe well exceeded my expectations.
---
Ingredients
Pumpkin oatmeal cookies don't require a ton of ingredients. Just a few kitchen staples…
Pumpkin: Look for pure pumpkin in a can. Make sure to avoid pumpkin pie filling.
Sugar: Both granulated sugar and light brown sugar are used to add moisture, flavor, and crispness to the cookies.
Fats: Unsalted butter and egg yolk are the fats needed to make epic cookies.
Flavoring: Molasses, cinnamon, and salt flavor the cookies.
Flour & Oats: All-purpose flour and quick cookie oats are best for making oatmeal cookies. You'll also need a little baking soda for leavening.
What can I use in place of molasses?
If you don't have molasses, you can simply leave it out or add 2 teaspoons of vanilla in its place.
Can I use old-fashioned oats?
I don't recommend using old-fashioned oats in place of quick cook oats. They will absorb too much moisture from the cookie dough and the cookies may not spread properly.
---
How to make pumpkin oatmeal cookies
One of the key tips when baking with pumpkin is to drain some of the liquid out of the puree. I do this more times than not when I'm using canned pumpkin in my baked goods.
The easiest way to do this is by layering 4-6 large paper towels on a plate. Spread the pumpkin puree over the paper towels in a thin layer and let it sit for 15-20 minutes.
The paper towels will leech the moisture out of the puree. You'll be able to scrape the puree free and transfer it to the cookie dough.
Step 1: Mix the wet ingredients
Cream the butter and both sugars together for a couple of minutes until well combined. Once the butter and sugars are creamed, mix in the egg yolk and molasses.
Lift one of the shorter sides of the paper towel slightly and gently scrape the pumpkin puree loose. Lift the edge of the paper towel a little higher and give it a gentle shake.
The puree should begin to roll down the paper towel and form a log. Scrape loose as needed. Transfer the puree to the mixing bowl with the butter mixture and beat on low speed until well incorporated.
Step 2: Mix the dry ingredients
Whisk the flour, cinnamon, baking soda, and salt together in a medium bowl. Add it to the pumpkin mixture and mix on low speed just until no streaks of dry flour are visible.
Add the oats and stir them in with a silicone spatula.
The process for the cookies is easy and the best thing is the dough doesn't require chilling.
Chilling oatmeal cookie dough is actually never a good idea because the oats will soak up all the moisture in the dough as it sits and this will negatively affect the texture of the cookie.
Step 3: Bake
Use a 1.5 tablespoon cookie scoop and drop mounds of cookie dough onto a parchment-lined baking sheet. This recipe makes about 34 cookies so you need 3 baking sheets.
Bake the cookies at 375°F for 10-12 minutes. They should look puffy and slightly underdone in the centers.
The cookies will continue to cook and "set" as they rest on the baking sheet after baking. Just let them sit for 10 minutes before transferring them to a wire rack to cool completely.
I've let them cool completely on the pan and this is perfectly fine to do also.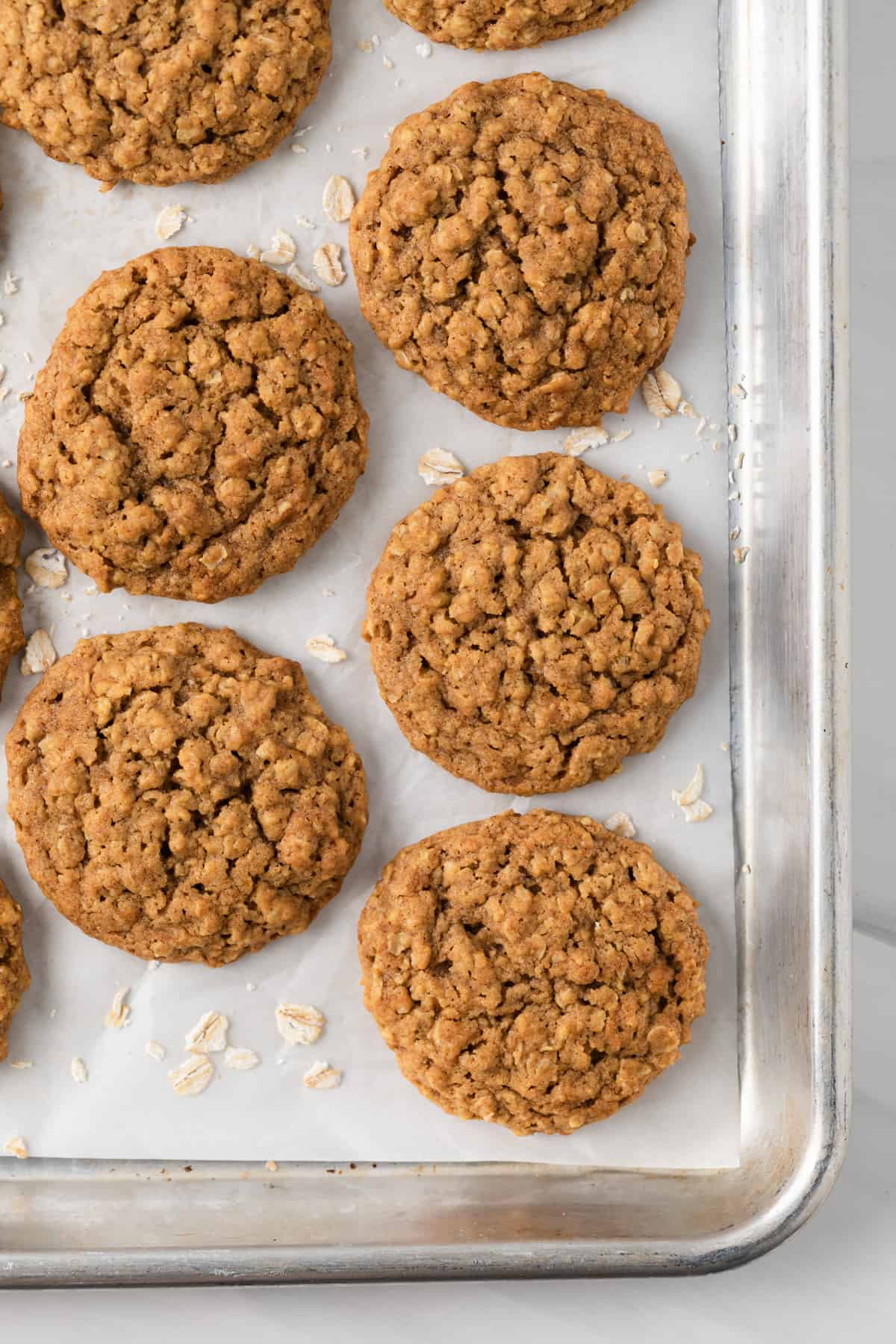 Tips for success
Don't skip the step for blotting the pumpkin puree. This helps keep the cookies from being too cakey or spreading to thin.
Properly measure the flour! It is so important to use proper technique with measuring flour. Using too much flour will ruin the cookie's texture and may prevent the cookies from flattening out into the shape of a cookie.
Oatmeal cookie dough should be used right away. If it sits too long, the oats will absorb the moisture from the other ingredients in the dough and the cookies may not flatten during baking.
Freezing & Storing
How to store: Keep the pumpkin oatmeal cookies stored in an airtight container for up to 7 days. They can be left at room temperature or refrigerated.
How to freeze: Place cookies in an airtight container and freeze for up to 3 months. Thaw in the refrigerator overnight.
Did you try this recipe? I would love for you to leave me a 5-star rating or comment. This way, I have a better understanding of which recipes you like and can create more of them.
Please take a moment to follow me on Instagram, Pinterest, Facebook, Youtube or sign up for my free newsletter to never miss the newest recipes and blog updates.
You can also shop my favorite baking tools. Thank you so much for your support!