This post may contain affiliate links. Read the full disclosure here.
Rich, indulgent and made completely from scratch, this caramel sweet potato pie is a twist on a traditional Thanksgiving pie. This easy pie is guaranteed to impress all of your holiday guests!
An indulgent thanksgiving treat
If you're a fan of rich and creamy pumpkin pie, then you need to try this decadent caramel sweet potato pie. This recipe is actually a combination of three other recipes on this site – the original sweet potato pie, my homemade caramel sauce, and easy pie crust.
For this caramel sweet potato pie, I took the original recipe and swirled in some caramel sauce into the filling.
The pie crust it made with both butter and shortening, so it's both flaky and buttery which complements the creamy texture of the pie.
Then the recipe is rounded out with more caramel sauce drizzled on top. It's truly divine!
If the idea of making everything from scratch seems intimidating or you're just low on time, don't worry! This recipe is incredibly easy, even from scratch, but if needed you can easily use storebought pie crust and caramel sauce.
Fresh sweet potatoes that you roast yourself will give the pie the best flavor. However, canned sweet potatoes can be used if necessary.
If you're looking for a dessert to WOW everyone at Thanksgiving, this caramel sweet potato pie is it!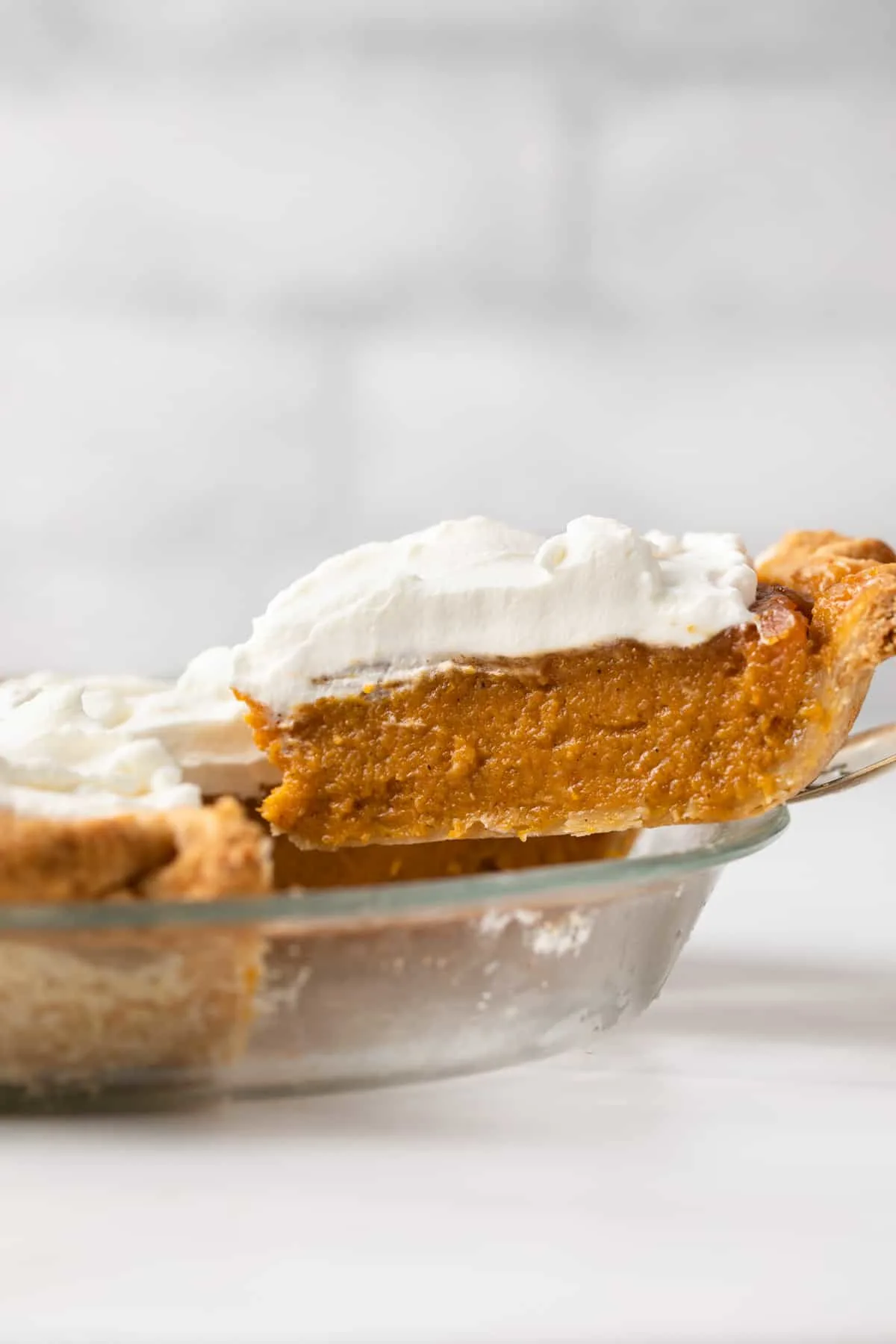 What you'll need
There is just a handful of ingredients in both the pie crust and caramel sweet potato filling.
Ingredients
All-purpose flour
Granulated sugar – Just a touch of sugar goes into the crust.
Salt
Unsalted butter – Butter should be cold and cut into pieces for the crust. Then softened but not melted for the filling.
Vegetable shortening – Some people use all butter in their crust but I prefer a combination of shortening and butter for a flaky, buttery crust.
Ice water – Be sure to use ice water, not room temperature water.
Sweet potatoes – You'll need just 4 medium sweet potatoes for this.
Cinnamon – Adds the warm fall flavor to the pie.
Eggs– You'll need two eggs plus an additional yolk.
Caramel sauce – I prefer to use my homemade caramel sauce but you can grab some at the store too.
Whipped cream – For garnish.
---
How to make caramel sweet potato pie
Though it tastes and looks decadent this Caramel Sweet Potato Pie is pretty easy to make, you just need patience when working with the dough to let it chill properly.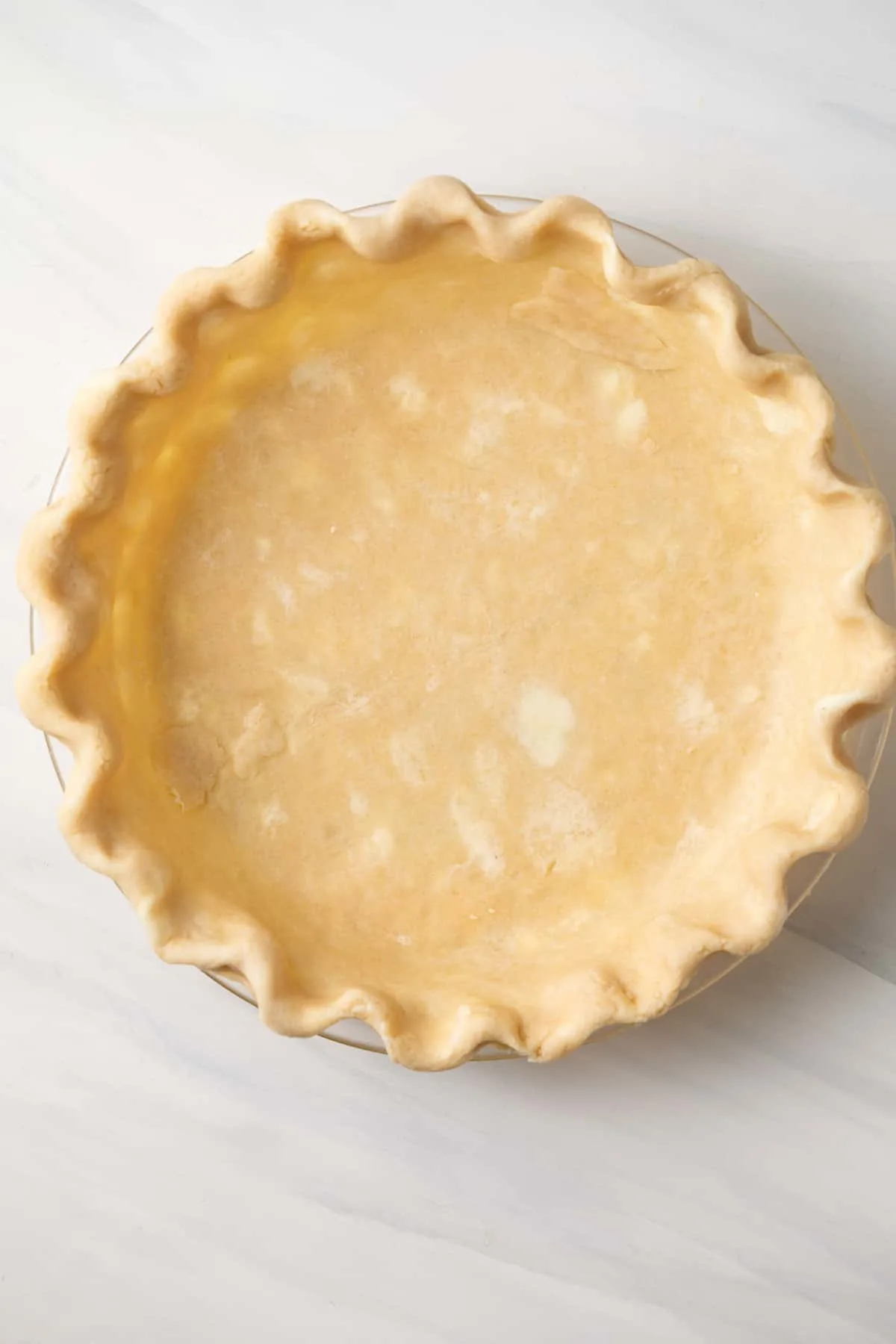 Make the dough for the crust. Combine dry ingredients in a bowl. Cut in the butter and shortening until lentil-sized crumbs form. Drizzle in the ice water to moisten it. Knead the dough on a work surface until it comes together.
Chill the dough. Flatten the dough into a disc and place in the fridge for 1 hour up to 2 days. Roll the dough into a 12 inch circle and place on the 9 inch pan. Allow a 1-inch overhang and trim the rest. Refrigerate for 30 minutes.
Bake the crust. Add pie weights over parchment paper in the pie shell. Bake for 15 minutes, remove the weights, and bake for an additional 9 minutes.
Roast the sweet potatoes. Poke holes in the sweet potatoes then place them on a baking sheet. Bake for 40 minutes until side when pierced with a fork. Scoop the insides out and place in a bowl.
Make the filling. Mash the potatoes with butter, cinnamon and salt. Whisk the eggs, caramel sauce and milk together. Add to the sweet potatoes and whisk to combine.
Bake. Pour the sweet potato pie mixture into the pie shell. Drizzle the remaining caramel sauce over it. Bake for 50-60 minutes.
Cool & serve. Allow to cool on a wire rack for 2 to 3 hours. Top with whipped cream if desired. Then cut and enjoy!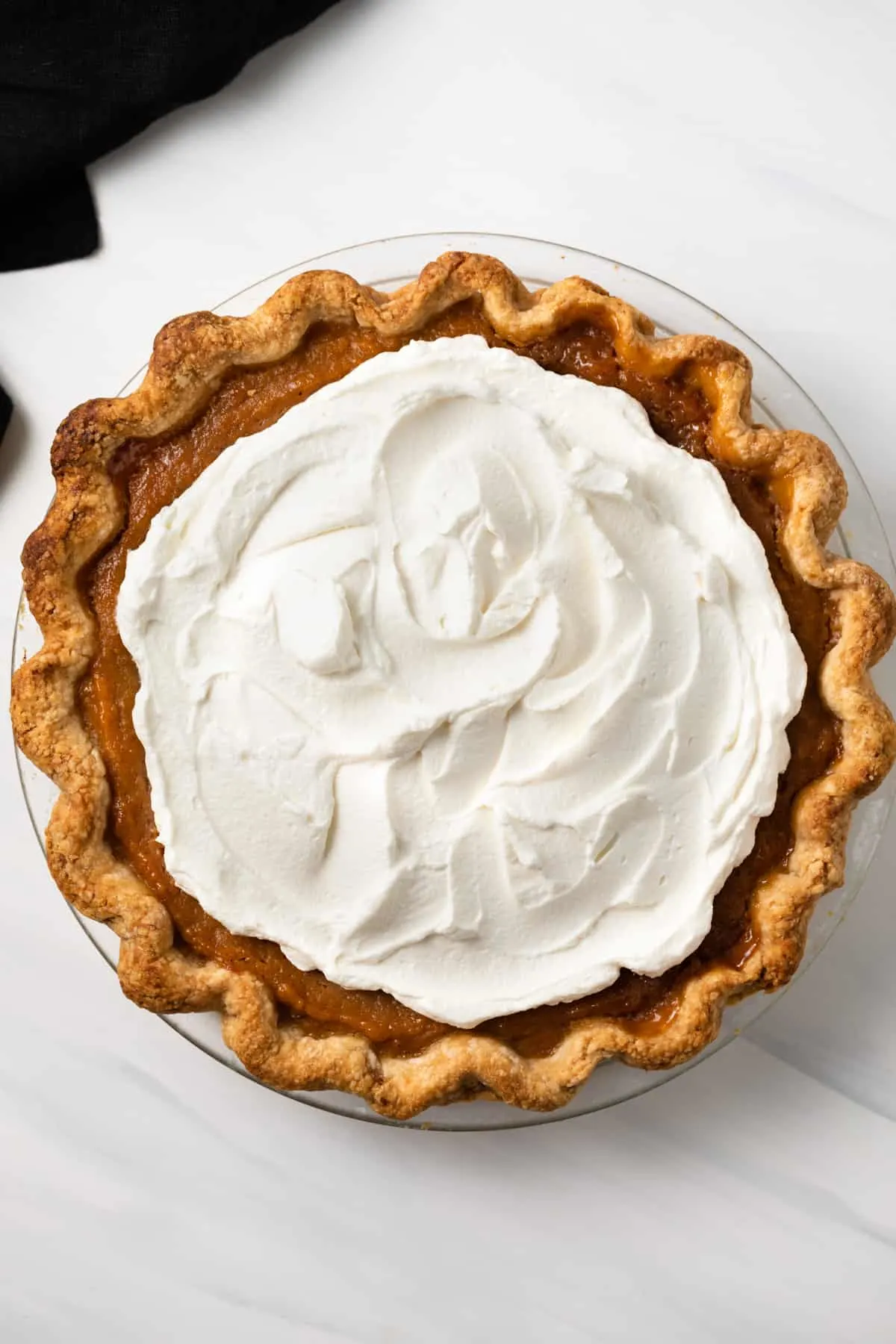 Tips for success
Keep these things in mind for perfectly baked sweet potato pie.
Use canned sweet potatoes. No time to bake the potatoes? No worries – canned sweet potatoes also work here. You can also cut the sweet potatoes into pieces and boil them until tender instead of roasting.
How to tell when sweet potato pie is done. Your pie should be firm on the edges and jiggly in the center when you remove it from the oven. Take care not to overbake it.
Cover the pie to prevent burning. If you notice the crust starting to brown before the center of the pie is finished, you can cover it with aluminum foil and return it to the oven.
Use the store-bought version. I made this entire recipe from scratch but if you're short on time, you can use a storebought caramel sauce or even pie crust here.
Serving suggestions
Serve this rich, decadent sweet potato pie on the dessert table at Thanksgiving or Christmas, or enjoy it anytime throughout the year. You can serve this with just the caramel sauce drizzle on the top or add a big dollop of whipped cream. Either way works and is absolutely divine!
---
Make ahead & how to store
Make the crust ahead of time. The crust can be prepared and stored tightly in the fridge until ready to use.
Make the filling in advance. The sweet potato pie filling can be made up to a day in advance, just keep it covered in the fridge.
Store leftover pie in the fridge. Leftover caramel sweet potato pie can be stored in the fridge for up to 4 days. Be sure to cover it tightly.
Can I freeze sweet potato pie? Yes, you can freeze this pie. It will last for up to a month in the freezer but it needs to be tightly wrapped in several layers of plastic wrap. Thaw in the fridge.
---
More thanksgiving dessert ideas
Did you try this recipe? I would love for you to leave me a 5-star rating or comment. This way, I have a better understanding of which recipes you like and can create more of them.
Please take a moment to follow me on Instagram, Pinterest, Facebook, Youtube or sign up for my free newsletter to never miss the newest recipes and blog updates.
You can also shop my favorite baking tools. Thank you so much for your support!