This post may contain affiliate links. Read the full disclosure here.
This simple cranberry pie recipe will make an excellent addition to your Thanksgiving table! This recipe calls for fresh cranberries but frozen can also be used.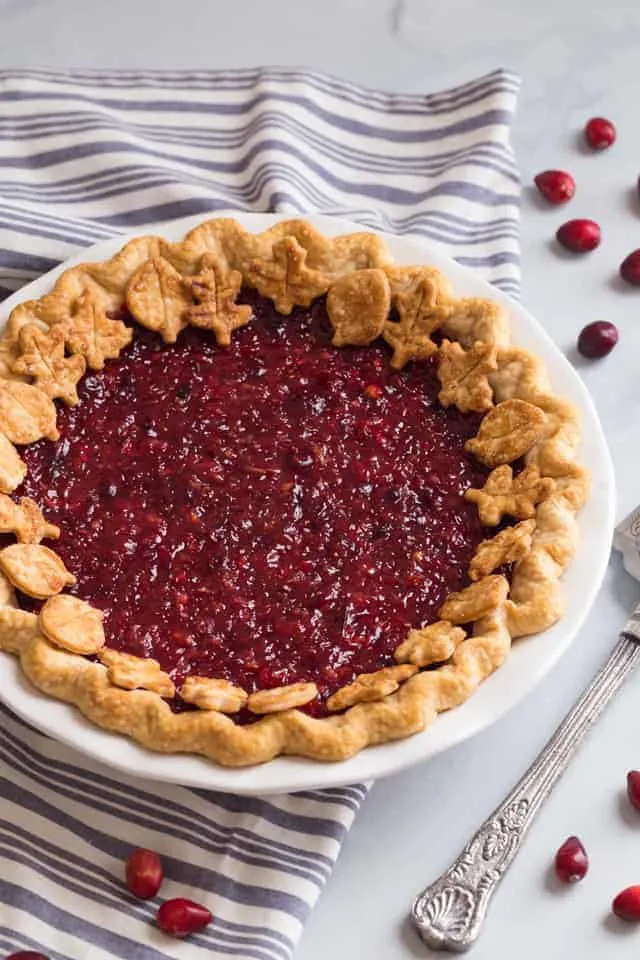 Cranberry pie is something you don't hear too much about. When searching for ideas for Thanksgiving dessert, I noticed that there were only a few recipes for a pie with cranberry filling.
When you think of fall and Thanksgiving, apple cranberry pie, pumpkin pie, and sweet potato pie come to mind. But no one really thinks to make a pie with just cranberries.
Maybe it's because they are so tart? Maybe that's why there's only a handful online?
This inspired me to try and make one that you'd actually enjoy eating. One that wasn't insanely tart. One that's enjoyable.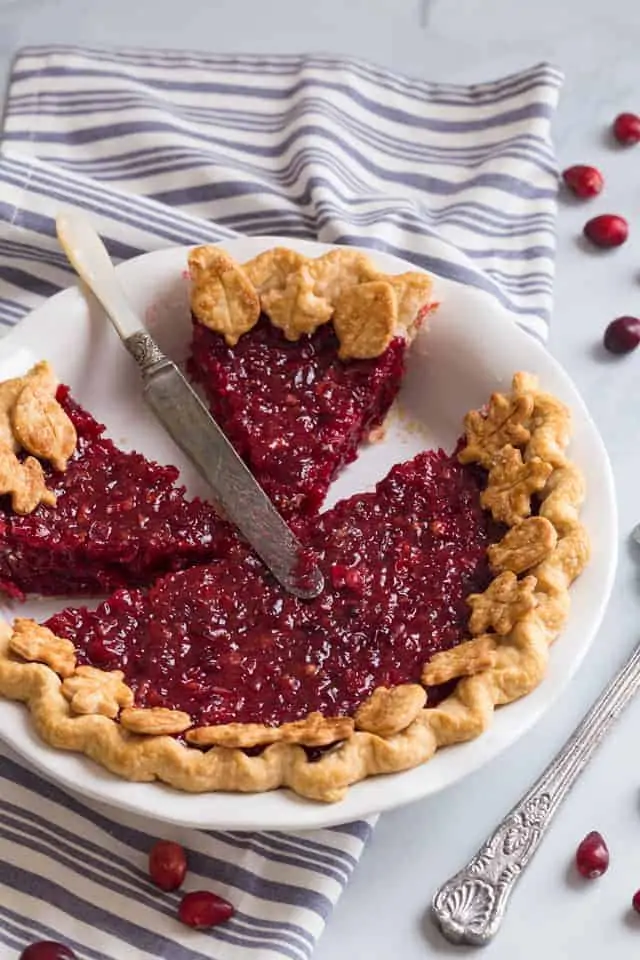 How to make cranberry pie filling?
The fresh cranberry pie filling is pretty easy to make and it's made completely from scratch. There are a few steps and some wait time but the steps are not hard.
My recipe used fresh cranberries but if you can't get your hands on fresh ones, you can use frozen and thawed cranberries. You'll have to make sure you drain them well after they've thawed.
I like to pulse my cranberries in the food processor to give them a rough chop. Then I toss them with sugar and let them sit for an hour. The sugar will soften the cranberries which is needed to help them cook down.
After the cranberries have had their hour sugar soak, stir in orange juice, cornstarch, flour, ginger, salt, orange zest, and vanilla. I really like using both flour and cornstarch to make the filling extra thick.
The filling needs to be cooked on the stovetop for just a few minutes until it is thickened before it goes in the crust. This is to ensure that it will set up and congeal into a thick, jammy filling.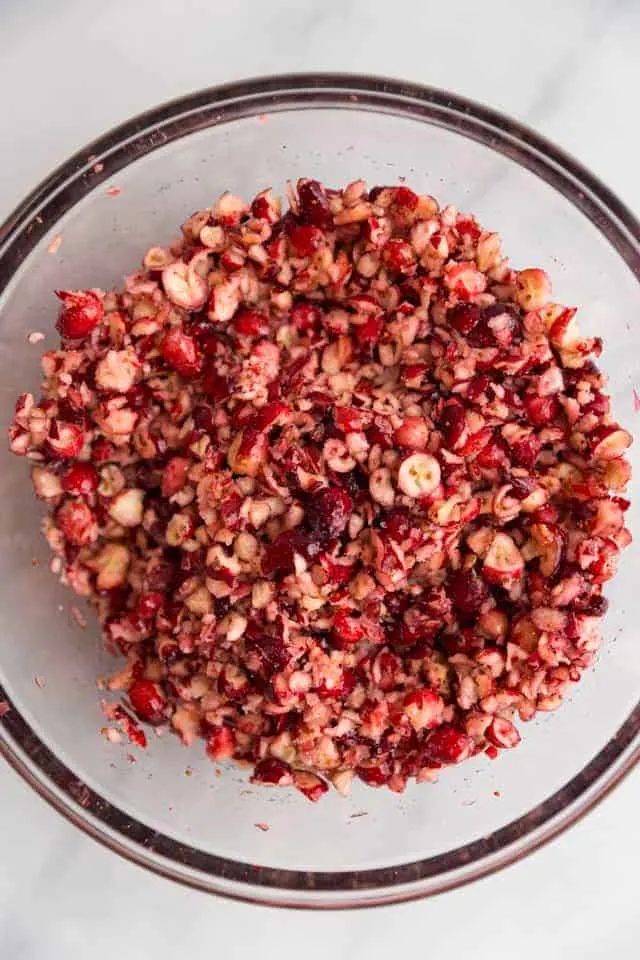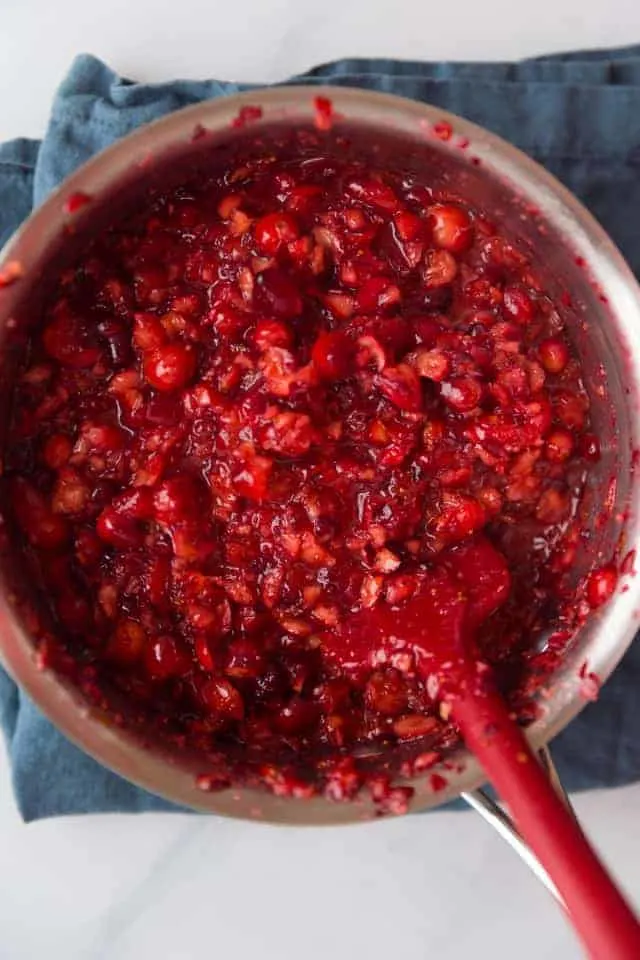 Once the fresh cranberry filling has thickened on the stovetop, pour it right into an unbaked pie shell. I'm using a variation of my homemade pie crust recipe. It's super flaky and develops such a lovely golden color.
Anytime I'm baking a pie with a crust that hasn't been prebaked, I'll move the rack to the lower-third position. This is just beneath the center position. This way it's closer to the bottom element and the crust will cook through and become crisp.
However, I suggest you experiment with your oven to make sure this is an adequate position for baking a pie in an unbaked shell. You may find that you need to lower the rack another position in order to get the crust cooked.
How to know when cranberry pie is done?
This pie bakes at 450°F for 10 minutes and then at 350°F for an additional 20 minutes. You'll know it's finished baking when the filling is bubbling and the crust is golden brown.
If the crust is browning too fast, you can cover the edges with a pie shield or aluminum foil.
The pie needs to cool completely before serving. This will take about 4 hours. I like to refrigerate mine overnight once it has cooled but this is totally optional.
---
Pie crust variations
I doubled my pie crust and used the second pastry for pie crust cutouts. I'll leave instructions on how to do that in the recipe notes.
You can also choose to top the pie with the second pastry or use it to make a lattice crust. Refer to my apple cranberry pie linked above in the third paragraph for instructions on how to make a lattice crust.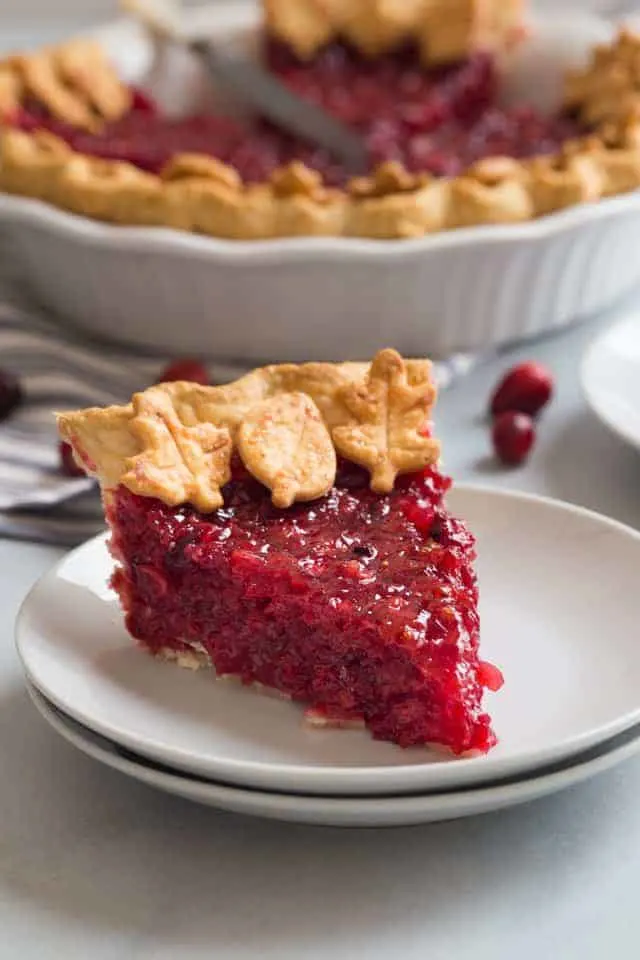 Tips for classic cranberry pie
Save yourself some time by making the pie a day in advance! It refrigerates well. I actually prefer it best if refrigerated overnight.
The pie dough and filling can each be made a day in advance. Store them in the refrigerator then assemble and bake the pie the next day.
---
More cranberry recipes you'll love
Did you try this recipe? I would love for you to leave me a 5-star rating or comment. This way, I have a better understanding of which recipes you like and can create more of them.
Please take a moment to follow me on Instagram, Pinterest, Facebook, Youtube or sign up for my free newsletter to never miss the newest recipes and blog updates.
You can also shop my favorite baking tools. Thank you so much for your support!
Adapted from Bon Appétit