Cranberry Orange Upside-Down Cake
This post may contain affiliate links. Read the full disclosure here.
This simple cranberry orange upside-down cake is a must make. Made with fresh cranberries that are cooked down into a syrupy sweet jam for the topping and a soft buttery orange cake, this is one fabulous dessert.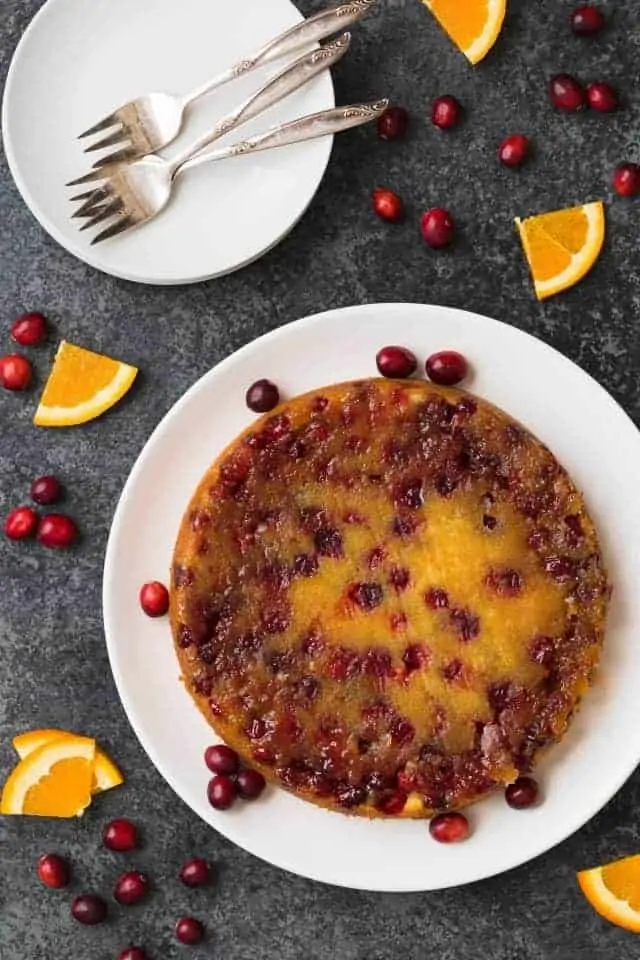 Cranberry Orange Upside-Down Cake
Upside-down cakes are the easiest cake you can make. They don't require frosting and you can enjoy them while they are warm and the topping is gooey. One of my favorite versions of this cake is my spiced apple upside-down cake. Try it if you get a chance.
It's the time of year where we put cranberries in all the things like cranberry orange sweet rolls, cranberry white chocolate oatmeal cookies, and cranberry gingersnap cookie butter. So why not put them in cake as well?
The cake begins with butter, brown sugar, and fresh cranberries. Butter is melted in down with brown sugar in a shallow pan then poured over fresh cranberries. As the cake bakes the cranberries will cook down with sugar syrup to form a thick layer of jam.
On top of the cranberries goes a luscious orange cake batter. The cake is flavored with orange zest and fresh orange juice. The orange juice acts much like buttermilk in making the cake super moist.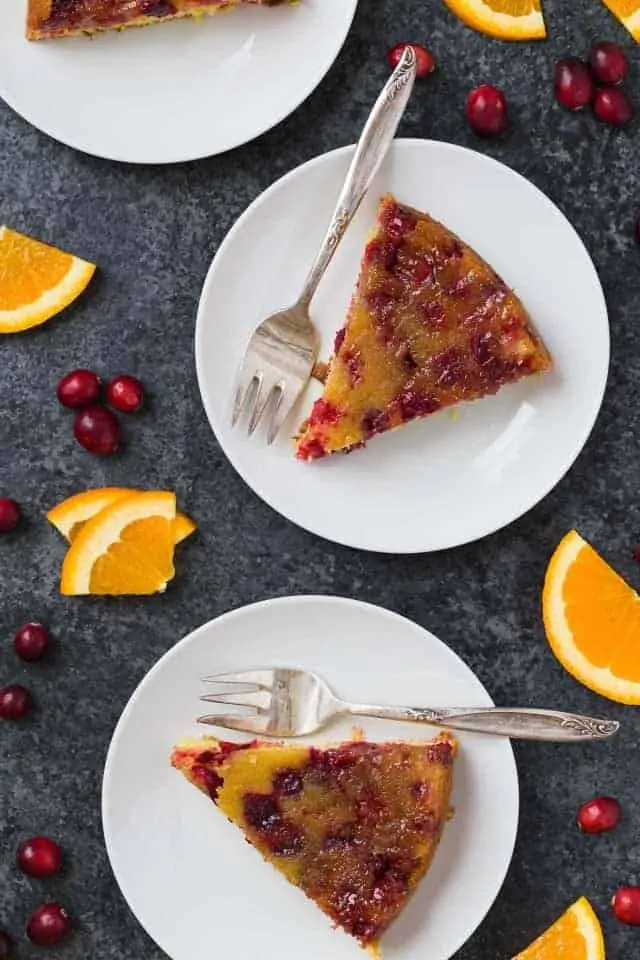 I'm certain you have made some version of an upside-down cake before. The first one I ever made was a classic pineapple upside-down cake. It used to be my favorite. The only cake I would eat for my birthday.
But now that I have a food blog, I enjoy experimenting with different versions. This cranberry orange upside-down cake is up there with the front-runner.
The topping reminds me of candied cranberries. It's sweet but not overly sweet and there's a slight tartness from the cranberries.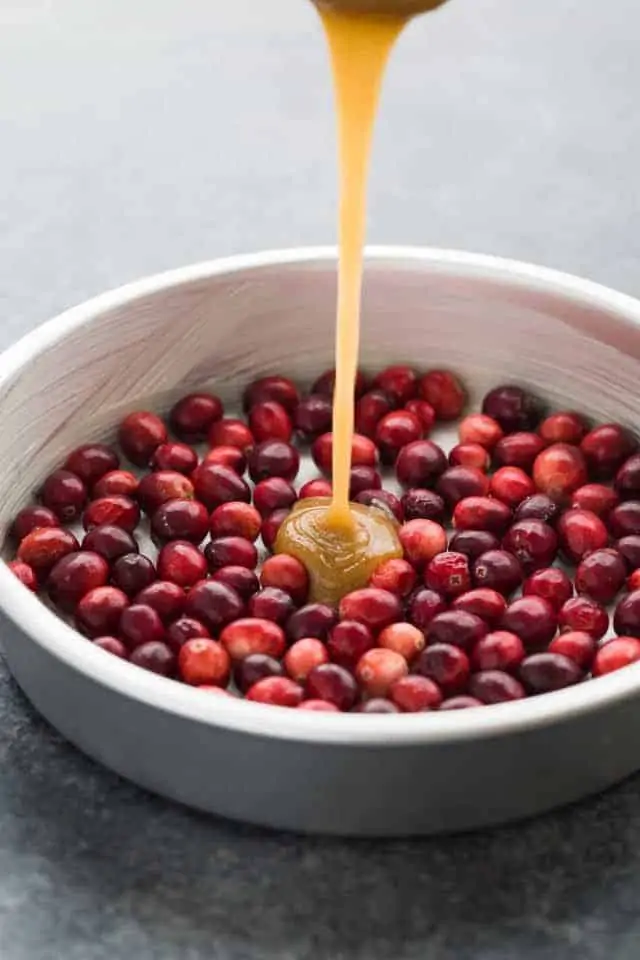 I went a little light on the sugar. But I like the tartness of fresh cranberries. Feel free to add more sugar if you want it sweeter.
The cake is splendid. It's light, airy, sweet, with intense orange flavor. You can use fresh or packaged orange juice, but don't leave out the zest. It's a necessity.
The eggs are separated and mixed in at different stages. The yolks go in when you normally add the eggs to the cake batter. Then the whites are whipped up into stiff peaks and folded into the batter at the very end.
This is a little tip I picked up from Cook's Country. The whipped egg whites produce a tender yet sturdy cake.
When it comes to inverting the cake, don't wait for it to cool completely before doing so. But don't do it right out of the oven either.
It will be hot and you risk burning yourself with the fruit layer. Wait for about 10 minutes. That seems to be the perfect amount of time for the topping to set but still release easily from the pan.
Did you try this recipe? I would love for you to leave me a 5-star rating or comment. This way, I have a better understanding of which recipes you like and can create more of them.
Please take a moment to follow me on Instagram, Pinterest, Facebook, Youtube or sign up for my free newsletter to never miss the newest recipes and blog updates.
You can also shop my favorite baking tools. Thank you so much for your support!
Adapted from Cook's Country.