Spiced Apple Upside-Down Cake
This post may contain affiliate links. Read the full disclosure here.
Infused with cinnamon and nutmeg, this Spiced Apple Upside-Down Cake features apples baked into every bite. It will quickly become a fall favorite!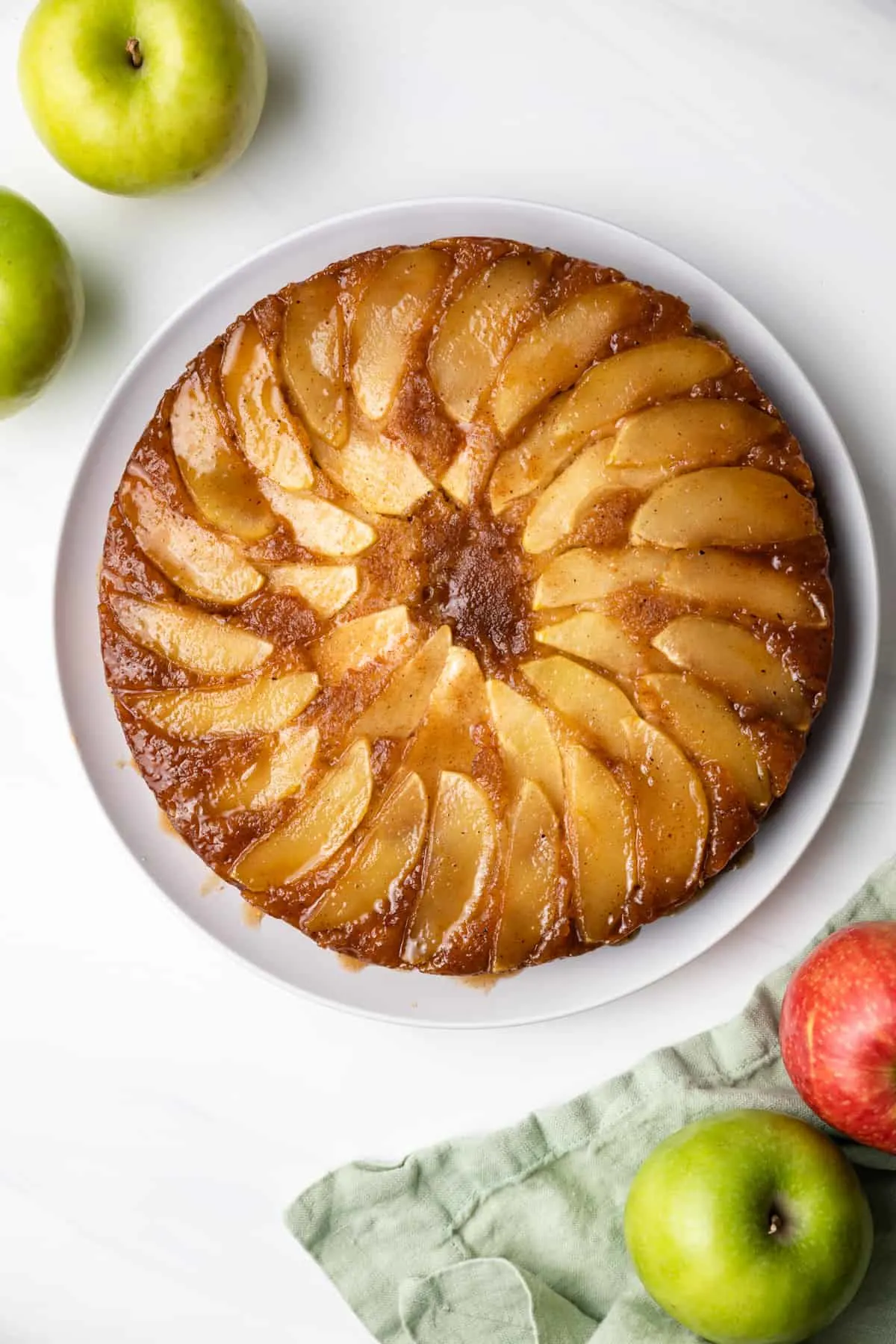 An Easy Fall Cake
Inspired by my upside-down pineapple cake, this Spiced Apple Upside-Down Cake has quickly become one of my favorite fall desserts, next to my cranberry orange upside-down cake.
Like its pineapple cousin, this apple cake is dense yet tender, with not only apple flavors but apples in every single bite. There's the spiced apple topping but also bits of apple throughout the cake. Infused with cinnamon and nutmeg, it's full of fall flavor!
Not only that, but I used a few "secrets" to make this the best upside-down cake you'll ever try! First, I made sure to use cake flour instead of all-purpose flour. Some will say that doesn't make a difference but in my opinion, cake flour makes a noticeable difference.
Second, I use apple cider instead of milk to infuse every single bite of this cake with apple flavor. This cake tastes like you are taking a bite straight from the sweetest apple! It's the cake version of my spiced apple cupcakes which you must try next.
Needless to say, this fall cake didn't sit around my house long before it was completely devoured!
---
Why this recipe works
Cake flour give the cake a dense yet tender crumb.
Apple cider privides crisp apple flavor.
The easy no-fuss method yeilds a soft, flavor cake that can't be beat.
What You'll Need
This easy apple cake is loaded with apples in the topping and the cake itself and made with pantry essentials!
For The Topping
Butter – I prefer to use unsalted butter. It should be cold and cut into pieces.
Light brown sugar – Adds a sweet, slightly rich flavor.
Cinnamon & nutmeg – Add a warm spice to the apple topping.
Apples – You'll want tart baking apples to contrast the sweetness of the other ingredients.
For The Cake
Cake flour – Cake flour creates a softer texture than all-purpose flour.
Baking powder & baking soda – Work as the leavening agents to allow the cake to rise.
Salt
Cinnamon & nutmeg – Warm flavor is spread through every bite of this cake.
Unsalted butter – If you use salted butter, omit the extra salt.
Granulated sugar – This cake is perfectly sweet and tender.
Maple syrup – You can also substitute honey for a warm sweetness.
Vanilla extract – For flavor.
Eggs – Eggs should be at room temperature.
Apple cider – Enhances the apple flavor throughout the recipe.
Apples – I use Granny Smith but any tart baking apples will work.
---
How to Make Spiced Apple Upside Down Cake
This spiced apple cake is surprisingly easy to make! No special skills or equipment are needed.
Preheat the oven. Preheat the oven to 350ºF and prepare the cake pan by spraying it with non-stick spray. Line the bottom with parchment paper and spray with non-stick spray.
Prepare the glaze. Stir butter and brown sugar over medium heat, until creamy and bubbly. Pour evenly in the bottom of the pan.
Arrange the apple topping. Place the apple slides side by side, starting at the outside and working your way in. The slices should overlap slightly.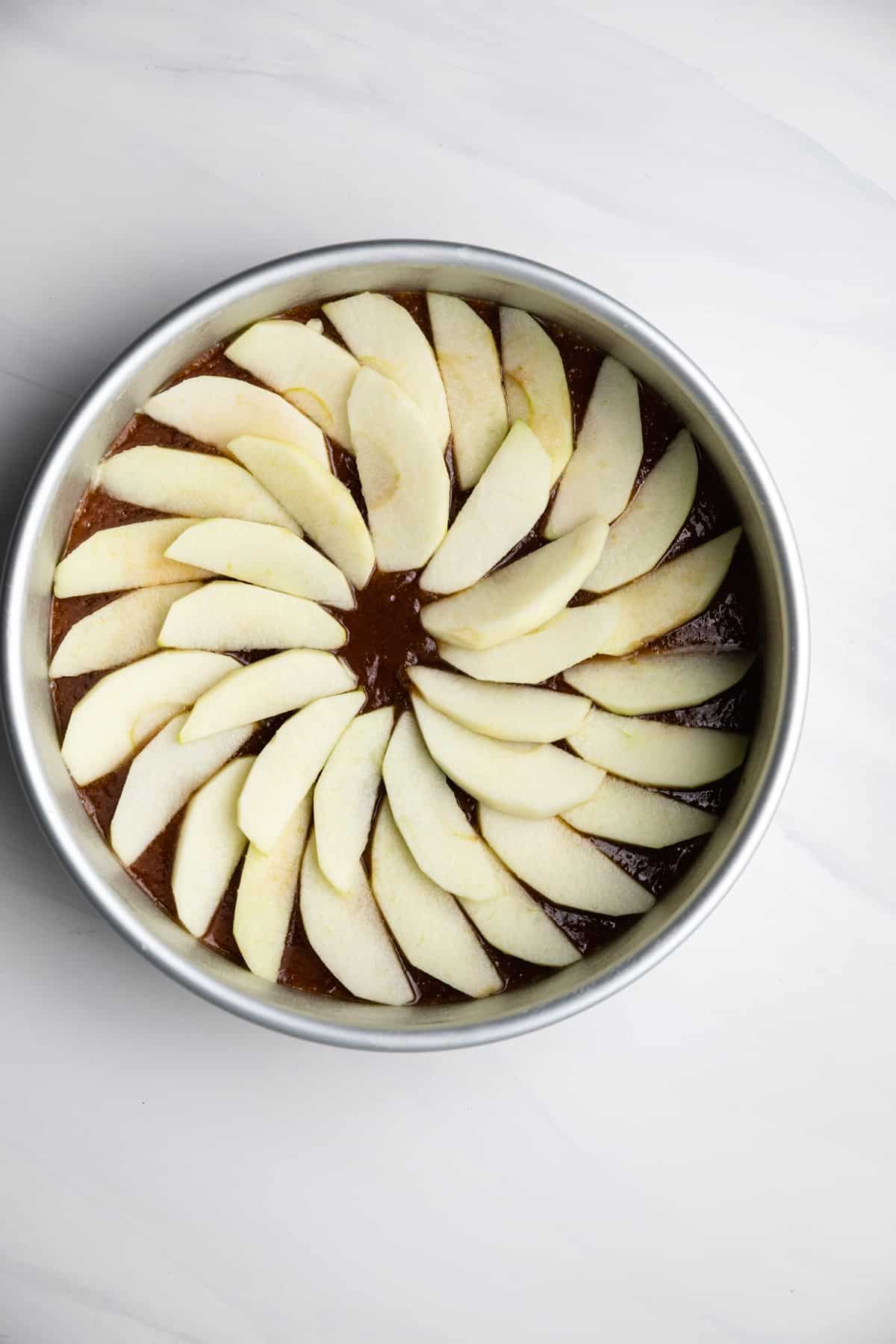 Prepare the cake batter. Whisk together the dry ingredients. In a separate bowl, cream the butter and sugar. Add the maple syrup and vanilla, followed by the eggs. Next, add half the flour mixture then the apple cider. Add the remaining flour mixture and stir in the chopped apples. Carefully pour over the apple topping in the pan.
Bake. Bake for 30 to 35 minutes, until the cake is a rich golden brown.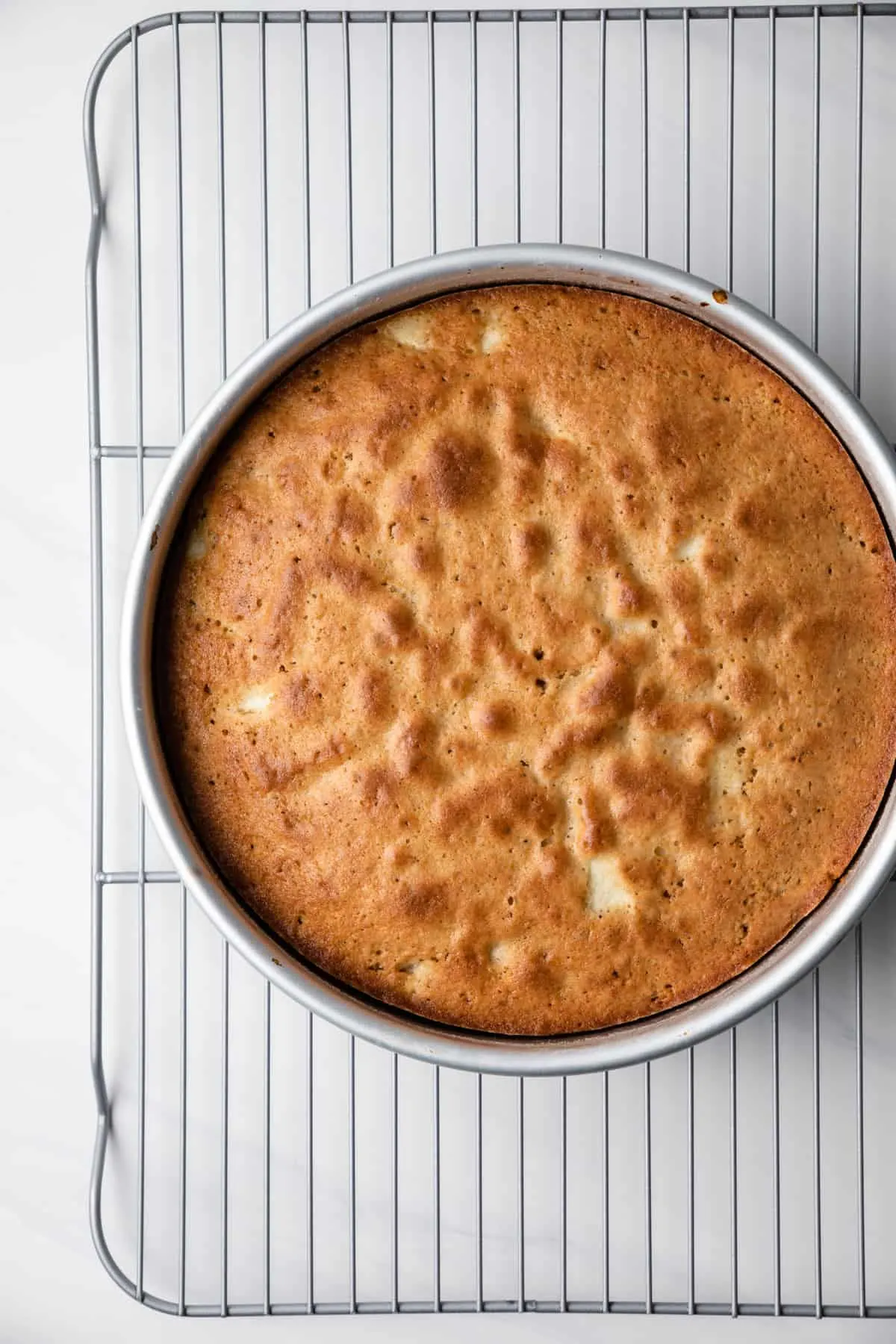 Cool. Cool on a wire rack for 5 minutes then invert onto a platter. Serve slightly warm or at room temperature.
Pro tip: Don't overmix the cake batter. Doing so will cause the cake to be tough and possibly dense. You only need to mix until you no longer see streaks of dry flour.
Tips for Success
There are just a few things to keep in mind when baking your spiced apple upside-down cake.
Be sure to use cake flour. Cake flour is essential for a cake's tender crumb and my secret to making the best upside-down cake. For that reason, I don't recommend substitute it with all-purpose flour. Cake flour can usually be found in the baking aisle at your lcoal store.
What are the best apples to use? My go-to apples are Granny Smith for this apple cake and other baked goods with apples. You can use any tart baking apple in this recipe.
Add extra flavor with apple cider. One of my other tricks to making the best apple upside down cake is to add extra apple flavor by using apple cider instead of milk. You can also use apple juice.
Don't overmix the batter. While you want to gently combine after adding each ingredient, don't go too crazy. Overmixed batter will lead to a less tender cake.
Serving Suggestions
Apple upside-down cake can be enjoyed warm or at room temperature. With the sweet but tart apple topping, this cake doesn't need anything else to enjoy. That's one of my favorite reasons for making upside-down cakes – they don't require any icing, frosting, or anything else. Just slice and enjoy!
But, if you really want to indulge your sweet tooth, you can't go wrong with a scoop of vanilla ice cream on top!
---
How to Store Leftovers
Leftover cake can be stored in the fridge for up to 5 days. Allow it to cool to room temperature and wrap tightly with plastic wrap before moving to the fridge.
Can I Freeze Apple Upside-Down Cake?
Yes, you can freeze your apple upside-down cake, either the whole cake or as slices. Allow the cake to cool completely then wrap tightly in plastic wrap and aluminum foil. Freeze for up to 3 months. Bring to room temperature before serving.
More Easy Apple Recipes:
Did you try this recipe? I would love for you to leave me a 5-star rating or comment. This way, I have a better understanding of which recipes you like and can create more of them.
Please take a moment to follow me on Instagram, Pinterest, Facebook, Youtube or sign up for my free newsletter to never miss the newest recipes and blog updates.
You can also shop my favorite baking tools. Thank you so much for your support!