This post may contain affiliate links. Read the full disclosure here.
My version of Tres Leches Cake is made with dulce de leche, evaporated milk, and heavy cream poured over a vanilla sponge cake then topped with homemade sweetened whipped cream. Add a sprinkle of cinnamon over the top and enjoy!
My husband has been begging me to make a tres leches cake for years. We love Mexican and Spanish food and I really enjoyed the bunuelos I made earlier this year.
It took me a while to become okay with the idea of a tres leches cake because despise soggy food. I can't even think about any type of bread texture being doused in liquid. It makes my stomach turn.
I had to force myself to try a milk-soaked cake and I was pleasantly surprised. It's not soggy at all. Instead, it's moist, spongy, and very flavorful.
It's basically a poke cake. You poke holes all over the cooked cake and pour syrup over the top. It soaks into the holes, like my strawberries and cream cake. In this case, the syrup is made from three different kinds of milk.
Of course, I had to create my own version of this popular cake. I wanted the milk syrup to be thicker and have more flavor because I'm really not a fan of milk to begin with. So the syrup needed to be awesome in order for me to enjoy the cake.
I achieved this by using dulce de leche. It's cooked milk and has a rich caramel flavor. It also adds a lovely color to the syrup and you can see where it has soaked into the cake. This made it the best tres leches cake I've tried.
It may not be an authentic tres leches cake but it is damn good!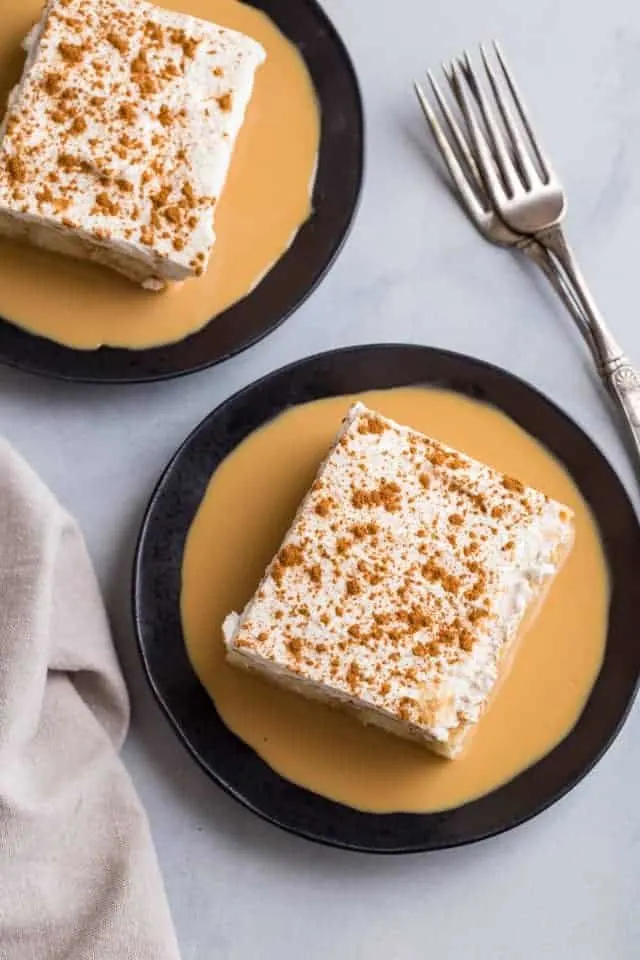 Why is it called tres leches cake?
Tres leches means three milks. The cake gets its name because it's soaked in a mixture of three different milks.
What is in tres leches cake?
The cake for tres leches cake is a basic sponge cake. It doesn't contain any oil or butter. The only fat in the recipe is eggs and milk.
The spongy texture of the cake allows it to easily soak up the milk syrup which flavors the cake.
The cake is topped with sweetened whipped cream and a garnish of your choice. I used cinnamon but I've seen strawberries or maraschino cherries used as well.
---
How to make tres leches cake?
Step 1: Make the cake
The cake starts with a basic sponge cake that doesn't contain oil or butter.
Separate the eggs and whip the yolks with sugar until the color turns pale yellow. Whisk the yolks and sugar into a mixture of flour, baking powder, and salt.
I like to use cake flour because it's finely milled and contains less protein which makes the texture of the cake more delicate.
Then, whisk in the milk and vanilla until the batter is smooth a free of lumps. It may take a few minutes to work the flour in but just keep whisking.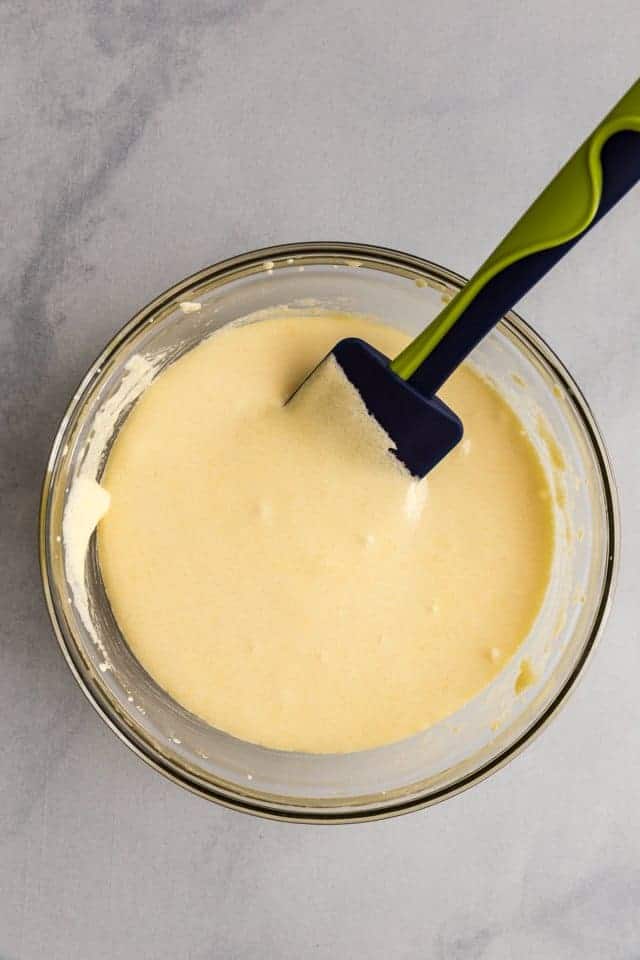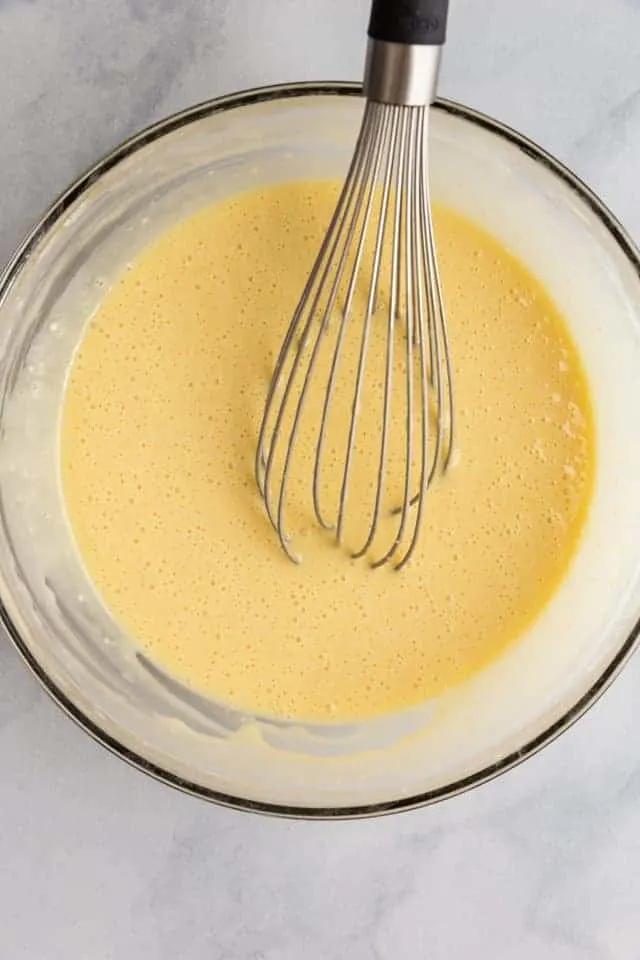 Use a clean bowl and clean beaters to whip the egg white to soft peaks. Make sure not to over whip the whites. You don't want them to be dry.
They should remain shiny like meringue and the peak should stay stiff but fold over at the very tip.
Once the whites are the perfect consistency, gradually fold them into the batter. I do this in three additions.
I whisk in the first addition it lightens up the batter making it easier to fold in the remaining whites.
The batter gets baked in a 9×13-inch glass or porcelain pan. I find these work the best.
Also, don't grease the pan. This cake needs something to "cling" to or it will deflate and shrink as it cools.
You can grease the bottom but if you grease the sides of the pan, the cake won't be able to stick and you'll end up with a flat pancake after it's cooled.
Don't worry about not being able to get the cake out of the pan. Once the milk mixture soaks in, the cake will be easy to slice and remove.
Step 2: Make the syrup
Because dulce de leche is thick it needs to be heated in order to mix it with the other milks.
I combined the dulce de leche and evaporated milk in a medium saucepan then heated it over medium-low heat until the dulce de leche melted. Keep whisking every so often to help it break down and become smooth.
Whisk in the heavy cream and vanilla at the end. You can use bourbon or rum also if you're not serving the cake to children.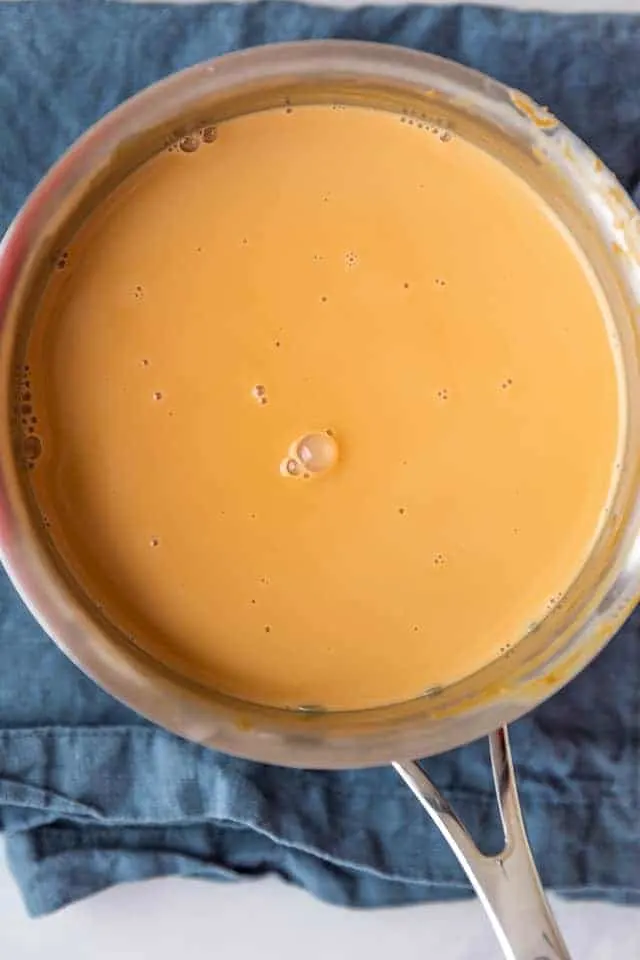 Once the cake has baked, let it cool for about 30 minutes then poke holes all over with a wooden skewer or fork. I like the skewer best because the cake is very moist and sticky, it will stick to the fork.
Pour the warm milk syrup all over the slightly warm cake. Concentrate around the edges first because those tend to soak up less milk.
If you notice the milk isn't absorbing into the cake, make another pass with the skewer or fork to help it along.
Keep in mind you don't need to use all of the milk. I mean you can if you want to but I like to reserve a third of a cup or so to drizzle around the slices when I serve it.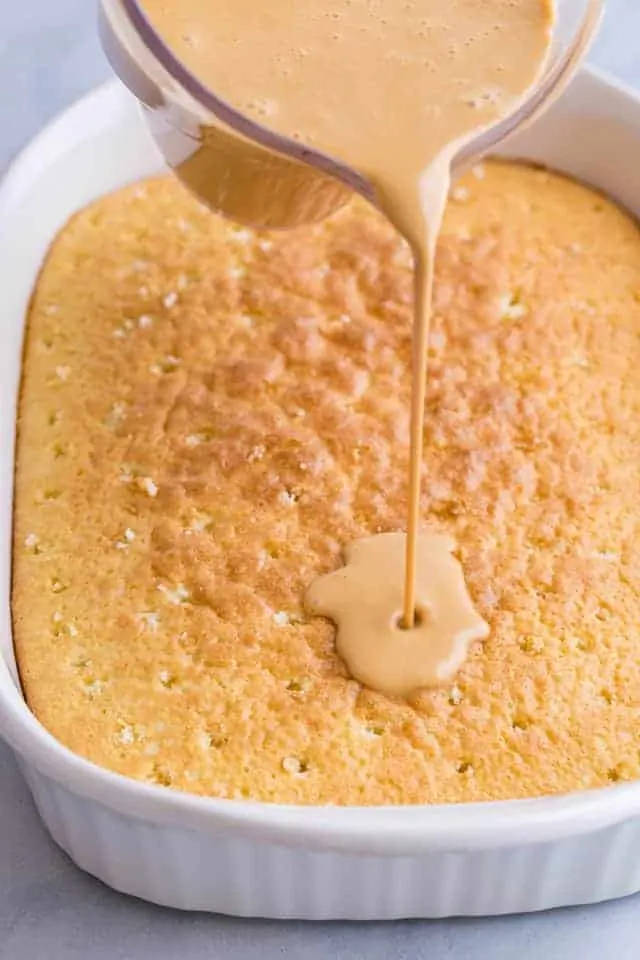 Now comes the hard part. You must refrigerate the cake for at least four hours. It's best to leave it overnight though.
As it chills the syrup will fully soak into the cake and the cake will firm up making it easy to slice and serve.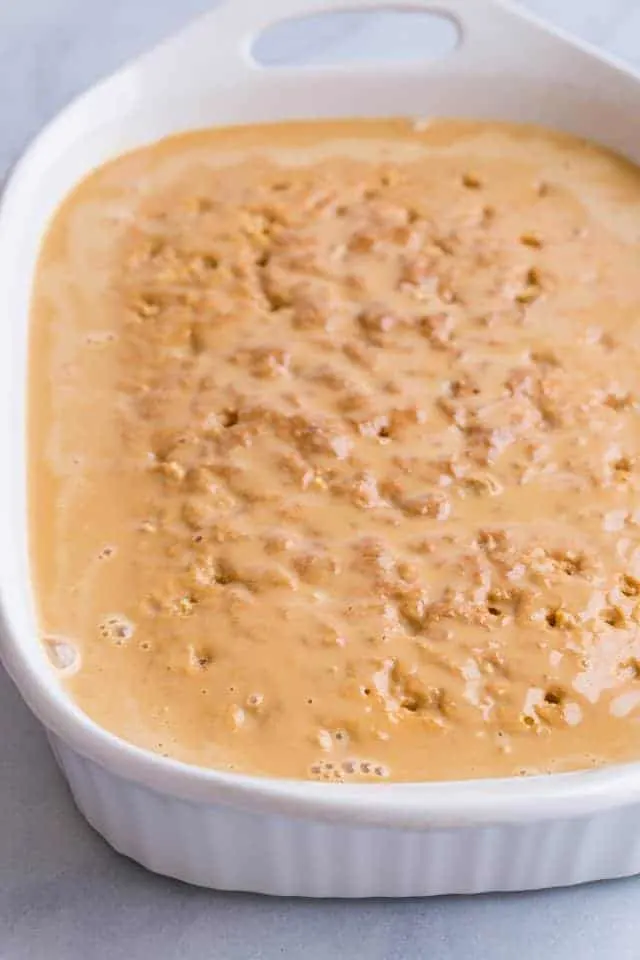 Step 3: Top the cake
Make homemade sweetened whipped cream and spread it over the cake just before serving. You could also use store-bought but I prefer homemade better.
Sprinkle cinnamon over the top and your tres leches cake is ready to enjoy!
This cake is can be made and kept in the refrigerator for up to 3 days. It's a great cake to make ahead for a party!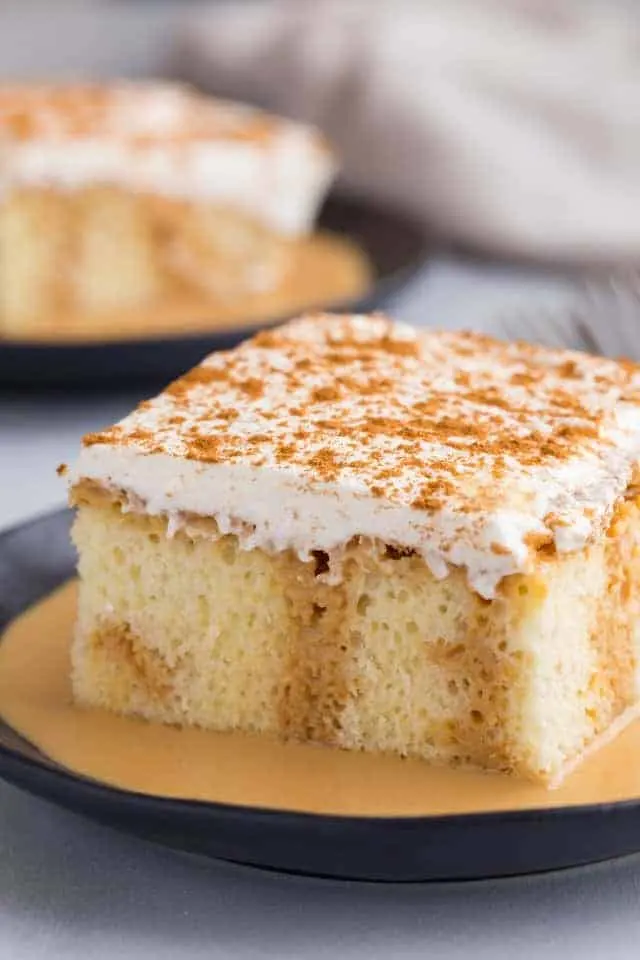 Tips for making tres leches cake
Plan ahead since the cake needs to soak for 4 hours or overnight.
Pour the warm milk syrup over the warm cake. This milk soaks up the syrup best when everything is warm.
Use an ungreased glass or porcelain baking dish so the cake will cling and rise tall without shrinking.
More cake recipes you'll love
Did you try this recipe? I would love for you to leave me a 5-star rating or comment. This way, I have a better understanding of which recipes you like and can create more of them.
Please take a moment to follow me on Instagram, Pinterest, Facebook, Youtube or sign up for my free newsletter to never miss the newest recipes and blog updates.
You can also shop my favorite baking tools. Thank you so much for your support!