Homemade Maple Cinnamon Bagels
This post may contain affiliate links. Read the full disclosure here.
These homemade maple cinnamon bagels make the perfect breakfast for fall – especially when slathered with a shmear of cream cheese. They have that signature chewy texture of an authentic bakery bagel, but they're even better because they're made fresh in your home kitchen!
Allow me to show you how to make your new favorite breakfast recipe. With my testing trials, I learned key components to help you bake with success.
Why this recipe works
Taste: There is no lacking of cinnamon and maple in this recipe. There's cinnamon in every single bite. The key to getting the maple to shine through is to add it to the dough and the water bath.
Texture: These are not like the soft, fluffy storebought bagels. They are chewy on the inside and crisp on the outside. Just the way an authentic bagel should be.
Difficulty: This recipe can be challenging for those who are inexperienced with yeast dough. But I promise if you follow my instructions exactly and watch the video of the process, you will have success. Honestly, if you've made my soft pretzels with success, you'll be able to make these.
See my other yeast bread recipes!
These bagels are the real deal!
If you've had an authentic, New York style bagel before, you know they're something special. A slightly crisp exterior gives way to an irresistibly chewy interior that's even tastier when golden brown and toasty.
They're nothing like the bagels you buy in plastic bags at the grocery store—and these Maple Cinnamon Bagels are made the New York way.
To achieve this, you have to do some work. Is it worth it? Absolutely! And not just because nothing beats a homemade bagel—you'll also save money making your own and you get a sense of satisfaction from the process.
And like my homemade English muffins, they freeze well so you can always have them on hand for a quick breakfast.
---
What you'll need
The ingredient list for Maple Cinnamon Bagels is simple, but because baking is a science (especially baking bagels!), it's important to get the exact ingredients listed, rather than winging it with what you have on hand.
Ingredients for cinnamon bagels
The full recipe with ingredient amounts can be found at the end of this post in a printable recipe card!
Unbleached bread flour: Bread flour isn't the same as standard flour; it has a higher protein content, which is critical for a bagel. The extra protein contributes to the chewy texture.
Instant yeast: You need 1 tablespoon which a little more than 1 packet.
What if I only have active dry yeast?
I prefer instant yeast because it's reliable. However, you can use active dry yeast. Warm the water and maple then stir in the yeast. Allow it to sit for 5 minutes until foamy. It's now ready to use.
Light brown sugar: The very light molasses flavor adds a layer of warmth to the bagels. You can use granulated sugar if needed.
Ground cinnamon: One of the star flavors!
Salt: A little salt helps keep the yeast in control.
Warm water: Make sure the water isn't above 115°F or it could kill the yeast.
Maple syrup: Use real maple syrup, not pancake syrup.
Recommended tools
Mixer: I prefer to use a stand mixer with the dough hook attachment. You can also mix the dough in a bowl with a wooden spoon then knead by hand.
Bench scraper: This is a handy tool used to scrape the dough out of the bowl and to cut it. I often use a metal scraper but the plastic scrapers work best for sticky doughs.
Baking sheet: You'll two large baking sheets to bake the bagels.
Skimmer spoon: I find it easiest to use a skimmer spoon to remove the bagels from the water bath.
How to make maple cinnamon bagels
Making bagels isn't necessarily hard, but it does require some time and effort. Make sure you allow yourself ample time for the recipe—this isn't one to start a few minutes before you have guests coming over!
Here's how to make cinnamon bagels like a pro:
Make the dough. Combine all the ingredients for the dough in the bowl of a stand mixer. Attach the dough hook to your stand mixer and mix on low until everything is incorporated. Turn the speed up to medium and mix until dough is one cohesive mass.
The dough will pull away from the sides of the bowl and become very stiff.
Let the dough rise. After the dough has come together, leave it in the bowl, cover, and let it rise for 45-60 minutes. It may not completely double in size but should be noticable risen.
Divide the dough. Place the dough onto a lightly floured cutting board and divide it into twelve even pieces. Roll each piece into a ball and place them on a parchment lined baking sheet.
Let the dough rise again. Cover the balls with platic wrap and let rise until risen about 20% in volume. This can take about 30 minutes.
Shape the dough into cinnamon bagels. Press one finger right through the center. Pick up your dough and make a hole in the center where you pressed your finger. Using your index fingers, place each one through the hole on both sides of the bagel and rotate your finger around in a rolling motion.
Try to make the hole 50% larger than you want it to be because it will shrink as the bagel cooks.
Do you have to boil bagels?
Yes! Boiling the bagels will help develop the dense chewy crumb and dark golden crust. Here's the proper way to do it for this recipe…
Boil the bagels. Bring water and maple syrup to a boil in a large shallow pot and boil the bagels for 1 ½ minutes on one side. Turn them carefully and boil for an additional minute. (This is how they get their signature golden color, similar to soft pretzels.) Place them back on the baking sheets.
Bake the bagels. Place the bagels on a parchment-lined baking sheet and bake them for 25 minutes in a 400ºF oven. Turn each bagel over halfway through the cooking time to help them brown evenly. They will have a nice golden brown color once they are done.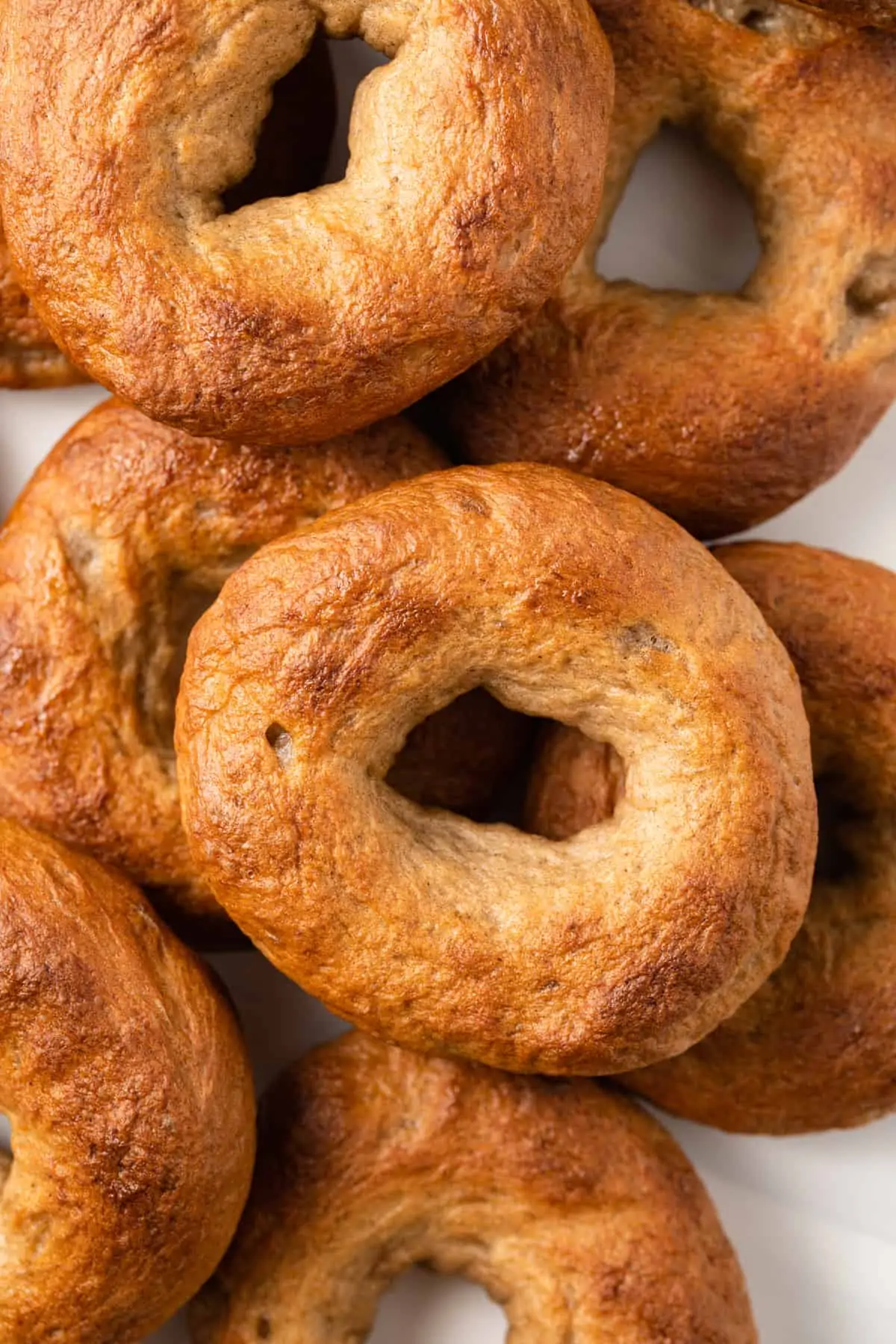 Tips for success
These tips will help you make perfect Maple Cinnamon Bagels:
Properly measure the flour. Don't use your measuring cup to scoop the flour out of the bag or canister; you'll end up with more flour than needed and your dough won't turn out quite right. Instead, use a spoon to fill your measuring cup, then level the top using a butterknife. Or for the best results, weigh the flour and all other ingredients.
Shaping the bagels: I use the beginner method for shaping bagels. It's easier and has less room for error. If you are an advanced baker and want to shape the bagels the way the pros do it, feel free. If you're a novice baker but want to practice bakery-style bagels, watch this video for shaping bagels.
No stand mixer? You can knead Maple Cinnamon Bagels by hand, too. Just knead for 10 minutes on a floured surface. If the dough feels sticky, sprinkle it with a small amount of flour.
How to store homemade bagels
Your bagels will keep at room temperature for up to 4 days or up to a week in the refrigerator. Store them in an airtight container, but do note that the crispy exteriors will soften a bit when stored.
Bagels can also be frozen for up to 3 months!
---
Serving suggestions
Make these maple cinnamon bagels as part of a brunch spread, along with cinnamon raisin bread, and your guests will be in awe of your baking skills! Pair them with:
Compound butter made with cinnamon and maple
Almond butter sweetened with a little bit of maple syrup, then top with apple or pear slices
Nutella and banana slices
Cream cheese—especially one of the fancy sweet varieties!
PB&J, which is even better when made with a bagel instead of bread!
Did you try this recipe? I would love for you to leave me a 5-star rating or comment. This way, I have a better understanding of which recipes you like and can create more of them.
Please take a moment to follow me on Instagram, Pinterest, Facebook, Youtube or sign up for my free newsletter to never miss the newest recipes and blog updates.
You can also shop my favorite baking tools. Thank you so much for your support!