This post may contain affiliate links. Read the full disclosure here.
This Homemade English Muffins recipe is so much easier than you think! It's so simple and will give you soft, chewy muffins in no time. Enjoy them with butter or your favorite jam!
Homemade English Muffins Anyone Can Make
This recipe turned out to be a winner and it's actually quite simple. Simply mix the ingredients in a stand mixer and let the dough rise, then shape and cook. If you're looking for a whole wheat version, try my 100% whole wheat English muffins.
Who doesn't love a toasted English muffin for breakfast?
Unlike banana bran muffins and cinnamon raisin muffins, English muffins are leavened with yeast. They are typically served sliced and toasted with a sweet or savory topping. You can even make sandwiches with them.
With this tutorial, you can make English muffins at home any time you want.
---
Why this Homemade English Muffins recipe works
Bread flour is used to give the muffins a chewy texture.
The dough is sticky! A sticky dough means there's optimal hydration to yield nooks and crannies that English muffins are known for.
The muffins are toasted on the stovetop then baked in the oven. Baking them ensure the middle is completely done.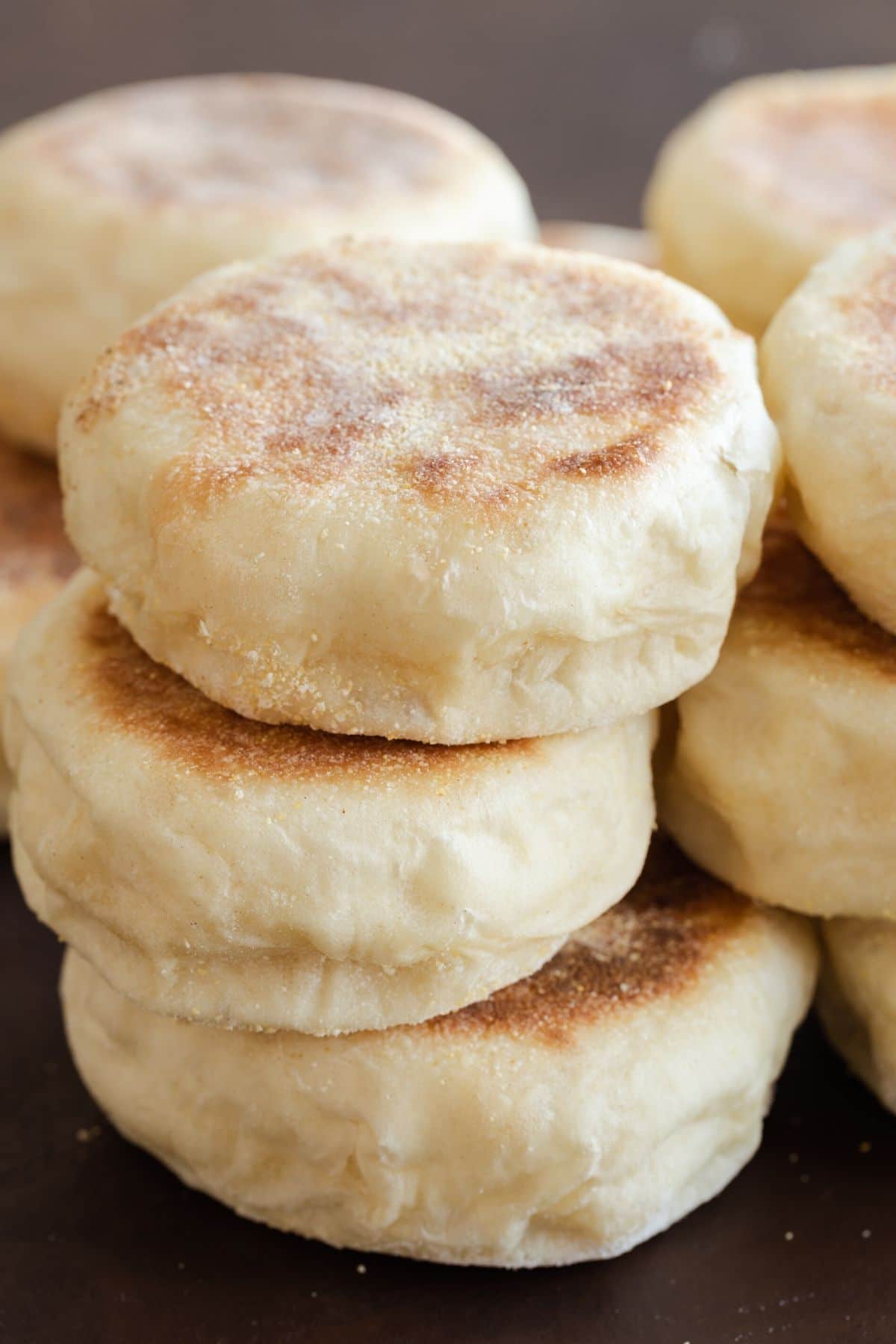 How to make English Muffins
The dough needs two rises. Once right after it's prepared and once after it's divided and shaped into English muffins. Let's go over how to make it. Or you can scroll all the way down to get the full printable recipe with ingredients.
The Dough – This dough recipe is soft and chewy. It's a basic dough recipe using flour, yeast, milk, sugar, and salt. The dough will be sticky but avoid excess flour. This sticky dough will yield muffins filled with nooks and crannies.
Here's how to put it together…
Proof the yeast. Warm milk and honey to 105-115°F. Stir in the yeast and set aside for 5 minutes. Then whisk in egg and butter.
Make the dough. Use a stand mixer to make it easier since this dough will be sticky. With the dough hook attached, mix flour and salt together then gradually pour in the yeast mixture. Let the dough mix for about 4 minutes until it turns smooth but is still sticky.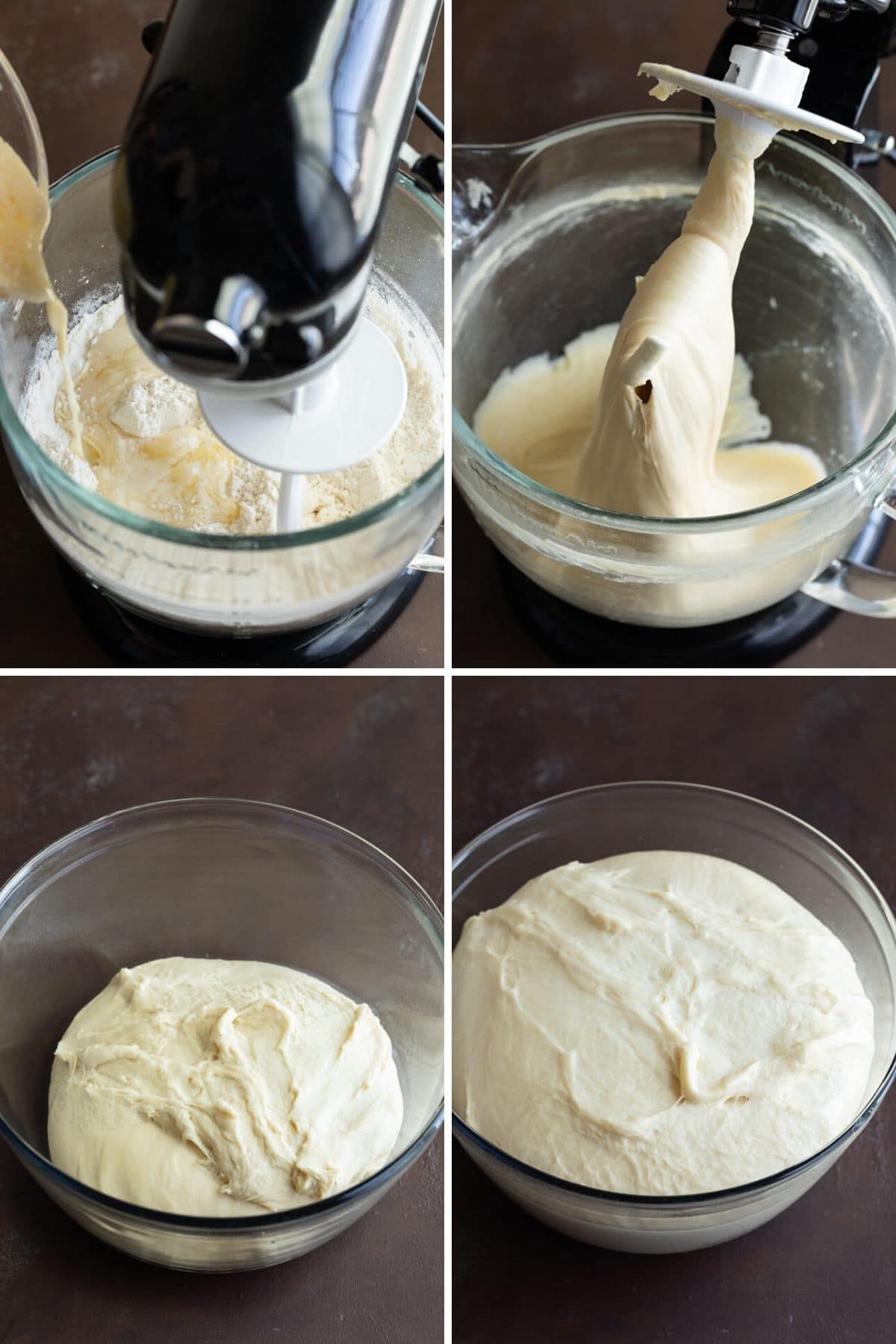 Proof the dough. Scrape the dough into a lightly greased bowl, cover it with plastic wrap and let it rise in a warm place until it's doubled in size. This can take about 45 minutes to 1 hour.
Divide the dough. Turn the dough out onto a lightly floured surface and divide it into 16 equal-sized pieces. Or you can pinch off pieces of dough and weigh them for more uniform muffins. Each piece of dough should weigh about 78 grams.
You can make smaller muffins by dividing the dough into 22 pieces, each weighing about 57 grams.
Shape the dough. Roll each piece of dough into a ball then flatten the ball into a disk.
Rise again. Place the disks of dough on baking sheets with parchment paper that has been sprinkled with cornmeal. Sprinkle more cornmeal over the top and cover them with a lint-free towel. Let the dough rise in a draft-free area for 1 hour, until doubled in size.
Cook. On a griddle over medium-low heat, brown both sides of each disk of dough. Return the muffins to the baking sheet and bake for 10 minutes.
Cool. Let the muffins cool completely before slicing or the centers will appear doughy. Once cooled, use a fork to split them open. You can toast them in a toaster or toaster oven and serve them with your choice of toppings.
How to store English Muffins?
Keep muffins in an airtight container at room temperature for up to 2 days or in the refrigerator for up to 5 days.
Can you freeze English Muffins?
English muffins freeze well for up to 3 months. Thaw overnight in the refrigerator then warm before serving.
How to toast English Muffins?
Split the muffins open with a fork. This guarantees nooks and crannies! Place each half of the muffin in a toaster and toast until the edges are lightly browned. The end result will be a crunchy and chewy texture. YUM!
If you like this English Muffin recipe, try these other breakfast recipes:
Did you try this recipe? I would love for you to leave me a 5-star rating or comment. This way, I have a better understanding of which recipes you like and can create more of them.
Please take a moment to follow me on Instagram, Pinterest, Facebook, Youtube or sign up for my free newsletter to never miss the newest recipes and blog updates.
You can also shop my favorite baking tools. Thank you so much for your support!
Adapted from Laura in the Kitchen