This post may contain affiliate links. Read the full disclosure here.
This classic Monkey Bread recipe starts with a homemade dough that is rolled into bite-sized balls and coated in butter and a cinnamon-sugar mixture. As the bread bakes the butter and sugar turn into a gooey caramel that is absolutely divine!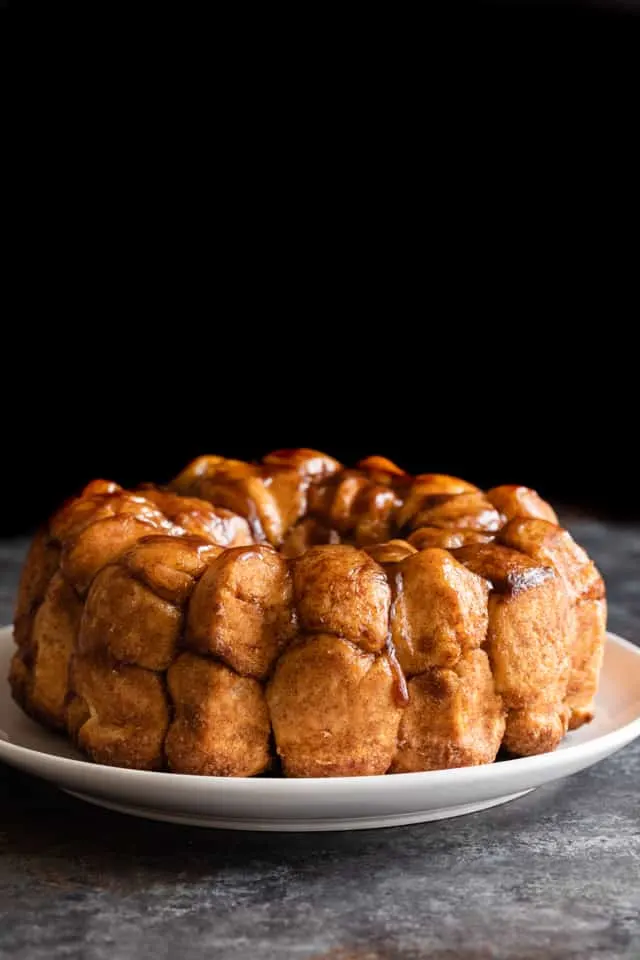 Cinnamon monkey bread is really one of those ultimate comfort sweets. Am I right?
A soft, pillowy pull-apart bread coated in gooey caramel with hints of warm cinnamon. Each bite will have you going back for more.
I first made a tropical monkey bread back in 2015. Since then I created a slow cooker monkey bread that's been a huge hit on the site and today's recipe will be no exception.
It is delicious and made completely from scratch. I despise those recipes that call for using canned biscuit dough!
Why do that when it's so easy to make bread at home? You only need a handful of ingredients. And the taste is SO MUCH BETTER!
I think you will be thrilled with this recipe. It's been thoroughly tested and tweaked to get super fluffy bread and the caramel coating is positively perfect. It's the best monkey bread I've ever had!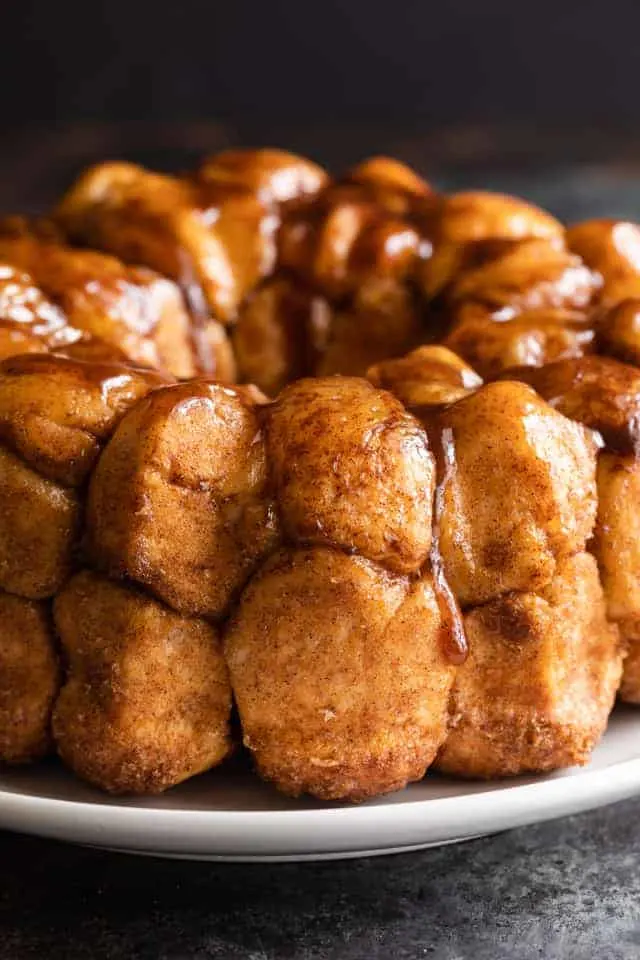 How to make Monkey Bread
There are two components for homemade monkey bread: the bread and the coating. Let's go over how to make it. Or you can scroll all the way down to get the full printable recipe with ingredients.
The Dough – This dough recipe is super soft and fluffy, yet sturdy enough to bake up tall and keep its shape once inverted out of the pan. It's a basic dough recipe using flour, yeast, butter, milk, sugar, and salt. The dough will be sticky but avoid adding any extra flour if possible. This sticky dough will transform into the softest bread ever.
The Coating – A mix of brown sugar, white sugar, and cinnamon really gave the coating a nice depth of flavor. When melted in the oven with butter it creates a sinful caramel that just oozes down the bread after it's inverted out of the pan. It's swoon-worthy, for sure.
Here's how to put it all together…
Make the dough. Use a stand mixer to make it easier since this dough is very sticky. With the dough hook attached, beat all the ingredients together until the dough is smooth and shiny. This can take anywhere from 7 to 10 minutes.
Proof the dough. With well-floured hands, shape the dough into a ball and place it into a lightly greased bowl. Cover the bowl with plastic wrap and set it in a warm place to rise until it's doubled in size.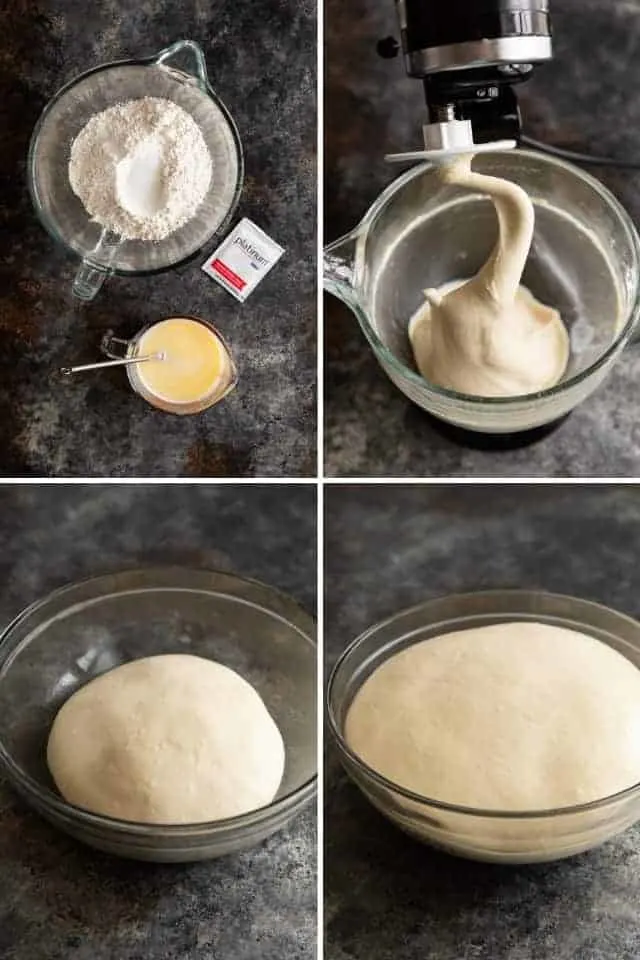 Divide the dough. Turn the dough out onto a lightly floured surface and divide it into 64 pieces.
I like to divide it in half then divide each half in half. Keep going until you have 64 bits of dough. Shape each piece into a ball.
Make the coating. Place melted butter in a shallow bowl then combine brown sugar, sugar, and cinnamon in a second shallow bowl.
Put it all together. Dip each ball of dough into the butter then into the cinnamon sugar. Roll it around to get it coated on all sides.
Rise again. Place the coated dough balls in a 10-cup bundt pan that's been well coated with cooking spray. Cover with plastic wrap and let rise until almost doubled in size. The dough should fill the pan about ¾ of the way to allow room for it to rise during baking.
Bake. Reheat the remaining butter if it's started to solidify and pour it over the bread. Bake it for 30-35 minutes.
Invert and enjoy. Let the bread cool in the pan for 5 minutes then invert it on to a serving platter. Enjoy it while it is warm and gooey!
While this recipe is easy to assemble, it does require some time. It takes about an hour for the dough to rise and it requires two rises. Plan ahead for this!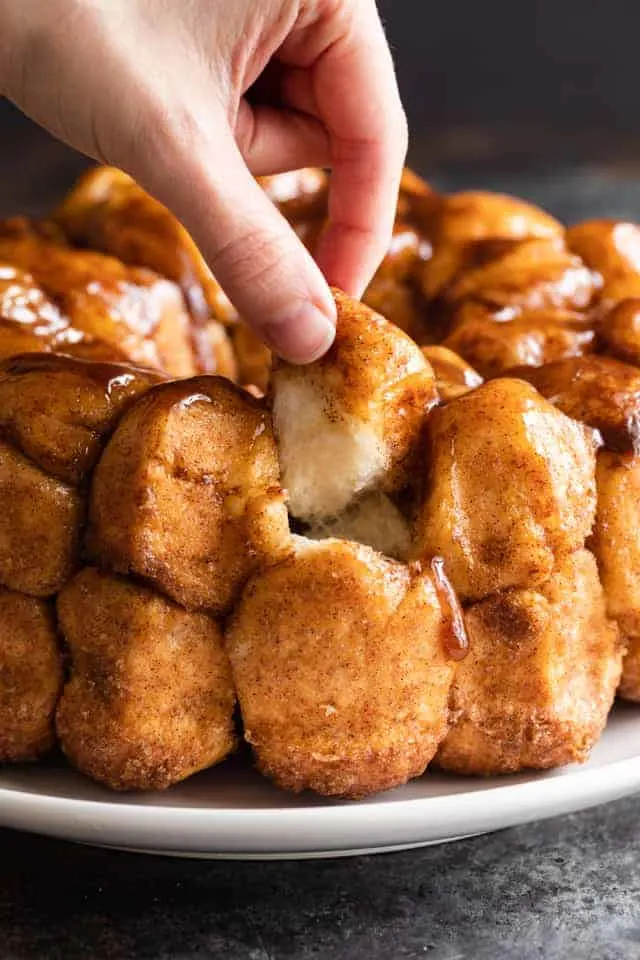 How do you keep monkey bread fresh?
Keep monkey bread tightly covered and store it at room temperature for up to 2 days. Alternatively, it can be stored in the freezer for up to 3 months by breaking it down into individual servings and wrapping them tightly in plastic wrap.
---
Can monkey bread be reheated?
You can reheat monkey bread by placing it on a pan and heating it in a 250°F oven for about 5 minutes. Or you can microwave individual servings in 30-second intervals until heated through. Frozen monkey bread should be thawed in the refrigerator overnight before reheating.
Monkey bread from scratch recipe tips
Here are a few things I learned while making the best monkey bread recipe.
Use whole milk! Anything else will give you sub-par results.
You can use rapid rise or instant yeast instead of active dry yeast. The dough will not need a full hour to rise so keep a close eye on it.
The dough should be sticky! Don't try to add more flour to eliminate the stickiness. You should only add more flour if the dough is wet. Do this while it's still in the mixer and add only 1 tablespoon at a time until the dough turns from wet to sticky.
You can use all brown sugar or all white sugar instead of both.
Sprinkle chopped walnuts or pecans over the dough balls as you layer them into the pan.
Don't let the bread cool in the pan for longer than 5 minutes or it will be difficult to invert.
If you like this monkey bread recipe, try these other yeast bread recipes:
Did you try this recipe? I would love for you to leave me a 5-star rating or comment. This way, I have a better understanding of which recipes you like and can create more of them.
Please take a moment to follow me on Instagram, Pinterest, Facebook, Youtube or sign up for my free newsletter to never miss the newest recipes and blog updates.
You can also shop my favorite baking tools. Thank you so much for your support!