This post may contain affiliate links. Read the full disclosure here.
Learn to make buttery, flaky homemade croissants with this easy to follow recipe and tutorial. You can have this classic bakery-style pastry in your very own kitchen!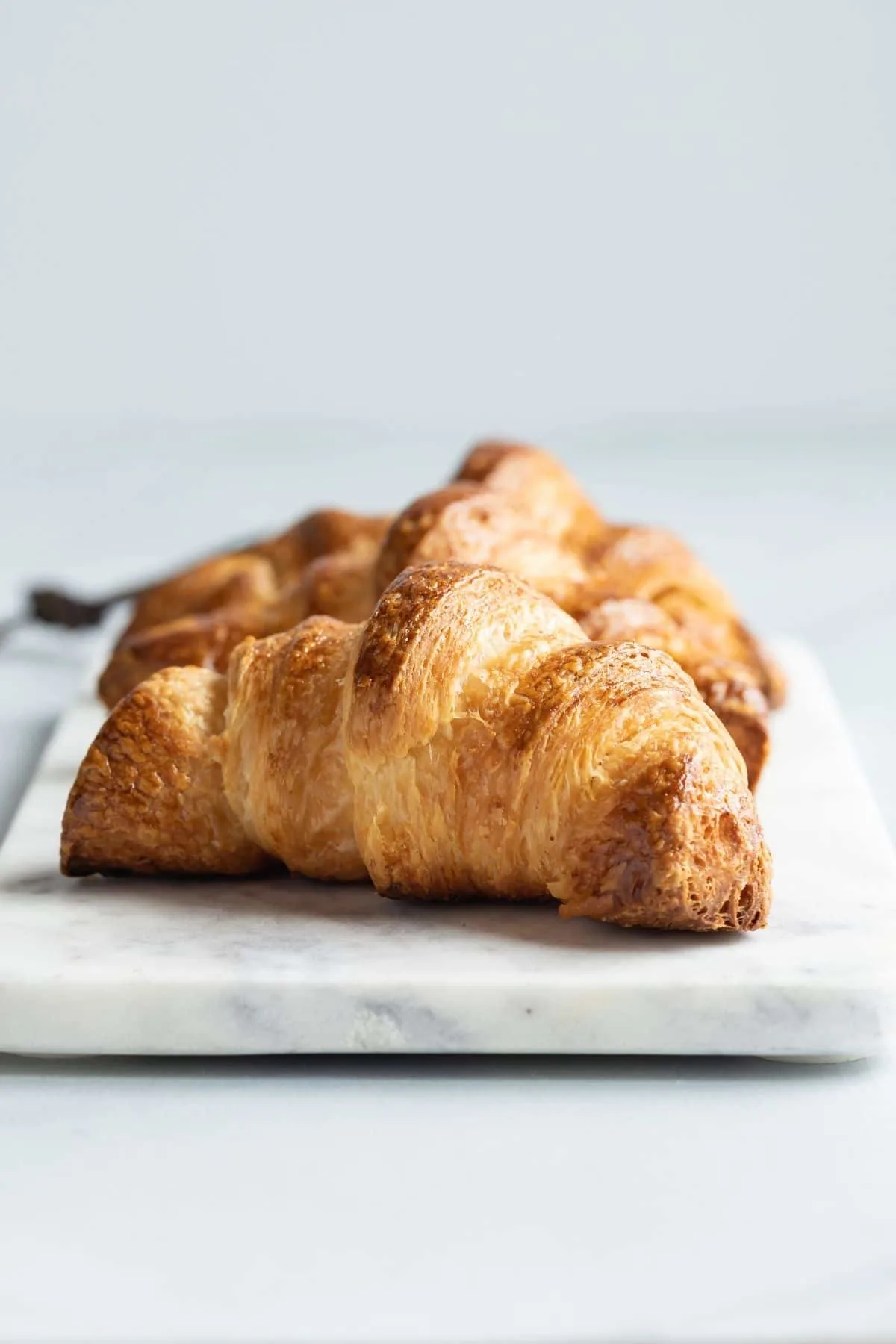 Meet the pastry of your dreams… Homemade Croissants.
You thought I was going to say cinnamon rolls, didn't you?
Croissants are made by layering yeast-leavened dough with butter. The process is called laminating. It starts with rolling the dough into a rectangle then encasing the dough around a thin sheet of butter. The dough gets rolled and folded multiple times to create dozens of layers.
All you need are a few staple ingredients that are most likely already in your pantry, and a few hours of your time. It takes a total of 2 days to make croissants from start to finish so plan accordingly.
But once you've made them, you can keep them in the freezer so you will always have them on hand. They reheat well and taste just as good as if they were baked fresh.
Let's break down the process! Or you can scroll right to the bottom for the full, printable recipe!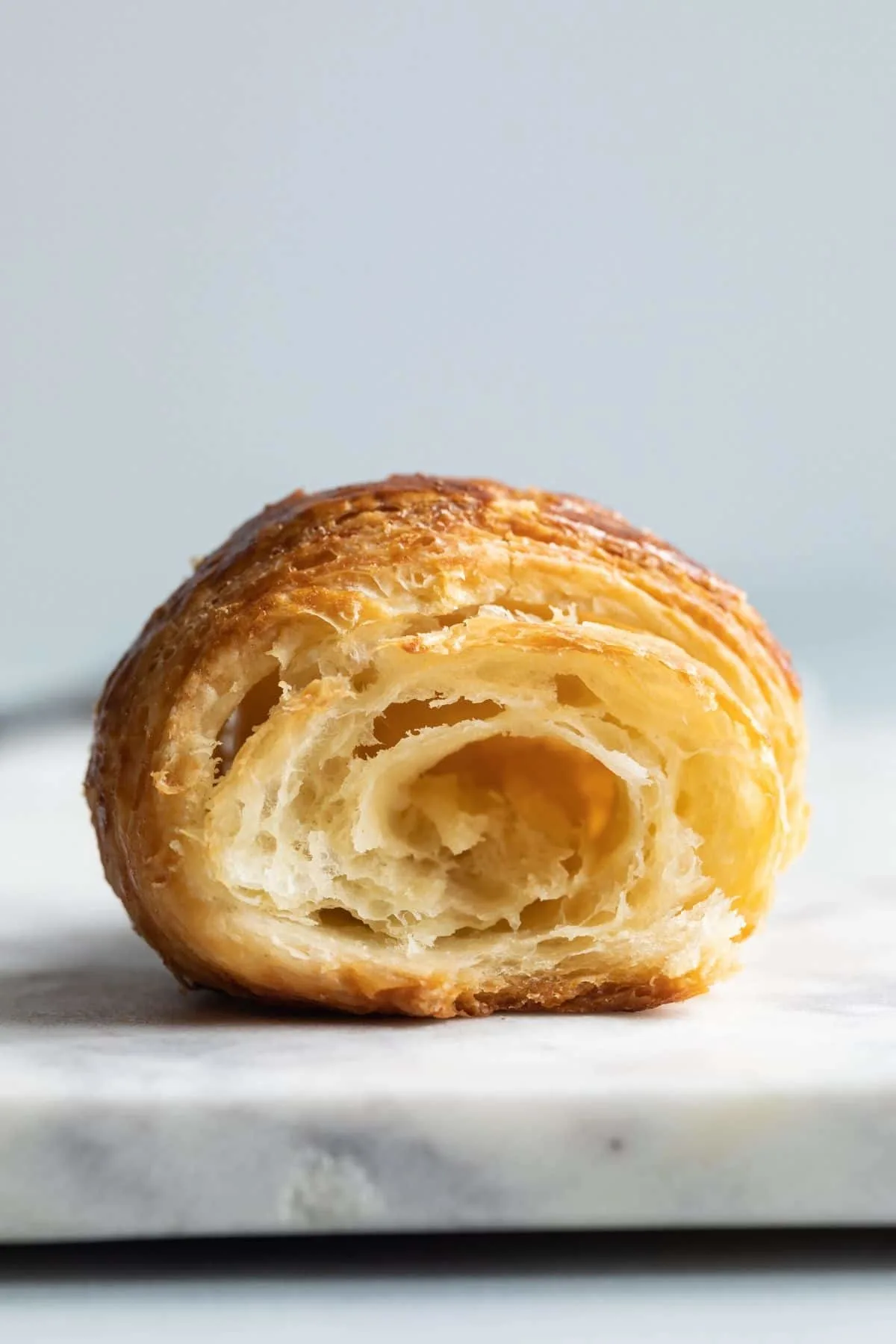 Croissant Recipe Ingredients:
To make these homemade croissants, you will need:
Water: The water should be barely warm, about 100°F.
Yeast: You need only 1 teaspoon of active dry yeast. You'll be dissolving it in the warm water first but if it doesn't foam up, you need to start again with new yeast.
Sugar: Just a little to feed the yeast.
Milk & cream: I prefer to use both for extra rich and tender croissants.
Egg & yolks: An egg yolk goes into the dough while an egg and egg yolk are used as an egg wash.
Flour: Regular all-purpose flour works best.
Butter: Lots and lots of butter are needed!
These are the supplies you need to get started:
---
How to make croissants:
I'll walk you through exactly how to make these flaky pastries. Let's go! Remember, you can keep scrolling for the full recipe at the bottom of the page.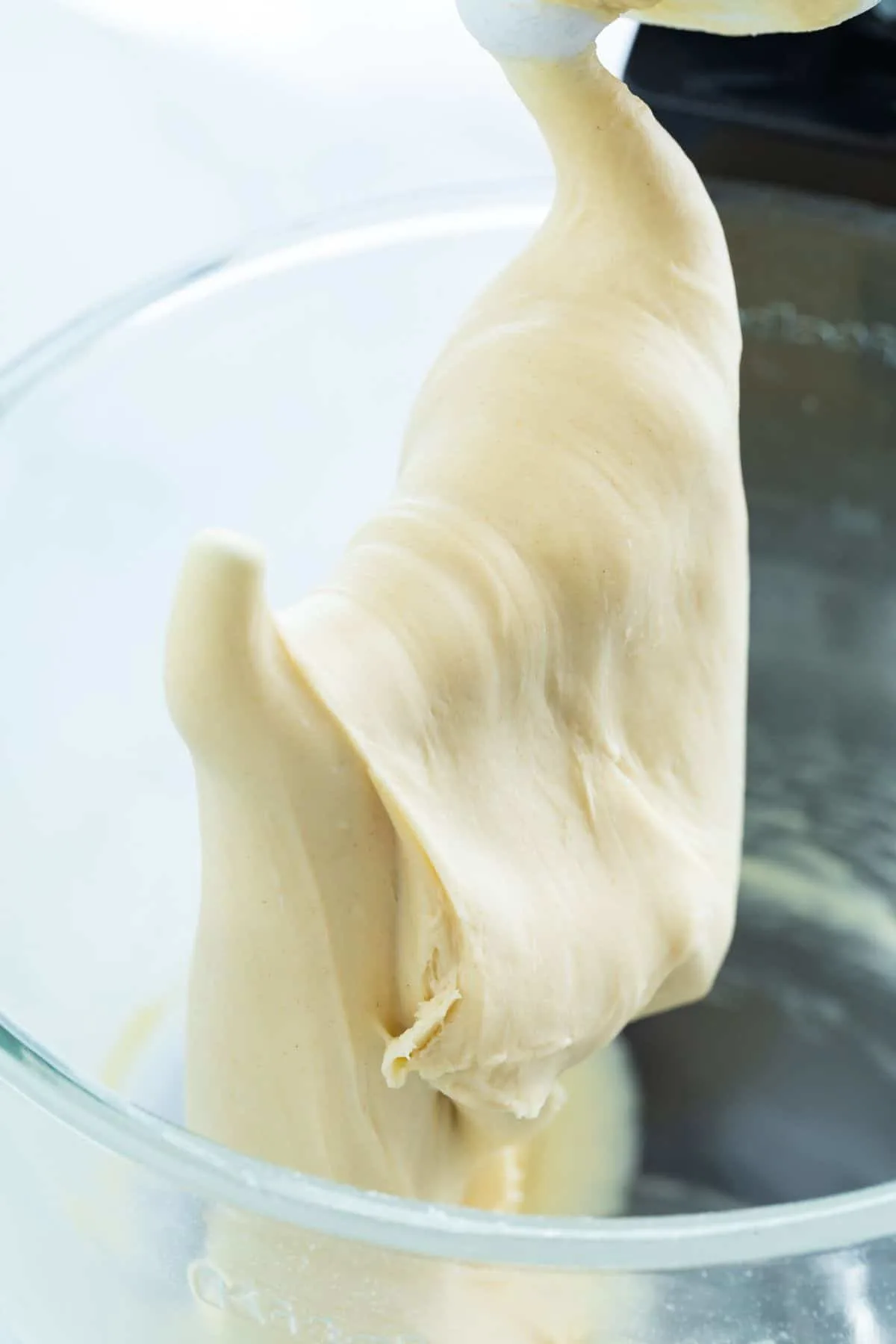 Proof the yeast. Mix the yeast with warm water and a pinch of sugar. Set it aside while you work on the next steps.
Whisk the milk, cream, egg yolk, and salt together. Add them to the bowl of a stand mixer fitted with the paddle attachment and whisk until well combined.
Add the flour and yeast. Add the flour to the bowl then turn the mixer to low speed and pour in the yeast mixture. Continue beating until the dough is smooth and elastic.
Cover and refrigerate. Cover the bowl tightly with plastic wrap and refrigerate it for 30 minutes.
---
How to laminate croissant dough:
Laminating the dough is the process of folding and rolling the dough multiple times to create dozens of layers.
Pound out the butter. While the dough is chilling, pound the butter between two pieces of parchment paper into an 8-inch square. Place the butter in the refrigerator while you work on the next step.
Roll out the dough. Roll the chilled dough out into a 9×18 rectangle on a lightly floured surface.
Wrap the dough around the square of butter. Place the butter on top of the dough and fold the edges of the dough up over the butter. Press the dough to seal in the butter.
Roll and fold. Roll the dough into another rectangle the same size as before. Fold the dough into a rectangle like a letter so you have 3 layers. Refrigerate and repeat for 4 turns. After the 4th turn, tightly wrap the dough in plastic wrap and refrigerate for 12-24 hours.
---
How to shape croissants:
Croissants are shaped like crescents and it's super easy to do.
Divide the dough. Cut the dough in half and roll each half into a 6×12-inch rectangle. Place each rectangle on its own baking sheet lined with parchment paper and trim the edges so they are even. Refrigerate the dough for 20 minutes.
Cut into triangles. Cut each slab of dough into 6 triangles and make a cut in the center of the base of each one.
Roll the croissants. Begin rolling the croissant by curling the two sides of the triangle, on each side of the cut, away from each other. Continue to roll with both hands until the tip is underneath. Bend the two ends toward each other in a crescent shape and arrange 6 on each baking sheet.
Let rise. Let the croissants rise until they've doubled in size.
Bake. Brush the croissants with egg wash and bake for 30-35 minutes, until they've puffed up and are golden brown.
Do you eat croissants hot or cold?
Baked croissants are best enjoyed hot. You can reheat leftover croissants in a toaster oven or conventional oven.
What do you eat with a croissant?
Croissants are great served with your choice of jam or butter. You can also dip them in chocolate to add flavor as you eat them. Some American shops serve breakfast sandwiches on croissants.
How to store croissants?
Croissants should be kept in an airtight container at room temperature for up to 2 days, in the refrigerator for up to 1 week, or in the freezer for up to 3 months.
More yeast bread and roll recipes:
These are a few of my favorite yeast-leavened bread recipes.
Did you try this recipe? I would love for you to leave me a 5-star rating or comment. This way, I have a better understanding of which recipes you like and can create more of them.
Please take a moment to follow me on Instagram, Pinterest, Facebook, Youtube or sign up for my free newsletter to never miss the newest recipes and blog updates.
You can also shop my favorite baking tools. Thank you so much for your support!
Adapted by Baking: James Peterson.