This post may contain affiliate links. Read the full disclosure here.
This recipe for easy vegan brownies is perfect when you're craving chocolate brownies. They are thick and cake-like with loads of chocolate flavor.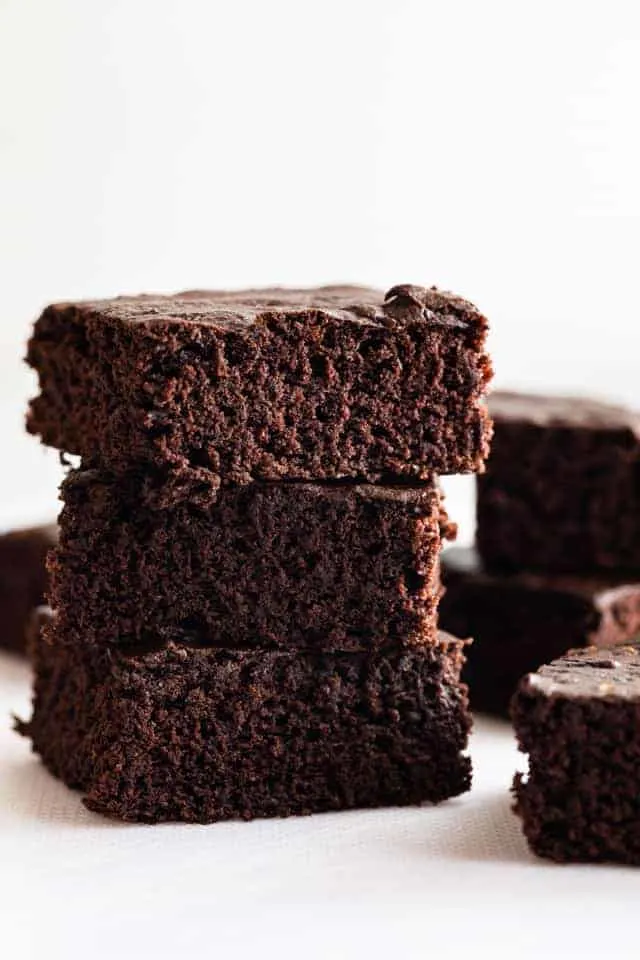 Made with avocado, coconut sugar, coconut milk, and coconut oil, these vegan brownies will completely blow you away.
These brownies are not fudgy like my easy brownie recipe. Instead, they are moist and cakey. But they are full of chocolate flavor and taste amazingly delicious.
My husband knocked back several in one sitting. He said they were the best brownies he's ever had.
He had no idea the brownies lacked eggs and butter. And he was shocked to learn avocado was an ingredient.
Even I didn't know eating vegan could taste so delicious.
Let's see how to make them! Or scroll to the very bottom to get the full, printable recipe.
Ingredients for vegan brownies:
To make these easy vegan brownies, you will need just a handful of pantry ingredients:
Avocado: You need about half of one avocado.
Coconut oil: Or any other oil that's mild in flavor.
Flour: Use regular all-purpose. You can make these gluten-free by using a 1-to1 baking blend like Bob's Red Mill Gluten-Free Baking Flour. Other gluten-free flours will not work.
Cocoa powder: Or you can use unsweetened cacao.
Coconut sugar: I stuck with the coconut theme here but you can use any unrefined sugar you wish.
Baking soda: To help the brownies rise.
Salt: To balance the flavors.
Coconut milk: I love the silky texture of canned coconut milk but refrigerated coconut milk will work just as well.
Feel free to get creative and mix in some of these for texture:
Vegan chocolate chips or chunks: Stir some through the batter and sprinkle some on top of the batter. YUM!
Flaked coconut: You can't go wrong with this since there's already a coconut theme here.
Chopped nuts: Mix them through the batter and sprinkle some over the top. You could also combine them with the chocolate chips/chunks.
All the above: Combine chocolate chips, Flaked coconut, and chopped nuts for the ultimate brownie!
To bake these brownies you'll need:
How to make vegan brownies:
This recipe is so easy! All you need to do is…
Combine the avocado and oil. Mash the avocado or puree it in a blender then whisk it with the coconut oil until they are very well combined.
Whisk in the flour, cocoa, sugar, baking soda, salt, and coconut milk. Just dump everything into the bowl with the avocado mixture and whisk it until everything is combined.
Transfer the batter to the pan. Use a silicone spatula to spread the batter evenly into the bottom of the pan. The batter will be very thick.
Bake. Bake the brownies for about 15-20 minutes or until a toothpick inserted into the center comes out clean. You can underbake them ever so slightly to get a fudgier texture.
---
Switch it up:
If you like to experiment, here are a few ways you can adapt this recipe…
Add almond butter: Whisk ½ cup of creamy almond butter with avocado and coconut oil.
Add espresso powder: To enhance the chocolate flavor, stir in 1 teaspoon of espresso powder when you add the cocoa powder.
Add cinnamon and cayenne: You can make these brownies taste like Mexican hot chocolate by adding 1 teaspoon of cinnamon and ½ teaspoon of cayenne pepper.
Add mashed banana: Use ¼ cup of mashed banana in place of the mashed avocado.
Make them gluten-free: Use a 1-to-1 substitute like this one from Bob's Red Mill.
How long do vegan brownies last?
Freshly baked vegan brownies will keep for up to 3 days stored at room temperature in an airtight container.
Why make vegan brownies with avocado?
When you omit the egg and butter from brownies, you run into an issue with the brownies being too dry. Avocado, coconut oil, and canned coconut milk solved the moisture issue, making these the best vegan brownies ever.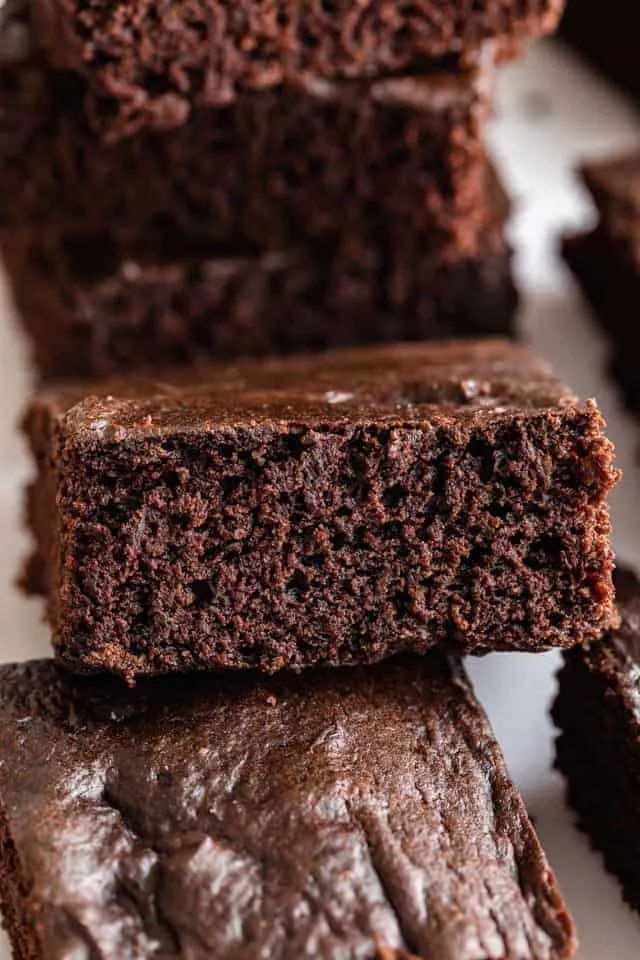 More vegan recipes you'll love
Did you try this recipe? I would love for you to leave me a 5-star rating or comment. This way, I have a better understanding of which recipes you like and can create more of them.
Please take a moment to follow me on Instagram, Pinterest, Facebook, Youtube or sign up for my free newsletter to never miss the newest recipes and blog updates.
You can also shop my favorite baking tools. Thank you so much for your support!
Adapted from Gimme Some Oven