This post may contain affiliate links. Read the full disclosure here.
Slow Cooker Monkey Bread is much easier to make than you might think! Soft, fluffy pull-apart bread covered in gooey melted sugar is always a huge hit.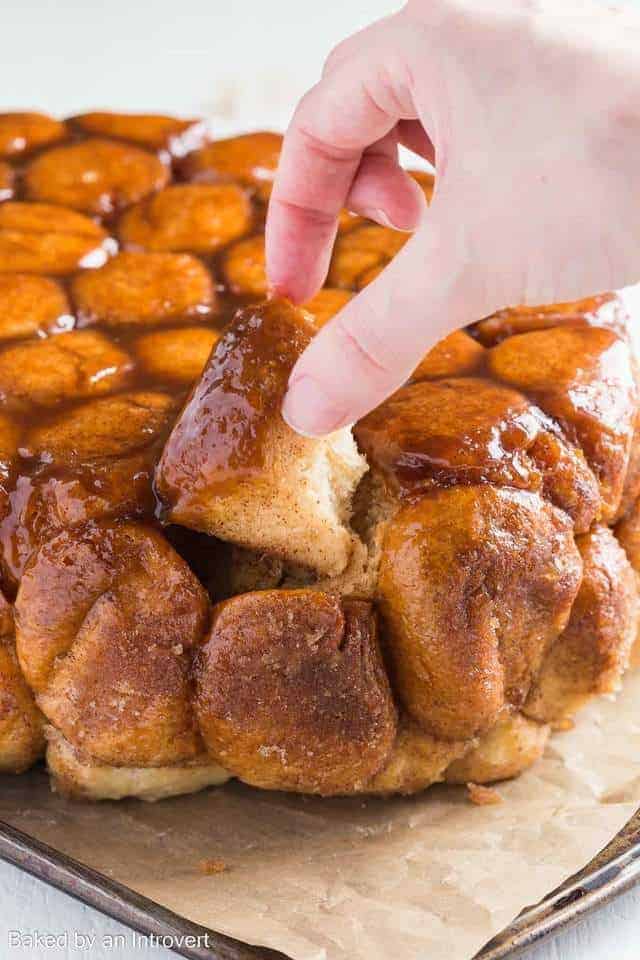 This slow cooker version takes just over two hours to make and no proofing of the dough is needed. That happens in the slow cooker as the bread bakes.
All you need to do is whip up the dough, portion it out, shape the portions into balls, roll the ball in melted butter and sugar, and bake in the slow cooker. Enjoy deliciously sticky monkey bread in a snap!
---
About slow cooker monkey bread
I first experimented with baking in the slow cooker when I made slow cooker orange sweet rolls. They came out fabulous and the process was super simple.
This has led me to try more baking in my slow cooker.
Today, I introduce the easiest monkey bread I've yet to make. It's made completely from scratch but doesn't require extra time for proofing the dough.
How amazing does that sound?!
Let's go over the process for making slow cooker monkey bread.
First, you need to make the dough. We're not using refrigerated biscuits for this bread! We are using staple ingredients to make our own dough – flour, salt, eggs, sugar, butter, milk, water, and yeast.
You most likely have these ingredients on hand.
I like to use my stand mixer when making dough from scratch. It just makes it tens times easier! If you don't have one, that okay. You'll just need to mix everything by hand and then knead the dough.
Start by proof the yeast in warm water with a little sugar. For this recipe, we are using instant yeast because the rise time is typically much shorter.
Just heat the water to about 110°F, stir in the sugar and yeast, and let it sit for five minutes. It's ready when the yeast is fully dissolved and foamy.
Attach the dough hook to your stand mixer or use a large bowl and wooden spoon for mixing. Combine two cups of the flour, salt, and the remaining sugar. Pour in the dissolved yeast, milk, butter, and eggs. Mix on low speed until combined.
Add the remaining flour and mix on medium-low speed until a soft dough forms. You'll know when the dough is ready because it will pull away from the sides of the bowl and will no longer feel sticky to the touch.
Turn the dough out onto a lightly floured surface and let it rest for 10 minutes.
Allowing the dough to rest so the gluten can relax will make it much easier to handle and shape.
Before we shape the dough into balls for the monkey bread, we need to melt butter for the coating. You can do this in a small saucepan over low heat or microwave it for 30 seconds to 1 minute.
In a separate bowl, combine white and brown sugar with cinnamon.
Pinch off about two tablespoon-sized portions of dough and roll them into balls. Dip the balls into the melted butter then roll them into the sugar mixture until they are evenly coated.
Arrange the dough balls in a slow cooker lined with parchment paper.
Set the lid on the slow cooker and cook on high for two hours. I like to place a piece of paper towel under the lid to prevent condensation from dripping on the bread.
The actual hands-on time for today's recipe is around twenty minutes. That's it. The slow cooker does the rest and you have time to sit and relax.
More bread recipes you'll love
Did you try this recipe? I would love for you to leave me a 5-star rating or comment. This way, I have a better understanding of which recipes you like and can create more of them.
Please take a moment to follow me on Instagram, Pinterest, Facebook, Youtube or sign up for my free newsletter to never miss the newest recipes and blog updates.
You can also shop my favorite baking tools. Thank you so much for your support!