This post may contain affiliate links. Read the full disclosure here.
These Chai Cookies are full of cozy winter flavors! So soft they practically melt in your mouth. The cookie is loaded with cinnamon, ginger, cardamom, allspice, and a dash of black pepper. It comes together easily and is bound to become your new favorite cookie.
Inspired by my favorite tea, Chai Cookies come together in a snap! They are melt-in-your-mouth tender and insanely delicious!
Tender, buttery cookies filled with loads of chai spices. You get hints of warm cinnamon, cozy cardamom, spicy ginger, allspice, and just a minute essence of black pepper. They are similar in flavor to my cardamom cookies, but have even more cozy flavors thanks to the ginger, allspice and black pepper.
Incredible! It's the best way to describe them.
They are soft and pillowy like these banana nut bread cookies and Meyer lemon cookies.
If you plan to share these chai tea cookies with your family and friends, I can guarantee they will be gobbled up within seconds. You may decide to keep them all for yourself and that's okay because they will stay soft and fresh for up to 1 week!
The dough for today's chai cookies comes together easily. Like my sugar cookies, the dough for these chai sugar cookies does need to chill for two hours before baking. Because of this, I like to make the dough the night before and bake the cookies first thing in the morning.
When making the dough, start with room temperature ingredients. Beat the butter and sugar together just until combined. Unlike many of my cookie recipes – you don't mix until it's light and fluffy. There's no need for excessive amounts of air in the batter.
When it comes time to roll the dough into balls, roll them a tad bit taller instead of an even round ball. They won't spread as much and will come out thicker.
Wait for them to cool and enjoy!
---
Recipe Snapshot
TASTE: Cozy and comforting, like a chai tea.
TEXTURE: Soft and chewy
EASE: Easy – standard cookie recipe.
TIME: Over two hours but includes required chilling time.
---
Recipe Ingredients
These exceptional cookies come together using standard cookie ingredients with warm chai spices.
Flour: Use all-purpose flour and make sure to measure it correctly.
Cream of tartar: Needed to react with the baking soda so the cookies puff up and deflate. This creates a cracked top appearance. The cream of tartar also adds a little tanginess to the cookies.
Baking soda and baking powder: Both are used for leavening in this recipe. They react with the cream of tartar and create the soft pillowy texture.
Salt: Balances the flavors.
Butter: Adds buttery flavor and richness. As with most of my baking recipes, use unsalted butter so you can control the salt, and have it at room temperature so it creams together with the sugar more easily.
Sugar: White granulated sugar is best.
Egg: I used one egg and one egg yolk. I found that with just one egg, they were too dry and cakey. And with two, they spread too much.
Vanilla: Most recipes are missing vanilla extract. I find they taste so much better with just a little added.
Chai spice blend: The cookies will get their chai flavor from a blend of cozy warm spices. Cinnamon, ground ginger, ground cardamon, all spice and ground black pepper.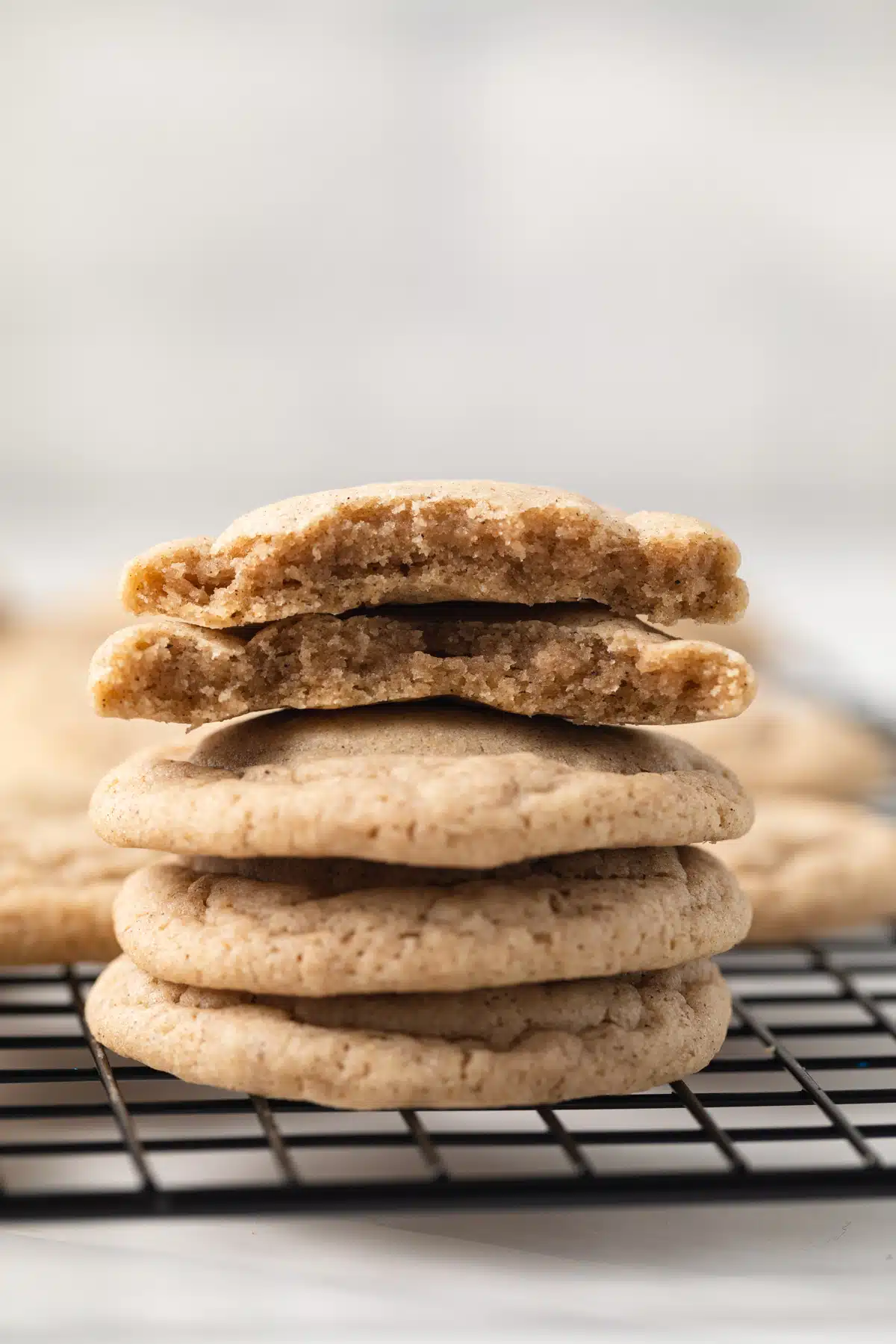 How to Make Chai Cookies
This spiced cookie recipe uses the typical process of creaming the butter sugar, adding the dry ingredients to the wet ingredients, chilling and rolling. Preheat your oven to 350 degrees and line a baking sheet with parchment paper.
Cream the butter and sugar. Beat the butter and sugar together in a large bowl using a stand mixer with a paddle attachment or a hand-held mixer on low speed just until combined. Add in the egg and vanilla and incoporate.
Add the dry ingredients to the sugar mixture. In a separate bowl, combine the flour, baking soda, cream of tartar, baking powder, cinnamon, ginger, cardamom, salt, allspice, and black pepper; stir with a whisk. Add all of the flour mixture to the butter mixture and beat on low speed just until incorporated. Cover with plastic wrap and refrigerate for at least 2 hours and up to 48 hours.
Bake. Scoop 1 ½-tablespoons of dough and roll into balls. Roll the balls so they are slightly taller instead of perfectly round. Place the dough balls 2 inches apart on the prepared cookie sheets. Bake for 8-9 minutes or until lightly golden around the edges. Cool on the cookie sheet for 5 minutes then transfer to a wire rack to cool completely.
Handy Tip:
When it comes time to roll the dough into balls, roll them a tad bit taller instead of an even round ball. They won't spread as much and will come out thicker.
Tips For Success
The cookies will appear underdone, puffy and very soft, but they will flatten out and firm up as they cool. Don't overcook them or they will loose their delicious soft center.
The cookies get their soft pillowy texture from cream of tartar. Don't leave it out! If you omit it, the cookies will be crisp and chewy, much like these butterscotch toffee cookies.
Storage & Freezing
The cookies will keep for up to 1 week stored in an airtight container at room temperature.
The dough can be rolled into balls and frozen for up to 3 months.
Cookies are delicious in a lunch box, as an afternoon treat or as a part of a dessert platter after a more formal dinner. They can be enjoyed any time of day.
Did you try this recipe? I would love for you to leave me a 5-star rating or comment. This way, I have a better understanding of which recipes you like and can create more of them.
Please take a moment to follow me on Instagram, Pinterest, Facebook, Youtube or sign up for my free newsletter to never miss the newest recipes and blog updates.
You can also shop my favorite baking tools. Thank you so much for your support!