These cardamom shortbread cookies are supremely tender and flavorful. With this recipe, you'll get a soft, buttery shortbread cookie infused with the rich aroma of ground cardamom.
Cardamom cookies
There's just something so cozy about the sweet aroma of cardamom! Cardamom is a spice made from the seeds of several plants native to India. I adore it and often use it to make vanilla cardamom scones.
But because it's the worlds third-most expensive spice, I only use it for special occasions. And what's more special than Christmas and cookie exchanges?
With cookie exchanges and office parties happening now, I thought it would be fabulous to add a delicate cookie infused with cardamom to the archives.
The cookie itself is nothing more than a classic shortbread. They are similar to my butter cookies and ice cream sandwich cookies but much more tender and crumbly.
If you like cardamom, you will love these cookies!!
This post may contain affiliate links. Please see my disclosure policy for more details.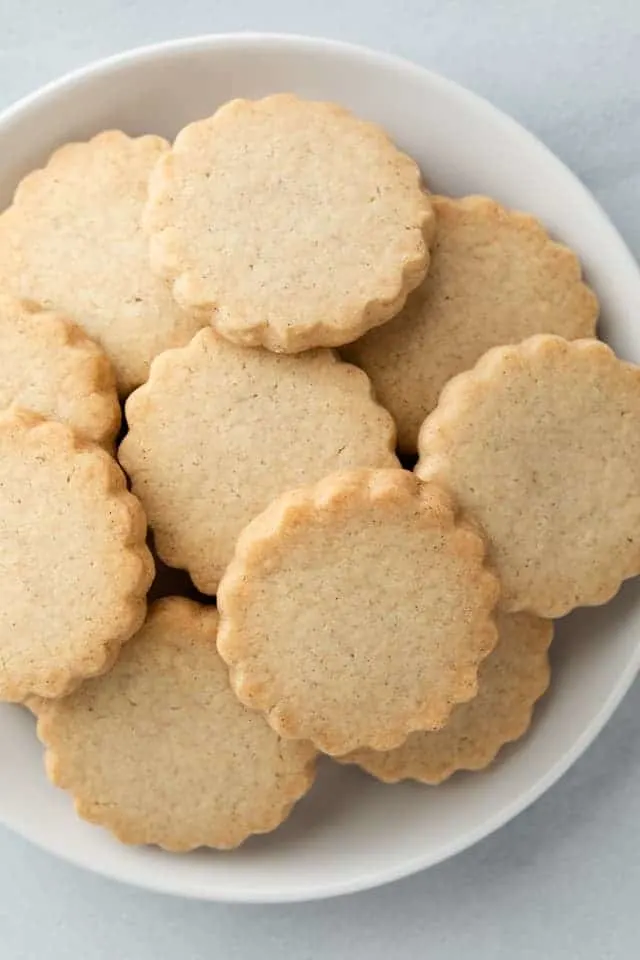 Ingredients for cardamom shortbread cookies
Flour – All-purpose flour is best for cookies
Cardamom – The main flavor of the cookie
Salt – To balance the sweetness
Vanilla – Use pure vanilla extract
Butter – For buttery richness
Shortening – Keeps the cookies tender and prevents spreading
Sugar – Confectioners' sugar works best for shortbread cookies
The printable recipe card with full ingredient amounts and instructions can be found at the bottom of this post.
How to make cardamom cookies?
Begin by creaming the butter and shortening together until smooth. But, be careful not to whip too much air in as this will affect the overall texture and appearance of the cookies.
Once the butter and shortening are creamed together, add everything else besides the flour.
Most baking recipes call for combining all the dry ingredients then mixing it into the wet ingredients. When testing these cookies, I found that the end result is more flavorful if you mix the cardamom into the butter mixture rather than sifting it into the flour.
Add the flour last and stir just until there are no visible streaks of flour. Try to avoid overmixing or the cookies won't be as tender.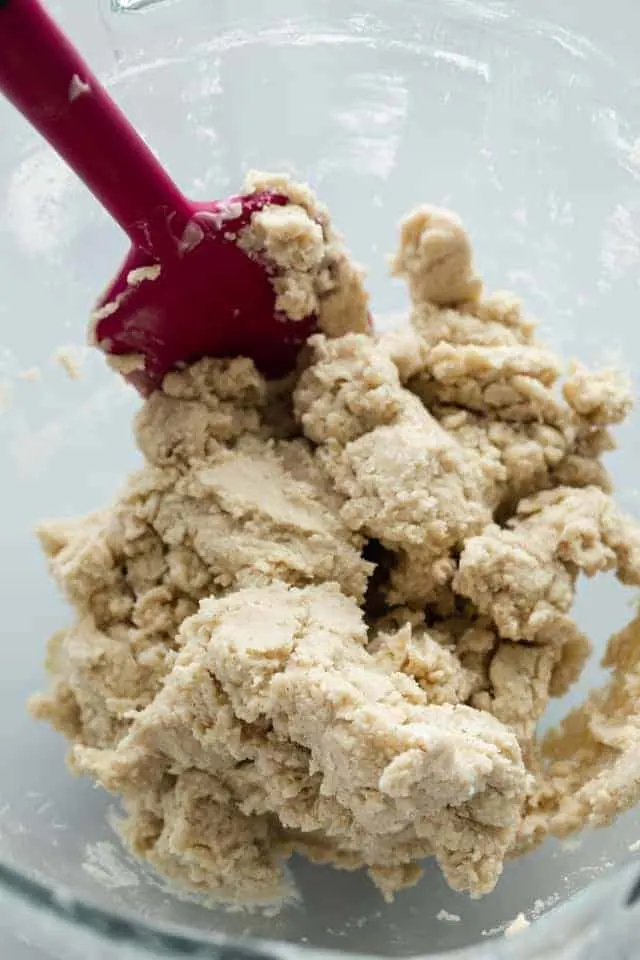 Shape the dough into a ball then flatten it into a disk. Wrap it tightly in plastic wrap and refrigerate it for 30 minutes to 1 hour. It needs to be just cold enough to roll out but not so cold that it breaks while rolling.
If you begin to roll your dough and you find that it's cracking, let it sit for a few minutes so it softens enough to roll without breaking. But don't let it sit too long or it will become soft and sticky.
It takes practice to learn the right texture but you'll get it!
Don't roll the cookies to thin. Aim for a little less than 1/2-inch thick. I tried 1/4-inch thickness but they came out too thin for my liking. Shortbread cookies are meant to be thick.
You can use any shape you desire for cutting out the cookies but it's recommended that the cookie cutter is around 1 and 1/2-inches. Of course, you can go larger but you'll get fewer cookies and they may need more time in the oven.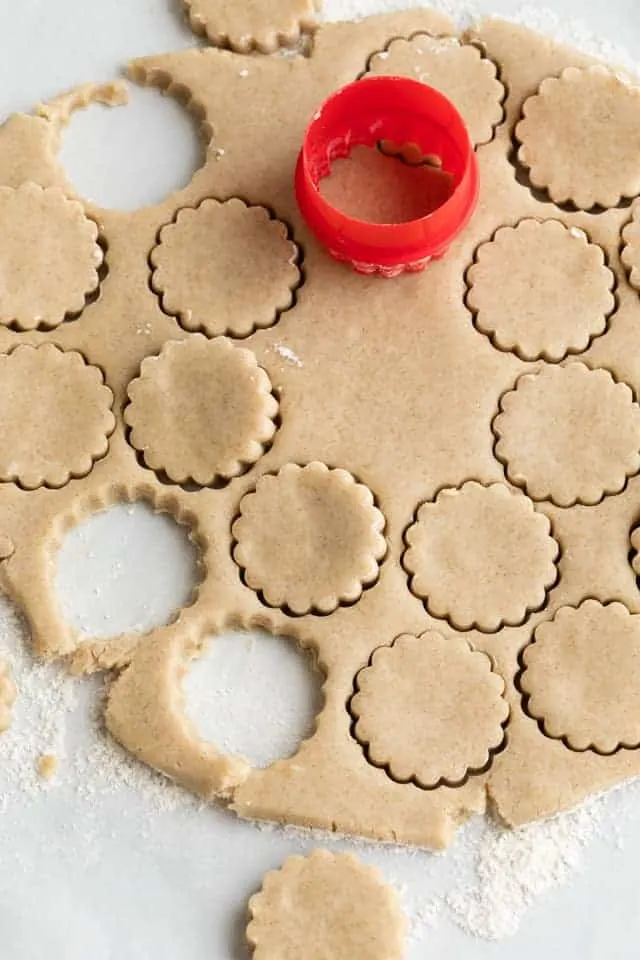 Bake the cardamom cookies just until the edges begin to brown. Let them cool on the pan for 5 minutes, then move them to a wire rack to cool completely.
You are going to be so impressed with the tender texture of these cookies!
They go perfectly alongside coffee, tea, and even milk. And they make incredible gifts.
How to store cardamom cookies?
Cardamom shortbread cookies should be kept in an airtight container either at room temperature, in the refrigerator, or in the freezer.
How long will cardamom cookies stay fresh?
The great thing about cardamom cookies is they stay fresh for quite some time as long as they are stored properly. Keep them in an airtight container at room temperature for up to 1 week, in the refrigerator for up to 2 weeks, or freeze them for up to 4 weeks.
Tips for this recipe
Let the butter and shortening sit at room temperature for about 45 minutes before you begin making the cookies. They should be soft but still slightly firm and not melty!
Measure the flour by weighing it or lightly spoon it into a measuring cup then level it off with the back of a knife. Avoid scooping the flour out with the measuring cup because you'll end up with too much flour and the recipe will fail.
Try this recipe with vanilla paste! Use 1/2 tablespoon in place of the vanilla extract. YUM!
Helpful tools
More cookie recipes you'll love
Since you loved these cardamom cookies so much, you must try these chai cookies, chewy coconut cookies, white chocolate peppermint cookies, and classic sugar cookies. They are all incredibly delicious and have been loved by many!
NEED MORE BAKING IDEAS? Subscribe to our newsletter and follow along on Facebook, Instagram, and Pinterest for all the latest updates!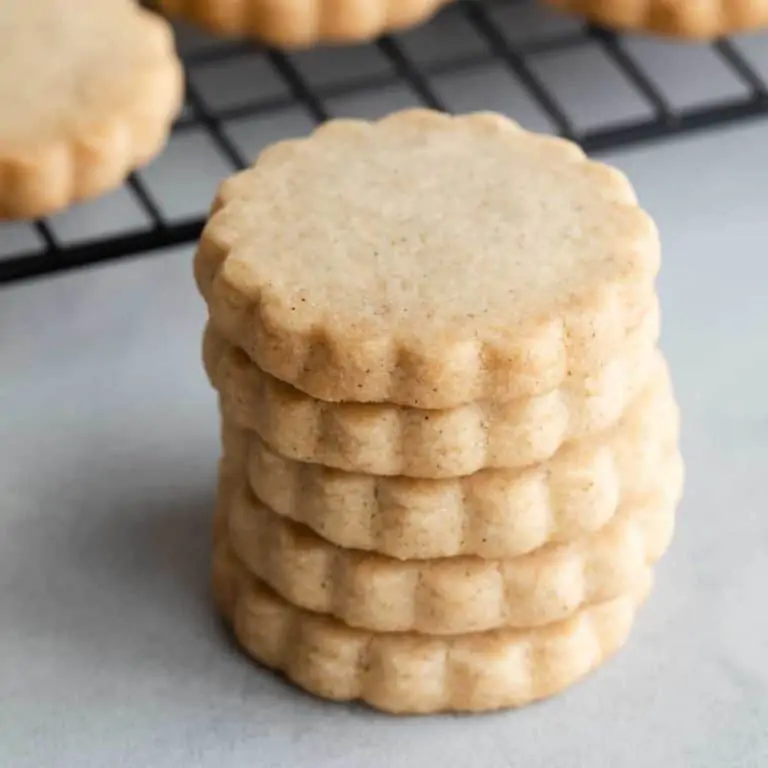 Cardamom Cookies
These cardamom shortbread cookies are supremely tender and flavorful. With this recipe, you'll get a soft, buttery shortbread cookie infused with the rich aroma of ground cardamom.
Print
Rate
Chill Time:
1
hour
30
minutes
Instructions
Using a stand mixer fitted with the paddle attachment or a handheld electric mixer, cream the butter and shortening together on medium speed for 1-2 minutes.

Add the confectioners' sugar, vanilla, cardamom, and salt. Beat on medium-low speed just until combined.

Add the flour and beat on the lowest speed just until no visible streaks of flour remain.

Shape the dough into a ball and flatten into a disk. Wrap the disk tightly in plastic wrap and refrigerate for 30-60 minutes, until the dough is firm enough to roll out.

Preheat the oven to 350°F. Line 3 baking sheets with parchment paper or a silicone mat.

Lightly flour the work surface and roll the dough to a little less than 1/2-inch thickness. Use cookie cutters to cut desired shapes. (I used 1 and 1/2-inch fluted round cookie cutters.)

Place the cookies 1 inch apart on the baking sheets. Refrigerate for 30 minutes.

Bake 1 sheet at a time for 8-10 minutes, until lightly browned around the edges and center is just set.

Cool cookies on the pan for 5 minutes then transfer to a wire rack to cool completely.
Notes
To prevent spreading, the cookies should be cold when entering the oven. Don't try to rush things by not chilling the dough or the cutout cookies! Don't roll the cookies too thin or they may spread! Aim for 1/3 to 1/2-inch thickness.
Nutrition Facts
Cardamom Cookies
Amount Per Serving (1 cookie)
Calories 87
Calories from Fat 45
% Daily Value*
Total Fat 5g 8%
Cholesterol 6mg 2%
Sodium 16mg 1%
Potassium 9mg 0%
Total Carbohydrates 8g 3%
* Percent Daily Values are based on a 2000 calorie diet.
Since different brands of ingredients have different nutritional information, the values shown are just an estimate.