Salted Caramel Brownie Cookies
This post may contain affiliate links. Read the full disclosure here.
Create the perfect, easy salted caramel brownie cookies at home. Enjoy decadent, fudge chocolate cookies topped with caramel and sea salt.
Who doesn't love the pairing of fudgy chocolate and chewy caramel? I adapted this great recipe from my delicious brownie cookies.
To give these cookies the caramel flavor, I use Kraft caramel squares. I cut them each into 6 small pieces and incorporate them into the batter.
The Kraft caramel pieces will become quite sticky/chewy after baking. However, they won't turn hard.
If you prefer a softer caramel texture, I would recommend using Werther's Originals soft caramels instead.
For the extra salty flavor, I top each cookie with a sprinkle of sea salt flakes.
---
Why this recipe works
Whipping the eggs and sugar together creates the perfect, shiny tops on the cookies.
It combines the classic flavors of chocolate and caramel to create a decadent dessert.
The sea salt enhances the caramel-chocolate flavors.
These cookies are so easy to make! They appear fancy and will impress your guests.
---
Watch how to make it
What you need
The ingredients give these salted caramel brownie cookies a rich and flavorful profile.
Ingredients
This is a short overview of the ingredients I used and why I chose them. The full recipe can be found at the bottom of the post!
Flour & baking powder: These provide the structure and the leavening in the batter.
Cocoa powder & chocolate: Natural cocoa powder will work if you don't have Dutch-processed. You may use bittersweet or semisweet chocolate for this recipe.
Butter: The unsalted butter adds richness to the cookies.
Sugar & salt: The salt balances out the sweetness from the sugar.
Eggs: Make sure the eggs are at room temperature for this recipe.
Caramel: I cut 15 Kraft caramel squares into 6 small pieces each. These will provide a sticky and chewy texture after baking.
Equipment
This is a list of tools I used to make the recipe.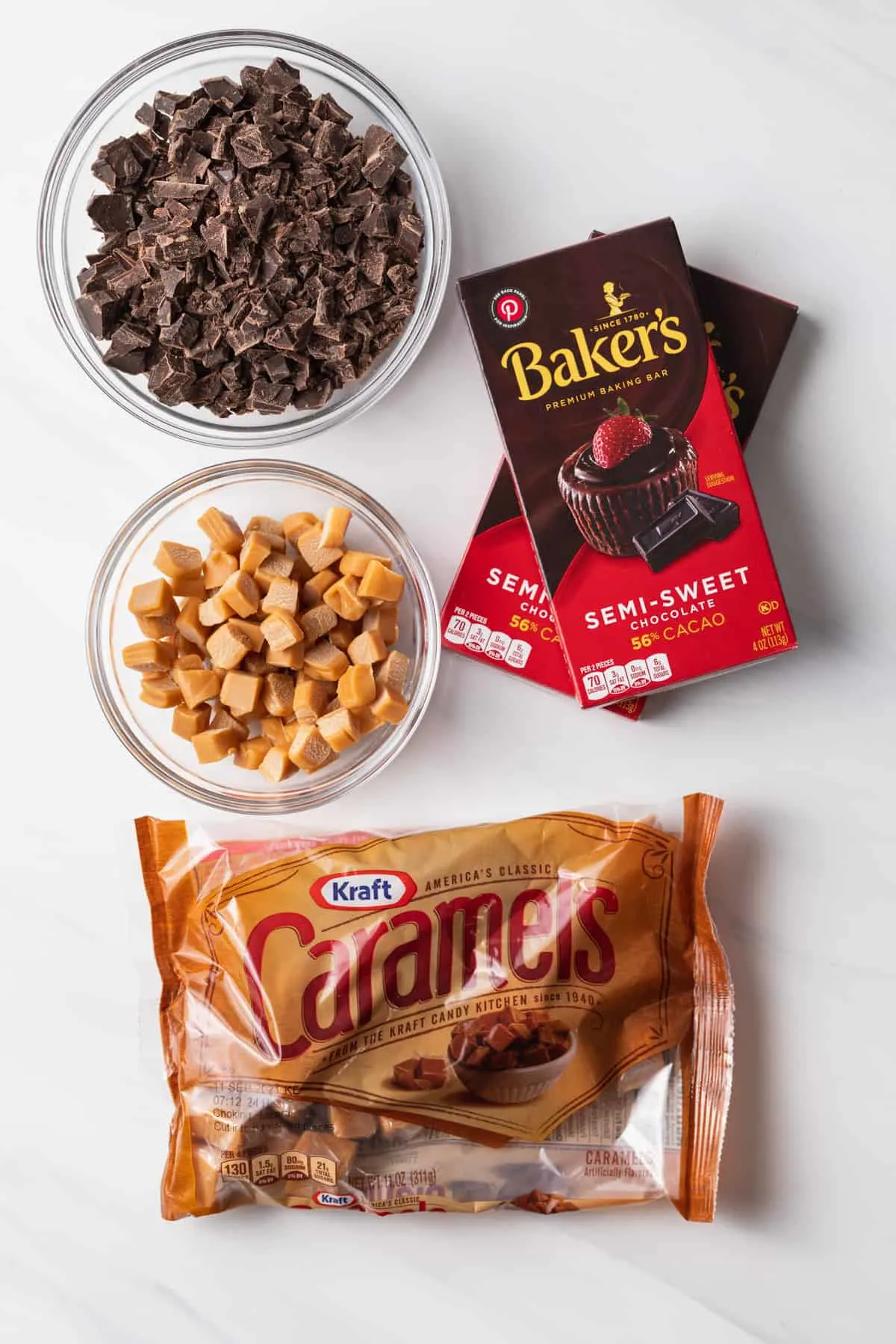 How to make salted caramel brownie cookies
1. Melt the chocolate
You'll melt the chocolate prior to mixing it into the recipe.
In a medium heat-proof bowl, add chocolate and butter.
Set the bowl over a pot with 1-inch of barely simmering water.
You'll want to stir constantly as the chocolate melts. Chocolate is done when it is fully melted and smooth.
2. Make the cookie dough
The cookie dough combines dry and wet ingredients.
Whisk together the flour, cocoa, salt and baking powder until well combined. Set aside for later.
Grab your stand mixer (with paddle attachment) or handheld electric mixer.
Beat the eggs and sugar together on medium-high speed until pale in color or about 5 minutes. Then, beat in vanilla extract.
Reduce speed to low. Add melted chocolate. Mix until fully blended.
Gently fold in dry ingredients with a silicone spatula. Then, add the caramel pieces by folding them in gently.
Cover the bowl with plastic wrap. Refrigerate batter for 30 minutes or until it's firm enough to scoop.
3. Bake the cookies
You'll scoop the batter into mounds and bake to finish the cookies.
Preheat the oven to 350°F.
Line two baking sheets with parchment paper.
Grab a 1.5 tablespoon cookie scoop. Drop mounds of batter on the prepared cookie sheets.
Sprinkle salt on top of the salted caramel brownie cookies.
Bake one sheet at a time. Bake cookies for 10-12 minutes or until the edges are set and the centers look slightly underdone.
Remove from oven. Cool on the pan for 5 minutes. Then, transfer to a wire rack to cool completely.
Enjoy! The cookies taste best the day they are made.
Jen's Best tips
Roll your mounds of cookie dough into balls for more uniform cookie shapes.
If you prefer a softer candy texture, you may use Werther's Original soft caramels.
While I prefer flaked sea salt as a garnish, you can also use coarse sea salt.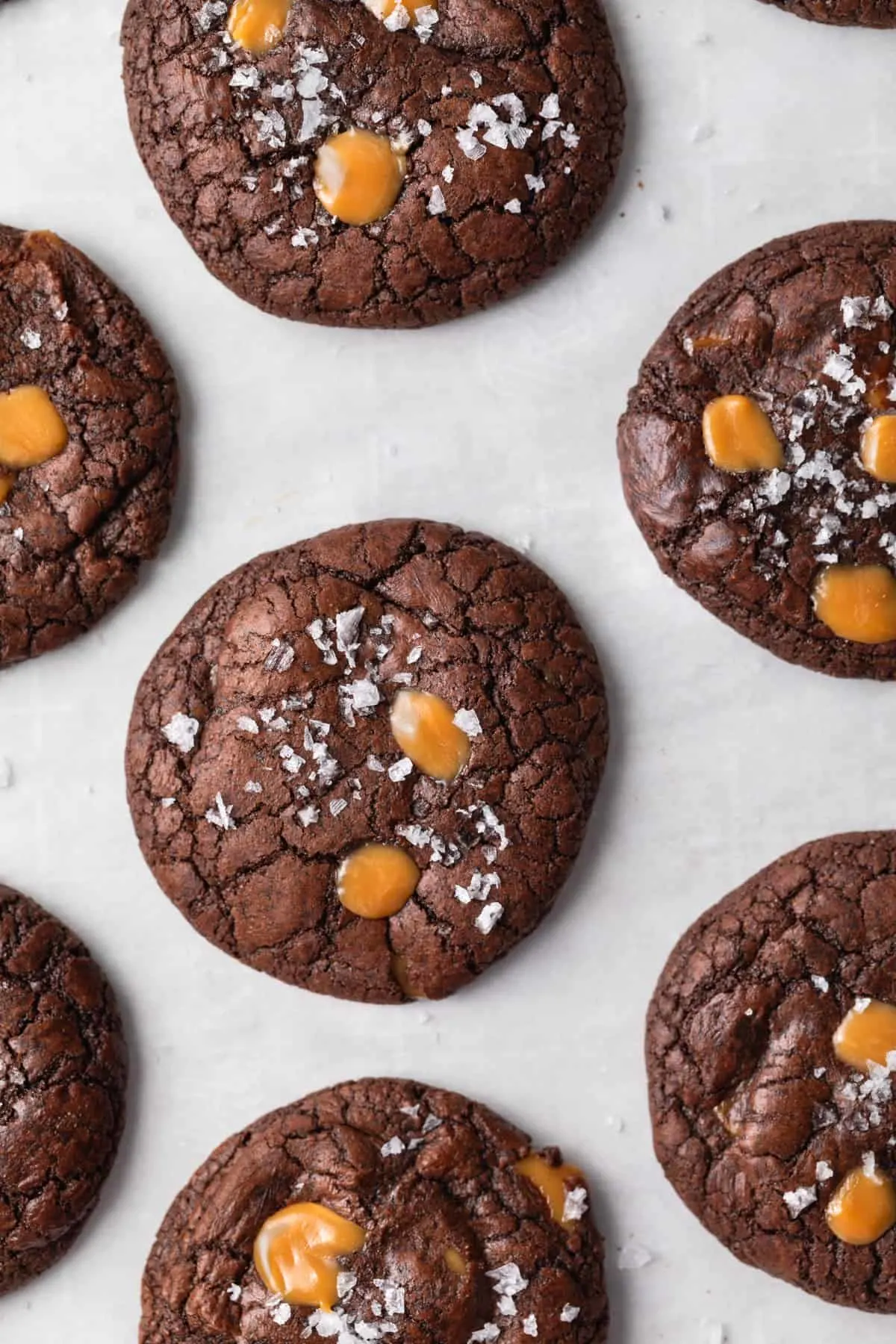 Storing & Freezing
To store: You can store the cookies in an airtight container for no more than 2 days.
To Freeze: Baked cookies can be frozen for up to 2 months. Wrap them in plastic wrap and place in a frozen-safe zip-top bag.
---
More cookie recipes
You can never make just one type of cookie! Try some of my other favorites on the blog:
Did you try this recipe? I would love for you to leave me a 5-star rating or comment. This way, I have a better understanding of which recipes you like and can create more of them.
Please take a moment to follow me on Instagram, Pinterest, Facebook, Youtube or sign up for my free newsletter to never miss the newest recipes and blog updates.
You can also shop my favorite baking tools. Thank you so much for your support!