This post may contain affiliate links. Read the full disclosure here.
Create a homemade baking powder substitute with simple pantry ingredients. It works well in any recipe!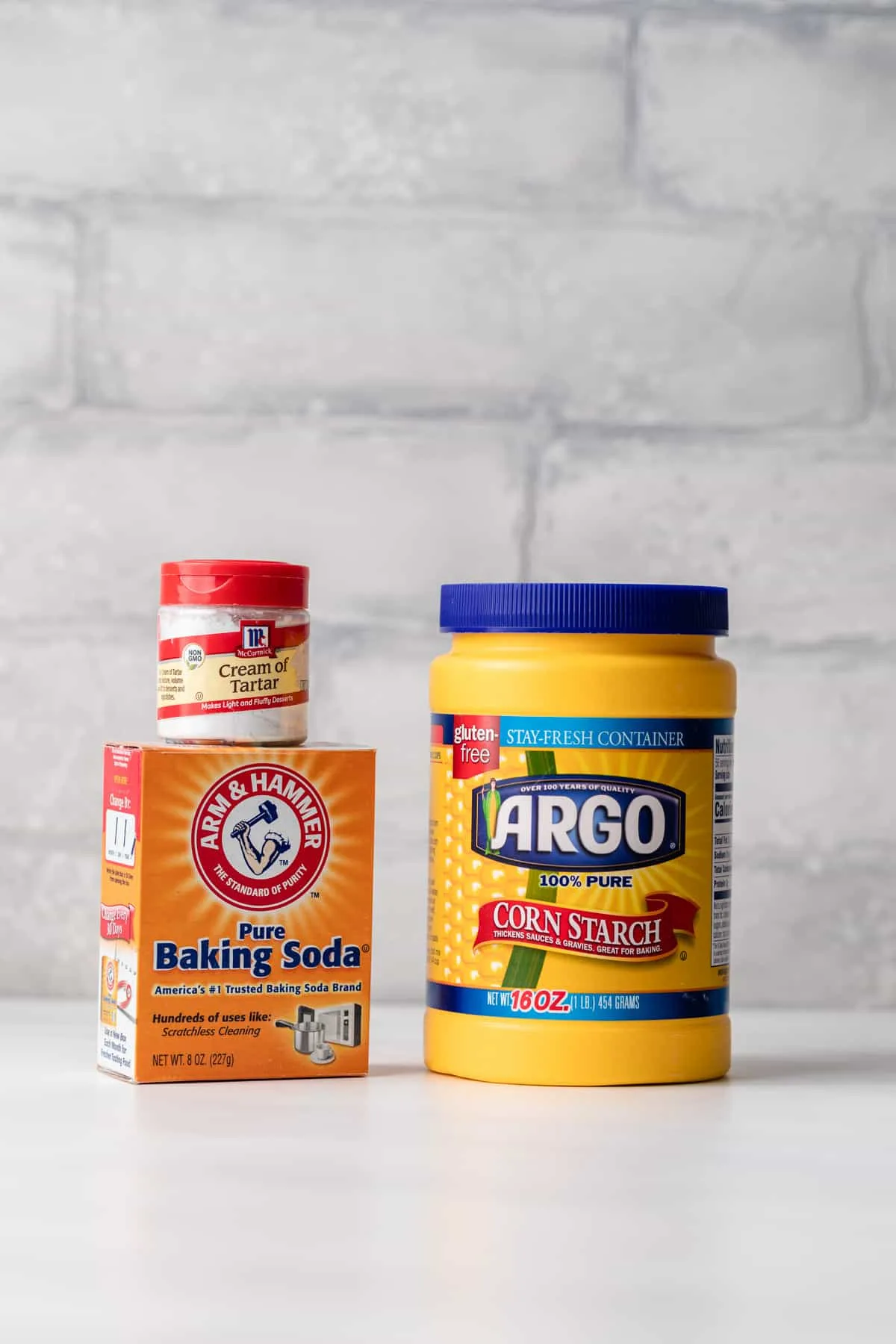 Are you wondering why do I need a baking powder substitute? Why can't I just use baking soda?
While they are both chemical leaveners, they function differently in recipes and have different compositions.
Baking soda, also known as sodium bicarbonate, produces carbon dioxide when it comes into contact with an acid and a liquid. It is basic on the pH scale, which is why it reacts with acids.
Meanwhile, powder is different in that it is made of sodium bicarbonate and it comes with a powdered acid. It only needs a liquid to be activated.
For more information on when to use which chemical leavener, check out my guide.
---
Why this recipe works
These simple, common ingredients are readily available in most home pantries.
Sodium bicarbonate, a base, is paired with an acid, cream of tartar.
This baking powder replacement is so easy to make with almost no notice!
What you need
No need to rush to the store. The ingredients are likely already in your kitchen. Let's discuss just a few of the key ingredients:
Ingredients
Cream of tartar: This is the acidic ingredient in the recipe.
Baking soda: The recipe calls for this as the leavening agent.
Cornstarch: This is an anticaking agent, which prevents the mixture from clumping up.
---
How to make homemade baking powder
Three simple ingredients combine to make an alternative at home.
Combine the cream of tartar, baking soda and cornstarch together until well-blended.
Use 1 teaspoon of this blend to replace 1 teaspoon of baking powder.
---
What else can I use as a baking powder alternative?
Yogurt + Baking Soda: According to Good Housekeeping, you can combine ¼ teaspoon of baking soda and ½ cup of plain yogurt. This will replace 1 teaspoon.
White Vinegar + Baking Soda: Another GH tip is mixing ½ teaspoon of vinegar and ¼ teaspoon of baking soda. This will replace 1 teaspoon.
Lemon Juice + Baking Soda: GH also recommends combining ¼ teaspoon of baking soda and ½ teaspoon lemon juice. This will replace 1 teaspoon.
Molasses + Baking Soda: Country Living recommends mixing ¼ cup molasses with ¼ teaspoon of baking soda. (You must lower liquids in the recipe by ¼ cup!) This will replace 1 teaspoon.
Club Soda: According to a Taste of Home, you can replace the liquid in your recipe with club soda. This works best for recipes that don't require a lot of rising.
---
How to store this substitute?
To store: Keep it in an airtight container and store at room temperature. Never store in the refrigerator!
---
More helpful baking tips
Did you try this recipe? I would love for you to leave me a 5-star rating or comment. This way, I have a better understanding of which recipes you like and can create more of them.
Please take a moment to follow me on Instagram, Pinterest, Facebook, Youtube or sign up for my free newsletter to never miss the newest recipes and blog updates.
You can also shop my favorite baking tools. Thank you so much for your support!