This post may contain affiliate links. Read the full disclosure here.
Thumbprint cookies are enriched, buttery shortbread cookies filled with jam. These cookies are a holiday favorite!
Thumbprint cookies are basically butter cookies with a divot that is created by pressing a thumbprint into the center.
This divot is often filled with raspberry jam. Other options can include your favorite flavor of jam, jelly, marmalade, lemon curd, chocolate, dulce de leche, or caramel.
The cookies are known as "Hallongrotta" in Swedish which means raspberry cave. This is why raspberry is the most common jam flavor you see with thumbprint cookies.
They bake up so pretty and have a soft, crumbly texture that is hard to resist. Much like my Russian teacakes.
---
Why this recipe works
The cookie dough is sturdy and holds its shape so you don't have to worry about the cookies over spreading.
The dough doesn't need to be chilled! Mix it up, shape, and bake the cookies.
Use any kind of fruit jam but I highly recommend choosing a seedless variety. It will make the cookies more enjoyable.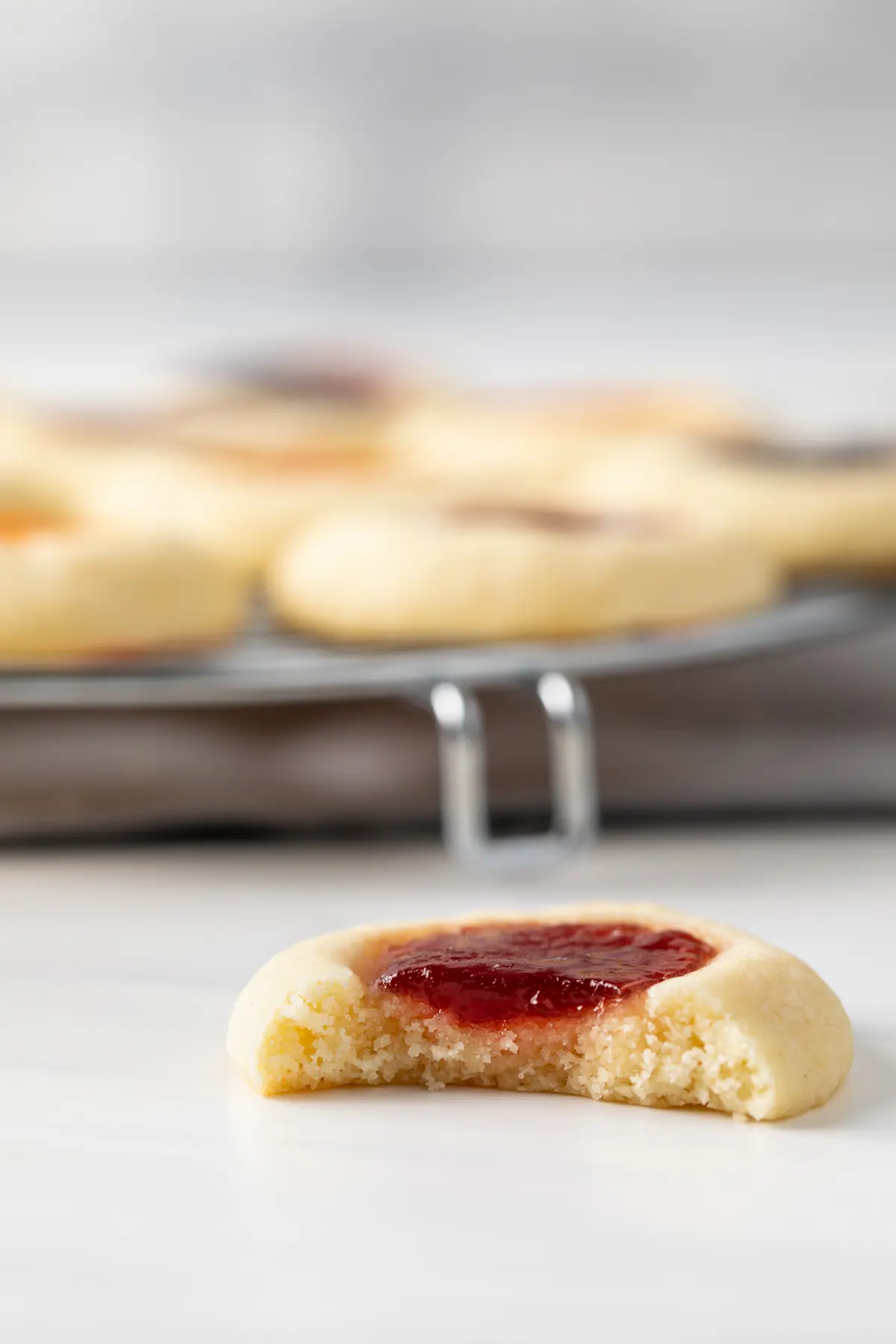 Thumbprint cookie recipe
I just adore thumbprint cookies. I've made a couple different varieties including lemon thumbprint cookies and dulce de leche thumbprint cookies. Today I'm sharing my favorite recipe for jam thumbprint cookies.
The cookie is soft, buttery, and not too sweet. This leaves room for the filling to be the star. For the cookies pictured, I used red plum, seedless blackberry, and apricot jam.
Rolling the cookie dough balls in finely chopped nuts is also a popular variation. And a white chocolate drizzle will make them look extra nice for the holidays.
---
Ingredients
The ingredient list is very simple.
Butter: Use unsalted butter and allow it to come to room temperature before using.
Sugar: Regular granulated sugar works best.
Egg yolk: The yolks also need to be at room temperature before using.
Vanilla: Use a high-quality pure vanilla extract.
Flour: All-purpose flour is best for this recipe. I've not tested it with gluten-free flour so I can't suggest using it.
Salt: Just a bit to balance the flavors.
Fruit jam: Use whatever you like best but make sure it's seedless.
---
How to make thumbprint cookies
This recipe is easy and would be fun to do with kids. It also makes great cookies for the holidays!
The Dough – The cookie dough is mixed using the creaming method and doesn't require chilling before baking.
The Filling – Use storebought or homemade jam for the filling.
Step 1: Make the dough
Start by creaming the butter and sugar together for about 3 minutes. This will give the cookies their soft, tender texture.
Next beat in the egg yolks, vanilla, and salt until well combined.
Add all of the flour and mix just until no streaks of dry flour are visible. You may need to stop and scrape down the sides of the bowl to get all of the flour incorporated.
Step 2: Shape the cookies
Use a 1-tablespoon cookie scoop to portion the dough and roll into balls. Place the cookie dough balls on a baking sheet lined with parchment paper.
Using either your thumb or the back of a teaspoon, make an indention in the center of each dough ball. If the dough cracks, gently press it back together.
Fill the indentions with about ¼ teaspoon of jam.
Step 3: Bake
Bake the cookies at 350°F for 12-14 minutes. The bottom edges will be lightly browned once the cookies are ready.
Allow the cookies to cool on the pan for 5 minutes, then transfer to a wire rack to cool completely.
Tips for success
Use quality jam or make the jam yourself. I also suggest using seedless jams.
Sometimes homemade jam can be a little watery. Cook it longer to reduce the moisture content. This will make it better for the cookies.
Weigh the ingredients. If you use too much flour by mistake, the cookie dough will be dry and difficult to work with.
As you make the indentions in the dough balls, the dough may crack. This is perfectly fine and normal. You can gently pinch the cracks back together and smooth them out before adding the jam.
To avoid cracks altogether, make sure the dough isn't chilled, roll the dough balls as smooth as possible, then immediately press the indent after rolling. Don't roll all the balls then press the indent, do it after forming each ball.
Add the jam before baking the cookies! The heat from the oven will "set" the jam (evaporating excess moisture) and the cookies will last longer.
Use a teaspoon instead of your thumb to make indentions. This makes the cookies look neat and uniform.
Storing & freezing
To store: Keep thumbprint cookies in an airtight container at room temperature for up to 3 days or in the refrigerator for up to 6 days. Of stacking, layer parchment paper in between.
To Freeze: Transfer cookies to a freezer-safe container with parchment paper layered in between and freeze for up to 2 months.
Did you try this recipe? I would love for you to leave me a 5-star rating or comment. This way, I have a better understanding of which recipes you like and can create more of them.
Please take a moment to follow me on Instagram, Pinterest, Facebook, Youtube or sign up for my free newsletter to never miss the newest recipes and blog updates.
You can also shop my favorite baking tools. Thank you so much for your support!