Irish Soda Bread with Raisins and Caraway Seeds
This post may contain affiliate links. Read the full disclosure here.
This Irish Soda Bread is a family favorite. It has a crunchy exterior while the inside is soft and buttery. It's flavored with fragrant caraway seeds and plump dark raisins. And there's a slight sweetness.
Irish Soda Bread
It's a good thing this bread is super simple to make because your family will be requesting it all the time after the first bite!
Irish soda bread is a very simple bread made without yeast. The baking soda and buttermilk work together to create leavening, resulting in a soft fluffy interior.
Using a light hand while kneading the dough together is also important for a delicate interior. You don't want a smooth dough, aim for shaggy dough that is slightly sticky.
Caraway seeds and raisins provide an exquisite flavor profile. This is definitely one of the fancier versions of soda bread I've seen.
If you prefer sweets, give my Irish potato candy and green velvet cupcakes a try instead.
After attempting my first soda bread, I couldn't believe how easy it was! It's seriously the easiest bread I've ever made. You only need one bowl and a wooden spoon to make this recipe but a stand mixer* makes the process even easier.
I tested this recipe a few different ways: without egg, with less butter, with more raisins… The final result that I'm sharing with you today is the one my family loves! It's tender and buttery on the inside and the crunchy crust adds a lovely texture contrast.
This Irish soda bread is full of raisins and caraway seeds. I adore the fragrant kick the caraway seeds add. It's by far my favorite part of the bread. However, if you are not a fan of caraway seeds, feel free to reduce the amount or omit them altogether.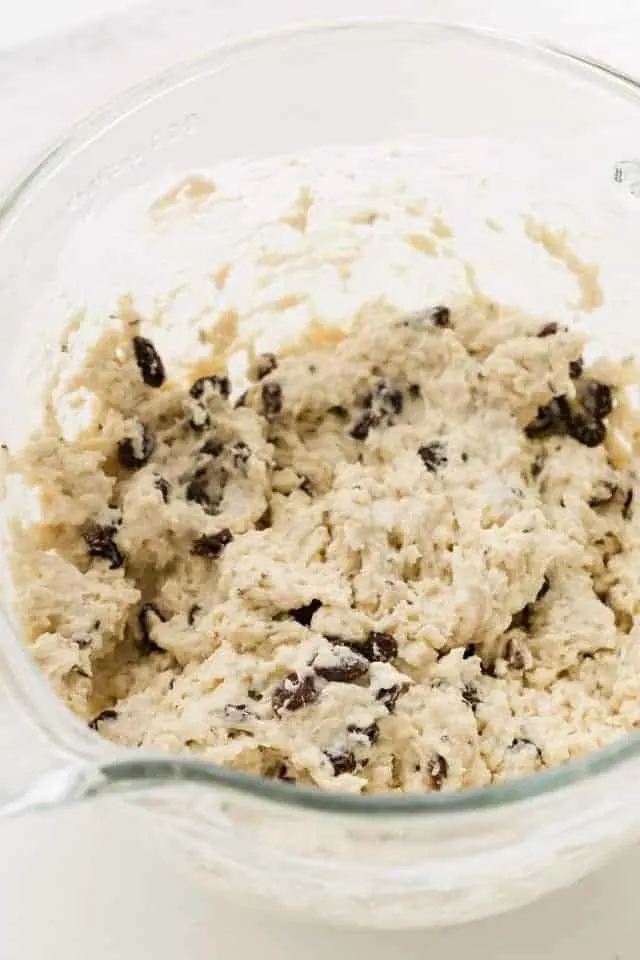 The bread is baked in a cast-iron pan or on a baking sheet. I've found that when using a cast iron, the exterior of the bread will brown quicker than when baking on a regular baking sheet. Because of this, you may need to tent aluminum foil over the bread halfway through baking. This will keep the bread from turning too brown.
Enjoy your soda bread the day it is made! It's best when eaten fresh and will begin to dry out after a couple of days.
---
How do you eat Irish Soda Bread?
This version of Irish soda bread is best eaten warm with a spread of butter. You can either slice it or simply tear off small chunks of bread. Slather room temperature butter over the warm slice and it will melt into the bread.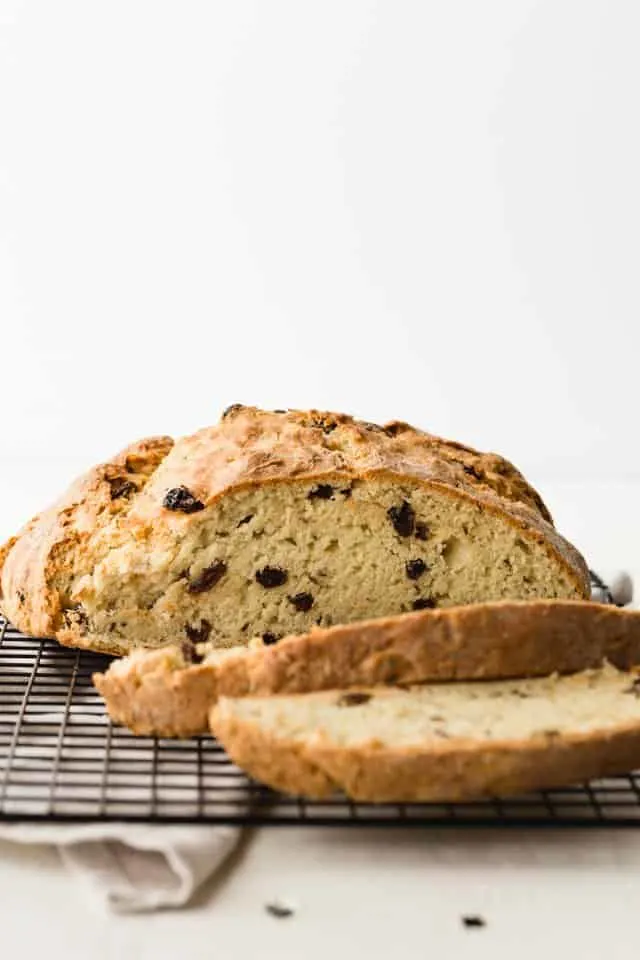 If you're looking for more delicious bread recipes, try this cheddar jalapeno buttermilk bread.
Did you try this recipe? I would love for you to leave me a 5-star rating or comment. This way, I have a better understanding of which recipes you like and can create more of them.
Please take a moment to follow me on Instagram, Pinterest, Facebook, Youtube or sign up for my free newsletter to never miss the newest recipes and blog updates.
You can also shop my favorite baking tools. Thank you so much for your support!