This post may contain affiliate links. Read the full disclosure here.
With a cinnamon-spiced batter and crunchy topping, these Apple Streusel Muffins are full of cozy fall flavors. Great for a grab-and-go breakfast or dessert! You'll love these muffins if you enjoy my apple bread recipe.
Moist & Tender Apple Muffins
I certainly can't pass up on a fluffy muffin for breakfast. Usually, it's my secret ingredient chocolate chip muffins, blueberry muffins, or cinnamon raisin muffins. But today is all about my new favorite!
This apple streusel muffin recipe is out of this world delicious – and that's coming from someone who has been devouring a lot of fall baked goods recently!
But these light, tender, and moist apple streusel muffins are one fall recipe I come back to year after year.
The apple flavor is infused in every bite, with chopped apples in the muffin batter and apple cider (or juice) added to the glaze. Cinnamon is added to the batter for extra warmth and a brown sugar streusel topping rounds out the cozy fall flavors.
While these apple streusel muffins are suitable for any time of the day, I must say they complement a cup of warm coffee so nicely! What a perfect way to start (or end) a chilly fall day!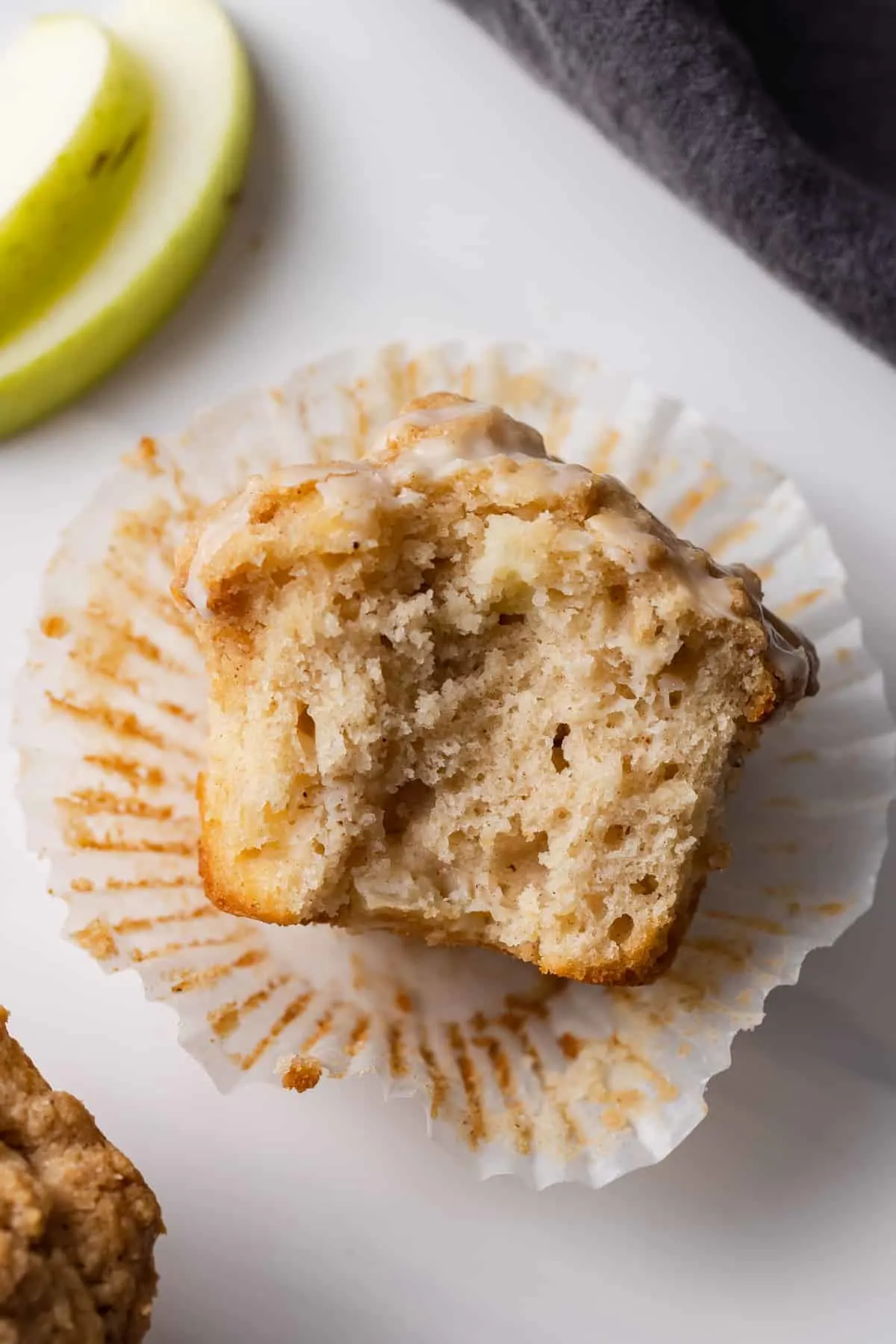 What You'll Need
These muffins are made up of a simple apple muffin batter, a cinnamon brown sugar topping, and a 2-ingredient apple glaze.
For The Muffins
Flour – All-purpose flour works just fine!
Sugar – I use a combination of granulated sugar and brown sugar for flavor and texture.
Salt
Cinnamon – Adds a warm flavor throughout that compliments the apples.
Baking powder – Allows the muffins to rise.
Buttermilk – Should be at room temperature. I do not recommend substituting regular milk. If you don't have buttermilk on hand, you can make your own.
Unsalted butter – Allow it to cool slightly after melting.
Eggs – Should be at room temperature, not cold.
Vanilla extract – A splash for flavor.
Chopped apples – Any variety will work!
For The Streusel
Flour – Holds the streusel ingredients together.
Brown sugar – I prefer light brown sugar, as the strong molasses flavor of dark brown sugar can overpower the other ingredients.
Cinnamon – Pairs nicely with the brown sugar flavor.
Butter – Unsalted butter should be cold and cut into small pieces.
For The Glaze
Confectioners' sugar – Creates the sweet, creamy glaze base.
Apple cider – Infuses apple flavor throughout the glaze. You can also use apple juice.
---
How to Make Apple Streusel Muffins
Even with the added streusel and glaze, these apple streusel muffins are easy to make! No fancy techniques or equipment are required, just a few extra (simple) steps!
Preheat the oven. Preheat the oven to 400°F and line a muffin tin with liners.
Combine the dry ingredients. Whisk together the dry ingredients and create a "well" in the center.
Add the wet ingredients. Beat the wet ingredients in a measuring cup then pour into the dry ingredients. Stir until just a few streaks of flour remain.
Add the apples. Gently fold in the chopped apples. Transfer muffin batter to the muffin tin.
Make the streusel. Whisk together the dry ingredients then cut in the butter with the back of a cut. Sprinkle over each muffin.
Bake. Bake the muffins for 12 to 15 minutes, until golden brown.
Cool. Allow to cool for 5 minutes in the pan then transfers to a wire rack.
Top with the glaze. Whisk the glaze ingredients until smooth. Drizzle over the muffins and serve.
Tips for Success
After baking muffins more times than I can count and continually perfecting my technique, I wanted to share some of my tips for baking the best muffins. These tips apply to these apple muffins as well as any other muffins you may be baking!
Use muffin liners. While technically you can make muffins without liners, they make for such an easy clean-up! The liners prevent the batter from sticking to the pan and make muffins easy to store.
Do not overmix the batter. For light and fluffy muffins, it's important to not overmix the batter. You should combine the batter just until the dry ingredients are moistened.
Remove from the pan to cool. Allow the muffins to cool in the pan for about five minutes but then promptly transfer them to a wire rack. The bottoms of the muffins can become soggy from condensation if left to cool down in the pan.
Serving Suggestions
Muffins are always a hit in my house because they are so versatile. Quick and easy breakfast? Muffin. Afternoon snack? Muffin. Dessert? Muffin.
These Apple Streusel Muffins definitely fall into the favorite fall breakfast category at my house. They're perfect for busy mornings when we need something on the go. But with the brown sugar topping and glaze, they're equally as good for dessert too!
I enjoy these muffins warm or at least room temperature. They're at the absolute best when they're just cooled from the oven!
---
Storage & Freezing
You can store these apple muffins at room temperature or in the fridge. They'll last for up to 3 days on the counter or up to a week in the refrigerator. Be sure to store them in an airtight container to prevent them from drying out.
You can also freeze your apple streusel muffins for up to 3 months! Allow them to cool completely then place them in a zip-top bag and pop them in the freezer.
Allow them to thaw overnight in the fridge and then bring to room temperature on the counter or zap them in the microwave.
Did you try this recipe? I would love for you to leave me a 5-star rating or comment. This way, I have a better understanding of which recipes you like and can create more of them.
Please take a moment to follow me on Instagram, Pinterest, Facebook, Youtube or sign up for my free newsletter to never miss the newest recipes and blog updates.
You can also shop my favorite baking tools. Thank you so much for your support!
More Apple Desserts: