This Blueberry Muffins recipe is light, fluffy, and bursting with fresh blueberries. The batter is made with Greek yogurt for extra tender muffins.
Blueberry muffins are one of the best ways to use up summer ripened blueberries. They are sweet, flavorful, and loaded with fresh blueberries.
This batter is different than my basic muffin recipe batter, the one I typically use for muffins. I've added Greek yogurt to give the muffins a lighter texture.
It's very similar to the fresh strawberry cake I shared a few weeks ago. In fact, this is the recipe I initially created for that cake. The cake texture was too "muffin-like" so I decide to use it for muffins instead. Then I altered it slightly to get it just right for the cake.
One batter, adjusted slightly to yield to two different recipes!
Why this blueberry muffin recipe works
The batter is thick. This prevents the blueberries from sinking and allows the muffins to bake up tall and beautiful.
Greek yogurt is used to give the muffins the most tender, delicate texture.
The largest, plumpest blueberries burst inside the muffins as they bake. Just look at how pretty they are.
Blueberry Muffin Ingredients
This muffin recipe is slightly different than my others. I've tweaked the liquid and leavening agents to get a muffin that is superior in texture and taste. Let's take a look at the ingredients.
Butter: Softened the butter to room temperature because this recipe uses the creaming method for mixing.
Sugar: Regular granulated sugar is what I chose to use but you could also use brown sugar or half of each.
Eggs: For structure and moisture.
Greek yogurt: I used plain yogurt but you could use one that's vanilla flavored.
Vanilla: To add a touch of flavor.
Flour: All-purpose flour is best.
Leavening: A combination of baking powder and baking soda is used to give the muffins rise.
Salt: To balance the flavors.
Blueberries: Fresh blueberries will work best but you can use frozen blueberries. I'll leave notes in the recipe about this.
How to make blueberry muffins
These blueberry muffins are unlike any that I've had before. The combination of ingredients yields a tender muffin with crunchy tops and so many juicy blueberries.
The Batter – The recipe uses the creaming method just like when making cakes. Air incorporated into the batter will result in a light and fluffy muffin.
This post may contain affiliate links. Please see my disclosure policy for more details.
Step 1: Combine the wet ingredients.
Make sure you've preheated the oven and all of the ingredients are at room temperature. Anything cold will need to be set out for about 1 hour before you begin baking.
And prepare the muffin pan by lining it with paper liners.
Start by creaming the butter and sugar together until the mixture is pale in color. It will appear to be double in volume. This is important for a soft muffin texture.
Then, add the eggs and mix until well incorporated. The batter should be smooth and free of lumps at this point.
Whisk in the yogurt and vanilla extract until well combined. The batter will be runny but should be smooth.
If your batter is looking curdled, it means the ingredients were not at the same temperature. Remember, the cold ingredients need to be brought to room temperature or they won't emulsify properly.
Step 2: Combine the dry ingredients
You can do this one of two ways…
Add all the dry ingredients to a bowl and stir with a whisk until well combined. Then add them to the wet ingredients.
Or place the dry ingredients in a sifter or fine mesh sieve. Sift them into the wet ingredients.
Once added, use a silicone spatula to fold the everything together until the flour is almost fully incorporated.
It's okay if there are a few streaks of dry flour at this stage. You'll be mixing more when you add the blueberries.
Step 3: Add the blueberries
Add the blueberries and carefully fold them in with a silicone spatula.
Fresh blueberries work best but if you only have access to frozen, those will be okay. Don't thaw the blueberries and keep in mind they may tint the batter purple.
Notice how the blueberries are not sinking to the bottom of the batter? There will be blueberries speckled all throughout the muffins. And you'll get at least one in every single bite.
Step 5: Bake the muffins
This batter can get you 12-14 muffins. I usually get 12 because I fill my muffin cups pretty full.
When using a thick batter like this one, you can fill cups fuller. Unlike if you were using a thinner muffin batter. The muffins will bake up taller and won't spill over the sides of the cup.
So, divide the batter evenly between the muffin cups and sprinkle so some coarse sugar over the top. I like the added crunch it offers.
Bake the muffins until they are golden on top. A toothpick inserted into the center should come out with only a few moist crumbs attached. This will take 12-15 minutes.
Remove the muffins immediately from the pan and place them on a wire rack to cool completely. Take care when doing this. The pan and muffins will be very hot.
Taking the muffins out of the pan right way will prevent condensation from building under the muffins. Condensation can make the muffins soggy. This is especially so if you don't use paper liners.
Are fresh or frozen blueberries best for muffins?
For the best results, use fresh blueberries in muffins. They are firm which will prevent them from bursting while mixing them into muffin batter.
But, you can use frozen blueberries if you don't have fresh on hand. Don't thaw the berries before you add them to the batter. And use as few strokes as possible when folding them into the batter.
Frozen blueberries can tint your batter purple.
Make ahead instructions
Muffins are best the day they are made but they can be stored for later use. Place the muffins in an airtight container and keep them at room temperature for up to 3 days.
How to refrigerate blueberry muffins

Place the cooled muffins in an airtight container and refrigerate for up to 1 week.

How to freeze blueberry muffins

Wrap the cooled muffins individually in plastic wrap then place them in an airtight container or zip-top freezer bag. Freeze for up to 3 months.

Thaw one or all of the muffins in the refrigerator overnight.
Or place a single frozen muffin in the microwave for 40-60 seconds.
Bring cold muffins to room temperature before serving or warm them in the microwave for 10-20 seconds.
More muffin recipes to try:
NEED MORE BAKING IDEAS? Subscribe to our newsletter and follow along on Facebook, Instagram, and Pinterest for all the latest updates!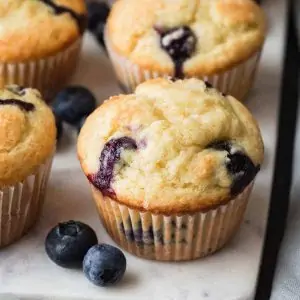 Blueberry Muffins
This Blueberry Muffins recipe is light, fluffy, and bursting with fresh blueberries. The batter is made with Greek yogurt for extra tender muffins.
Print
Save
Rate
Ingredients
1/2

cup

(

114

g

)

unsalted butter

,

softened

3/4

cup

(

150

g

)

granulated sugar

2

large eggs

,

room temperature

3/4

cup

(

150

g

)

plain Greek yogurt

, room temperature See Note 1

2

teaspoons

vanilla extract

2

cup

(

260

g

) all-purpose flour

1

teaspoon

baking powder

1/2

teaspoon

baking soda

1/4

teaspoon

salt

1

cup

(

148

g

)

fresh blueberries

coarse sugar

,

optional
Instructions
Preheat the oven to 400°F. Line a muffin pan with paper liners; set aside.

Using a stand mixer fitted with the paddle attachment or with an electric handheld mixer, beat the butter and sugar on medium speed until light and fluffy.

Turn the speed down to low and beat in the eggs, one at a time. Beat in the yogurt and vanilla.

In a separate bowl, whisk the flour, baking powder, baking soda, and salt together. Add it to the butter mixture and use a silicone spatula to mix until just combined.

Gently fold in the blueberries.

Divide the batter evenly between the muffin cups and sprinkle coarse sure over the top if using.

Bake for 12-15 minutes or until a toothpick inserted into the center comes out with only a few moist crumbs attached.

Immediately remove the muffins from the pan and place them on a wire rack to cool completely.
Notes
If you don't have plain Greek yogurt, sour cream will also work.
Nutrition Facts
Blueberry Muffins
Amount Per Serving (1 muffin)
Calories 219
Calories from Fat 81
% Daily Value*
Total Fat 9g 14%
Cholesterol 48mg 16%
Sodium 111mg 5%
Potassium 93mg 3%
Total Carbohydrates 31g 10%
Protein 5g 10%
* Percent Daily Values are based on a 2000 calorie diet.
Since different brands of ingredients have different nutritional information, the values shown are just an estimate.