Caramel Apple Pecan Streusel Pie
This post may contain affiliate links. Read the full disclosure here.
This Caramel Apple Pecan Streusel Pie tastes as good as it looks! This pie is loaded with apples, topped with a crunchy peach streusel, and drizzled with homemade caramel sauce. It's too good to stop at one slice!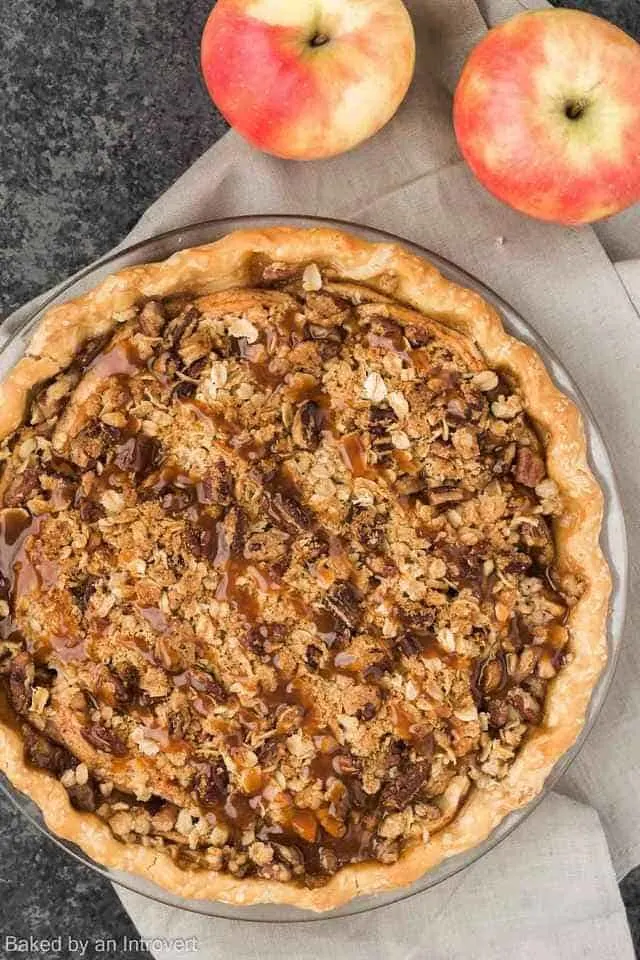 I have a growing archive of apple desserts. One of my favorites is these apple streusel bars! I think it's safe to say, I really enjoy this fall fruit.
And while you can get apples all year round, they simply taste the best when they're in season.
What goes best with apples besides cinnamon? Well, caramel, of course… I think you can agree that apple and caramel is one of the most amazing flavor combos ever invented.
Complete and total deliciousness.
There are 4 parts to my Caramel Apple Pecan Streusel Pie. You have the buttery, flaky crust. The cinnamon apples. The crunchy pecan streusel topping. And the sweet gooey caramel sauce.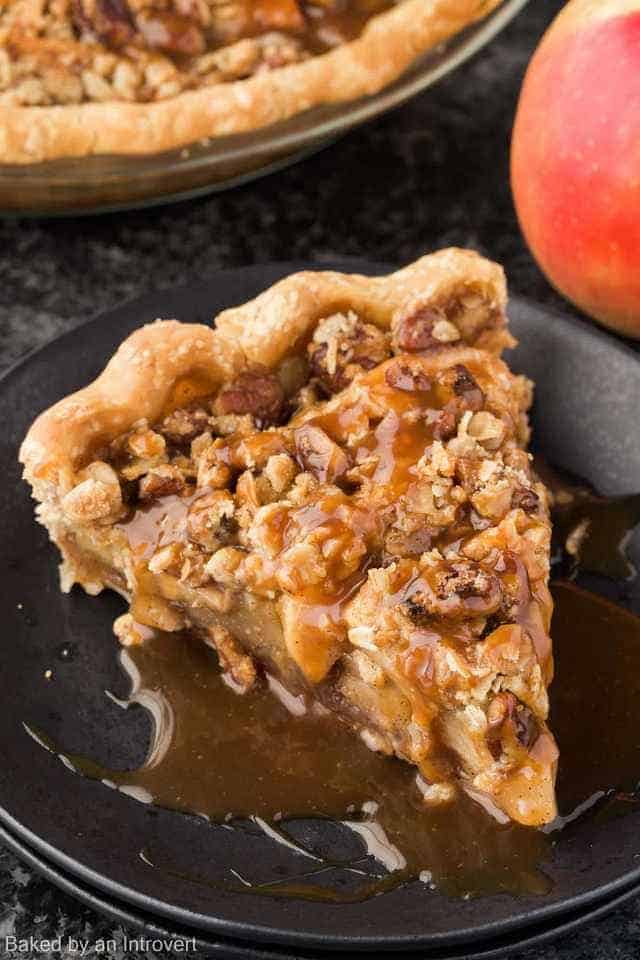 How to make caramel apple streusel pie
We'll start with the crust. I used my favorite homemade pie crust recipe. It's always so buttery and flakey. I wanted the crust to be extra thick, so I made enough for a double crust pie and rolled it out into one crust.
For the filling, I used gala apples. They are a sweet, fine-textured variety, which I love, but you can use any variety you prefer best. Or mix two different varieties together.
The apples are seasoned with both white and brown sugar, ground cinnamon, salt, and a little lemon juice. I kept the spices simple because I wanted the apples and caramel to be the stars of the show.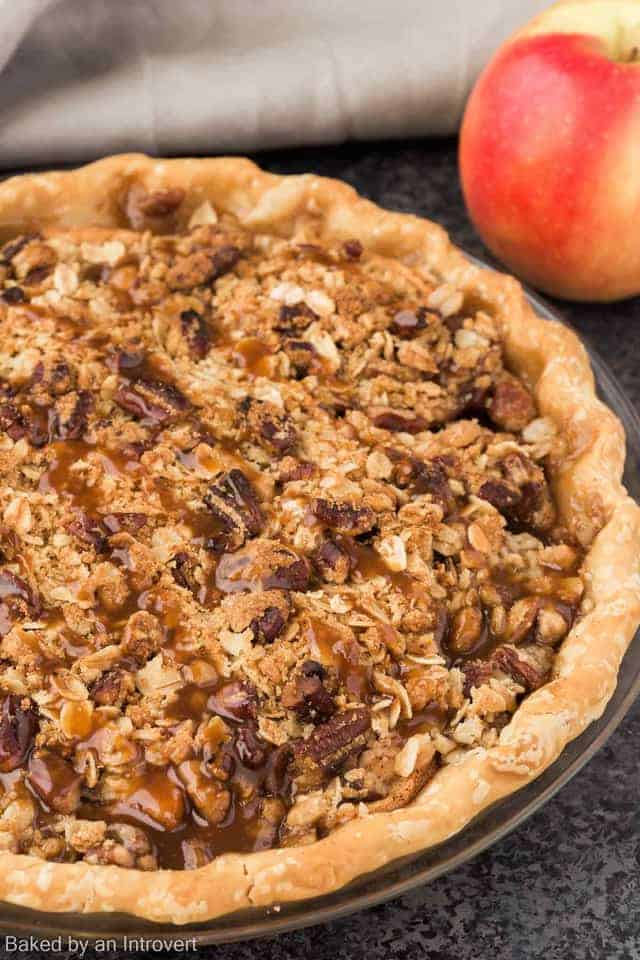 Over the apples goes a pecan streusel topping. It's a basic streusel with oats and flour mixed with brown sugar and butter.
I mixed the chopped pecans in last because it's difficult to cut the butter into the flour with the pecans in the way.
Serve the pie with my homemade caramel sauce drizzled over the top. It is by far the best caramel sauce you will ever make but if you're not into making your own caramel, use any store-bought variety if you prefer.
Your house will smell amazing. An apple pie baking away in the oven is one of the most pleasurable smells.
Waiting is absolutely torturous.
More pie recipes you'll love
Did you try this recipe? I would love for you to leave me a 5-star rating or comment. This way, I have a better understanding of which recipes you like and can create more of them.
Please take a moment to follow me on Instagram, Pinterest, Facebook, Youtube or sign up for my free newsletter to never miss the newest recipes and blog updates.
You can also shop my favorite baking tools. Thank you so much for your support!