This post may contain affiliate links. Read the full disclosure here.
This Nutella Mug Cake is incredibly easy to make with only a few simple ingredients and "baked" right in the microwave. It's perfect for an easy dessert because it takes less than 5 minutes to make!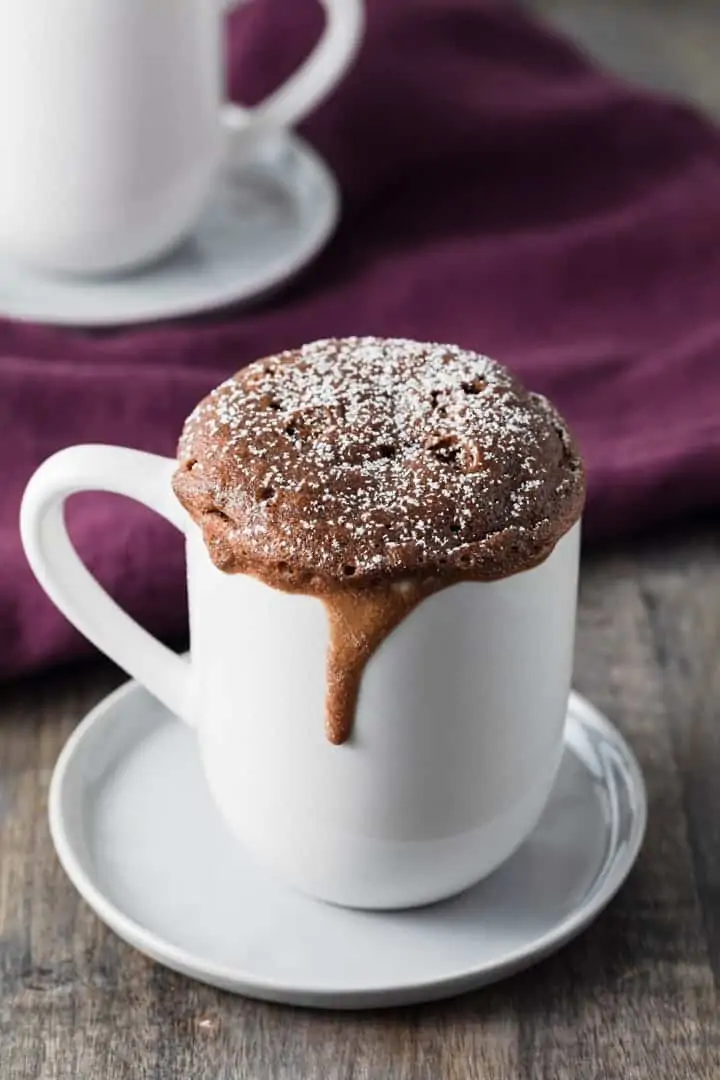 Nutella Mug Cake
This Nutella mug cake recipe is my favorite indulgent snack. Warm Nutella cake that comes in a single serving? Count me in!
Sometimes I really just want to make a small batch dessert to quickly satisfy a sweet craving. In the past, I've shared a couple of my favorites like this vanilla mug cake and chocolate mug cake. But today, I'm sharing an even tastier mug cake – Nutella mug cake.
The best thing about this mug cake recipe is it doesn't require an oven. It's "baked" right in the microwave in just over a minute.
All you need to do is mix the ingredients together in a bowl and pour the batter into coffee cups. The cups go straight into the microwave and in 75 seconds you'll have a warm, gooey Nutella mug cake.
Another wonderful thing about this recipe is it uses simple ingredients, most of which you might already have on hand. This easy microwave mug cake is perfect on its own, but I love to dust it with powdered sugar. You can also top it with a scoop of vanilla ice cream. You won't go wrong either way!
Why this recipe works
I used whole milk instead of buttermilk because I didn't want the tang from the buttermilk to overpower the Nutella.
A combination of baking powder and baking soda produces a softer texture leaving the cake fluffy and tender.
The batter is runny, this also contributes to a moist and light cake texture.
Nutella Mug Cake Ingredients
The ingredients for today's Nutella mug cake are simple and most likely, you have them on hand.
Flour: All-purpose flour works best for this recipe.
Sugar: Regular granulated sugar is all you need here.
Nutella: Use real Nutella. That's what I tested the recipe with and can't guarantee it will turn out with an imitation product.
Leavening: Both baking powder and baking soda are used to give the cake a delicate texture.
Salt: Just a pinch is needed to balance the flavors.
Milk: Whole milk will work best with this recipe.
Butter: Unsalted sweet cream butter is preferred for this mug cake.
Egg: You need 1 whole egg. It's important for the structure of the chocolate mug cake.
Vanilla: Just a little pure vanilla extract is needed. It enhances the flavors so make sure to use a high-quality brand.
Chocolate chips: I used 2 tablespoons of semisweet chocolate chips. The chocolate chips melt in the cake and make it extra decadent.
To make this Nutella mug cake you'll need:
How to make Nutella mug cake
The steps for making a Nutella mug cake couldn't be easier. I'm meant it. It comes together in under 5 minutes and is best consumed warm.
The Batter – It takes just a few minutes to whip up the batter and it bakes in the microwave in a little over 1 minute. It will take you around 5 minutes start to finish.
Step 1: Combine the ingredients
Make sure the milk and egg are at room temperature before you begin. And the butter should be melted but cooled so it doesn't curdle the milk or scramble the eggs.
First, add the flour, sugar, baking powder, baking soda, and salt to a small mixing bowl. Use a whisk to stir everything together until well combined.
Next, add the milk, Nutella, melted butter, egg, and vanilla. Whisk until it's all well combined and smooth. The batter will be very runny.
Step 2: Bake the mug cake
Divide the batter equally between two 10-ounce coffee mugs. The mugs should be a little less than half full of batter.
Sprinkle chocolate chips over the top of the batter. I use a full tablespoon of chocolate chips for each mug.
Place one mug in the microwave and heat on high for 1 minute and 15 seconds. Every microwave is different. If your cake hasn't set in the middle, continue to microwave in 10-second intervals until it's cooked through. Repeat with the second cake.
Let the cakes rest for 2 minutes before serving.
Top with powdered sugar, a scoop of vanilla ice cream, or whipped cream and fresh berries.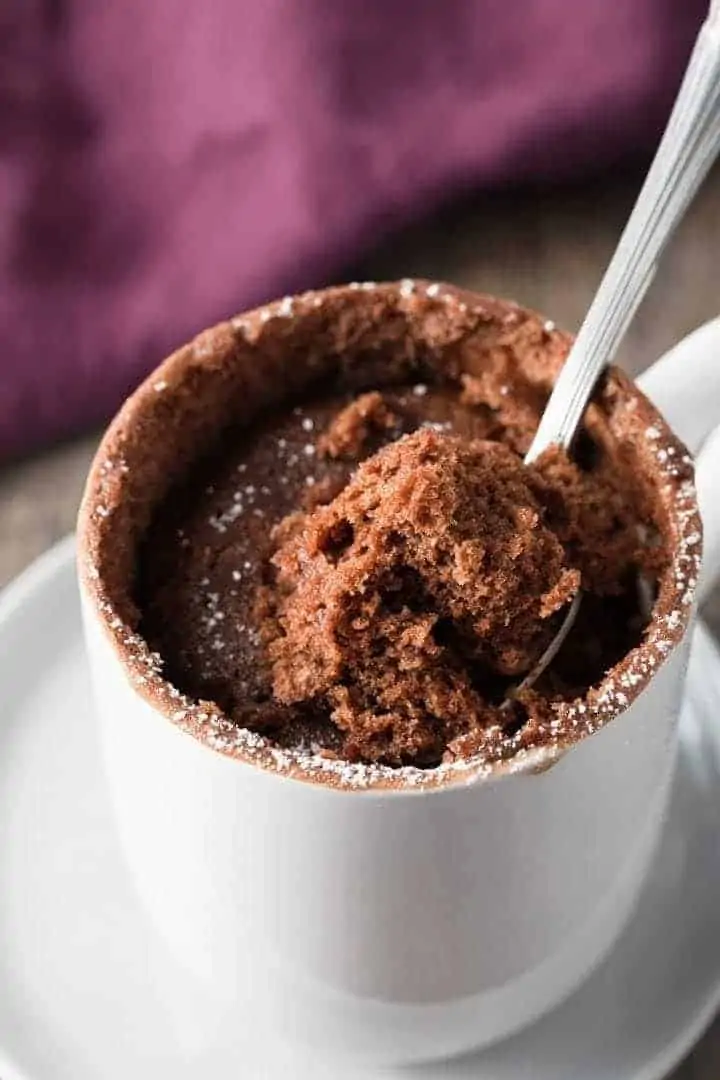 This is truly the best Nutella mug cake. I think everyone needs a single-serve mug cake in their life. It's so simple, so decadent, and so quick to make.
Tips for making the best Nutella mug cake
Make sure to use a 10-ounce coffee mug and only fill it half full. The cake will rise a lot and may spill over if the mug is any smaller.
Spray the mug lightly with nonstick spray or lightly butter the inside. This will prevent the cake from sticking.
Properly measure the flour. Fluff the flour with a fork then lightly spoon it into the measuring cup and level the cup with the back of a knife. I've given weight measurements down below for more accurate results.
Take care not to overcook the cake or it will become dry. Start with 1 minute 15 seconds. If the cake hasn't set in the middle after that, microwave in 10-second intervals until it's done.
If you like Nutella, you'll love these other Nutella recipes:
Did you try this recipe? I would love for you to leave me a 5-star rating or comment. This way, I have a better understanding of which recipes you like and can create more of them.
Please take a moment to follow me on Instagram, Pinterest, Facebook, Youtube or sign up for my free newsletter to never miss the newest recipes and blog updates.
You can also shop my favorite baking tools. Thank you so much for your support!