Perfect Chocolate Mug Cake
This post may contain affiliate links. Read the full disclosure here.
This is one amazing chocolate mug cake! It's truly the best recipe there is. You can satisfy those sweet chocolate cravings with a tender chocolate cake cooked in the microwave.
Chocolate mug cake recipe
My Nutella mug cake and vanilla mug cake is such a success that I had to make a chocolate version. It came out better than I ever expected. The cake is soft, moist, fudgy, and cooked in a mug right in the microwave.
Mug cakes are meant to be easy single-serve cakes. You mix up the ingredients and pour the batter in a mug. The mug of batter is "baked" in the microwave. It's the quickest cake you will ever make!
Unlike the Oreo mug cake that uses only Oreos and milk, the ingredients are your standard chocolate cake ingredients. Most of which you might already have on hand.
It took me a few tries to get the mug cake just right. I wanted it to be ultra-soft, tender, and supremely moist. It needed to be just as good as a full-size made-from-scratch chocolate cake.
This chocolate mug cake may seem tedious but trust me, it's worth it. The wet and dry ingredients are mixed in two separate bowls before being combined into one. The batter makes enough for two 10-ounce mugs. This means you'll have an extra cake to share or save for later.
If you are a fan of chocolate, you'll also enjoy this simple brownie in a mug!
Why this recipe works
Unlike most mug cake recipes I've seen, I used buttermilk. This is a key ingredient for soft, moist cakes.
I also added baking soda along with baking powder. I found that using baking powder alone didn't provide the softest texture possible.
Cocoa powder plus chopped chocolate add a deep chocolate flavor that is absolutely divine.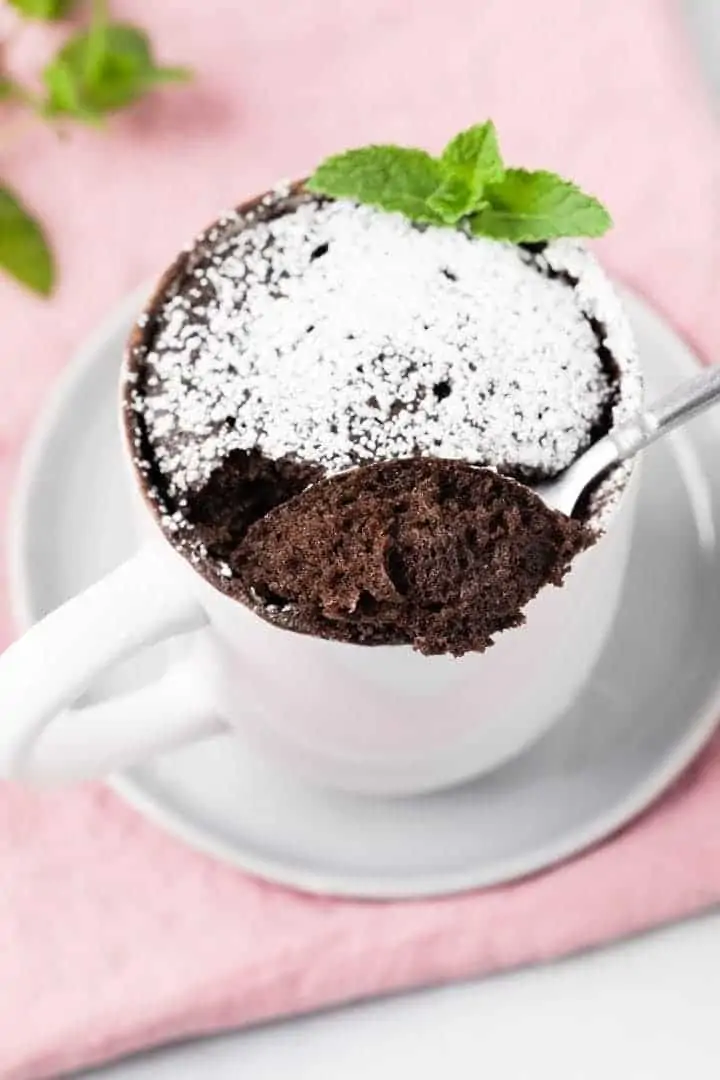 Can I make chocolate mug cake without egg?
While I've seen eggless chocolate mug cakes out there, this one requires the egg. The egg is used for binding and adds moisture and richness to the cake. Don't skip it!
I don't have buttermilk. What can I use instead?
You can make your own buttermilk by mixing 1.5 teaspoons of lemon juice and enough whole milk to equal ⅓ cup. Let the mixture sit for a few minutes then it's ready to use.
Can I use self-rising flour instead of all-purpose?
The simple answer is no. I've formulated this recipe using a specific amount of baking powder and baking soda to yield a soft cake texture. The cake will not come out as intended if you use self-rising flour.
---
Chocolate mug cake ingredients
The ingredients for the best chocolate mug cake are simple.
Flour: All-purpose flour is best for this recipe. Don't try substituting with another flour. I can't guarantee the results if you do.
Sugar: Regular granulated sugar is best.
Cocoa powder: Unsweetened cocoa powder or Hershey's special dark cocoa powder work wonderfully.
Leavening: Both baking powder and baking soda are used to give the cake rise.
Salt: Just a pinch is needed to balance the flavors.
Buttermilk: Whole buttermilk is a must! You can make your own if you don't have access to it.
Butter: Unsalted sweet cream butter is preferred for this mug cake.
Egg: You need 1 whole egg. It's important for the structure of the chocolate mug cake.
Vanilla: Just a little pure vanilla extract is needed. It enhances the flavors so make sure to use a high-quality brand.
Chocolate: I chopped 1-ounce of semisweet chocolate to add to the batter. This added gooey melty pieces of chocolate and made the cake extra decadent.
---
How to make chocolate mug cake
This microwave chocolate cake is so incredibly easy. It takes just a few minutes to whip up and 90 seconds to cook.
The Batter – The batter comes together in under 5 minutes. And it takes a few seconds to cook in the microwave. You will be so impressed with the end result, you won't believe the cake was made so quickly.
Step 1: Combine the dry and wet ingredients
Before you begin, make sure the buttermilk and egg are at room temperature. This will make it easier for the ingredients to emulsify properly.
You can quickly bring the egg to room temperature by submerging it in a cup of warm tap water. And you can quickly bring the buttermilk to room temperature by warming it in the microwave in 10-second intervals. Warm just until it no longer feels cold to the touch.
In a small bowl, combine the flour, sugar, cocoa powder, baking powder, baking soda, and salt. Whisk everything together well.
In a separate bowl, whisk the buttermilk, melted butter, egg, and vanilla together until well combined.
Pour the wet ingredients into the dry ingredients and whisk until well combined. Stir in the chopped chocolate.
Step 2: Microwave the cake
Divide the batter between two 10-ounce coffee mugs. There will be a little less than half a mug of batter. The cake will rise up all the way to the rim so make sure you are not using mugs smaller than 10-ounces.
Heat one mug at a time in the microwave for 90 seconds. Since every microwave is different, it may take more time for your cake to fully cook. If it needs more time, heat it in 10-second intervals until the cake is cooked through.
Let the mug cake stand for 2 minutes then dust the top with powdered sugar. You can serve it with whipped cream and/or fresh berries if desired.
This easy chocolate mug cake is the best one you'll try. It's thoroughly tested and yields the most amazing results. Enjoy!
---
Tips for making the best chocolate mug cake
Properly measure the flour. Lightly spoon the flour into a measuring cup then level the cup with the back of a knife. Or weigh the flour for a more accurate measurement.
Follow the recipe! This shouldn't need to be stated but I get so many complaints about a recipe not turning out right and the reason is the person didn't follow instructions.
If you like chocolate cake, you'll love these other tasty cake recipes:
Did you try this recipe? I would love for you to leave me a 5-star rating or comment. This way, I have a better understanding of which recipes you like and can create more of them.
Please take a moment to follow me on Instagram, Pinterest, Facebook, Youtube or sign up for my free newsletter to never miss the newest recipes and blog updates.
You can also shop my favorite baking tools. Thank you so much for your support!