This post may contain affiliate links. Read the full disclosure here.
Make your own molten lava cake at home. It is a show-stopping, Pinterest-perfect fancy dessert for any occasion.
This can be a challenging recipe, but I'm here to guide you through it! I know you can make the perfect lava cakes.
Following my mixing technique, bake temperature and bake time play a crucial role in producing the correct consistency.
The gooey lava is created by having a slightly undercooked cake, so timing is important.
You'll see that the eggs leaven the cake. It's important to whip the eggs with enough air prior to adding any other ingredients.
---
Why this recipe works
My precise instructions for mixing, bake temperature and bake time make a challenging recipe doable.
This recipe's chemistry makes it the perfect cross between a souffle and cake with a custard center.
Whipping the eggs provides leavening to the batter.
Chocolate lava cake is a fun, tasty treat. Impress your family and friends with this challenging, but fancy dessert. Or try my Texas sheet cake if you're feeding a crowd.
What you need
The chemistry of the lava cake recipe makes the final product have the right amount of lava flow. Let's discuss just a few of the key ingredients:
Ingredients
This is a short overview of the ingredients I used and why I chose them. The full recipe can be found at the bottom of the post!
Chocolate: I recommend bittersweet or semisweet chocolate. Don't use chocolate chips or unsweetened chocolate.
Butter: This ingredient adds richness and flavor.
Sugar: This adds the right amount of sweetness to the recipe.
Eggs: The eggs need to be at room temperature before being whipped. You need them to be extra airy to leaven the cake.
Flavoring: Vanilla extract adds a woody, sweet flavor, while the espresso powder enhances the chocolate flavor.
Flour: All-purpose flour provides the structure for this recipe. Make sure to sift it before adding it in.
Equipment
This is a list of tools I used to make the lava cake recipe.
Mixer: You'll need a mixer to properly whip the eggs. A simple handheld electric mixer is perfect for this.
Ramekins: These 6-ounce ramekins are the perfect-sized containers for baking your chocolate lava cakes.
How to make chocolate lava cake
1. Whip the eggs
Use a mixer to whip the eggs to a frothy consistency.
Beat the eggs and yolks with an electric mixer on medium speed until frothy, pale in color, or about 2 minutes. They should appear to double in volume.
With the mixer running, slowly add sugar. Then, add vanilla, salt and espresso powder.
2. Combine with melted chocolate
Melt the chocolate and combine with eggs and other ingredients to form the lava cake batter.
Combine chocolate and butter in a microwave-safe bowl.
Heat in 15-second intervals, stirring after each one, until chocolate is fully melted and smooth.
Pour the melted chocolate into this egg mixture. Fold with a spatula until well combined.
Add the flour and gently fold until no clumps of dry flour are visible.
3. Bake
Pour lava cake batter into prepared ramekins and bake with extra care.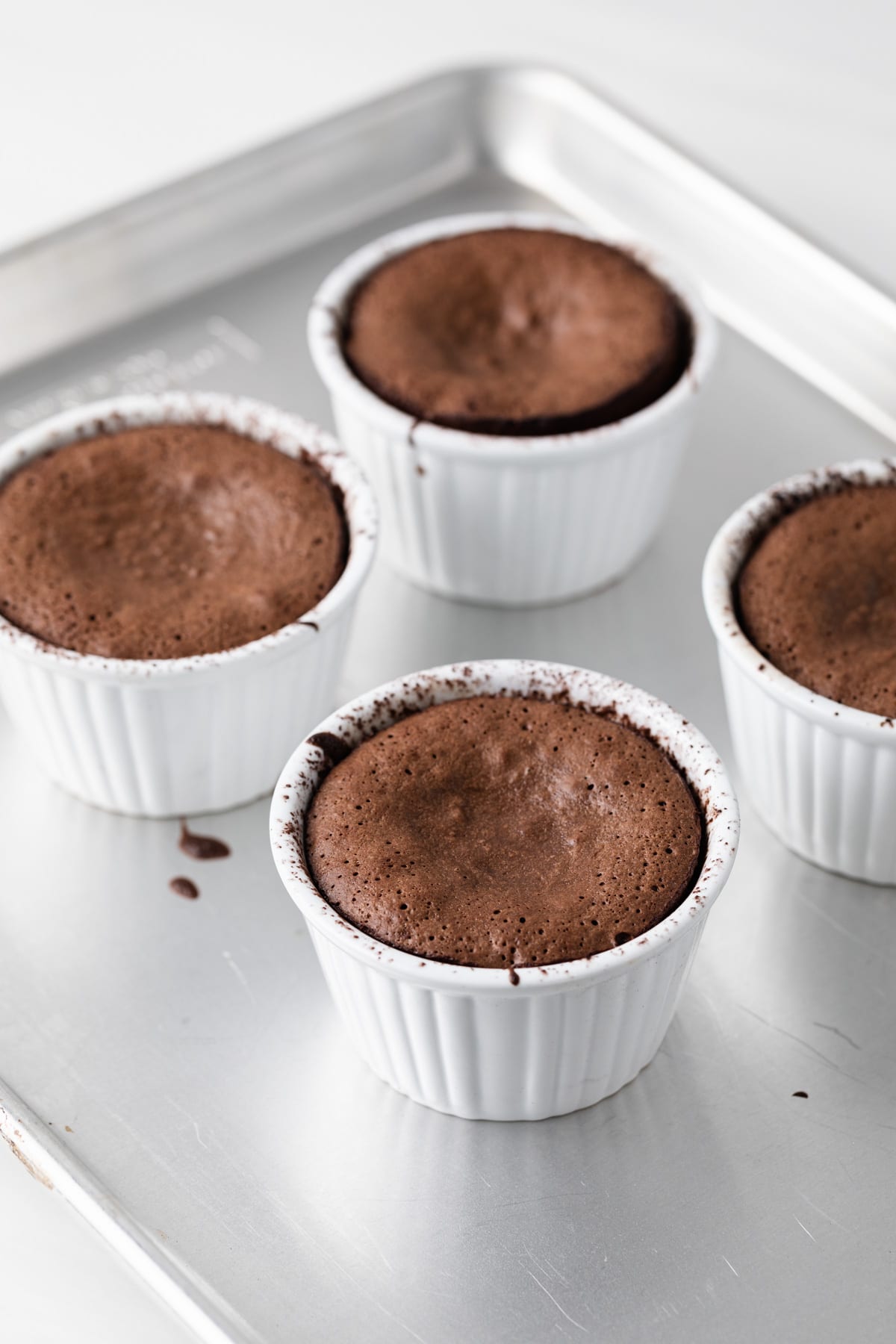 Preheat the oven to 450°F.
Grease or butter four 6-ounce ramekins. Then, lightly dust with cocoa powder.
Divide the batter evenly among the ramekins.
Bake 10-11 minutes, until the edges are set and puffed. However, the centers should appear soft and jiggly.
Let the cakes cool for 1 minute. Then, run a knife or offset spatula around the edges to loosen from the ramekin.
Invert the ramekins onto serving plates. Let sit until the cakes release or about 1 minute.
Lift up on the ramekin. Top the lava cakes with your choice of toppings.
Serve immediately.
---
Frequently asked questions
What if I only have 4oz ramekins?
You can still make these cakes in 4oz ramekins. The bake time will be shorter. Start checking around 7-9 minutes.
Can I freeze baked lava cakes?
I don't recommend freezing the cakes after they've baked. But you can mix and freeze the batter until ready to bake. See the recipe notes for instructions on how to do this.
Can I double the chocolate cake batter?
Yes, this recipe works well with doubling. Bake in 8 ramekins instead of four.
Can I use cocoa powder instead of chocolate?
This recipe requires baking chocolate. Cocoa powder will not give you the same results.
Jen's Best tips
Swap ramekins for a 12-cup muffin tin. Prepare 6 cups by greasing them and dusting with cocoa powder. Bake at 450°F for 7-9 minutes.
It's easy to bring eggs to room temperature for this recipe. Place them in a bowl of warm water for 5 minutes prior to use.
Sift the flour to remove any clumps because it will make it easier to mix the batter without deflating it.
Timing is crucial! A minute too long or too short will leave you with subpar results. Know your oven and how it bakes – and keep an eye on the cakes so you can remove them at the optimal time.
Storing & Freezing
To store: I recommend using them immediately after baking for the best quality.
However, unbaked cakes can be refrigerated for up to 8 hours before baking.
When you are ready to bake them, let them sit at room temperature for 30 minutes before baking.
To Freeze: You can also store unbaked batter in ramekins in the freezer. Thaw them at room temperature for an hour before baking.
Watch them closely as they may need an additional minute or two of bake time.
---
Toppings for lava cake
There are so many ways to dress up your lava cakes. These are some of my favorite add-ons:
Powdered sugar
Fresh berries
Ice cream
---
Watch how to make it
Did you try this recipe? I would love for you to leave me a 5-star rating or comment. This way, I have a better understanding of which recipes you like and can create more of them.
Please take a moment to follow me on Instagram, Pinterest, Facebook, Youtube or sign up for my free newsletter to never miss the newest recipes and blog updates.
You can also shop my favorite baking tools. Thank you so much for your support!