Classic Coconut Macaroons
This post may contain affiliate links. Read the full disclosure here.
Classic coconut macaroons dipped in chocolate are for every coconut lover. These cookies are soft and chewy in the center with crisp exteriors.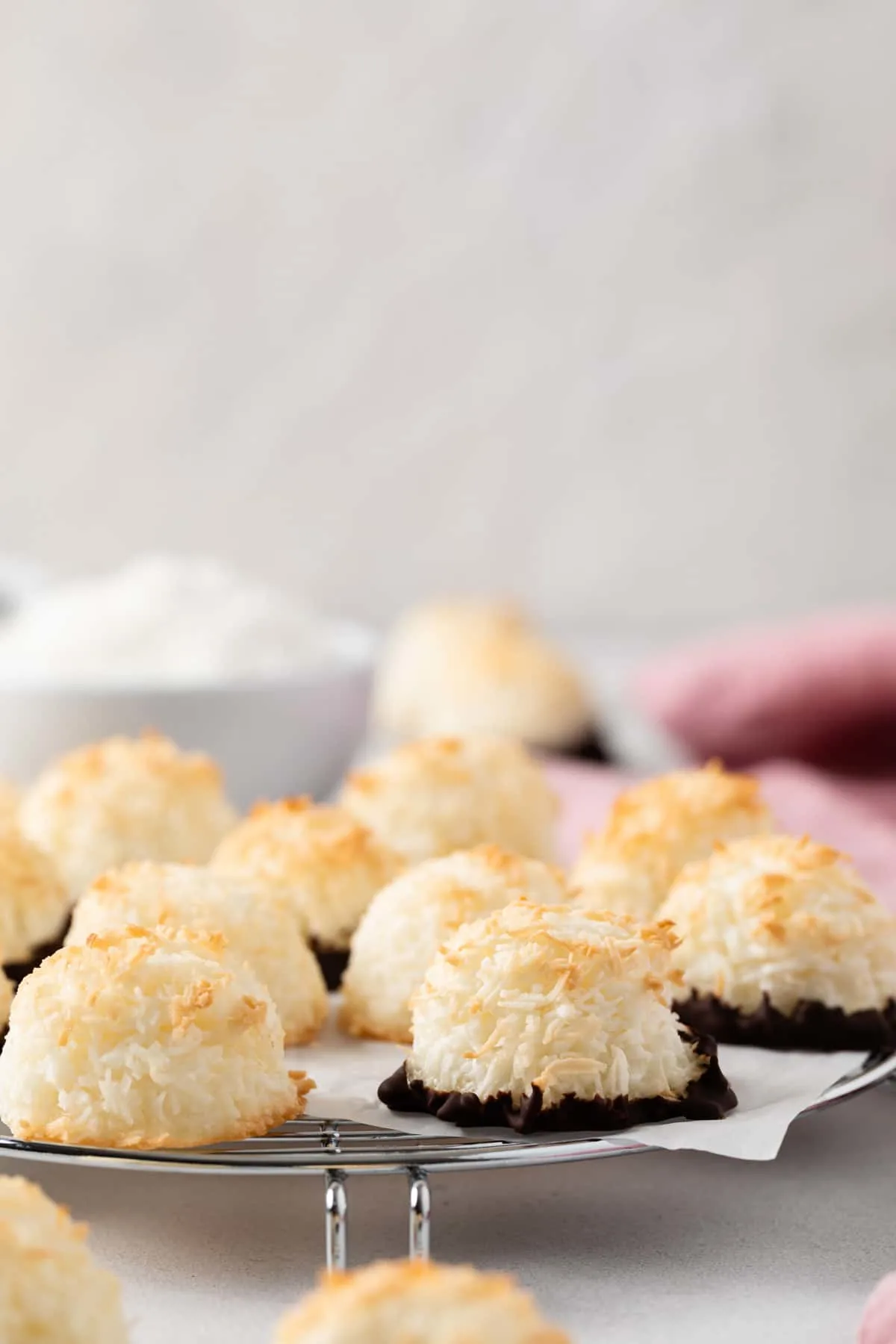 This recipe is made with 7 simple ingredients and doesn't require sweetened condensed milk. It's a go-to that will quickly become your favorite.
Coconut macaroons are made with egg whites, sugar, and shredded coconut. Some recipes call for vanilla, almond, or other extracts.
My version uses both vanilla and almond extracts for a deeper flavor profile. The almond is subtle and adds just a little something extra.
The bottoms of each cookie are dipped in melted chocolate but this is completely optional. You can also drizzle the chocolate over the top to make them look prettier.
The proper color is debatable, though. I like mine to be in between a snowy-white and toasted golden color.
The toastier they are, the more the coconut flavor shines through. It's also a nice texture contrast – crunchy exteriors with chewy centers.
Bake them a little longer than the recipe calls for if you want more of a golden brown color.
After you've made these cookies, give my toasted coconut white chocolate chip cookies and coconut cookies try!
What is a coconut macaroon
Some people confuse macarons and macaroons. While they both contain egg whites and sugar, They are vastly different.
Macarons are a delicate meringue-based cookie that is made with a variety of flavors and fillings.
But macaroons are densely textured with coconut, moist and sweet, and often dipped in chocolate. Sometimes slivered almonds are pressed into the tops.
Are coconut macaroons gluten-free?
There is no wheat in coconut macaroons which means they are 100% gluten-free. They are a favorite for people observing Passover and those who avoid gluten.
---
Ingredients
Here's what you need to make my classic coconut macaroon recipe. Just 7 simple ingredients is all you need.
Egg whites: Egg whites will act as the "glue" to hold the cookies together. Make sure they are at room temperature before you use them.
Sugar: Regular granulated sugar is mixed with the egg whites.
Salt: Just a pinch of salt is added for a balanced flavor.
Vanilla extract and almond extract: You can use both or only one. I prefer both extracts for a deeper flavor profile.
Shredded coconut: It's important to use unsweetened coconut that is finely shredded.
Can I use sweetened coconut?
My recipe will not work with sweetened coconut or flaked coconut. The coconut must be unsweetened and finely shredded.
Can I make macaroons without eggs?
Macaroons can be made without eggs. Some recipes call for sweetened condensed milk in place of the egg whites and sugar. But, you need the egg whites for my recipe.
If you can't eat eggs, Google a recipe for "eggless coconut macarons". There are a ton of options online.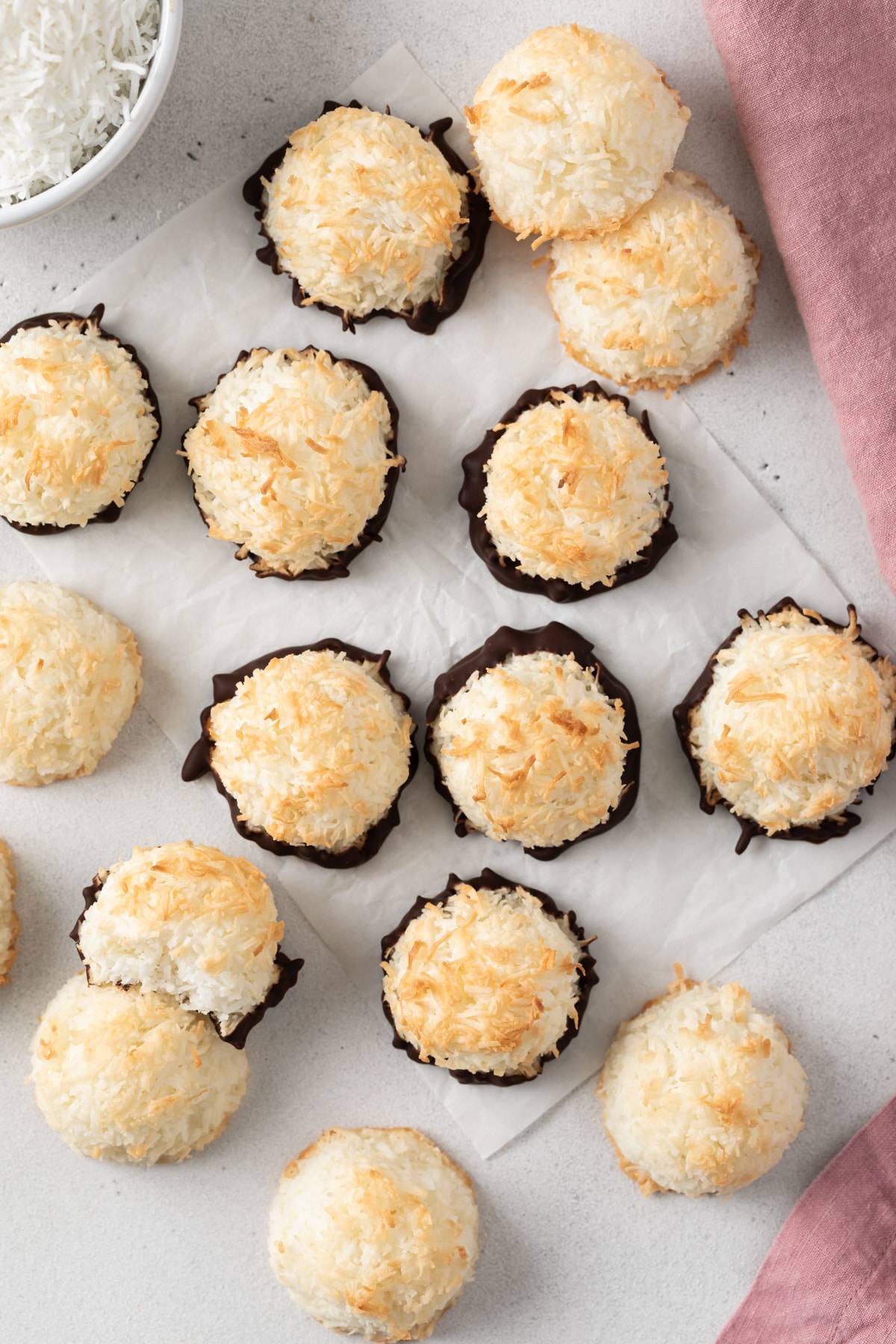 Tools needed
This recipe doesn't require a ton of equipment which is one reason I like it.
Mixing bow: You need 2 mixing bowls. One for the cookie batter and one for the melted chocolate.
Hand mixer: An electric hand mixer is best for mixing the egg whites and sugar together.
Scoop: A small 1.5 tablespoon cookie scoop is what I used to portion the batter.
Baking pan: The recipe yields about 21 cookies so you'll need two baking sheets.
Silicone spatula: A silicone spatula works best for folding the coconut into the egg white mixture.
---
How to make coconut macaroons
Beat the egg whites, sugar, salt, vanilla and almond extracts together in a large bowl with an electric hand mixer. Mix until sugar is dissolved.
Add the coconut and stir until all the coconut is well coated. Cover and let sit for 30 minutes to 1 hour.
Scoop the mixture onto baking sheets and bake on the lower third rack at 325°F for 18-20 minutes.
Let the cookies cool completely then dip the bottoms in melted chocolate.
It is important to let the coconut mixer sit for 30 to 60 minutes before baking. Since the coconut is unsweetened, it's dry and needs to soak up the liquid.
You can prep the mixture a day in advance and let it sit in the refrigerator overnight.
Also, do not bake the cookies in the center of the oven. The tops will brown too much. Move the rack to the lower third position, just below the center.
Can you freeze coconut macaroons?
Baked and cooled cookies can be frozen for up to 3 months. Package them in an airtight container or ziptop freezer bag.
Allow the cookies to thaw overnight in the refrigerator then serve cold or at room temperature.
---
Jazz up homemade coconut macaroons
There are so many ways to jazz up this basic macaroon recipe. I typically keep mine simple and dip the bottoms in chocolate. But, here are some other variations to try:
Whip the egg whites and sugar into a meringue: This will yield a fluffier cookie that has more crunch.
Add nuts or chocolate: Mix chopped nuts and/or chocolate chips into the matter.
Add dried fruit: Mix your favorite dried fruit into the batter for more flavor.
Tips for success
Make sure to whip the egg whites and sugar until thickened. You don't want stiff peaks but a slightly thicker consistency is what you are aiming for.
Let the batter rest! This recipe uses unsweetened coconut which means it is dry. Let the coconut mixture sit for at least 30 minutes to 1 hour. Overnight is even better.
Size matters! You want about golf ball sized cookies. This is best achieved with a 1.5 tablespoon cookie scoop.
Line the baking sheet. Macaroons are sticky and will stick like crazy to the baking sheet. So line the baking sheets with parchment paper or a silicone mat.
Did you try this recipe? I would love for you to leave me a 5-star rating or comment. This way, I have a better understanding of which recipes you like and can create more of them.
Please take a moment to follow me on Instagram, Pinterest, Facebook, Youtube or sign up for my free newsletter to never miss the newest recipes and blog updates.
You can also shop my favorite baking tools. Thank you so much for your support!