This post may contain affiliate links. Read the full disclosure here.
Do you have leftover buttermilk and don't want it to go to waste? You can freeze buttermilk to save for use at a later date! Let me show you how.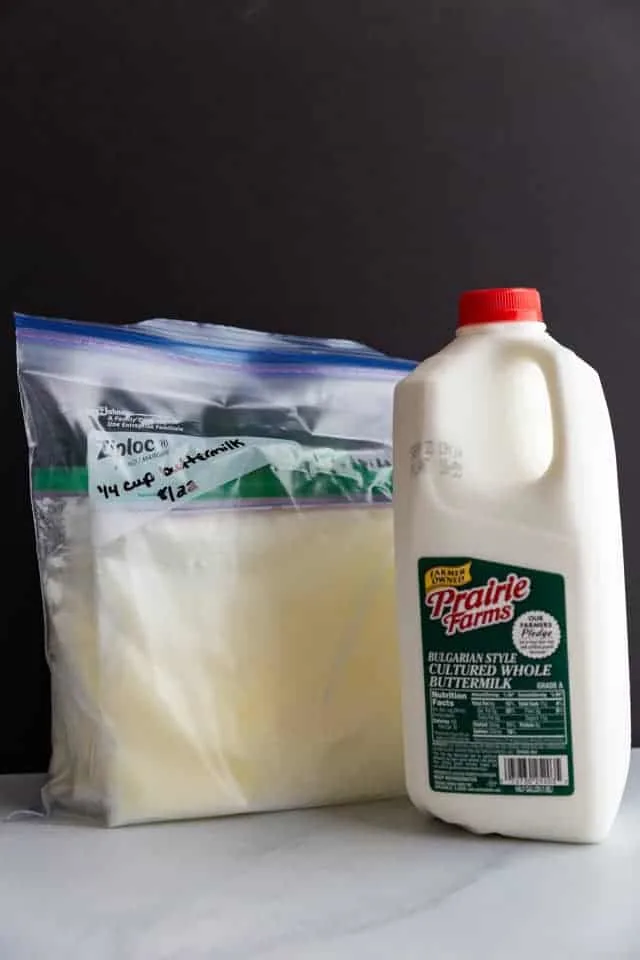 Can you freeze buttermilk?
A reader recently asked for recipes using buttermilk because she always has some leftover. Blueberry buttermilk scones, parmesan buttermilk drop biscuits, and cheddar jalapeno buttermilk bread are all great options for using that leftover buttermilk but I also want to let you in on a little secret…
You can freeze leftover buttermilk and never worry about wasting it again. It's actually quite simple to freeze and it will last several months in the freezer.
How long will frozen buttermilk last?
You can freeze buttermilk for up to 3 months. After three months, the buttermilk will begin to clump and congeal.
---
How to freeze buttermilk?
Step 1: Portion the buttermilk for freezing.
I like to portion the buttermilk into ¼ and ½ cups. Use zip-top freezer bags and write the portion size and date on the bag.
You can also use a silicone muffin pan to portion ¼ cup sizes.
Step 2: Freeze for up to 3 months.
Lay the bags of buttermilk flat on a baking sheet and freeze for 3 hours. You can then rearrange the bags to fit better in your freezer. I like to place all the same size portions in a larger zip-top bag.
If you are using a silicone muffin pan, you can pop the portions out of the pan once they are frozen solid and store them in a large zip-top bag.
How to thaw frozen buttermilk?
The great thing about laying the bags flat to freeze is the thin layer of frozen buttermilk will thaw quickly. Just set it out on the countertop for 15-20 minutes.
If you are in a huge hurry, you can set the bag of frozen buttermilk in a bowl of warm water for about 5 minutes.
The consistency of the buttermilk will be different after it thaws. It may even appear separated. Give it a good whisk and it'll be ready for use in your baked goods.
When you don't have buttermilk on hand at all, you can actually make a quick substitute. See my thorough post on how to make buttermilk at home.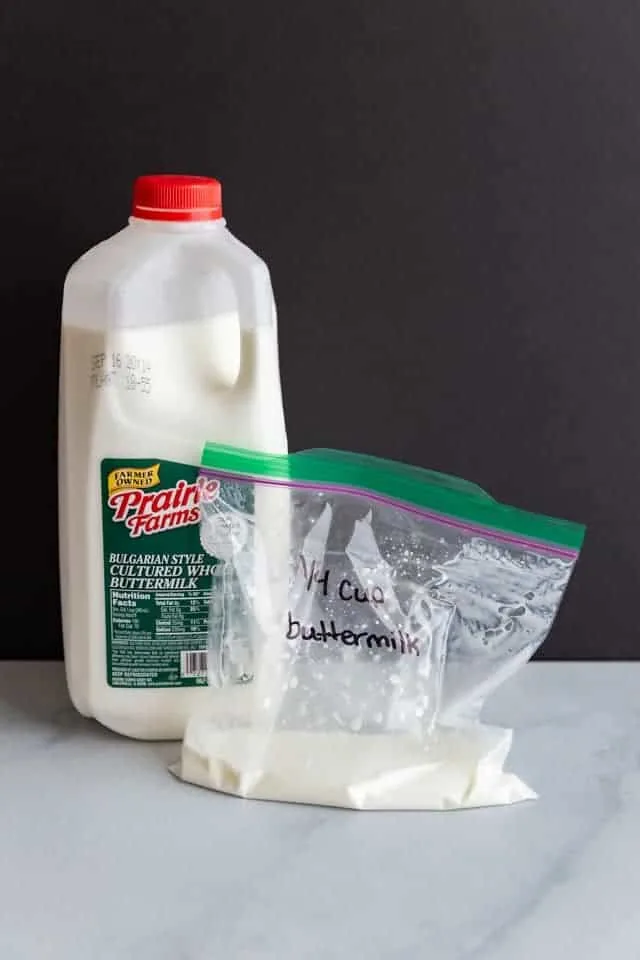 More tasty ways to use leftover buttermilk