This post may contain affiliate links. Read the full disclosure here.
Brown butter frosting is the perfect homemade frosting for your favorite cupcake or cake recipe. Give your creations a nutty, caramel flavor.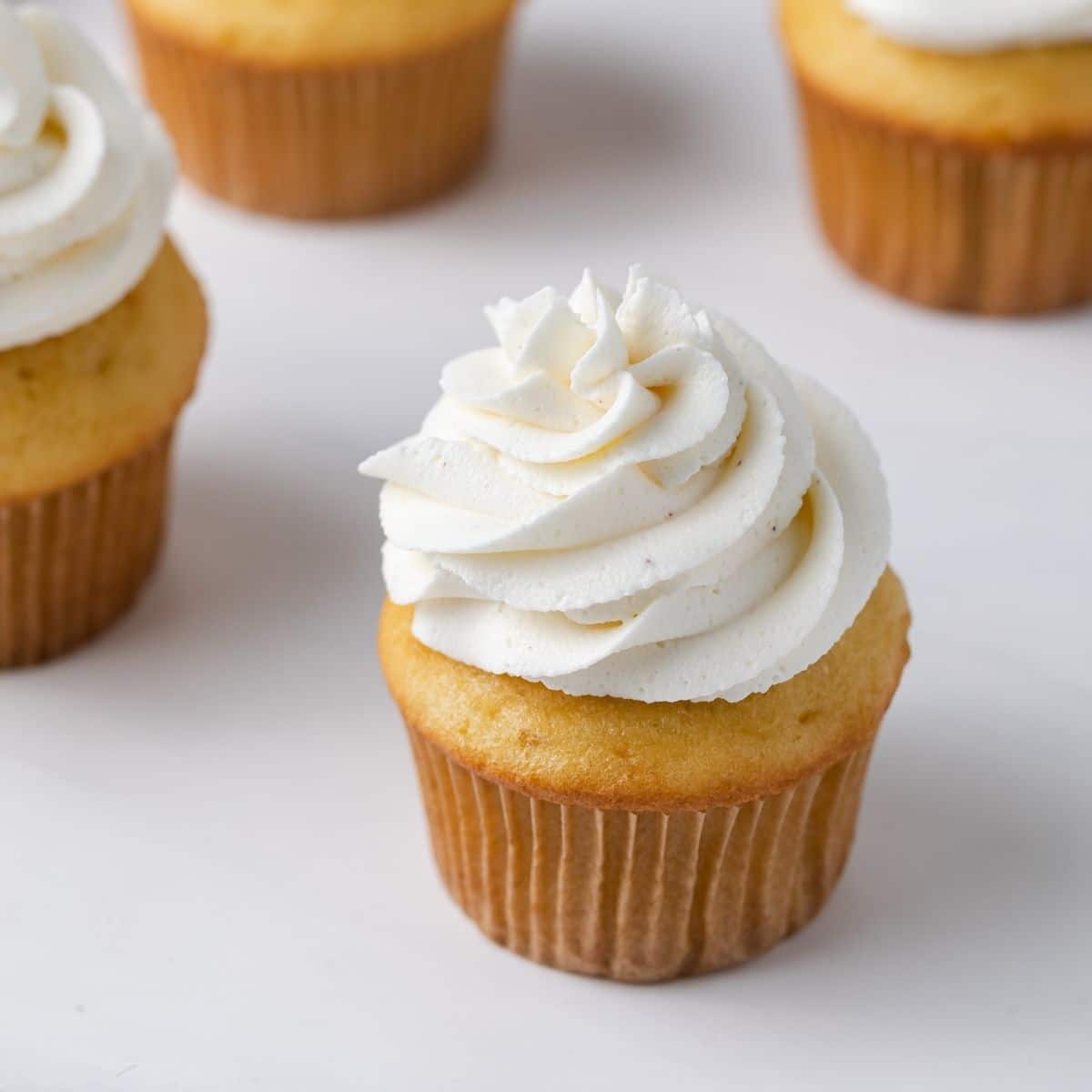 This brown butter frosting recipe is one of my favorites for cakes and cupcakes. It is so smooth and pipeable, which makes it easy to work with.
The ingredients create a rich, creamy frosting with a nutty, toasted butter flavor. This frosting is like the sibling to caramel.
I developed this from my basic vanilla buttercream recipe. You can also add brown butter to my cream cheese frosting. Either will be the perfect addition to your creations.
Try it on spice cake for a delightful flavor combination!
---
Why this recipe works
Browning the butter creates a rich caramel-like flavor.
A large amount of powdered sugar compensates for the softness of brown butter, so the frosting is sturdy enough to be piped.
Adding a pinch of salt balances the sweetness.
This is a rich and flavorful brown butter frosting recipe to make at home for your cakes and cupcakes.
What you need
Brown butter buttercream frosting is made from basic ingredients in your home. Let's discuss just a few of the key ingredients:
Ingredients
This is a short overview of the ingredients I used and why I chose them. The full recipe can be found at the bottom of the post!
Butter: This is the star of the recipe. It creates a buttery, caramel flavor in the brown butter buttercream.
Sugar: This ingredient adds sweetness and flavor.
Cream: Heavy cream creates richness and thickens the frosting.
Vanilla & salt: Vanilla develops a nutty flavor in the frosting, while salt draws out the other flavors.
Equipment
This is a list of tools I used to make the recipe. Some of the links are affiliate links.
Mixer: I would recommend a stand mixer fitted with a paddle attachment for this recipe. However, a handheld electric mixer is fine, as well.
Silicone spatula: This works well for scraping the sides of the bowl and pressing the frosting to eliminate tiny air bubbles.
How to make brown butter frosting
This recipe is a breeze to whip together. It takes three simple steps: browning the butter, cooling the butter and making the frosting.
Step 1. Brown the butter
First, you will heat the butter in a medium saucepan over medium heat. Stir constantly. Then, cook until melted.
The butter should foam and then, subside.
Cook until you see brown bits in the bottom of the pan and the butter appears a light golden brown color.
Immediately remove from heat. Then transfer to a heatproof bowl. Leave the brown bits in the pan.
Step 2. Cool the butter
Now, refrigerate the butter. Stir every 10 minutes. Repeat until the butter has cooled and thickened, but do not let it become solid.
This process may take 30-45 minutes. To save time, you may refrigerate overnight and bring to room temperature before using.
Step 3: Make the frosting
Then, grab your stand mixer with the paddle attachment or a large bowl and handheld electric mixer.
In the bowl, beat the butter on medium-high speed until it appears creamy and pale or about 5 minutes.
Add in half of the confectioners' sugar. Beat on low speed until the sugar appears fully moistened.
Then, turn your speed up to medium-high and beat the mixture until blended or about 3-5 minutes.
Then, add the rest of the confectioners' sugar. Beat on low speed until the sugar has fully moistened again.
After that, turn up the speed to medium-high and beat until blended or 3-5 minutes.
Now, add the vanilla and the salt. Then, turn the mixer on low speed while slowly adding 3 tablespoons of heavy cream.
Turn the mixer to medium-high and beat until cream is well mixed or about 3-5 minutes.
You may need to stop the mixing around 2 minutes and scrape the sides and the bottom of the bowl before continuing to mix.
After that, check the consistency of the brown butter frosting. Then, add more cream, ½ tablespoon at a time, if needed.
You want the frosting to appear soft and be spreadable. It should be firm enough to hold its shape.
Storing & freezing
To store: You can make the brown butter frosting in advance and store in the fridge in an airtight container.
It will keep for no more than 2 weeks. To use, let sit at room temperature until soft.
To freeze: I would not recommend freezing the frosting.
---
Frequently Asked Questions
Salted or unsalted butter?
I always recommend unsalted butter, especially in frosting. This way if the frosting is too sweet, you can add a pinch of salt to balance it out.
Can I use brown butter in place of butter in other frosting recipes?
Brown butter tends to be softer than regular butter so it won't always be a 1-to-1 swap. Depending on the recipe, you may need to increase the amount of powdered sugar to get a sturdier frosting.
Possible variations
Mix in crumbled bacon for a sweet and savory flavor profile.
Make it fruity by stirring if fruit preserves or powder.
Add 1-2 tablespoons of maple syrup in place of vanilla. The frosting may need less cream.
Jen's best tips
Sift your sugar prior to making this brown butter frosting recipe. It will dissolve into the butter so much easier if it does not have clumps.
All of the mixing can leave tiny air holes in the frosting. Prior to using, mix on low speed or press the frosting into the sides of the bowl with a spatula.
Unsalted butter is best in this recipe because it gives you better control of the amount of salt in the frosting.
---
Watch how to make it
Did you try this recipe? I would love for you to leave me a 5-star rating or comment. This way, I have a better understanding of which recipes you like and can create more of them.
Please take a moment to follow me on Instagram, Pinterest, Facebook, Youtube or sign up for my free newsletter to never miss the newest recipes and blog updates.
You can also shop my favorite baking tools. Thank you so much for your support!