Strawberry Panna Cotta is a delicious, creamy, and delicate dessert. Great for a simple summer dessert or a fancy dinner party. It's so easy to make with just a handful of ingredients.
This post was inspired & sponsored by Princess Cruises. All opinions expressed are my own.
Strawberry Panna Cotta
Panna Cotta is one of those sophisticated desserts that's also simple enough to make for a weekend treat. It's one of my favorite no-bake desserts to make.
I recently had the opportunity to travel the Caribbean on a cruise through the Panama Canal with Princess Cruises. We sailed aboard the Coral Princess and had the best time.
It was truly an experience I'll never forget.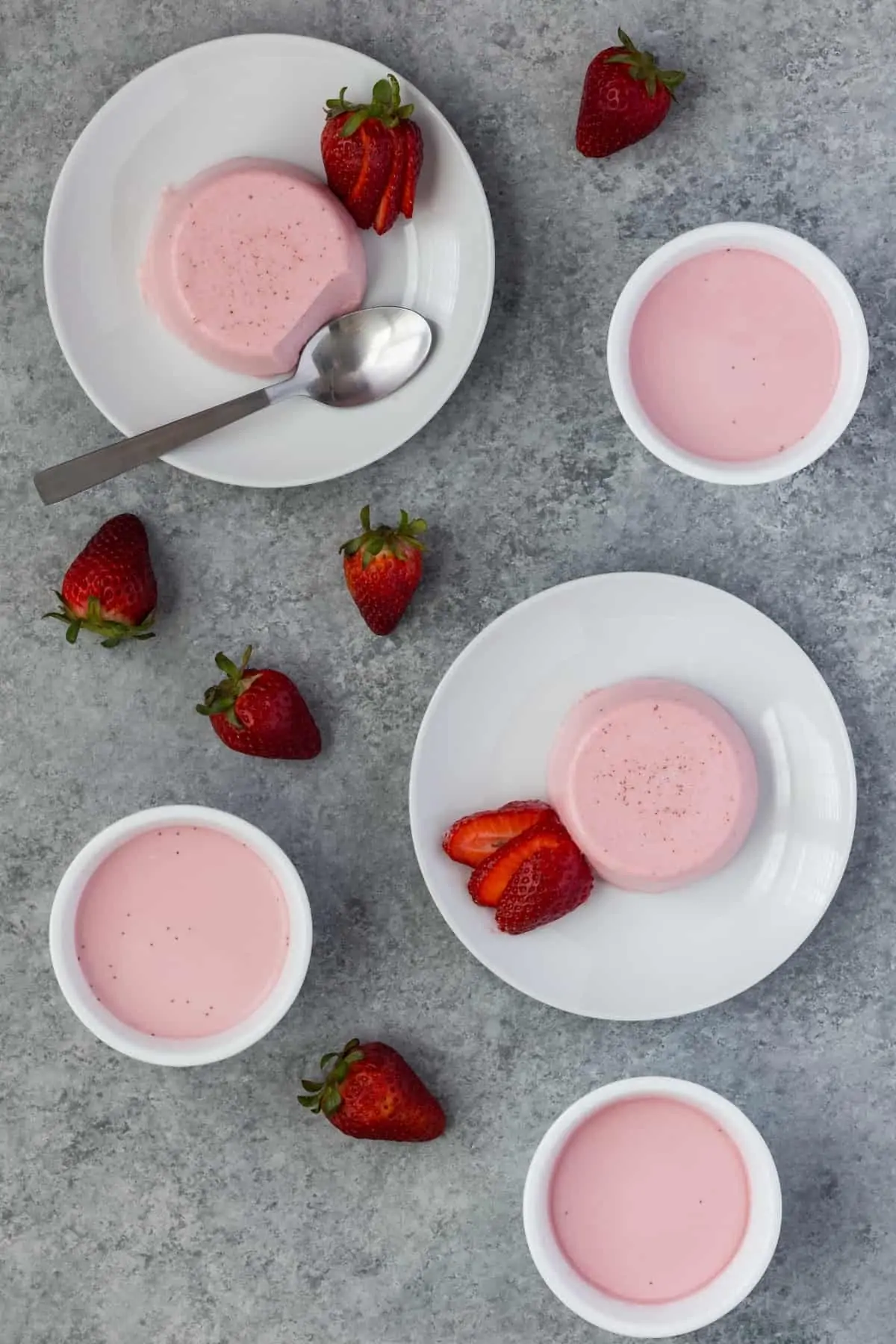 The food on the ship was phenomenal. There was an abundance of desserts to choose from. So. Many. Desserts. A dessert blogger's dream.
I tried a couple different desserts each day and fell in love with the strawberry panna cotta. The moment I laid eyes on it I knew I had to share it on Instagram.
Most of you know I prefer fruity desserts over chocolate. Chocolate is good and I like it but if I have a choice I'm going for something fruity and creamy.
For breakfast and lunch, we would go to the horizon court. They have a buffet style set up and the menu is different each day. I like to eat light and there was an abundance of fruit and vegetables to choose from.
Also, inside the Horizon Court is a dessert bar. It reigned me in every time! I couldn't walk away without trying one or two the cakes, cupcakes, tarts, etc. This is where I found the strawberry panna cotta.
I've been home for a couple weeks now and I've had the biggest craving for this panna cotta. The only way to solve it was to make my own version. It's creamy and full of fresh strawberry flavor.
I took the basic panna cotta ingredients – milk, cream, sugar, vanilla, and gelatin – and added pureed strawberries.
It came out light in color so I also added a couple drops of red food coloring. This is totally optional and only needed for presentation.
If you want to have a taste of what cruising with Princess Cruises is like, whip up a batch of strawberry panna cotta!
---
How to make strawberry panna cotta
Step 1: Puree fresh strawberries
Puree strawberries and press through a fine-mesh sieve. Discard the seeds and pulp.
Step 2: Bloom gelatin in milk
Sprinkle gelatin over milk in a medium saucepan. Let it sit for 1o minutes. Add sugar, salt, and the pureed strawberries.
Step 3: Cook the panna cotta
Cook the mixture over high heat until it reaches 135°F. Stir in heavy cream and vanilla.
Step 4: Chill the panna cotta
Strain the panna cotta into a large bowl and set the bowl over an ice bath. Stir until it's cooled to 50°F. Divide the panna cotta to ramekins and refrigerate until it's set, about 4 hours.
You should also try this Chocolate Pistachio Dome, these Profiteroles with Fresh Berries, these Chocolate Raspberry Cupcakes, these Banana Oatmeal Chocolate Chip Cookies from Dinners, Dishes and Desserts. And this Sheet Pan Pizza from Dash of Sanity.
NEED MORE BAKING IDEAS? Subscribe to our newsletter and Youtube channel. Also, follow along on Facebook, Instagram, and Pinterest for all the latest updates!