This post may contain affiliate links. Read the full disclosure here.
Strawberry Panna Cotta is a delicious, creamy, and delicate dessert. Great for a simple summer dessert or a fancy dinner party. It's so easy to make with just a handful of ingredients.
Panna Cotta is one of those sophisticated desserts that's also simple enough to make for a weekend treat. It's one of my favorite no-bake desserts to make.
For today's recipe, I used the basic panna cotta ingredients. This is milk, cream, sugar, vanilla, and gelatin. Then I added pureed strawberries right into the mixture.
It comes out light in color so you could add a couple of drops of red food coloring. This is totally optional and only needed for presentation.
It's creamy and full of fresh strawberry flavor. I'm positive you will swoon over this elegant yet simple dessert!
---
Why this recipe works
It takes only 15 minutes to make this dessert and it needs just 7 simple ingredients.
The recipe is carefully formulated to yield a firm, custard-like texture.
You can use whatever container you have on hand to serve these in.
My strawberry panna cotta has a custard-like texture but is literally "cooked cream" with an amazing fresh strawberry flavor. The sweet cream and tart strawberries go perfectly together!
---
Watch how to make it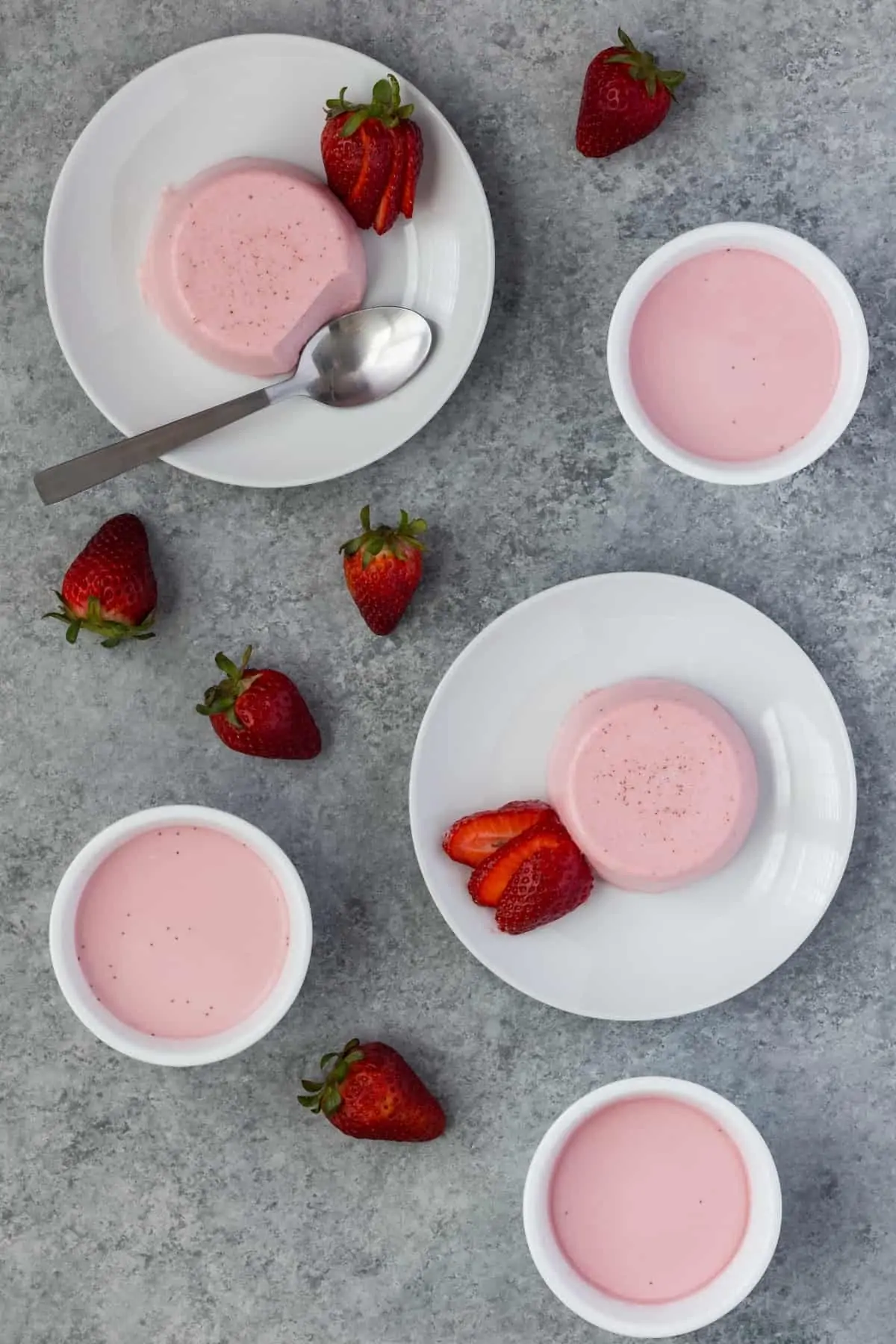 Ingredients for strawberry panna cotta
The ingredients for this easy recipe make it rich and flavorful with a melt-in-your-mouth texture.
Strawberries: Fresh strawberries that are in season will taste so much better than frozen.

However, if you must use frozen, thaw before using and adjust the amount of sugar according to how tart the berries are.

Dairy: I always prefer a combination of whole milk and heavy cream. It's rich without being overkill.

You can use almond milk, soy milk, or oat milk instead.

Gelatin: I use unflavored gelatin powder. You may use softened gelatin sheets if you don't have powder.
Sugar: You don't need much sugar if the berries are in season and ripe. You can add additional sugar for frozen or out-of-season berries if desired.
Vanilla & salt: A little of each is added for enhanced flavor.
Tools I used to make this recipe
It's important to use the proper tools but thankfully this recipe is forgiving and doesn't require a ton of technique.
How to make strawberry panna cotta
1. Puree Fresh Strawberries
Use a food processor or blender to puree the strawberries until very smooth.
Press the puree through a fine-mesh sieve to remove all the liquid. This will take some time, don't rush it.
Once all the liquid has been separated, discard the pulp and seeds.
ⓘ You should have about 1 ¼ cup of puree left.
2. Bloom Gelatin In Milk
Sprinkle gelatin over milk in a medium saucepan. Let it sit for 10 minutes.
Stir in the pureed strawberries, sugar, and salt.
3. Cook The Panna Cotta
Cook the mixture over medium heat until it reaches 150°F. This will only take about 2-3 minutes.
Remove from the heat and stir in the vanilla.
Allow the mixture to cool to 120°F while stirring frequently.
Once cooled, whisk in the heavy cream.
Strain the mixture through a fine-mesh sieve into a large liquid measuring cup.
4. Chill and serve
Divide the mixture evenly between six 4-ounce ramekins.
Cover with plastic wrap and refrigerate for at least 4 hours. Or you can leave them overnight.
When ready to serve, unmold the panna cotta onto individual plates. Garnish with fresh strawberries and/or whipped cream.
ⓘ Unmold panna cotta – Pour 1 cup of boiling water into a small bowl. Dip the ramekin into the water for 3 seconds. Run a knife around the edges of the ramekin and invert it onto serving plates.
Jen's Best tips
If you don't have powdered gelatin, you can use 4 sheets of gelatin that is softened.
Don't allow the mixture to boil! This breaks down the gelatin and it will no longer set properly. 150°F is hot but it's not boiling hot.
Switch up the flavor by using other fruit purees.
Storing & Freezing
The best thing about panna cotta is it can be made in advance!
To store: Keep panna cotta covered tightly and refrigerate for up to 4 days!
To Freeze: Freezing will compromise the texture so I don't recommend it.
---
Frequently asked questions
Why did my panna cotta not set?
It's possible the gelatin didn't melt all the way or you boiled the gelatin mixture. When gelatin is boiled, it loses its thickening power and won't set up as desired.

Another issue is not giving the panna cotta enough time to set up. It takes at least 4 hours for it to set.
Why did my panna cotta curdle?
It's possible the gelatin wasn't fully dissolved before adding the other ingredients. Don't rush it. It takes about 10 minutes to fully softened and dissolve in the liquid. If it is not dissolved it will leave the panna cotta with a grainy texture.
---
Strawberry panna cotta is the dessert perfect for summer days. It's elegant and refreshing. You can change the flavor by using other berries, cherries, mangoes, or peaches.
This is a dessert to consider when having guests for dinner. I can be made in advance and served in individual servings.
---
More strawberry recipes to try!
Did you try this recipe? I would love for you to leave me a 5-star rating or comment. This way, I have a better understanding of which recipes you like and can create more of them.
Please take a moment to follow me on Instagram, Pinterest, Facebook, Youtube or sign up for my free newsletter to never miss the newest recipes and blog updates.
You can also shop my favorite baking tools. Thank you so much for your support!