Coconut Mango Chocolate Chip Cookies
This post may contain affiliate links. Read the full disclosure here.
Coconut Mango Chocolate Chip Cookies are perfectly soft and thick cookies loaded with dried mango, coconut, and white and dark chocolate chips. These cookies bring together the flavors of trail mix and chocolate chip cookies. One of the best combinations ever!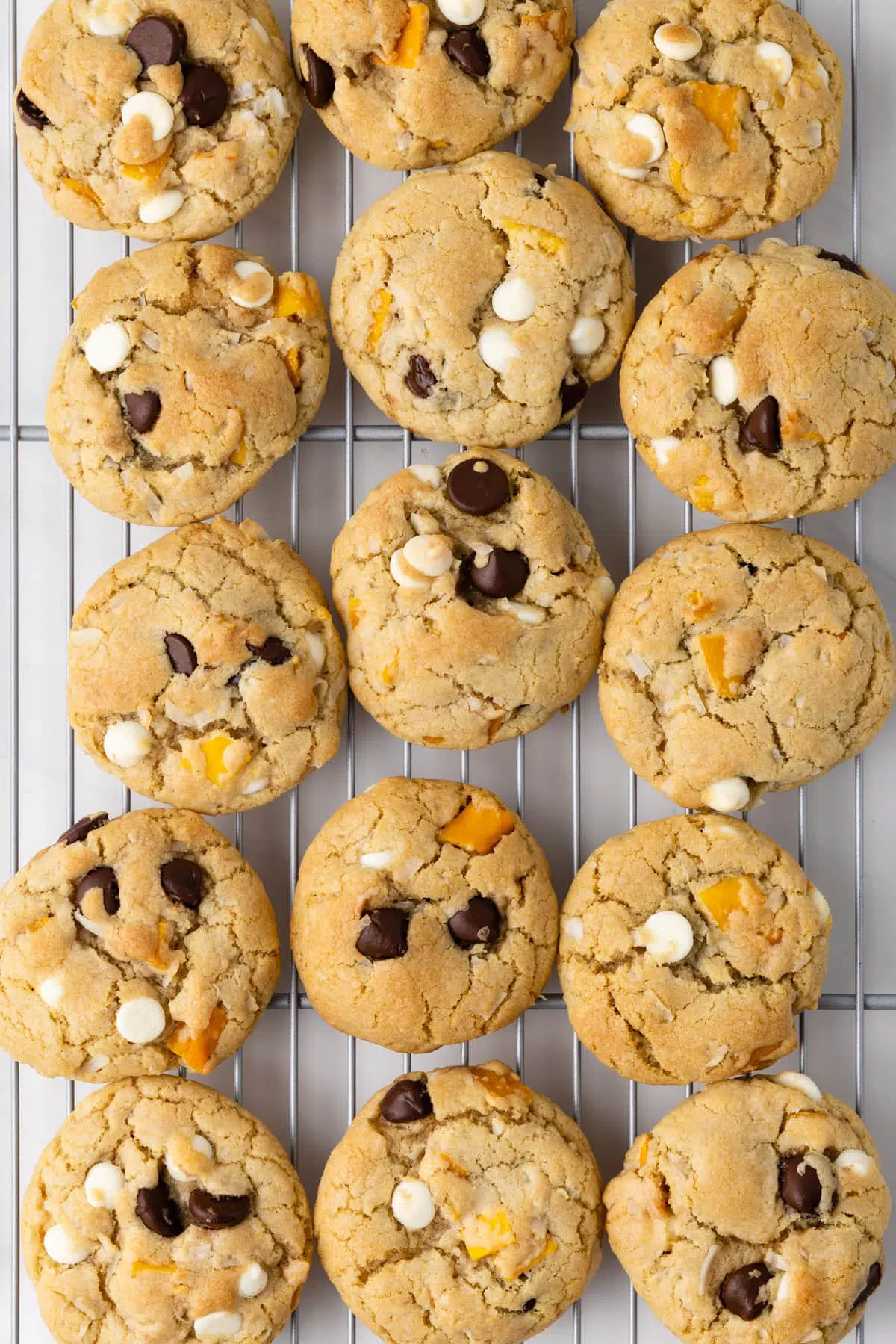 When I first came up with this recipe, I was coming off a recipe slump – everything I tried felt like a total failure. So when I was tired of being frustrated, I threw in the towel and made cookies. Finally! Success. Wow are these good – worth all the soggy strawberry breads and other failures.
These mango coconut chocolate chip cookies are ultra-soft and thick. These are a spin-off of the butterscotch chocolate toffee cookies you all went crazy for and similar to one of my favorite chocolate chip cookie recipes. But these are loaded with dried mango, coconut, white chocolate chips, and dark chocolate chips – giving them a delicious tropical coconut flavor.
The batter for these cookies contains a tiny touch of cornstarch which thickens up the dough leaving it impeccably soft. They remain soft for days!
To amp up the summery vibe the cookies have going, I added in some mango and coconut. The coconut is not enough to overpower the recipe like coconut extract would, but just enough to give a subtle coconut flavor.
And let's not forget the white and dark chocolate chips which are a must. The creamy chocolate contrast against the chunky dried fruit is so good.
These cookies are so loaded. You will almost question where the actual batter is once you get it all mixed up. But trust me, it's there and it's ALL GOOD.
These cookies will be done in 10 to 12 minutes, maybe even 9 depending on your oven. Watch them closely and remove them once the edges appear set. The centers will look slightly undone, but they will firm up as they cool.
---
Recipe Details
Taste – A marriage of tropical trail mix and chocolate chip cookies
Texture – Soft, chewy, and studded with chunks of tropical goodness
Ease – Easy! Great for beginners
Time – These will be ready in just about 30 minutes.
---
What You'll Need
Ingredients
Butter: I use unsalted sweet cream butter when baking. It's melted in this recipe.
Sugar: A mix of light brown sugar for flavor and softness, and granulated sugar.
Egg: One large egg plus one egg yolk, at room temperature.
Vanilla Extract: I use my homemade vanilla extract recipe, but use pure extract.
All-purpose flour: You can use gluten-free baking flour if you'd like.
Baking soda: For leavening.
Cornstarch: Keeps the dough so soft.
Salt: Just a touch.
Dried mango: You can find this in the nuts or bulk section of your grocery store.
Sweetened shredded coconut: I like sweetened in this recipe. You can use unsweetened too if you'd prefer.
Chocolate chips: I love the combination of white and dark chocolate chips called for in this recipe.
Recommended tools
How to Make Coconut Mango Chocolate Chip Cookies
Preheat the oven to 350ºF.
In a large mixing bowl, beat together the butter and sugars until smooth and free of lumps. This can be done by hand or with an electric mixer. It won't be light and fluffy exactly, because the butter is melted. Beat in the egg, egg yolk, and vanilla until it's well incorporated.
In a small bowl, combine the flour, baking soda, cornstarch, and salt; stir with a whisk. Scrape down the sides. Add the flour mixture to the butter mixture and stir just until combined. Gently fold in the mango, chocolate chips, and coconut.
Roll the dough into 1 ½ tablespoon-sized balls and place them 2 inches apart on a cookie sheet with parchment paper or a silicone mat. Bake for 10-12 minutes, just until the outer edges of the cookies are set. The centers will look undone. Cool the cookies on the pan for 5 minutes before transferring them to a wire rack to cool completely.
Tips For Success
Use sweetened shredded coconut in this recipe.
These cookies are soft and chewy – please don't over-bake them. They will look like they are not quite done when you take them out of the oven, but they will firm up when cooling.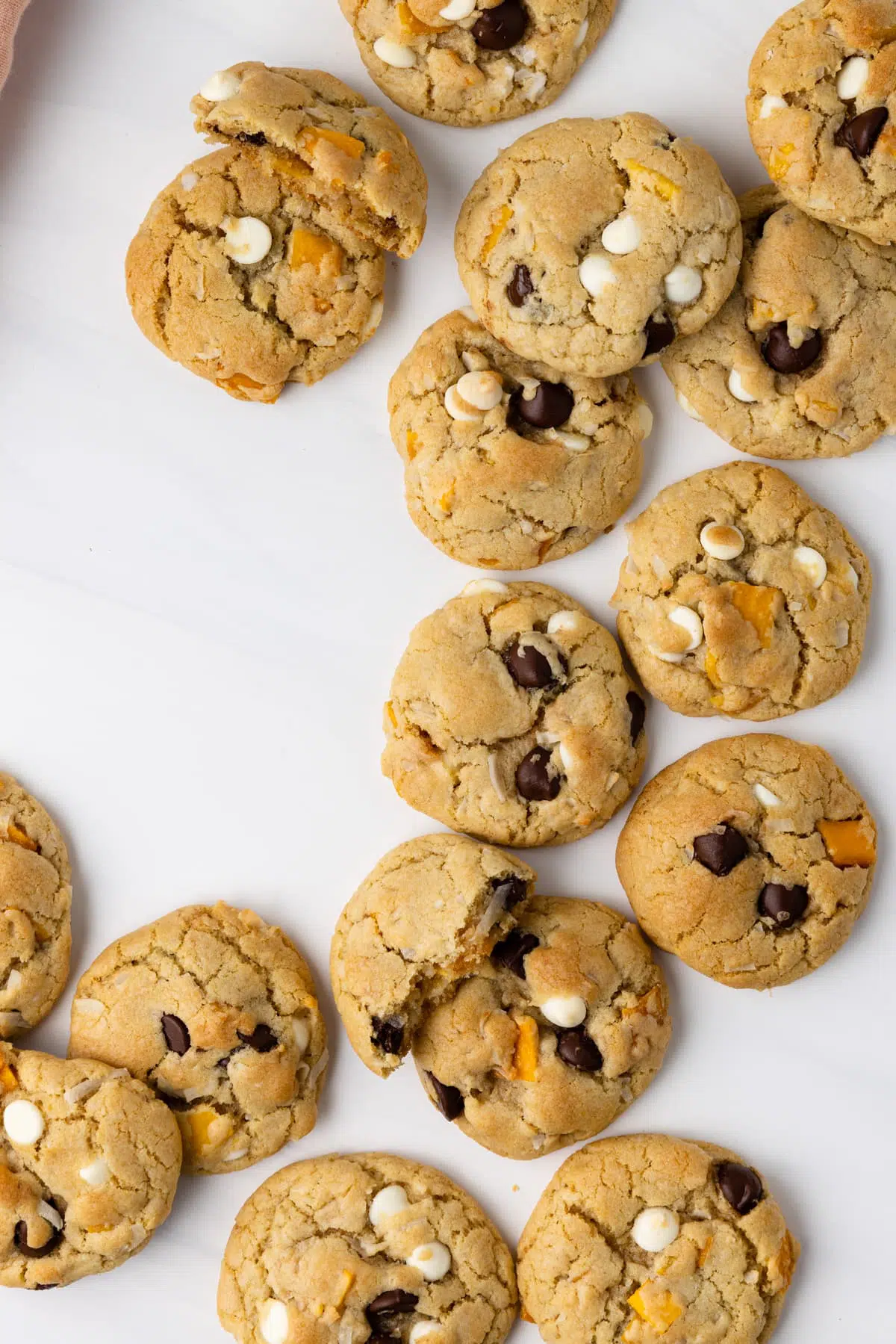 Storage & Freezing
You can freeze baked cookies for up to 3 months. Thaw in the refrigerator overnight. Or, if you want to plan ahead for fresh baked cookies, freeze unbaked cookie dough balls for up to 3 months. Bring to room temperature and bake as directed.
Did you try this recipe? I would love for you to leave me a 5-star rating or comment. This way, I have a better understanding of which recipes you like and can create more of them.
Please take a moment to follow me on Instagram, Pinterest, Facebook, Youtube or sign up for my free newsletter to never miss the newest recipes and blog updates.
You can also shop my favorite baking tools. Thank you so much for your support!