This post may contain affiliate links. Read the full disclosure here.
This Andes Mint Cupcake recipe is exactly as advertised – we've taken the classic Andes Mint candy and turned it into a cupcake. And it is every bit as delicious as you might think!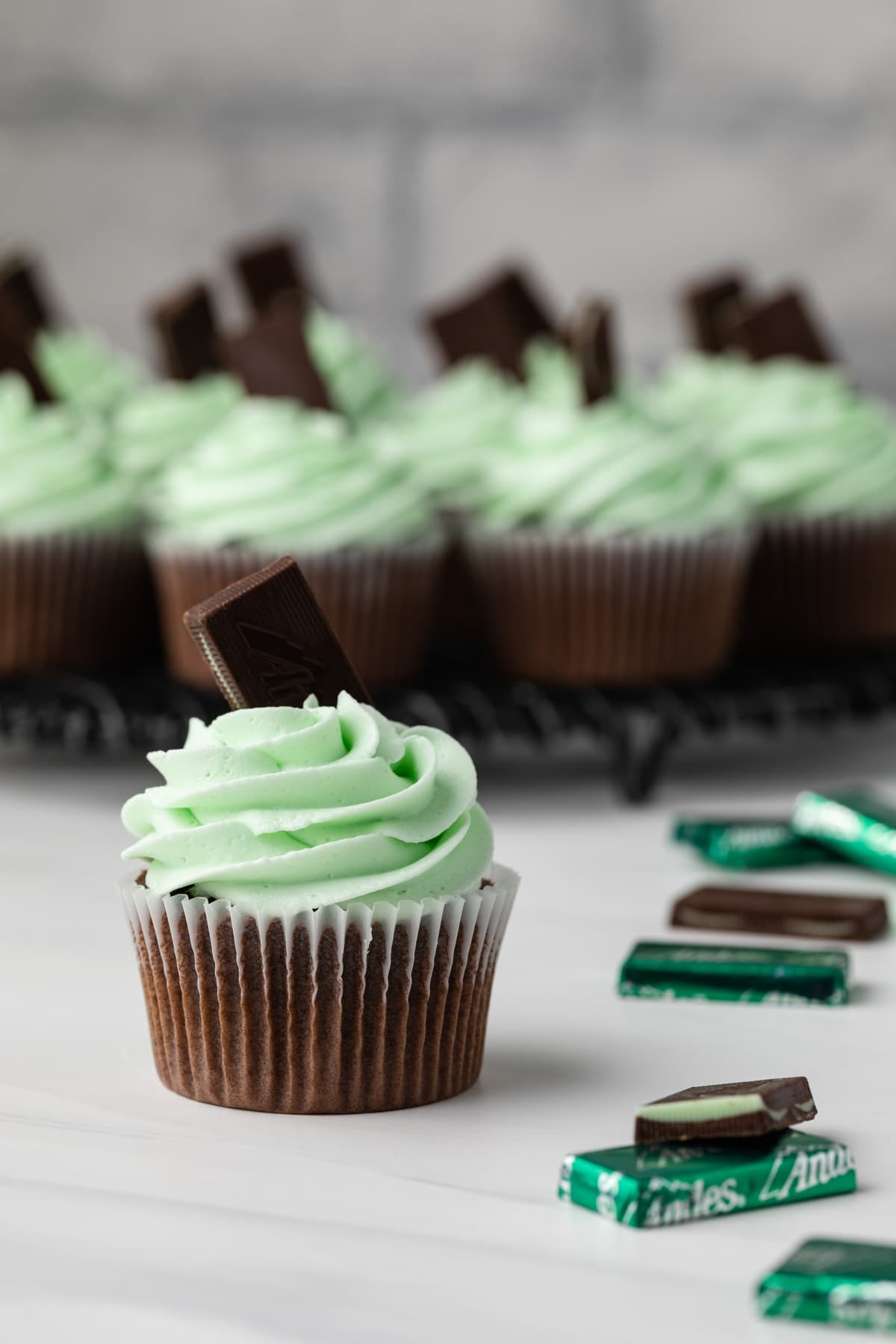 For those of you who are long time readers, you know I'm not a huge fan of chocolate and mint. But there is just something about Andes Mints. They're creamy and have twice the amount of chocolate than mint. So, I did what I love to do, and tried to create a cupcake version of these candies.
This homemade recipe makes soft chocolate cupcakes with a moist crumb. They are better than any box mix!
The light and airy green buttercream frosting with cool minty flavor is the perfect counterbalance to the chocolate cupcakes. I went with a light mint flavor so as to not overpower the frosting. It allows for a taste ratio of more chocolate than mint – just like an Andes Mints.
These cupcakes are so moist and delicious. One important thing to remember with all cupcakes is to not over bake them. Leaving them in the oven any longer than needed will dry them out.
While I don't looooove chocolate mint, I do love chocolate. If you want to skip the mint, try my moist and delicious chocolate cupcakes. For those of you who like chocolate and fruit, you can't beat these chocolate cherry cupcakes. And if you want to sneak some veggies into your cupcakes, these chocolate zucchini cupcakes are amazing.
Andes Mint Cupcake Details
Taste – These andes mint chocolate cupcakes have a rich cocoa flavor. The frosting is cool and minty, but not overpowering.
Texture – You'll find the cupcakes to be very soft with a light crumb.
Ease – While there are two components to making these cupcakes, the hardest part is unwrapping the Andes Mints for decoration.
Time – These cupcakes take about 25 minutes to prepare and 20 minutes to cook. The frosting also takes about 20 minutes to make. Overall time, including cooling and frosting.
What You'll Need
Ingredients
Flour: This recipe calls for all-purpose flour. The crumb isn't as tight as when using cake flour, the but the cupcakes remain incredibly soft.
Unsweetened cocoa powder: I prefer dutch process. It adds a ton of chocolate flavor.
Oil and Butter: Vegetable oil and unsalted sweet cream butter are both used in this recipe. Cocoa powder can tend to dry out baked goods, so both are needed to provide extra moisture for the cupcakes.
Sugar: Both granulated and light brown sugar are used in this recipe for sweetness. Brown sugar also helps to keep the cupcakes from drying out.
Eggs: Eggs help to hold the cupcakes together and add richness. They should be at room temperature.
Leavening: Both baking soda and baking powder are used to make these cupcakes rise.
Vanilla Extract: I almost always use homemade vanilla extract but any high-quality pure vanilla will work. Vanilla bean paste is also a great option if you want more flavor.
Salt: Just a little salt is added to balance the flavors.
Milk: Milk adds light moisture to these cupcakes.
Confectioners' sugar: For sweetness and smooth consistency in the frosting.
Salt: Just a pinch is all you need.
Heavy Cream: Creates a silky frosting texture.
Green mint extract: You can use peppermint extract if you can't find green mint.
Green food coloring: You can use as much or as little as you want – I like a light green colored frosting so only use 3-4 drops.
Andes crème de menthe – Unwrapped, for garnish
Recommended tools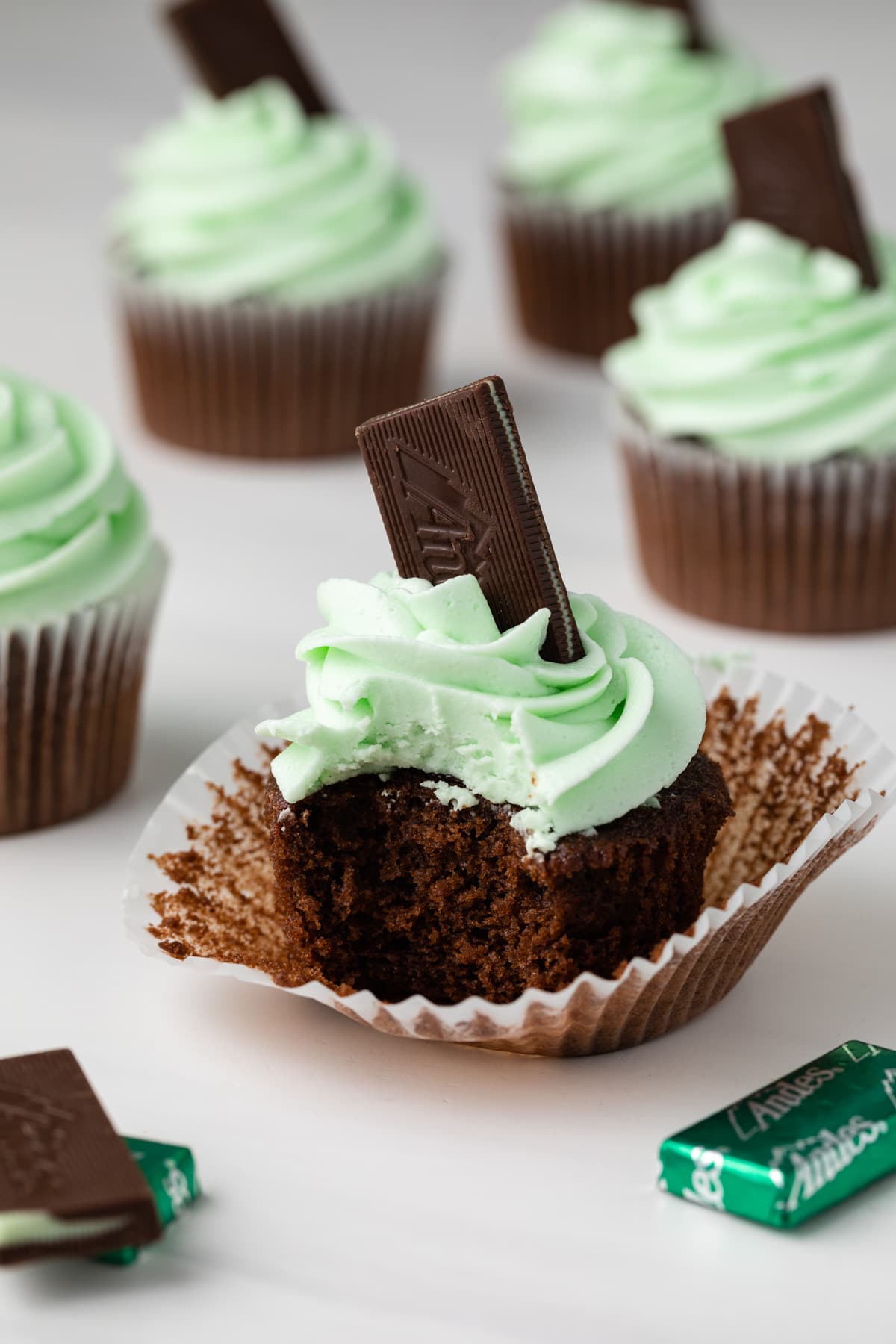 How to Make Andes Mint Cupcakes
It's very easy to make these homemade Andes Mint Cupcakes from scratch. It takes just a few minutes to whip up the batter and they bake in about 18 minutes. Check them carefully and don't overcook – you don't want them to dry out.
Get ready to bake – turn on the oven to 350°F and line 20 muffin cups with cupcake liners.
Whisk together the dry ingredients – flour, cocoa powder, baking powder, baking soda and salt.
In a separate bowl, cream together the oil, butter and sugars at medium-high speed until fluffy.
Beat in the eggs one at a time and then add in the vanilla.
Add half the flour mixture and beat until just combined, then add the milk and mix until almost combined before adding the rest of the flour mixture.
Divide the batter between the prepared muffin cups and bake. Let cool before frosting.
Make the Mint Frosting
The frosting is a simple buttercream with mint extract and food coloring so it's cool, luscious, and minty. As with any buttercream, the butter should be at room temperature but not too soft.
Beat the butter, powdered sugar, cream and green mint extract with a hand mixer until smooth and creamy, about 5 minutes. If it is too soft, you can add powdered sugar until the frosting reaches your desired consistency.
Add the food coloring and beat until blended.
When the cupcakes cool completely, frost them using a pastry bag with a frosting tip and garnish with the unwrapped Andes candies. You can also garnish with mint chocolate chips.
Tips For Success
Make sure to properly measure the flour. Using weighted measurements helps with consistency in baking.
Set the eggs and butter for the cupcakes out at room temperature for about an hour before you start cooking. These ingredients combine together better with the wet ingredients when at room temperature.
These cupcakes rise significantly. It's important not to fill the muffin cups more than half full or the batter will spill over the sides as it bakes and rises. Muffin cups hold 4 tablespoons of batter. I think 2 tablespoons is about the right amount of batter for these cupcakes.

---
Recipe FAQs
Do I have to use oil and butter?

Yes. These cupcakes are moist and delicious because of both oil and butter in the recipe. Using only butter will make the cupcakes too dry. Using only oil will make the cupcakes heavy.
Do I have to use Green Mint extract?

Green mint extract can be a bit overpowering or harder to find. You can use peppermint extract instead. Feel free to adjust the minty-ness to your liking.
Storage & Freezing
Cupcakes can be made one day in advance before frosting. Refrigerate overnight and frost the cupcakes the next day.
Frosted cupcakes can keep covered in the refrigerator for three days.
Frosted and unfrosted cupcakes can be frozen for up to 3 months.
The frosting can be made 1 day in advance. Cover and store in the refrigerator. Bring to room temperature before using.
Frosting will keep for 2 weeks in the refrigerator, or in the freezer for up to 3 months. When ready to use, thaw and bring to room temperature to soften before using. You can beat it with an electric mixer if needed.
Did you try this recipe? I would love for you to leave me a 5-star rating or comment. This way, I have a better understanding of which recipes you like and can create more of them.
Please take a moment to follow me on Instagram, Pinterest, Facebook, Youtube or sign up for my free newsletter to never miss the newest recipes and blog updates.
You can also shop my favorite baking tools. Thank you so much for your support!