This post may contain affiliate links. Read the full disclosure here.
These Oatmeal Cream Pies will instantly transport you back to the days of lunchboxes and chocolate milk. They'll remind you of the famous "Little Debbie" oatmeal creme pies, but they're even more delicious as they are homemade. Who doesn't need a little comforting nostalgia these days?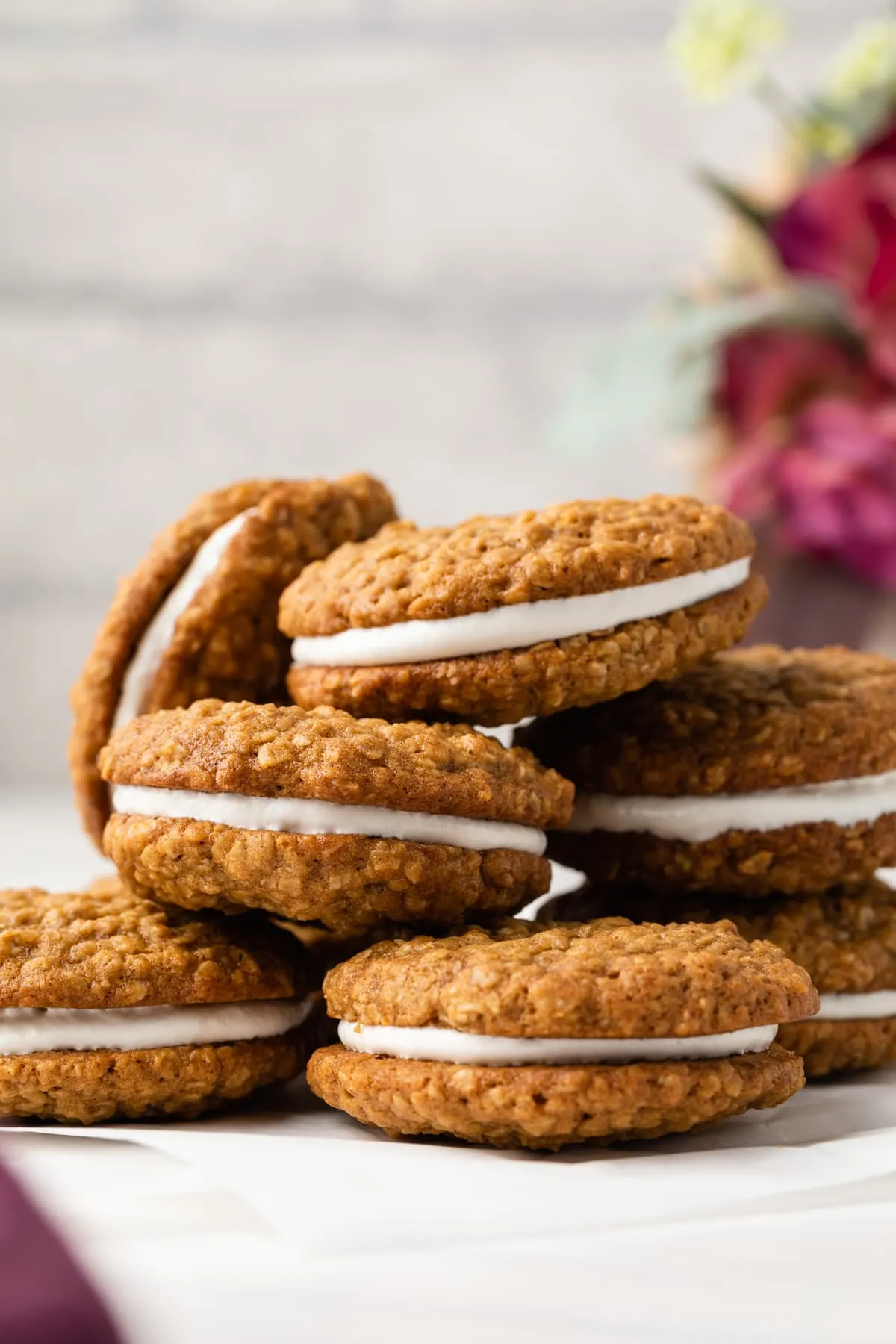 This homemade Oatmeal Cream Pies recipe will be a favorite of kids and adults. They are the perfect take-along snack to add a little sweetness to a lunch box or a carpool pick-up. This homemade version of "Little Debbie" oatmeal creme pies are so easy that you'll never do store-bought again.
The cookies call for brown sugar and a touch of molasses. They're the perfect blend of soft and not too sweet. The cream filling contains Marshmallow Fluff. While buttercream filling is yummy, this cream filling is absolutely delicious and perfectly balances the soft and chewy oatmeal cookies.
If love these cookies as much as I do, try some of my other favorite oatmeal cookie recipes. My pumpkin oatmeal cream pies are a delicious variation of this recipe, perfect for fall. Oatmeal chocolate chip cookies are yummy spin on the classic. Finally, Iced Oatmeal Cookies bring me back to tea parties with my grandmother.
Oatmeal Cream Pie Details
Taste – These cookies are lightly sweetened oatmeal cookies with a sweet cream filling.
Texture – The brown sugar in this recipe gives these cookies a melt in your mouth texture.
Ease – These cookies are so easy to make, you'll be surprised!
Time – Oatmeal Cream Pie cookies take about 25 minutes to prepare and 10 minutes to cook.
What You'll Need
The cookies are adapted from my oatmeal raisin cookies and use similar ingredients.
Ingredients
Unsalted butter – The butter should be room temperature – softened but not melted.
Vegetable shortening – Will keep the cookies soft and chewy.
Brown Sugar – The brown sugar adds richness and helps keep the cookies soft. There is no granulated sugar used in this recipe.
Eggs – Room temperature is always better.
Unsulphered molasses – Adds a warm hint of sweetness.
All-purpose flour
Baking soda
Ground cinnamon & vanilla extract – Staples for almost all oatmeal cookies!
Salt – Balances the sweetness.
Quick-cooking oats – Be sure to use quick-cooking oats, not old-fashioned oats or the texture will be compromised.
Confectioners' sugar – Be sure to sift the sugar to avoid any lumps in the creme.
Marshmallow Fluff – Airy and sweet.
Vegetable shortening
Vanilla extract – For a subtle vanilla flavor.
Recommended tools
How to Make Oatmeal Cream Pies
These delicious oatmeal cream pies are so easy to make that you'll have them on regular rotation in your cookie jar.
Cream together the wet ingredients: Beat butter, shortening and sugar together until light and fluffy, then add eggs, molasses and vanilla.

Mix together dry ingredients: In a separate bowl combine flour, baking soda, cinnamon and salt. Add the dry ingredients to the butter mixture, then stir in the quick oats.
Bake: Roll the dough into 1.5 tablespoon sized balls or use a cookie scoop and place on cookie sheets with parchment paper. Bake for 8-10 minutes and then allow cookies to cool on a wire rack.

Make the cream filling: Combine Marshmallow Fluff, vegetable shortening, powdered sugar and vanilla extract in a large bowl and beat until light and fluffy.

Assemble the pies: Pipe or spread the cream on the bottom side of one cookie, and top with a second to form a sandwich.
Tips For Success
Don't skip the shortening – Using only butter will cause these cookies to spread too thin.
Don't overbake the cookies – Pull them out of the oven as soon as the edges are set.
Use a piping bag to fill the cookies. While you can technically spread the marshmallow creme on the cookies, I find it easier to pipe the filling. You can use a piping bag or a zip-top bag with the corner cut off.
Allow the cookies to cool completely before adding the filling. The oatmeal cookies should be at room temperature before adding the creme center. Otherwise, the creme will melt and the cookies will lose their structure.
Recipe FAQs
The center of the cookies still look wet after 10 minutes. Should I cook longer?

Not to worry! The centers will look as if they are not done, but they will continue to cook as they rest on the pan. This will ensure the softest cookie possible.
What can I use in place of Marshmallow Fluff?

We realize there are some parts of this country where you can't easily find Fluff. We feel your pain. You can fill the cookies with vanilla buttercream frosting instead of making the Marshmallow Filling if you prefer.
I don't have quick oats, can I use old-fashioned oats?
You can use rolled oats but pulse them in a food processor to break them up before using.
Storage & Freezing
In the fridge. These cookies will stay fresh for up to 2 days in the fridge. Be sure to store in an airtight container.

In the freezer. You can also freeze these oatmeal creme cookies for up to 2 months in a freezer bag or container. Allow them to thaw overnight in the fridge then enjoy.
Did you try this recipe? I would love for you to leave me a 5-star rating or comment. This way, I have a better understanding of which recipes you like and can create more of them.
Please take a moment to follow me on Instagram, Pinterest, Facebook, Youtube or sign up for my free newsletter to never miss the newest recipes and blog updates.
You can also shop my favorite baking tools. Thank you so much for your support!