This post may contain affiliate links. Read the full disclosure here.
Iced oatmeal cookies are an old-fashioned recipe with soft centers and crisp edges. Each cookie is infused with molasses, cinnamon, and nutmeg then topped with a sweet glaze.
This post is brought to you by Bob's Red Mill.
I love a good oatmeal cookie. And today's recipe is even better than my popular old-fashioned oatmeal raisin cookies and oatmeal cream pie cookies.
There are quite a few oatmeal cookies on the site. But, I think the old-fashioned ones are my absolute favorite.
There's just something so comforting about biting into a cookie that takes you back to days of baking cookies with grandma.
Why this Iced Oatmeal Cookies recipe works
The cookie itself isn't overly sweet so it balances well with the sweet icing.
The spices are warm and cozy just like an oatmeal cookie should be.
Bob's Red Mill Products make all the difference in the texture of the cookies!
Iced Oatmeal Cookie Ingredients
Most oatmeal cookie recipes call for similar ingredients. I'm sticking with those staple ingredients but adjusting the ratios so the cookies have the perfect texture. Let's go over all the ingredients:
Butter: Unsalted butter that is softened will be your best friend for this recipe. It adds flavor and helps the cookie become slightly chewy.
Sugar: I used a combination of granulated white sugar and light brown sugar. Light brown sugar is great when making chewy cookies!
Eggs: To get the texture just right, I chose to use a whole egg plus an egg yolk.
Molasses: Only a little is added for flavor.
Vanilla: Also added for flavor.
Flour: Bob's Red Mill Organic All-Purpose Flour is the best and will ensure the cookies turn out fabulous.
Leavening: Baking powder and baking soda are used to help the cookies rise and spread slightly.
Spices: Cinnamon, nutmeg, and salt are the only spices needed. There's just enough without being overpowering.
Oats: Bob's Red Mill Organic Regular Rolled Oats give the best texture to the cookies.
How to make Iced Oatmeal Cookies
Every recipe I've seen for iced oatmeal cookies calls for pulsing the oats. We're skipping that! It's completely unnecessary and omitting that extra step will save some time.
The Batter – The batter comes together in just a few minutes. It doesn't require chilling so the cookies can be baked right away. And it takes about 25 minutes from start to finish.
The Icing – The icing is made with just 3 ingredients and it takes only a couple minutes to whip up. Wait until the cookies have cooled completely before making the icing, though.
Step 1: Gather the ingredients and preheat the oven
It is essential to use softened butter and room temperature eggs. Room temperature ingredients combine more easily.
Set the butter and eggs out on the counter 1 hour before you plan to make the cookies. Measure out all the other ingredients and have them ready to use.
Prepare your stand mixer with the paddle attachment or handheld mixer with beaters. Line 3 baking sheets with parchment paper. And preheat the oven about 30 minutes before you begin making the dough.
Step 2: Cream the butter and sugar together
The butter must be room temperature in order for it to cream properly with the sugars. This is why it is so important to set it out 1 hour ahead of time.
If you are in a hurry, you can warm butter in the microwave. But you have to be extremely careful when doing so because melted butter will not cream properly. I have found that one or two 10-second zaps work best to get the butter soft without melting it.
Using a stand mixer fitted with the paddle attachment or with a handheld electric mixer, beat the butter and both sugars on medium-low speed for about 1 minute. If you beat them any longer than that you'll incorporate too much air. This will cause the cookies to not bake up properly.
Step 3: Add the eggs, molasses, and vanilla
Make sure the eggs are at room temperature or they'll cause the batter to curdle. You can quickly warm eggs by placing the whole egg in a cup of hot water. Let it sit for 5 minutes.
Add the egg, egg yolk, molasses, and vanilla to the butter mixture. And beat on medium-low for 30 seconds or until well combined.
Step 4: Add the dry ingredients
In a small bowl, combine the flour, baking powder, baking soda, cinnamon, nutmeg, and salt. Use a whisk to stir everything together well.
With the mixer on low speed, gradually add the flour mixture to the butter mixture. Once all the flour has been added, continue to beat on low until the batter is smooth, about 10 seconds.
Add the oats and beat on low speed for 20 seconds, until well incorporated.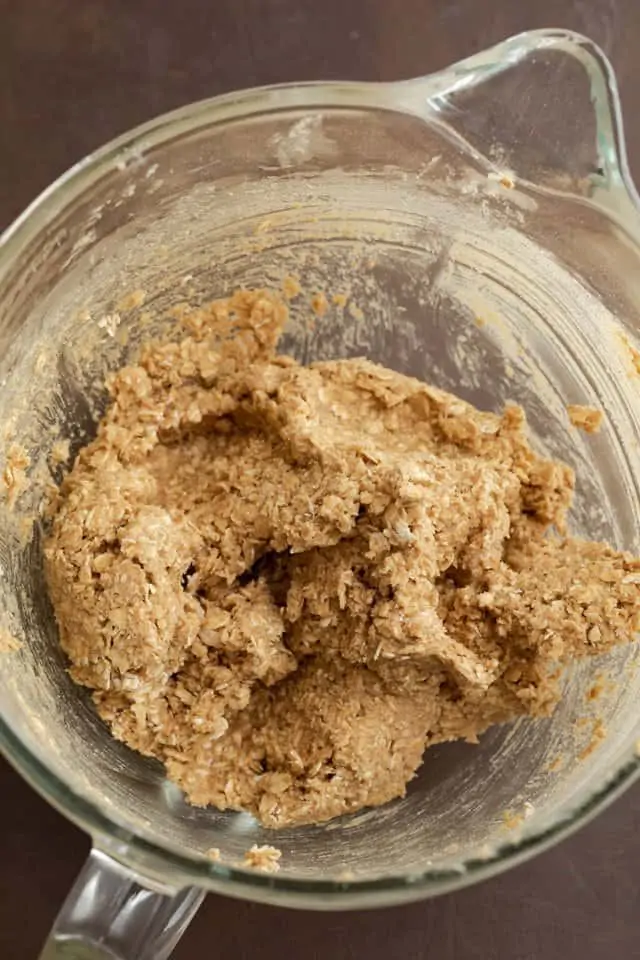 Step 5: Bake the cookies
Roll the dough into 1 and ½ tablespoon-sized balls and place them 2-inches apart on the prepared baking sheets. Use your fingertips to gently press each dough ball down into a disc that is ¾-inch thick.
Bake the cookies just until the edges are crisp and the centers are almost fully set. This could take anywhere from 13 to 16 minutes depending on your oven.
Allow the cookies to cool completely before icing them.
Step 6: Make the icing
Once the cookies are completely cool, combine all the ingredients for the icing. Gradually stir in the milk until the icing is slightly thick.
It's important to get the icing just right. If it's too thick, it will glob up on the cookies. If it's too thin, it will run off and not look as pretty.
Dip the tops of each cookie into the icing and let the excess drip off. Place the cookies on a wire rack until the icing has set. It takes about 2 hours for it to harden.
Tips for making the best Iced Oatmeal Cookies
Use quality ingredients! As mentioned above, this recipe was developed using Bob's Red Mill Organic All-Purpose Flour and Organic Regular Rolled Oats.
Properly measure the flour. Don't scoop the flour directly out of the bag with the measuring cup. Since flour compacts, this method will add too much flour to the recipe.
Use the right oats. Make sure you are using regular rolled oats and not the quick cook kind.
If you like this oatmeal cookie recipe, try these others:
Did you try this recipe? I would love for you to leave me a 5-star rating or comment. This way, I have a better understanding of which recipes you like and can create more of them.
Please take a moment to follow me on Instagram, Pinterest, Facebook, Youtube or sign up for my free newsletter to never miss the newest recipes and blog updates.
You can also shop my favorite baking tools. Thank you so much for your support!