These Vanilla Yogurt Cupcakes are made with a whole cup of yogurt. They are fluffy, moist, and perfectly light! Topped with strawberry frosting, these cupcakes would make a wonderful Valentine's treat.
Today is the start of several Valentine's recipes I have for you.
These cupcakes are one of the best vanilla cupcakes I've ever made. I took a huge risk by adding a whole cup of vanilla yogurt, but the results were fantastic.
Hubby took these to the office with him and he said they disappeared rather quickly. That's when I knew I had to share the recipe with you.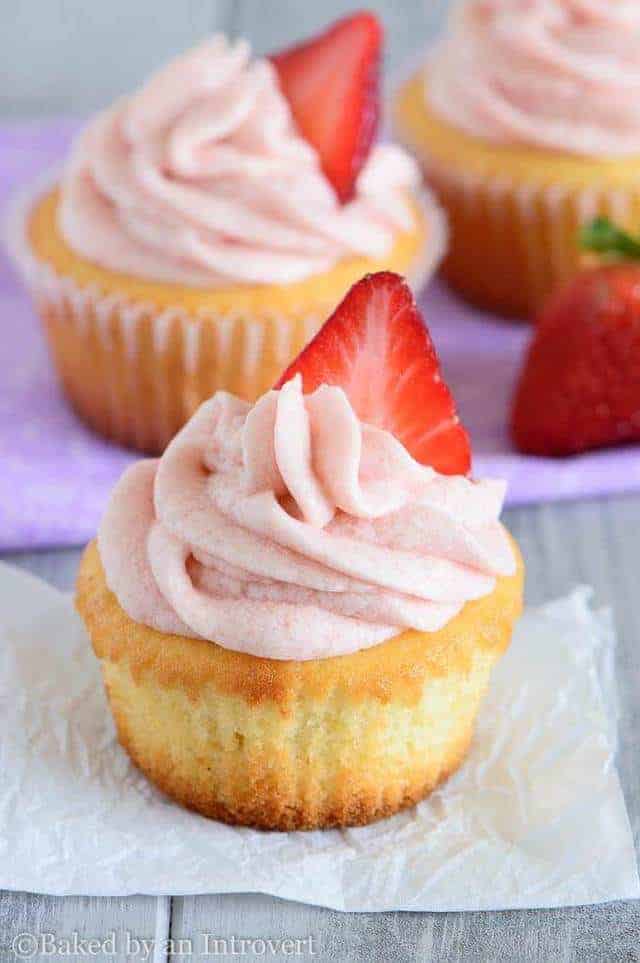 The cupcakes are incredibly moist, buttery, and sweet. Because of the extra liquid, I had to extend the baking time by about 5 minutes.
This could vary for you so be sure keep a close eye on them. With the extended baking time, the cupcakes will develop a slight crust on the outside.
Sort of like a pound cake but not quite as dark. It's quite wonderful.
On top of these delectable beauties goes a light strawberry frosting. It's the perfect combination.
I made a basic vanilla buttercream frosting and mixed in strawberry jam for flavor. I love how light and creamy the frosting is.
Frost the cupcakes and garnish with fresh slices of ripened strawberries.
These vanilla yogurt cupcakes are wonderful and much better than any cupcake from a box. Surprise your love with these for Valentine's day.