This post may contain affiliate links. Read the full disclosure here.
This fresh Blackberry Cobbler recipe is the perfect dessert for celebrating summer! It's loaded with fresh blackberries topped with a sweet cinnamon topping.
Cobblers, crisps, crostatas and pies – is there any better way to use up the bounty of fresh summer fruit? I don't think so. This fresh blackberry cobbler is one of my favorites. It comes together quickly, and is just bursting with summer flavor.
A good fruit pie is one of my favorite summer desserts. If you are looking for one to make – try this recipe for strawberry pie – you'll love it.
A fruit crisp is essentially a pie filling with a delicious oatmeal, flour and brown sugar topping. I adore hot apple crisp or pear crisp with a scoop of vanilla ice cream.
A crostada, or a galette, is a free-form sort of one crust pie. It's elegant and simple at the same time. My peach blueberry galette is one of my favorite desserts to serve at a summer luncheon.
Then there are cobblers. Cobblers are relaxed, easy, simple desserts. They're often thrown-together and they have a very casual picnic-table and barefoot feel about them. Cobblers remind me of baking with my grandmother. And when I would sleep over at her house, she'd let me have cobbler with ice cream for breakfast.
This blackberry cobbler filling is about as simple as it gets – blackberries and sugar. The topping is like a thick cake batter. Drop by spoonfuls atop of the filling, and bake. It really is that simple.

Cobblers are best served warm, right out of the oven, and with a scoop of vanilla ice cream. Just make sure you save some for breakfast!
---
Recipe Snapshot
TASTE: Tastes like summer!
TEXTURE: Fresh berries with a cake-like topping.
EASE: Super easy
TIME: 1 hour and 15 minutes
---
What You'll Need
Ingredients
Blackberries – Fresh blackberries, local and fresh picked if you can get them, for the best flavor
Sugar – White granulated sugar is in both the filling and the topping.
All-purpose flour – For the filling.
Leavening – baking powder and baking soda are used in this recipe.
Salt – Kosher salt, always, to balance the flavors.
Spices – Ground cinnamon and ground nutmeg.
Butter – Unsalted butter, cold and cut into pieces
Buttermilk– Look for full fat buttermilk.
Recommended Tools
Mixing bowls
Whisk
Pastry cutter
How to Make Blackberry Cobbler
This cobbler comes together quickly and easily. To start, preheat the oven to 350°F. Lightly butter the bottom of a 3-quart casserole dish
Be sure to check out the full recipe and ingredient list below
Make the filling: Toss the blackberries with the sugar. Set aside.
Mix the dry ingredients for the topping: In a medium bowl, whisk the flour, sugar, baking powder, baking soda, salt, cinnamon, and nutmeg together.
Cut in the butter: Using a pastry blender or fork, cut in the butter until the mixture resembles coarse crumbs.
Add buttermilk: Gradually add enough buttermilk to moisten the dough. It should resemble a thick cake batter.
Assemble the cobbler: Spread the filling in the bottom of the prepared casserole dish. Drop small spoonfuls of topping evenly over the top of the blackberries.
Bake: Bake for 45-55 minutes, until the blackberries are tender and the topping is golden brown. Cool on a wire rack for 10 minutes before serving.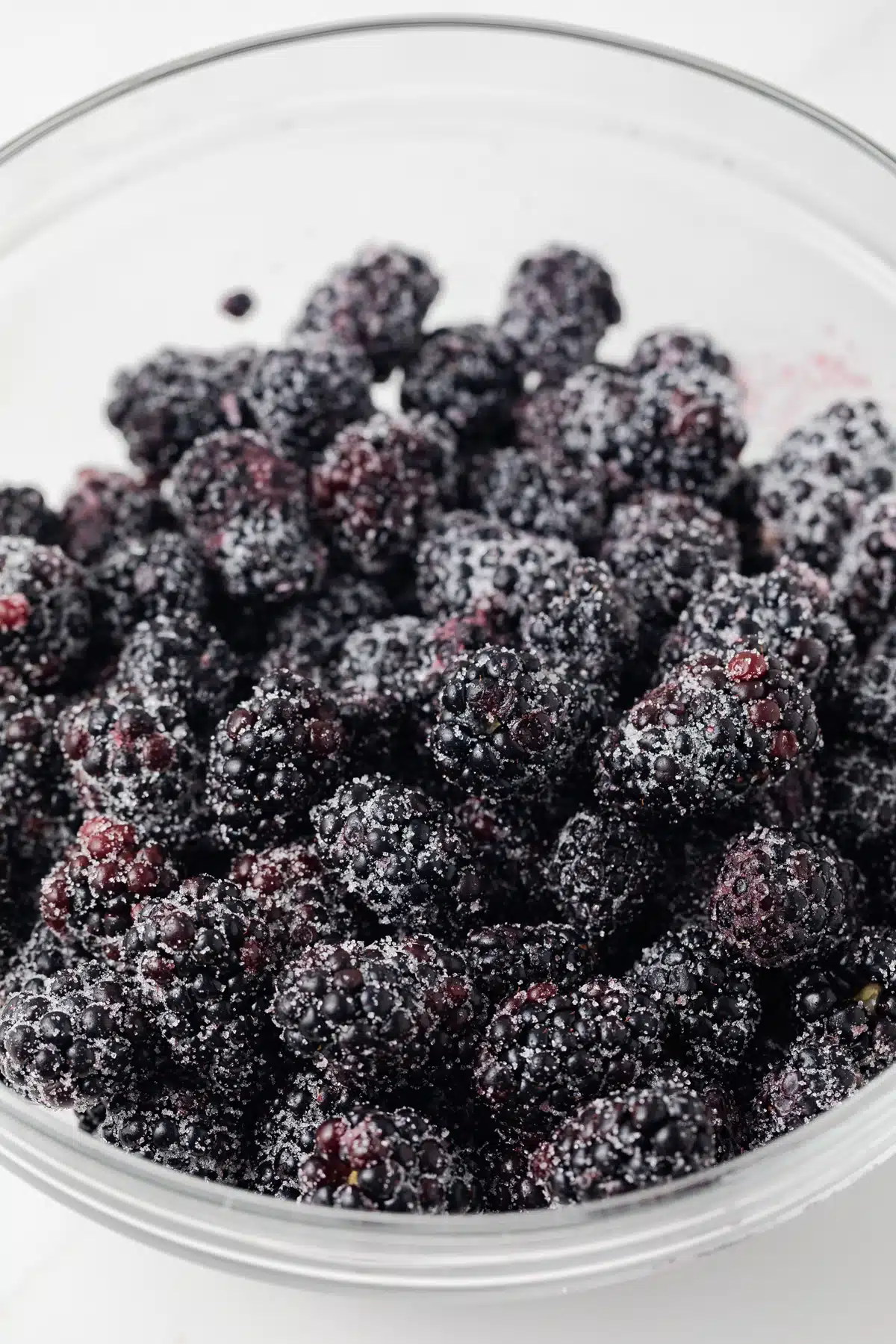 Handy tip:
Fresh, juicy berries really make a difference here. Frozen berries might be fine for smoothies or for muffins but they won't work well in a cobbler like this.
Tips For Success
These cobblers are best when served immediately after baking.
To brighten the flavor of the filling a bit, try adding a teaspoon of freshly squeezed lemon juice and maybe a bit of lemon zest.
Serve with vanilla ice cream or frozen yogurt.
Storage & Freezing
Blackberry cobbler really should be prepared and baked right away.
The baked cobbler will keep for up to 3 days stored in the refrigerator. The topping will become soft after refrigeration so I suggest warming it in the oven before serving.
You can also freeze the baked cobbler for up to 3 months. Thaw in the refrigerator overnight and warm in the oven before serving.
More Pie, Tart, Cobbler Recipes
Pies, tarts and cobblers are simple yet delicious desserts. Below is a sampling of some of my favorites.
Did you try this recipe? I would love for you to leave me a 5-star rating or comment. This way, I have a better understanding of which recipes you like and can create more of them.
Please take a moment to follow me on Instagram, Pinterest, Facebook, Youtube or sign up for my free newsletter to never miss the newest recipes and blog updates.
You can also shop my favorite baking tools. Thank you so much for your support!
Printable Recipe