Salted Caramel Ginger Macarons
This post may contain affiliate links. Read the full disclosure here.
Salted Caramel Ginger Macarons are the perfect little treat. These macarons, in particular, might be the prettiest ones I've ever made. They look just like the ones in a fancy bakery.
The caramel filling in this macaron recipe is the easiest you will ever make because it only requires melting soft caramel candies. The macaron shells are flavored with ground ginger and they meld perfectly with the gooey caramel.
Your friends and family will be thrilled to see these macarons on the dessert table!
Macarons can be finicky but the end result is so worth it. Remember these Easter macarons? They were my favorite up until now.
Make sure you read through my post on how to make French Macarons before beginning today's recipe. There are several helpful tips and tricks available in that post to help ensure your macarons come out perfect every time.
The delicate macaron shells are flavored with ground ginger. The shells alone are so tasty! I colored the shells with yellow gel food coloring but this is completely optional.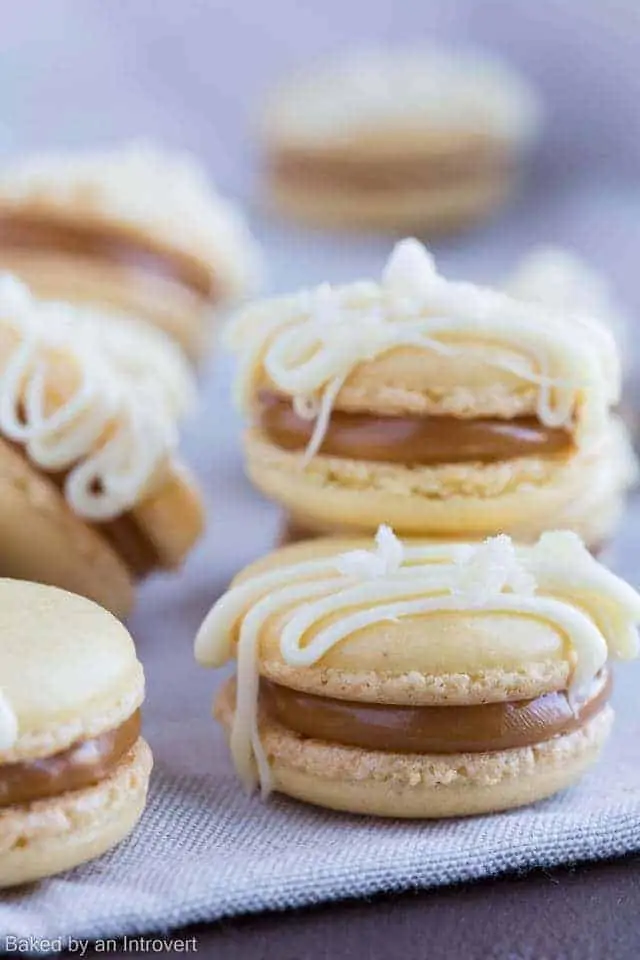 The caramel filling is the easiest of all because all you need to do is warm caramel bits or soft caramel candies in a saucepan with a little cream until it's melted and smooth. Transfer it to a piping bag and pipe small dollops onto one cookie and sandwich another over the top.
I sprinkled a small amount of sea salt over the caramel before adding the second macaron shell.
I decorated the tops of each cookie with a drizzle of white chocolate and a few pieces of crystallized ginger. This is completely optional but I think they look rather cute this way.
You'll need to chop the crystallized ginger into tiny pieces and sprinkle it over the white chocolate before it sets. The white chocolate will act as "glue", keeping the ginger from falling off.
Serve these salted caramel ginger macarons at your next holiday party and everyone will think you purchased them at a high-end bakery!
Did you try this recipe? I would love for you to leave me a 5-star rating or comment. This way, I have a better understanding of which recipes you like and can create more of them.
Please take a moment to follow me on Instagram, Pinterest, Facebook, Youtube or sign up for my free newsletter to never miss the newest recipes and blog updates.
You can also shop my favorite baking tools. Thank you so much for your support!