This post may contain affiliate links. Read the full disclosure here.
Lightly spiced with cardamom and topped with a delightful cinnamon sugar crumble, this spiced pear bread is an easy quick bread. Dense, light, and moist, it makes a great treat for fall and beyond!
An easy sweet quick bread for fall
If you've never had pear bread before, let me tell you – once you make this, you'll want it again and again. This spiced pear bread is like fall in a warm loaf but you'll find yourself making it year-round!
This quick bread comes together easily, with just a mixing bowl and spatula. The bread, which honestly reminds me more of a cake than a quick bread, is dense but light and moist. It's lightly spiced with cardamom which perfectly complements the cinnamon sugar topping.
This spiced pear bread is a recipe I've been playing around with for a while and this final version is just perfect. Adding just a few spices really allows the attention to stay on the pears, which definitely deserve to be the start of the show!
Add the cinnamon-sugar topping and you have the perfect treat to enjoy with your tea or coffee, any time of day! Or try it with a cinnamon sugar topping like with my favorite apple bread.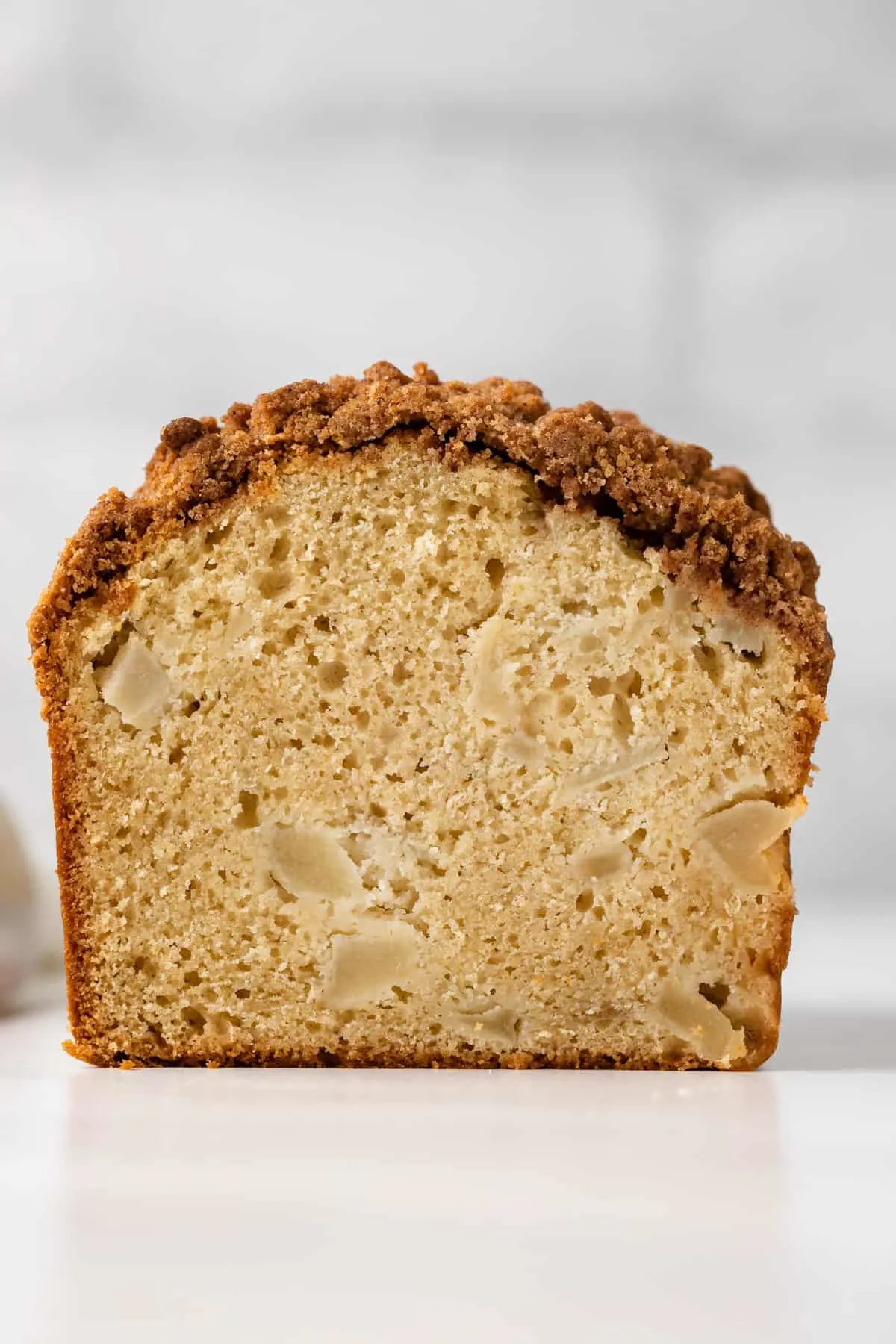 What you'll need
You'll need a handful of baking staples, plus the pears, for the bread and just 4 ingredients for the topping!
Ingredients
Butter – Softened butter is needed for the bread batter and cold butter in needed for the topping.
Light brown sugar – I prefer both the flavor and texture of brown sugar to granulated sugar in this sweet bread.
Eggs – Make sure to use room temperature eggs.
Sour cream – Helps keep this bread extra moist. In a pinch you can also use plain Greek yogurt.
Vanilla extract & salt – Enhance the flavors.
All-purpose flour – I don't recommend using anything other than all-purpose flour.
Baking powder & baking soda – Both leavening agents work together to create the perfect amount of rise in the bread.
Ground cardamom – The mild cardamom flavor is a nice balance to the cinnamon topping.
Pears – You'll want fresh, ripe pears that are diced and peeled for this recipe.
Ground cinnamon – Adds the warm spiced flavor to the pear bread.
---
How to make spiced pear bread
Like most quick bread, this recipe is quick and easy to make! Just a few minutes of prep and an hour in the oven!
Make the bread batter. Cream the butter and sugar until light and fluffy. Beat in the eggs one at a time, followed by the sour cream and vanilla. Combine the dry ingredients in a separate bowl then add to the wet ingredients. Mix until just combined and gently fold in the diced pears. Transfer to the prepared loaf pan.
Make the topping. Combine the sugar, flour, and cinnamon. Cut in the butter with a fork until the mixture resembles coarse crumbs. Sprinkle over the batter.
Bake. Bake for 55 to 60 minutes. Cool for 10 minutes then transfer to a wire rack to finish cooling.
Tips for success
Here are just a few suggestions to keep in mind when making your pear bread.
Use room temperature ingredients. Set your sour cream and eggs on the counter for half an hour or so to allow them to come to room temperature before using.
What are the best pears to use? Bartlett, Bosc and Anjou pears are the best pears for baking. Barlett pears can be mushy so choose firm, nearly ripe pears if using Barlett.
Add some crunch. If you want to vary the texture, you can easily add in some toasted pecans or walnuts to the batter before baking.
Serving suggestions
Enjoy your spice pear bread warm or at room temperature. I love enjoying my first slice of it fresh from the oven, just after it's had a bit of time to cool. Since it's sweet and cake-like, you can enjoy it as-is with the crumb topping the only garnish or add a bit of butter.
Spiced pear bread pairs well with coffee or tea, whether you sneak it in at breakfast or enjoy later in the afternoon!
---
How to store
At room temperature. This pear sweet bread can covered and stored at room temperature for up to a day.
In the fridge. You can also refrigerate pear bread for up to 5 days.
Can I freeze pear bread? Yes, you can also freeze this quick bread for up to 3 months. Tightly wrap in plastic before freezing. Thaw in the fridge and bring to room temperature before serving.
---
More pear recipes