This post may contain affiliate links. Read the full disclosure here.
This elegant olive oil cake is deliciously yet delicately with orange. The olive makes the cake moister than if made with butter. Serve it plain, with a dusting of powdered sugar, or with a dollop of whipped cream.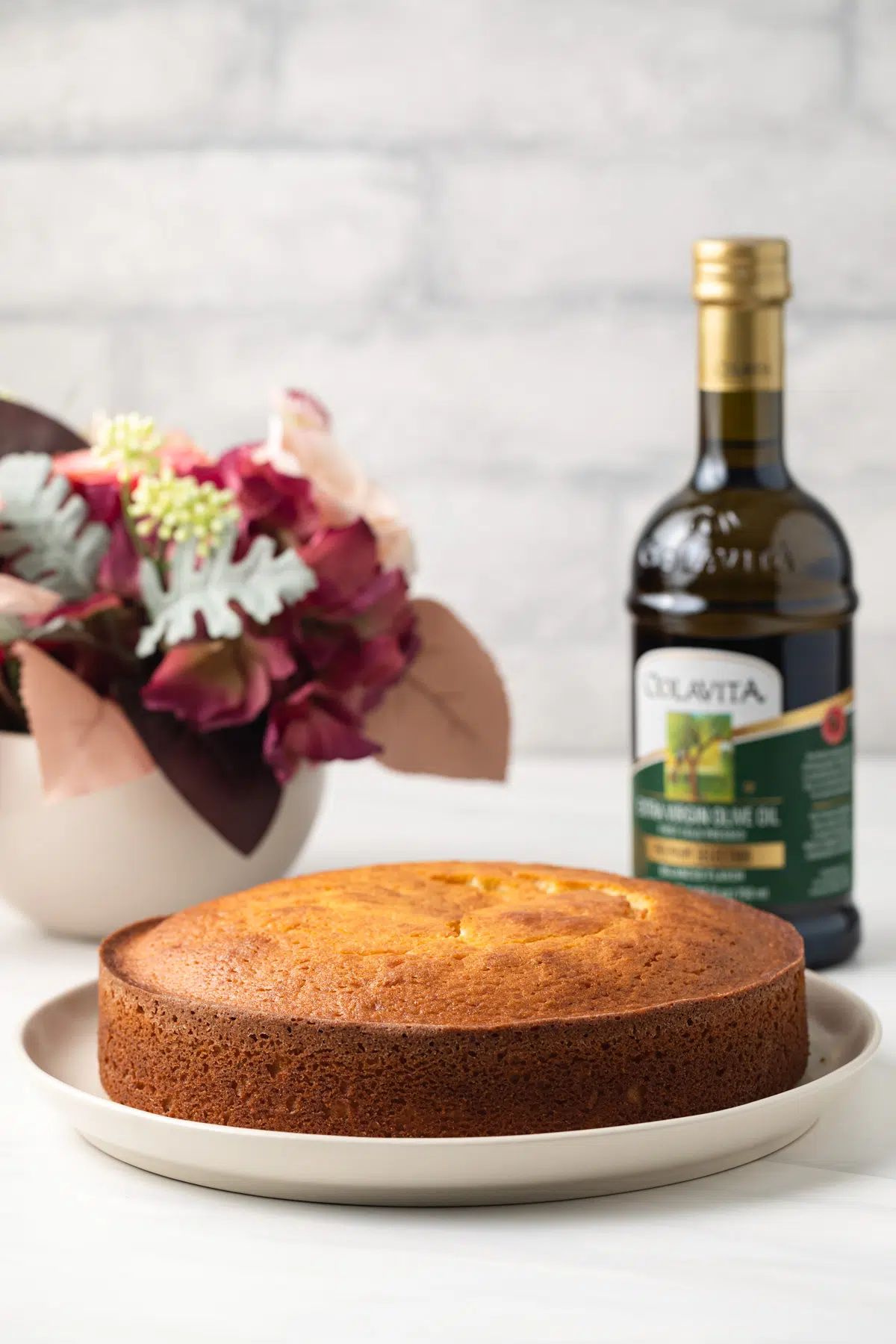 If you are of the mindset that a cake isn't a cake unless it has frosting, I guess I don't totally disagree with you. Or rather, I should say, I didn't disagree with you – but since I have been creating recipes for this website I have made some amazing frosting-free cakes.
Some of my favorites are my cream cheese pound cake and my Irish tea cake. Though it doesn't have a traditional frosting, this spiced apple upside down cake has a moist vanilla cake with a layer of baked apples that add extra sweetness to the cake.
I think of frosting free cakes as perfect to serve at brunch or after a luncheon, for something a little sweet, but not overly so. But I also now like these kinds of cakes after a heavy dinner as well.
After a meal of beef bourguignon or chicken pot pie – too much dessert can be well, just too much. But a slice of this orange scented olive oil cake with a dollop of fresh whipped cream and a few berries – it is a slightly sweet and terribly elegant way to end a meal.
The olive oil not only adds serious moisture to the cake, but it also gives it a rich, mediterranean flavor. For that reason, be sure to use the best quality extra virgin olive oil you can find.
Because it has a touch of orange flavor, this moist cake is bright and sweet and delicious all on its own. But to go a little extra, serve this with just a dusting of powdered sugar, a scoop of vanilla ice cream or a touch of sweetened whipped cream.
---
Recipe Snapshot
TASTE: Delicately flavored with orange zest and olive oil
TEXTURE: Moist and dense
EASE: Easy
TIME: 1 hour
---
What You'll Need
Ingredients
This is a delicious recipe that is made from simple ingredients.
Extra virgin olive oil – The best you can find.
Flour – Standard, all purpose flour works well.
Leavening – This recipe uses both baking powder and baking soda.
Sugar – White granulated sugar is all you need here.
Eggs – These should be at room temperature.
Yogurt – Plain whole-milk yogurt adds so much moisture and a bit of tang. This also needs to be at room temperature too.
Orange Juice – For a delicate orange flavor.
Orange Zest – Freshly grated – avoiding the white pith.
Salt – Kosher salt. To balance the flavors.
How to Make Olive Oil Cake
This is a fairly standard method of making a cake. The eggs and yogurt will work better if they are at room temperature. So, in addition to turning the oven to 350, and greasing a 9-inch round cake pan, leave the eggs and yogurt on the counter for a bit to come to temperature.
Whisk the flour, salt, baking powder, and baking soda together in a medium bowl.
Whisk the sugar and eggs in a large bowl until the sugar is mostly dissolved and the mixture is pale and frothy, about 1 minute. Stir in the orange zest and juice.
Whisk in the olive oil and yogurt until well combined, then whisk in the flour mixture until no dry streaks remain.

Pour the batter into the prepared baking pan and smooth the top with a rubber spatula. Gently tap on the counter to settle the batter.

Bake for 40-45 minutes or until a toothpick inserted into the center comes out clean. Let cool in the pan on a wire rack for 10 minutes. Invert the cake onto a rack and remove the pan. Allow the cake to cool completely.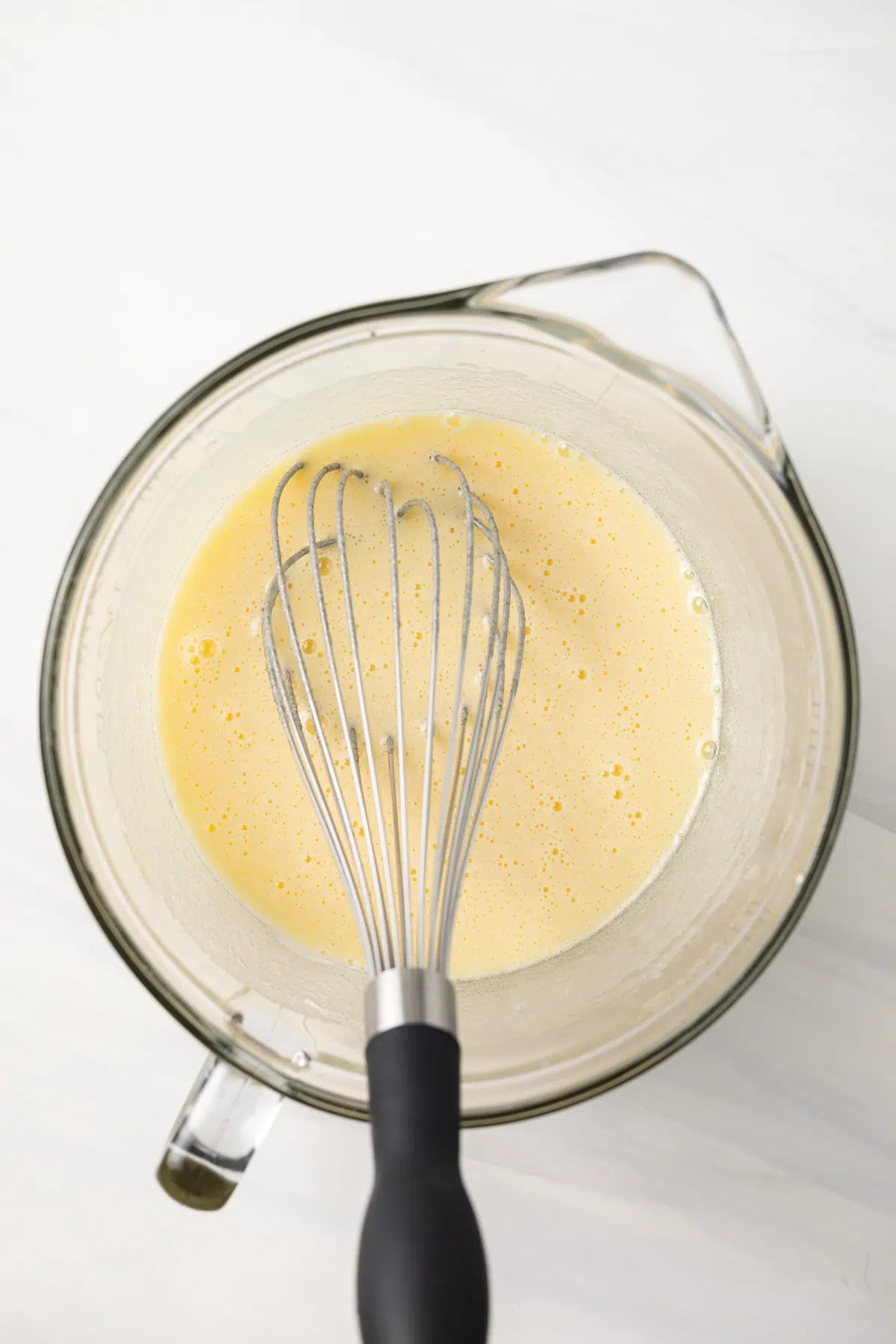 Handy tip:
Be sure to use the highest and best quality olive oil you can find. The olive oil not only gives this cake moisture but it also adds flavor. It might be worth a trip to that olive oil store in the mall that you always wonder who shops at!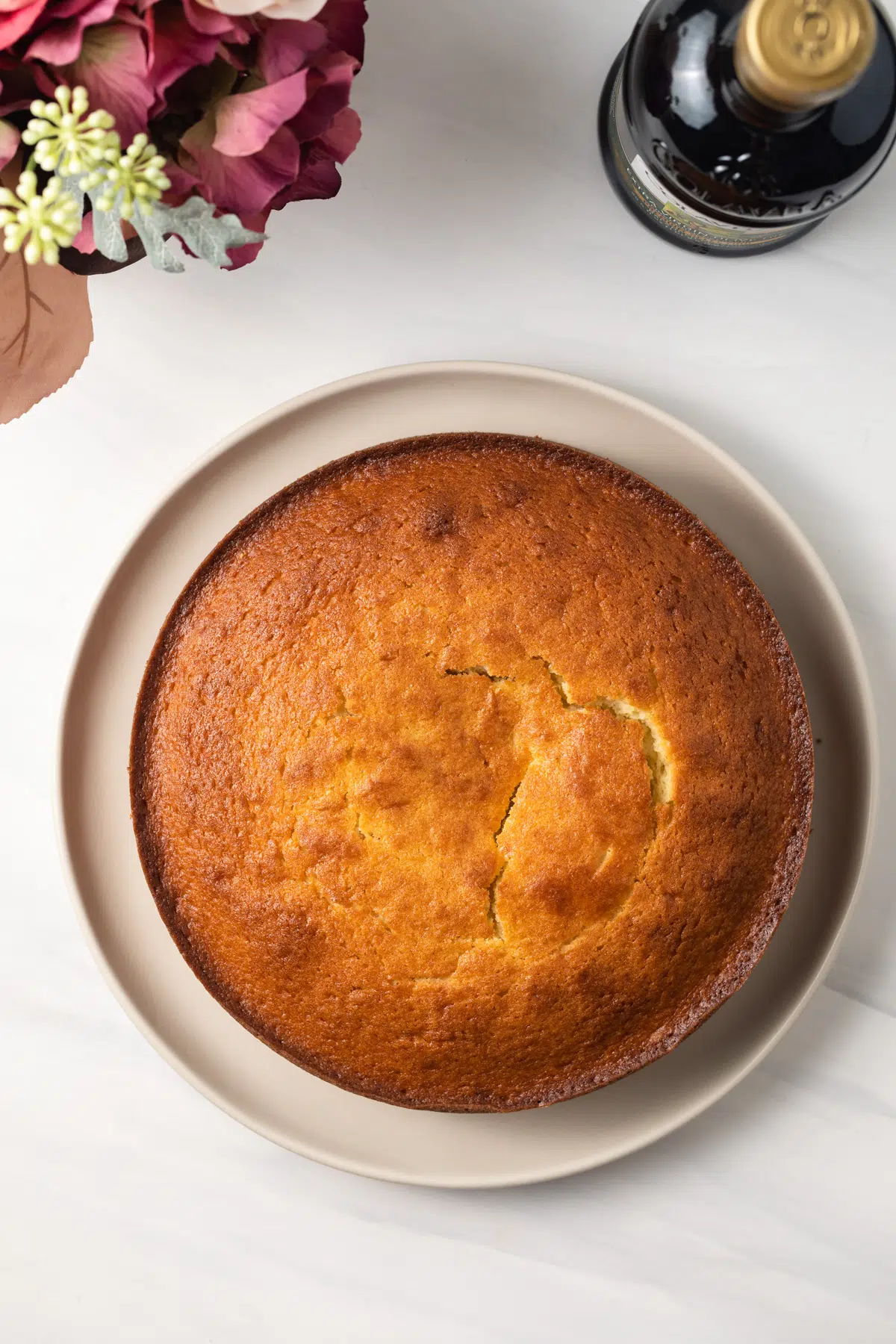 Tips For Success
Olive oil: Be sure to select a good quality olive oil.
Orange zest: Avoid the pith when zesting the orange. That's the white part under the skin. It can make the cake taste bitter.
Storage & Freezing
This cake will keep for up to 4 days. Place in an airtight container and keep at room temperature.
The cake can be frozen for up to 3 months.
This olive oil cake is truly delicious, but if a more traditional frosted cake is what you are craving, try one of these:
Did you try this recipe? I would love for you to leave me a 5-star rating or comment. This way, I have a better understanding of which recipes you like and can create more of them.
Please take a moment to follow me on Instagram, Pinterest, Facebook, Youtube or sign up for my free newsletter to never miss the newest recipes and blog updates.
You can also shop my favorite baking tools. Thank you so much for your support!
Printable Recipe