This post may contain affiliate links. Read the full disclosure here.
This homemade baked apple strudel recipe has a flaky, sweet crust wrapped around tender apples, raisins and brown sugar. It's a delicious special occasion brunch or breakfast recipe.
If you haven't had apple strudel before, you are in for a treat.
Apple Strudel is a distinctively Austrian pastry with recipes for it that date back to the 1600's. That's a lot of strudel!
And with good reason – the flaky sweet crust is wrapped around juicy apples, tender soft cooked raisins with brown sugar and almonds. It's similar in taste to an apple pie but apple pie filling typically has much more cinnamon, sugar and butter in it so it the apples cook into a stew-like sauce.
The strudel filling is more sturdy. There is no butter in the filling, just a smidge of cinnamon and not too much sugar, so, when it is cooked for less time than an apple pie cooks for, the filling stands up a little more on its own. The raisins plump up, the apples soften up, and the almonds loose their crunch.
It's still delicious and decadent, but this is more of a treat you serve with a cup of coffee than a dessert you serve with ice cream at the end of a meal.
Fall is such a lovely time of year. Pumpkins, sweaters, beautiful leaves on the trees, and of course, apples are everywhere. I love the crisp, sweet and juicy flavor of apples. And when they are picked right off the tree? YUM.
So every Fall I come up with more and more recipes to justify having loads of apples in my house. This strudel is a great one to add to your rotation. Apple crisp I think maybe the ultimate Fall dessert. I'm obsessed with my recipe for it. If you want something a little more subtle, try my apple bread.
I have so many apple recipes of my website – so go ahead – pick as many apples as you want! There are plenty of awesome treats for you to make with them!
Recipe Snapshot
TASTE: Not overly sweet with apples and brown sugar.
TEXTURE: Flaky crust and soft but sturdy filling.
EASE: Medium level of difficulty, anytime dough is required.
TIME: 30 minutes (plus 45 minutes of rest for the dough).
What You'll Need
Ingredients
This recipe requires making a crust and the filling. Most of the ingredients are standard ingredients you'll have around the house.
Apples – If it's Fall, go with fresh picked. I like Mackintosh or Cortland varieties for baking. Use your favorite but stay away from the Red Delicious – they don't have a great texture for baking.
Lemon Juice – Just a squeeze, for brightness.
Raisins – I love the way raisins plump up when baked.
Almond slices – You can buy these in bags in the nut section of the grocery store.
Brown Sugar and Cinnamon – To sweeten and flavor the filling.
Flour – All purpose – a little for the filling, but mostly for the crust dough.
Eggs – One for the dough and another to use as an egg wash for the finished pastry.
Turbinado sugar – This is large crunchy sugar that won't melt when baked. If you like to bake, you should keep some of this in your pantry.
Extras: Olive oil, a pinch of salt, warm water.
How to Make Recipe Name
The filling of this strudel couldn't be easier. The dough comes together quickly as well, but it does require a little effort to cut and fold it properly. This pastry is meant to be a bit rustic – I mean, how finicky were they in the 1600's? – so don't worry too much if your cuts and folds aren't perfect. Preheat your oven to 400 so it's nice and warm when you bake the Strudel.
Make the dough
In a medium bowl, whisk together the egg, water, and oil. Whisk in the flour and salt until almost fully combined. Knead dough until it comes together in a cohesive ball.
Place the dough in a lightly greased bowl, cover with plastic wrap, and let sit for 45 minutes.
Make the filling
In a large bowl, toss the apple slices with lemon juice.
Add the raisins, almond slices, brown sugar, flour, and cinnamon. Toss until well coated.
Assemble the Pastry
On a lightly floured sheet of parchment paper on a baking sheet

roll the dough into an 11×17 rectangle. Using a pairing knife, score the pastry into 3 columns taking care not to cut all the way through. You want the center column to be slightly larger than the edges.

Using a sharp knife or pastry wheel, cut the side columns into equal strips.
Fill the center column with the filling. Fold the pastry over the top and bottom to seal in the filling. Wrap the filling by pulling alternate strands of the cut sides over to the other side the press to seal the dough.
Whisk together the egg and water. Brush over the top of the strudel. Sprinkle the top with turbinado sugar.
Bake for 25-30 minutes, until the top is golden brown.
Set the baking sheet on a wire rack and allow the strudel to cool completely before slicing and serving.
Serve with a dusting of powdered sugar.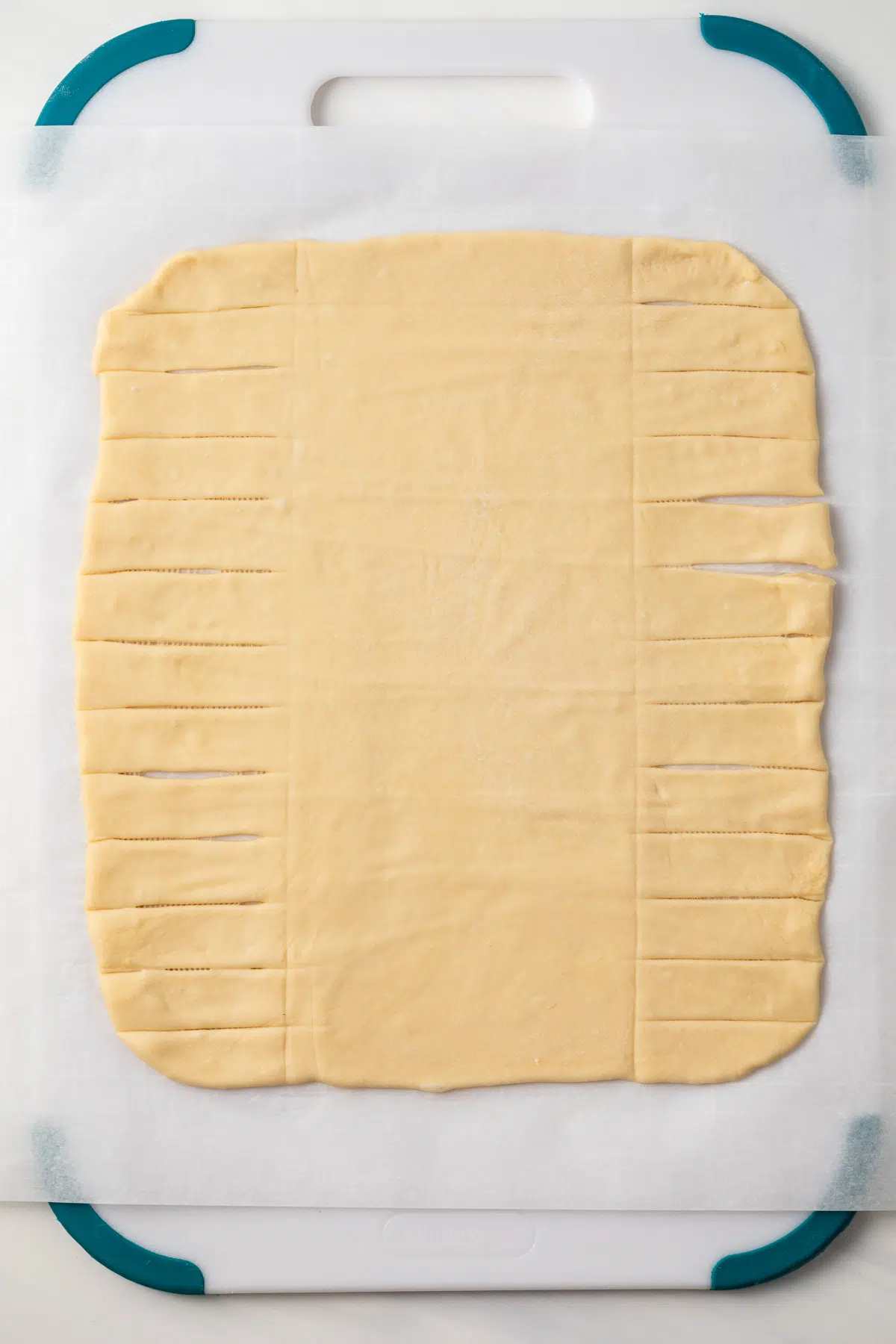 Handy tip: Prepare Ahead!
This crust must sit for 45 minutes before you roll it out. Make the filling as you wait for the dough to rest. Or you can make the filling ahead of time, and keep it tightly covered in your fridge. Bring it to room temperature as you make the dough and let it rest.
Tips For Success
Stretching the dough: Go slow when rolling the dough. It will be thin so you want to be delicate with it to prevent it from tearing.
Prepare the filling while the dough is resting in the bowl. If you wait until you've rolled the dough out, it could potentially dry out too much.
Pick your apples. All apples are delicious, but some apples are not delicious in baking. Red Delicious apples, for instance, don't hold up well in baking. Choose an apple like a macintosh, a Cortland, a pink lady or another crisp, firm and tart apple. They'll have the best taste and texture when baked.
Storage & Freezing
Apple strudel tastes best the day it is made, served warm from the oven. It will keep for up to 3 days stored in the refrigerator. You may wish to reheat it in a 350°F oven until warmed.
Strudel is part breakfast treat, part pie. Here are other pies you might want to consider.
Did you try this recipe? I would love for you to leave me a 5-star rating or comment. This way, I have a better understanding of which recipes you like and can create more of them.
Please take a moment to follow me on Instagram, Pinterest, Facebook, Youtube or sign up for my free newsletter to never miss the newest recipes and blog updates.
You can also shop my favorite baking tools. Thank you so much for your support!
Printable Recipe