This post may contain affiliate links. Read the full disclosure here.
Pound cake has been around since the 1700's when it was created in England. Its name is not super creative – the original cake was made with a pound of each of butter, flour, sugar and eggs. And it's delicious – with a pound of butter and sugar how could it not be – so it is no surprise it has stood the test of time. This cream cheese pound cake recipe is sure to be your new favorite.
Over the years, bakers have modified and created variations on the original. I've made a number of pound cakes including sour cream pound cake, peach pound cake, orange pound cake, and honey bun pound cake. And I love them all. Truly. This moist pound cake recipe makes a rich and delicious cake – one you can serve for breakfast or dessert and at any time in between.
It's even better when you top it with homemade whipped cream and fresh berries or diced pineapple. Vanilla ice cream with a drizzle of caramel sauce or hot fudge sauce is also a great way to enjoy this cake.
Recently, I've brushed slices of pound cake with a little bit of oil or melted butter or oil before putting them on the grill or in the grill pan for a couple of minutes per side. This creates a warm slice with a slightly crunchy outside, the most scrumptious base for any toppings you can imagine.
But honestly, it's amazing on its own. It's so moist and flavorful, you really don't need anything to garnish it.
If you love the idea of icing free cakes, give this luxurious olive oil cake a try.
What's the purpose of cream cheese in a pound cake?
Believe it or not, cream cheese actually lightens up the cake! Pound cake is yummy but the traditional recipe makes for a dense cake. Cream cheese adds moistness to the cake and makes it lighter and a bit airier than the original.
What is the trick to making the perfect pound cake?
Pound cakes are easy to prepare, but they do require attention. Use the proper flour – cake flour – which will produce a slightly less dense cake. Measure your ingredients correctly, sift the flour, and be patient when mixing everything together.
Recipe Details
Taste – A rich cake with a hint of vanilla.
Texture – A golden crust with a moist and delicate crumb.
Ease – It's not difficult to make, but does require patience when using a stand mixer or electric mixer.
Time – With so much moisture, this cake requires a full hour and 25 minutes to cook.
---
What You'll Need
Ingredients
Butter – Unsalted butter works best here.
Sugar – White granulated sugar is traditionally used but I bet brown sugar would taste amazing also!
Eggs – You need 8 large eggs – 4 eggs and 4 yolks.
Vanilla extract – Use high-quality pure vanilla or make vanilla at home for the best results.
Salt – Just a dash is all you need to balance the flavors.
Baking Powder – For a little bit of leavening.
Cake flour – I love the soft, tight crumb that cake flour has to offer. Sift the flour a couple of times after weighing it for a supremely tender cake.
Cream cheese – Use full-fat cream cheese for the best results.
Milk – For added moisture. This should be at room temperature.
Recommended tools
Stand mixer: I find that a stand mixer with a paddle attachment works best for getting the batter mixed thoroughly.

You can use a handheld electric mixer but I find it's difficult to get the batter to emulsify. You'll need to scrape the bottom of the bowl several times during mixing.

Bundt pan: Make sure to use a 12-cup bundt pan or tube pan. There's a ton of batter!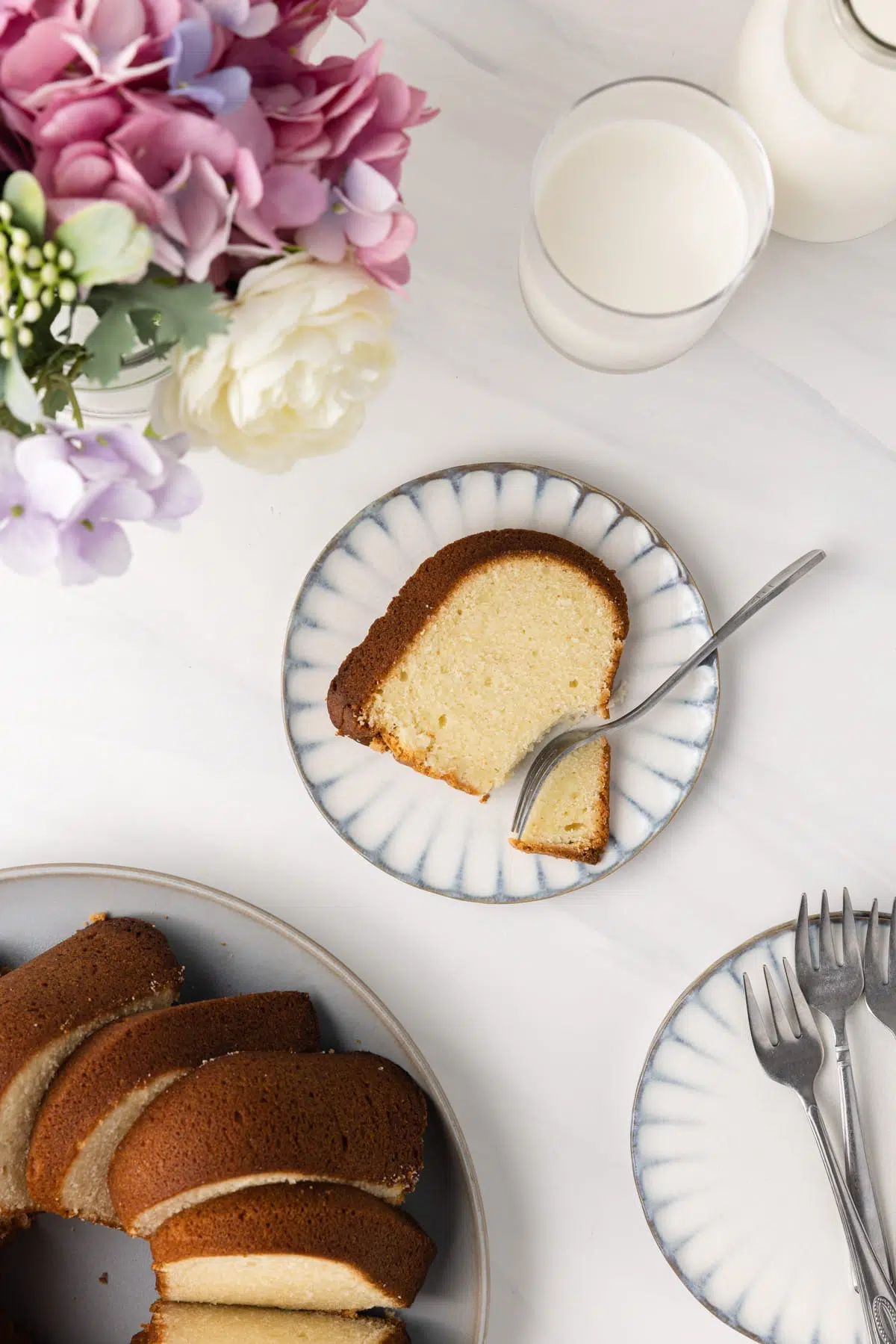 How to Make Cream Cheese Pound Cake
This moist cream cheese pound cake is very easy to put together. If you have a stand mixer, it's even easier.
Cream the dairy and sugar. Cream the butter and cream cheese together with the sugar together until it's super light and fluffy. The color should look pale and the mixture be larger in volume. This can take 5-7 minutes. Scrape down the sides of the bowl as needed.
Beat in the eggs. With the mixer on low speed, mix in the eggs and egg yolks one at a time, making sure to fully incorporate each addition of egg before adding the next one. This allows more air to be added to the eggs which will help the cake rise. Beat in the vanilla and mix until combined.
Mix in the flour. Mix in the flour, baking powder and salt. Add half of the flour mixture to the butter mixture and mix at low speed until combined. Add the milk and combine before adding the last of the flour. You'll want to mix just until the flour is fully mixed in but be careful to not overmix at this point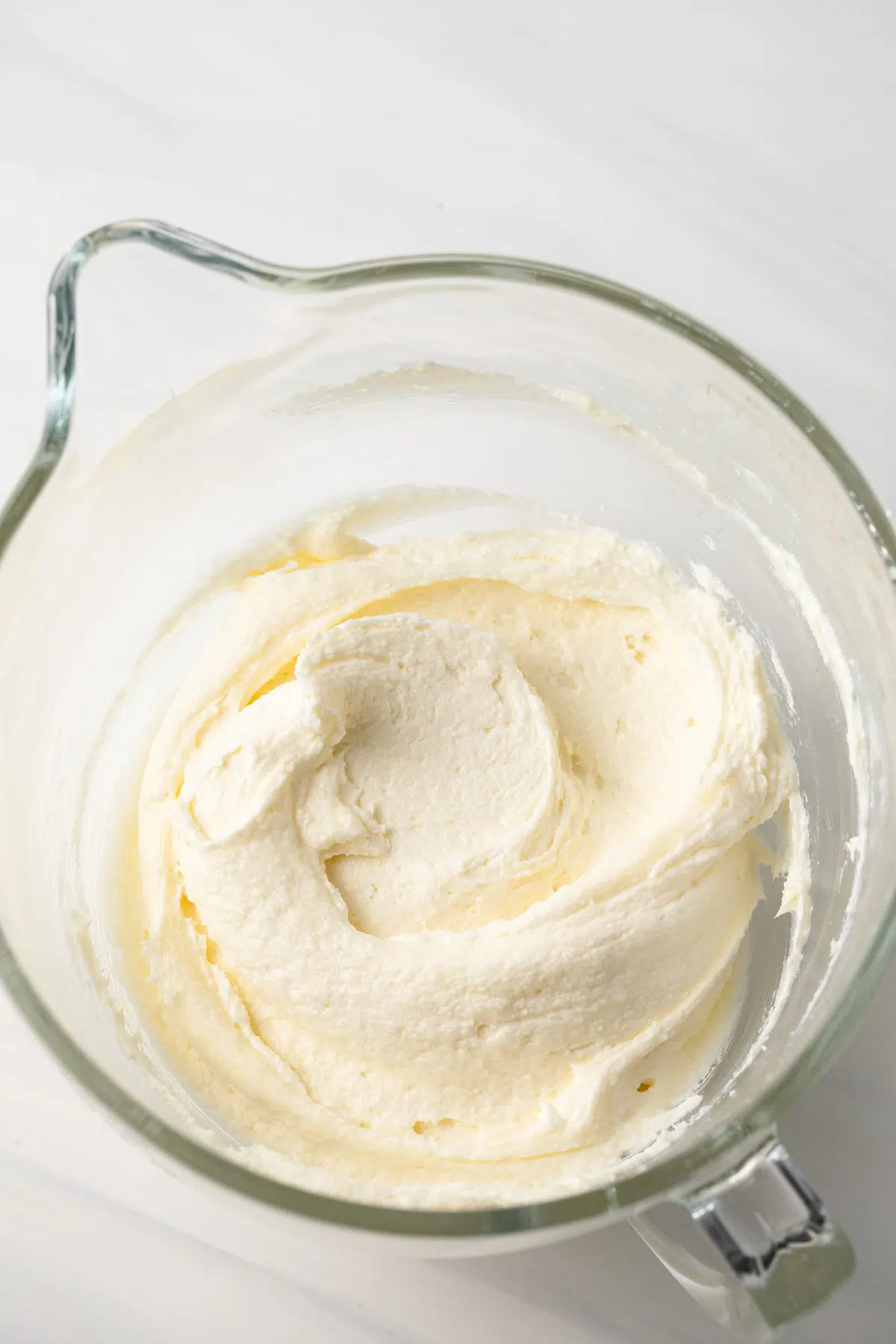 Bake the cake. You need a 12-cup bundt pan for all the batter. And make sure you grease and flour the pan well before adding the batter. I'm a huge fan of baking sprays that contain flour. Just spray it in and use a brush to work it into all the crevices.
Between the eggs, the milk and the cream cheese – this is a thick batter, so it will need just under an hour and a half to bake. Ovens vary – so start checking at an hour and 15 minutes, and take out from the oven when a toothpick inserted in the center comes out with only a few moist crumbs attached. Let cook then invert cake on a wire rack to cool completely.
Tips For Success
It is important to use cake flour for this recipe. All purpose flour will make the cake too dense because of all the mixing required.
Sifting the flour mixture into the batter will make the cake lighter and fluffier.
Be patient, and follow the instructions for mixing speeds and what to add when carefully. Believe it or not, baking is science, and there is a reason why the cake turns out better when the instructions are followed!
Storage & Freezing
This is the perfect cake to keep under a cake dome for a few days on your counter – someone will grab a slice every time they walk by! It will keep for 4 days wrapped tightly at room temp, 1 week in the refrigerator, or up to 3 months in the freezer.
Did you try this recipe? I would love for you to leave me a 5-star rating or comment. This way, I have a better understanding of which recipes you like and can create more of them.
Please take a moment to follow me on Instagram, Pinterest, Facebook, Youtube or sign up for my free newsletter to never miss the newest recipes and blog updates.
You can also shop my favorite baking tools. Thank you so much for your support!