This post may contain affiliate links. Read the full disclosure here.
This strawberry pound cake is dense, rich, and moist. It's bursting with fresh berry flavor and will summon the lazy days of summer when you taste it. The sweet berry glaze adds to the flavor taking it over the top.
Pound cake gets its name from its original recipe – which required a pound of flour, a pound of sugar, a pound of butter and a pound of eggs. Simple ingredients that were easily available in simpler times.
As rich and delicious as a true pound cake is, that's a lot of butter and sugar. So pound cake recipes, thankfully, have evolved.
Not only are basic pound cake recipes now are a bit lighter than those that were made by Laura Ingalls Wilder, they are a little more sophisticated too. Some have almond extract, others have lemon juice. The basic butter, flour, sugar and egg combination makes a delicious base for all sorts of flavors.
I have made a cream cheese pound cake and a sour cream pound cake, which both have a delightful tanginess to them. I went a little fancy and experimented a bit with an orange pound cake with cream cheese glaze and a peach pound cake. What a success. They were delicious.
The original simple pound cake is the perfect canvas for the sweetness of the fruits. When I serve original pound cake, I almost always choose to serve it with fresh strawberries or strawberry sauce. So, it seems only natural to make a strawberry poundcake.
This strawberry pound cake recipe is to die for. It has all the flavor of a strawberry shortcake and is drizzled with a sweet homemade strawberry glaze. This cake can be served with fresh strawberries, whipped cream or ice cream with a drizzle of strawberry sauce.
I prefer to make it in a bundt cake pan. The shape elevates the sophistication of the cake.
The strawberry emulsion adds deep strawberry flavor to the cake, and I love it. But if you don't have the emulsion or would rather not use it, the cake will be delicious without it.
This cake can be served at any time of year when you want a little taste of summer on your plate.
---
Recipe Snapshot
TASTE: Berry delicious
TEXTURE: Moist and dense.
EASE: Intermediate. There are a few extra steps in this recipe.
TIME: Just over an hour an a half.
---
What You'll Need
Ingredients
All-purpose flour – Make sure you measure carefully.
Freeze-dried strawberry powder – Made from blending freeze dried strawberries. This will be used in the cake and in the strawberry glaze.
Baking powder and salt – for leavening.
Unsalted butter – Softened to room temperature
Sugar – Granulated sugar for the cake and powdered sugar for the glaze.
Eggs – At room temperature
Full-fat sour cream – For creamy, moist texture.
Strawberry emulsion – For intense berry flavor – both in the cake and in the glaze. Adds a bakery-like flavor.
Pure vanilla extract – Make your own using this recipe or use the best quality extract you can find.
Milk – Any type of milk works here, but it should be at room temperature.
Recommended Tools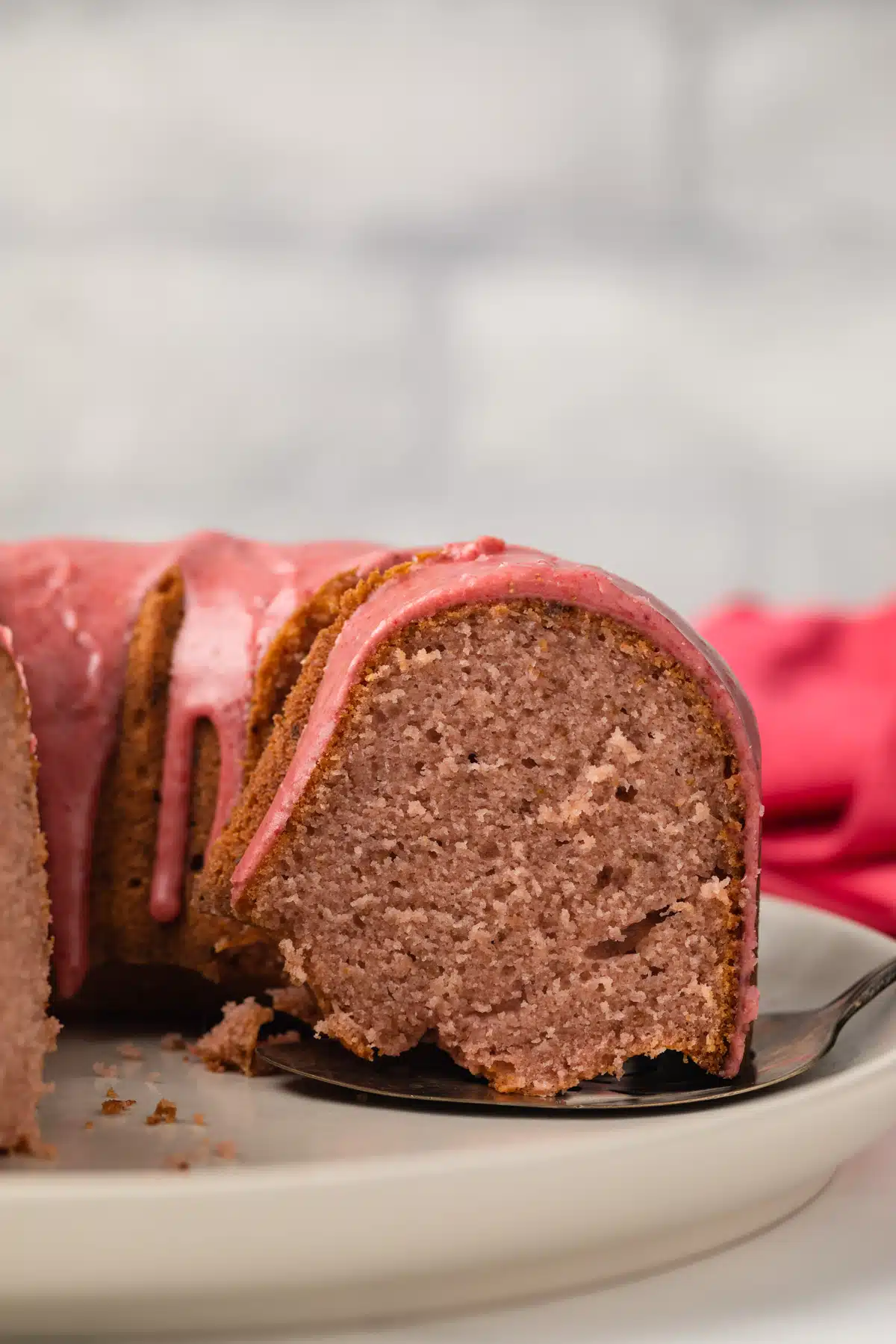 How to Make Strawberry Pound Cake
To prepare to bake the cake, preheat the oven to 350°F. Grease a 12-cup bundt pan and dust with flour, tapping out any excess. Or use my homemade cake release.
Mix the dry ingredients. In a medium bowl, whisk the flour strawberry powder, baking powder, and salt together until well combined.
Cream the butter and sugar. Using a stand mixer fitted with the paddle attachment or handheld electric mixer, cream the butter and sugar together for 5 minutes until light, fluffy, and increased in volume. Stop and scrape down the sides as needed.
Add the additional wet ingredients. Add the eggs, one at a time, mixing well after each addition. Add the sour cream, strawberry emulsion, and vanilla and beat on medium speed until combined. The mixture will look curdled; that's ok– it will come together when you add the dry ingredients.
Combine. Pour the flour mixture into the wet ingredients and begin mixing on low speed. As the mixer runs, slowly pour in the milk. Turn the mixer up to medium speed and beat until the batter is completely combined. The batter will be thick.
Bake. Transfer the cake batter to the prepared pan and bake for 55-70 minutes, until a toothpick inserted into the center comes out with only a few moist crumbs attached. Cool in the pan for 10 minutes and then invert onto a wire rack to cool completely.
Make the glaze. Add the powdered sugar, strawberry powder, and milk to a medium mixing bowl and mix until well combined and no lumps remain. If the icing is too thin, add more powdered sugar as needed. If the icing is too thick, add more milk as needed.
Drizzle the glaze over the cake. Let sit until the glaze has set.
Handy tip:
Sour Cream: You can use ½ cup plain Greek yogurt instead of sour cream.
Tips For Success
Strawberry powder: 2 ounces of freeze-dried strawberries is enough to make the powder for the cake and the glaze. Blend the strawberries in a blender until they are powdery.
Strawberry emulsion: I like the depth of strawberry flavor this adds. I use LorAnn Strawberry Bakery Emulsion purchased on Amazon. If you don't want to use it, simply leave it out.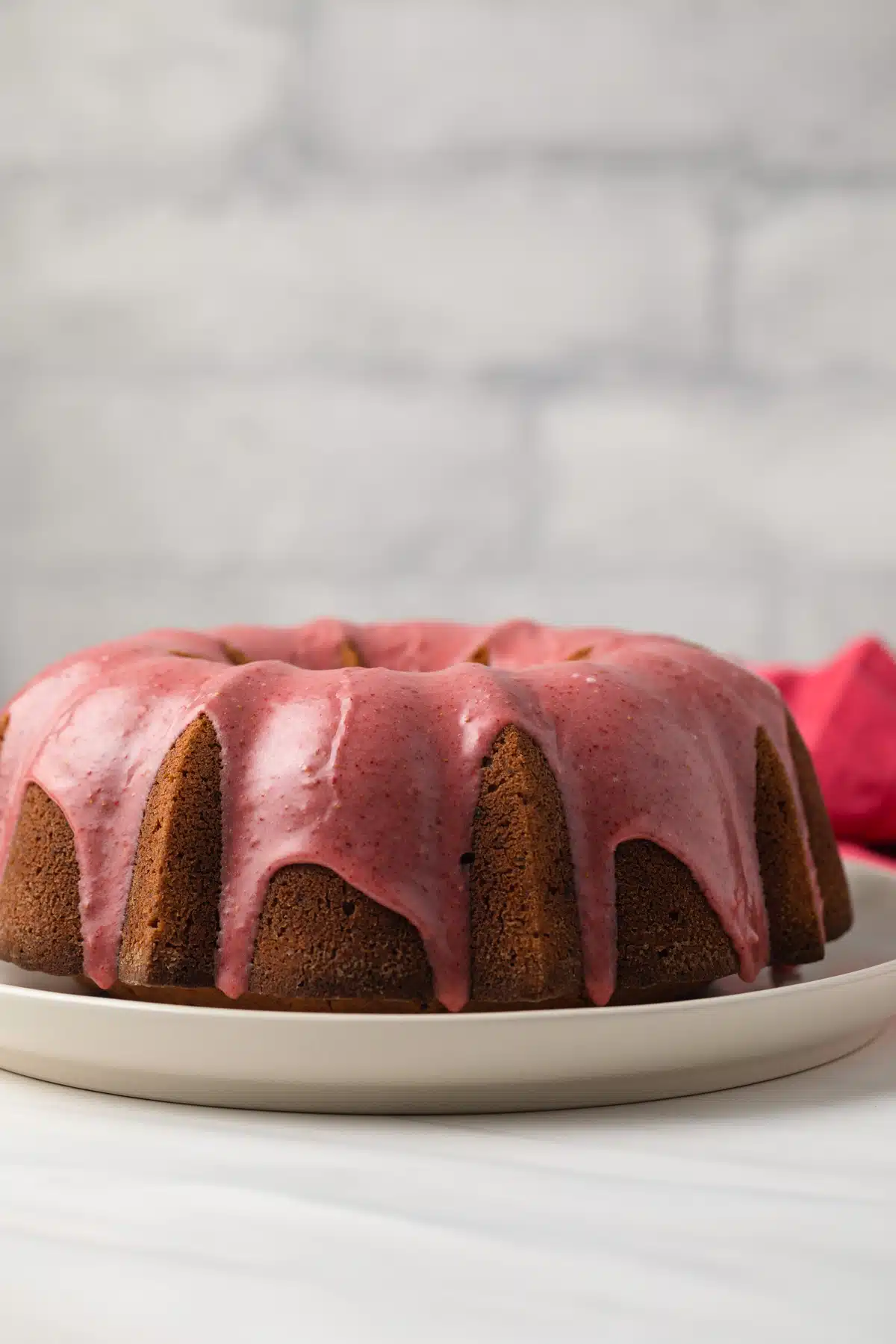 Storage & Freezing
The cake will keep for up to 4 days wrapped tightly and stored at room temperature or for up to 1 week stored in the refrigerator.
The cake can also be frozen for up to 3 months. Thaw in the refrigerator overnight.
Cakes are the ultimate sweet dessert and aren't just for special occasions.
Did you try this recipe? I would love for you to leave me a 5-star rating or comment. This way, I have a better understanding of which recipes you like and can create more of them.
Please take a moment to follow me on Instagram, Pinterest, Facebook, Youtube or sign up for my free newsletter to never miss the newest recipes and blog updates.
You can also shop my favorite baking tools. Thank you so much for your support!
Printable Recipe