This post may contain affiliate links. Read the full disclosure here.
Homemade cosmic brownies are decadent, swoon-worthy fudgy brownies topped with smooth ganache and rainbow sprinkles. They come together quickly and are so easy to make.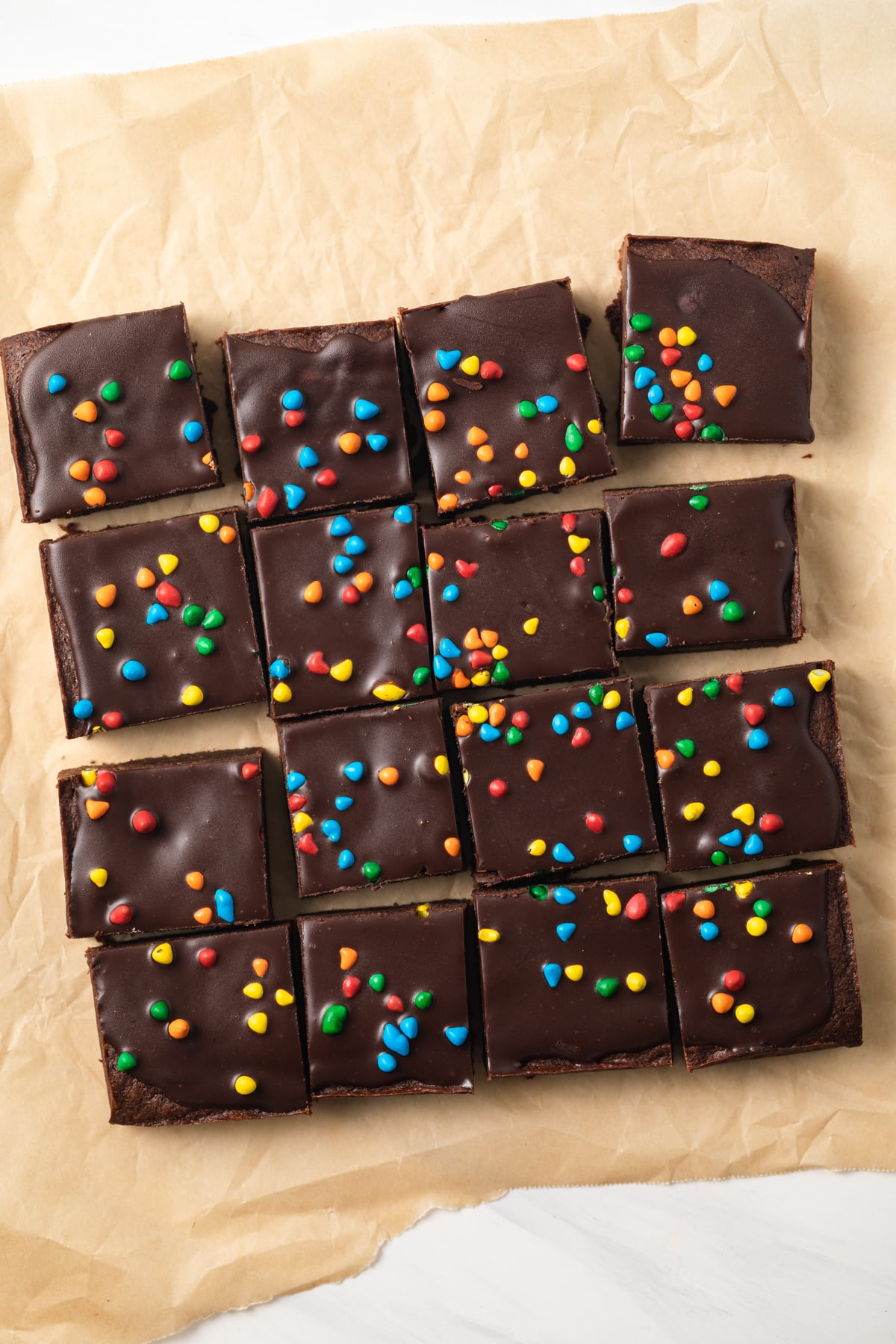 Time for another nostalgic recipe. These cosmic brownies are out-of-this world good, but that's not where they get their name. They are a homemade version of the beloved lunchbox treat – Little Debbie Cosmic Brownies. But these are oh so much better than store bought.
I love a good brownie. My best brownie recipe is still one of my go-tos, but sometimes I like to mix it up. This fall I shared with you my buckeye brownie recipe Layers of creamy peanut butter filling atop a cakey brownie base? So yummy.
Then there are my super decadent snickers brownies. Two of my favorite flavors, brownies and snickers, brought together in one irresistible dessert bar.
But these cosmic brownies? Oh my gosh. I saw them in the grocery store recently and had a flash back to my elementary school lunchroom, where I would be the envy of all my friends when my mom surprised me with a Little Debbie treat in my lunchbox.
I almost bought a box of them. You guys, really I did. I sort of forgot for a moment who I was and what I do. I am a baker, and I don't buy store bought baked goods.
So I went straight home and got to work. After several still delicious but not quite right attempts, I came up with the right recipe.
Rich and chewy, these brownies have a dense and fudge like chocolate brownie base with a rich and creamy chocolate ganache frosting. For flair, they are studded with rainbow candy coated chocolate chips. Trust me, they are as good as they sound.
The trick here is getting the right texture. This brownie is so rich and fudge like – there is nothing cakey about it. So nothing could dry this batter out. I reduced the amount of flour I normally use, added vegetable oil and a little corn syrup in addition to melted butter, used a bit of brown sugar, and an extra egg yolk.
I basically threw every trick in the book at these brownies to make them moist, dense and fudge-like. And it worked! They are almost more like a chocolate tort than a brownie, but trust me, they're delicious.
---
Recipe Snapshot
TASTE: Rich, dense chocolate flavor.
TEXTURE: Smooth and fudge like.
EASE: Super easy!
TIME: Just over a half hour, plus time for chilling.
---
What You'll Need
Ingredients
Butter: Unsalted melted butter provides moisture and richness to the recipe.
Oil: Vegetable oil adds moisture and texture.
Sugar: In addition to adding sweetness, the granulated sugar melts during the baking process. It helps develop the chewy texture, as well. Light brown sugar adds moisture and add complexity of flavor.
Eggs: Two eggs at room temperature will be the main structure of brownies. One additional egg yolk adds to the fugdy texture.
Corn syrup: I don't often use corn syrup, but it does make a difference in texture that is worth using in this recipe. It's also used in the ganache.
Vanilla extract: I make my own with this recipe, but you can use whatever pure extract you have available.
Cocoa Powder: This recipe calls for regular cocoa or Dutch-processed. Cocoa powder assists in creating a rich, chewy texture in the finished dessert.
Flour: The more flour you use, the cakier a brownie will be. This recipe intentionally uses a little less than my other brownie recipes.
Salt: To balance the flavors.
Heavy cream: For the ganache
Chocolate chips: Semi-sweet chocolate chips work well in the ganache.
Rainbow Chips: These Rainbow Crunch Chips are the perfect finishing touch. Feel free to add sprinkles if you can't find the crunch chips.
Recommended Tools
Whisk: You need a sturdy, wire whisk to blend the ingredients in this recipe.
Baking pan: Use a light-colored metal 8×8-inch pan for baking brownies. This color of pan heats slower and more evenly, which results in a better finished product. Additionally, you can easily double this recipe and bake in a 9×13-inch pan for 35-40 minutes.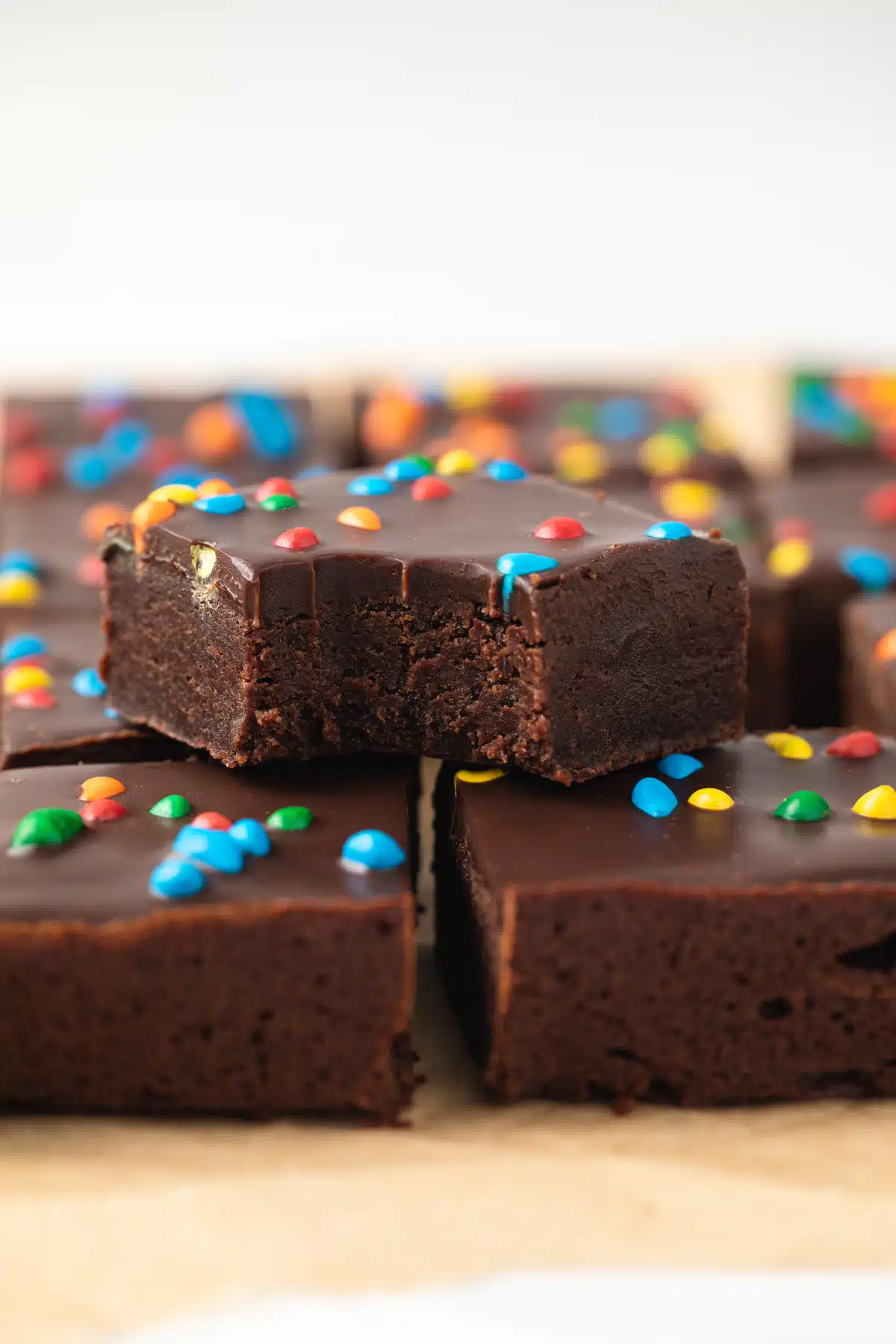 How to Make Homemade Cosmic Brownies
These delicious, absolutely decadent, out-of-this-world cosmic brownies are remarkably easy to make. The only hard part about making them is waiting for them to chill so you can try one.
Make the Brownies
Prepare. Preheat the oven to 350°F. Line an 8-by-8-inch baking pan with parchment or foil and spray with cooking spray.
Combine the wet ingredients. First whisk the melted butter, vegetable oil, and both sugars in a large bowl until well combined. Then add the eggs, egg yolk, corn syrup, and vanilla. Whisk until sugar is dissolved and the mixture is creamy, about 5 minutes.
Add the dry ingredients. Whisk the cocoa powder, flour, and salt in a small bowl. Then whisk the dry mixture into the wet ingredients, until just combined and no visible streaks of dry ingredients remain.
Bake. Transfer the batter to the prepared pan. Spread the batter into an even layer. Bake the brownies for 20 to 25 minutes, until the brownies are set, and a toothpick inserted in the center comes out mostly clean. Let cool completely.
Make the Ganache (see below)
Frost the brownies with the ganache. Pour the chocolate ganache over the brownies. Use an offset spatula to spread the ganache in an even layer, covering the entire top of the brownies. Sprinkle with rainbow chips.
Chill. Refrigerate for 1 to 2 hours, or until the ganache is set, before cutting.
Make the ganache
Heat the cream. Heat the cream in a medium microwave-safe bowl for 30 seconds. Add the corn syrup and stir to combine.
Add chocolate. Stir in the chocolate and let sit for 1 minute. Stir once again to combine.
Melt and combine. Microwave the mixture in 15-second increments until the chocolate is completely melted, smooth, and shiny, stirring between each heating.
Handy tip:
When making the ganache, you can heat and combine in the microwave, or you can heat and combine using a double boiler, which is a method I tend to use when making ganache or melting chocolate.
Tips For Success
When melting the chocolate, make sure to stir frequently to avoid letting it burn.
As tempting as it may be to eat the brownies right after you have frosted them, they'll be better and easier to cut after they have chilled in the fridge for a few hours.
The rainbow crisp chips really make these just like the Little Debbie's ones, but if you can't find them or don't want to order them, you can use any sort of sprinkles or nonpareils for decoration. Or you can leave them off altogether.
Storage & Freezing
Brownies can be stored in an airtight container for 3 days at room temperature and for 1 week in the fridge. These brownies are best served chilled.
Brownies have your heart as they do mine? Then try some of these other delicious recipes!
Did you try this recipe? I would love for you to leave me a 5-star rating or comment. This way, I have a better understanding of which recipes you like and can create more of them.
Please take a moment to follow me on Instagram, Pinterest, Facebook, Youtube or sign up for my free newsletter to never miss the newest recipes and blog updates.
You can also shop my favorite baking tools. Thank you so much for your support!
Printable Recipe