This post may contain affiliate links. Read the full disclosure here.
These cream cheese brownies are made with creamy cheesecake swirled into thick, fudgy brownies. It's a rich, decadent dessert recipe that's super simple to make!
This marbled cheesecake brownie recipe is phenomenal. I mean, nothing beats a classic brownie recipe that's swirled with sweetened cream cheese.
The recipe starts with my fudgy brownies. I used this base recipe for Nutella brownies, double chocolate brownies, and peanut butter brownies. It's an easy recipe that delivers stick-to-your-teeth brownies.
A 4-ingredient cheesecake mixture gets swirled into the brownie batter create a wonderfully tangy contrast to the rich chocolate. I don't think I'll want to eat brownies any other way!
Because of the cheesecake layer, it's very important not to overbake these. If you over bake them, the cream cheese will turn brown and dry out.
Start checking about 5 minutes before they are supposed to be done. For brownies, a toothpick inserted into the center should come out with a few moist crumbs attached.
If the toothpick is clean, the brownies are overbaked.
Here's why this recipe works
Cocoa powder and baking chocolate are used to give the brownies an intense chocolate flavor.
The recipe uses a small amount of flour to ensure the brownies bake up dense and fudgy.
Cheesecake and a small amount of brownie batter are swirled over the top to give a marbling effect.
Recipe ingredients
The great thing about fudgy cheesecake brownies is there aren't any artificial flavors or weird ingredients. Let's go over what you'll need.
Butter: I like to use unsalted sweet cream butter for all my baking. This allows me to control how much salt goes into the recipe.
Chocolate: Use real chocolate, not chocolate chips or melting wafers. Look for pure chocolate in bar form in the baking aisle.
Sugar: I love to use both white and brown sugar but for today's brownies, I chose to use regular granulated sugar. It pairs best with the cheesecake filling.
Eggs: I went with two eggs and one egg yolk. The extra yolk is for added richness and helps make the brownies chewy.
Vanilla extract: As always, use a pure vanilla extract. I prefer to make my own homemade vanilla.
Flour: All-purpose flour works wonderfully for brownies and you don't need much. Less flour equals fudgy brownies.
Cocoa powder: A little unsweetened cocoa powder intensifies the chocolate flavor. Don't leave it out!
Salt: Just a little is needed to balance all the flavors.
Cheesecake batter: A simple cheesecake batter is made with cream cheese, sugar, egg yolk, and vanilla.
---
Equipment needed
There are a few kitchen tools needed to make these amazing cream cheese brownies. Let's see what they are.
Mixing bowls: You need two mixing bowls. One medium-sized for the brownie batter and one small for the cheesecake filling.
Whisk: A large balloon whisk is the only mixing utensil you need.
Silicone spatula: A large silicone spatula is also great for spreading the batter into the pan.
Baking pan: I like to bake these in an 8-inch square baking pan. I haven't tested the recipe in any other pan size.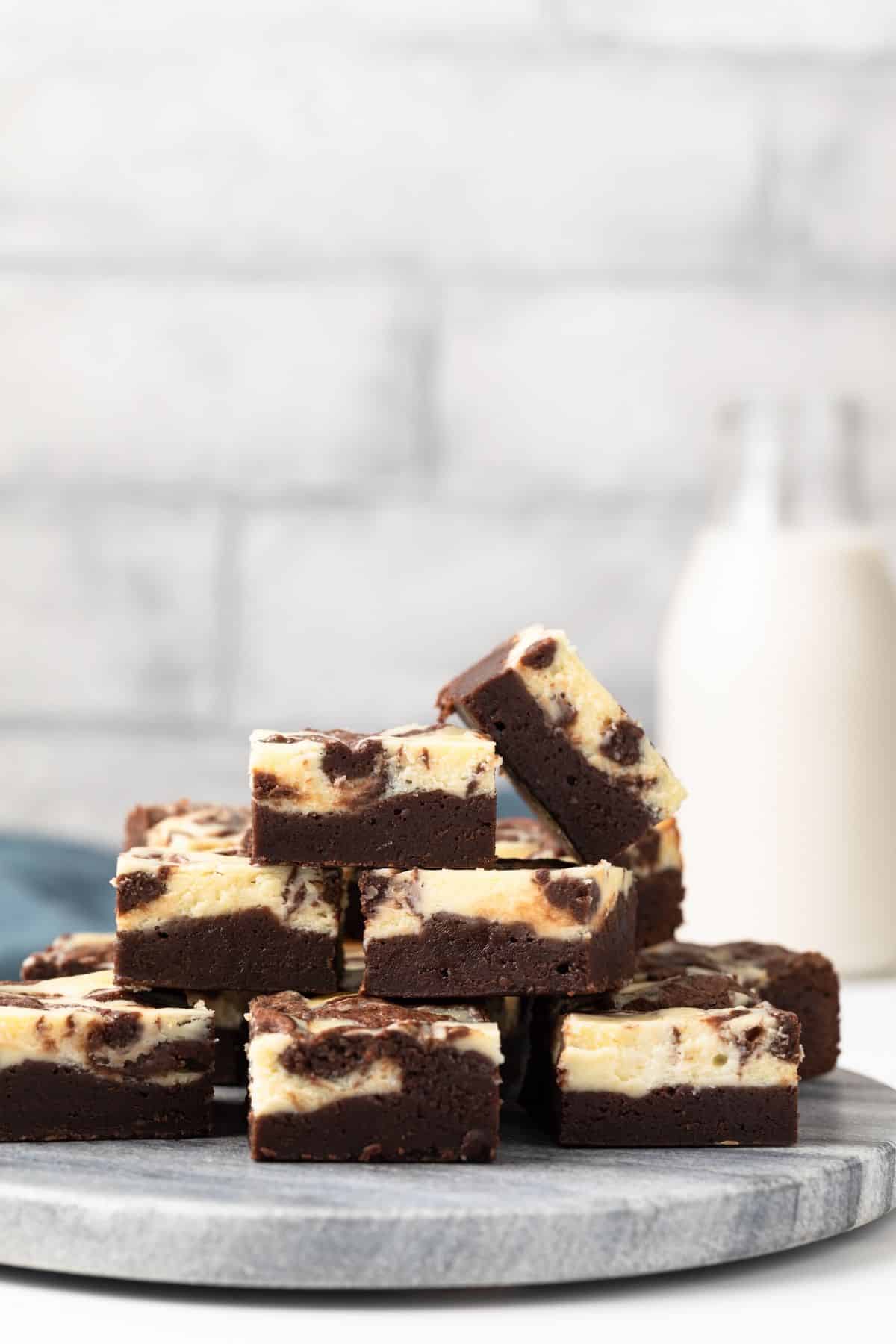 Step-by-step instructions
I'll walk you through how to make cream cheese brownies from scratch. The process is very simple and it's doesn't require a lot of equipment or time.
Start with room temperature ingredients. Set all the cold items out on the counter for 30-45 minutes before you begin making the recipe.
Preheat the oven to 325°F and line an 8-inch baking pan with parchment paper or aluminum foil. Lightly grease the pan and liner.
Step 1: Make the brownie layer
Set a medium heatproof bowl over a pot of barely simmering water. Make sure the bowl isn't touching the water. You only need about 1-inch of water in the pot.
Add the butter and chocolate to the bowl. Keep stirring until the chocolate is melted and the mixture is smooth. The finer the chocolate is chopped, the quicker it will melt.
Remove the bowl from the pot and whisk in the sugar. The warm chocolate mixture will slightly melt the sugar. If the mixture is very warm or hot, allow it to cool slightly. If you try adding the eggs now, they will scramble.
Once the chocolate is slightly cooled, whisk in eggs, egg yolk, and vanilla. The batter will become shiny and smooth.
Use a fine-mesh sieve and sift in the flour, cocoa powder, and salt. Use a silicone spatula to fold everything together until no streaks of dry flour are visible.
Step 2: Make the cheesecake layer
In a small bowl, add cream cheese, sugar, egg yolk, and vanilla. Whisk or stir everything together until very well combined and smooth.
Step 3: Layer and swirl the batters
Reserve about ⅓ cup of the brownie batter and spread the remaining batter into the bottom of the prepared pan. This is a fudgy brownie recipe so the batter will be thick.
Drop spoonfuls of cheesecake batter evenly over the top. Drop spoonfuls of the reserved brownie batter in the open spaces between the cheesecake batter.
Use a sharp knife to swirl the cream cheese and brownie batter together.
Step 4: Bake
Bake the brownies for 35-40 minutes or until a toothpick inserted into the center comes out with only a few moist crumbs attached.
Important tip: Every oven is different. Start checking for doneness about 5 minutes sooner than the recipe calls for. If you overbake the brownies, the cream cheese layer will turn brown and dry out. And the brownie layer won't be as fudgy.
Expert tips
Use real chocolate. Chocolate chips, compound chocolate, and melting wafers don't quite yield the same results as pure chocolate that comes in bar form.
Use full-fat cream cheese that comes in brick form. Lower fat cream cheeses will not give you the same results as full-fat cream cheese. Avoid using anything other than brick-style cream cheese. Anything that comes in a tub will not work!
Measure the flour correctly. Don't scoop the flour out of the bag or container with the measuring cup. Flour compacts and you will end up with too much flour. I have an entire post on how to properly measure flour for the recipes on my site. Please take a moment to read it.
To get clean, neat slices, allow these brownies to chill completely. And wipe the knife clean in between cuts. It's also helpful to run the knife blade under hot water to warm it. Dry it before making a cut.
---
Frequently asked questions
Do you have to refrigerate cream cheese brownies?
These cream cheese brownies will keep for up to 2 days at room temperature or up to 1 week in the refrigerator.
Can I use box brownie mix?
I have not tested this recipe with boxed brownie mix so I'm unsure if it will work the same. I do imagine it would be okay, though.
More recipes you might like
Did you try this recipe? I would love for you to leave me a 5-star rating or comment. This way, I have a better understanding of which recipes you like and can create more of them.
Please take a moment to follow me on Instagram, Pinterest, Facebook, Youtube or sign up for my free newsletter to never miss the newest recipes and blog updates.
You can also shop my favorite baking tools. Thank you so much for your support!