Pastry Cream (Creme Patissiere)
This post may contain affiliate links. Read the full disclosure here.
Make perfect pastry cream every time with this foolproof recipe! It's simple and yields rich, creamy custard every single time. Made without flour so it's 100% gluten-free and can be used for a variety of desserts.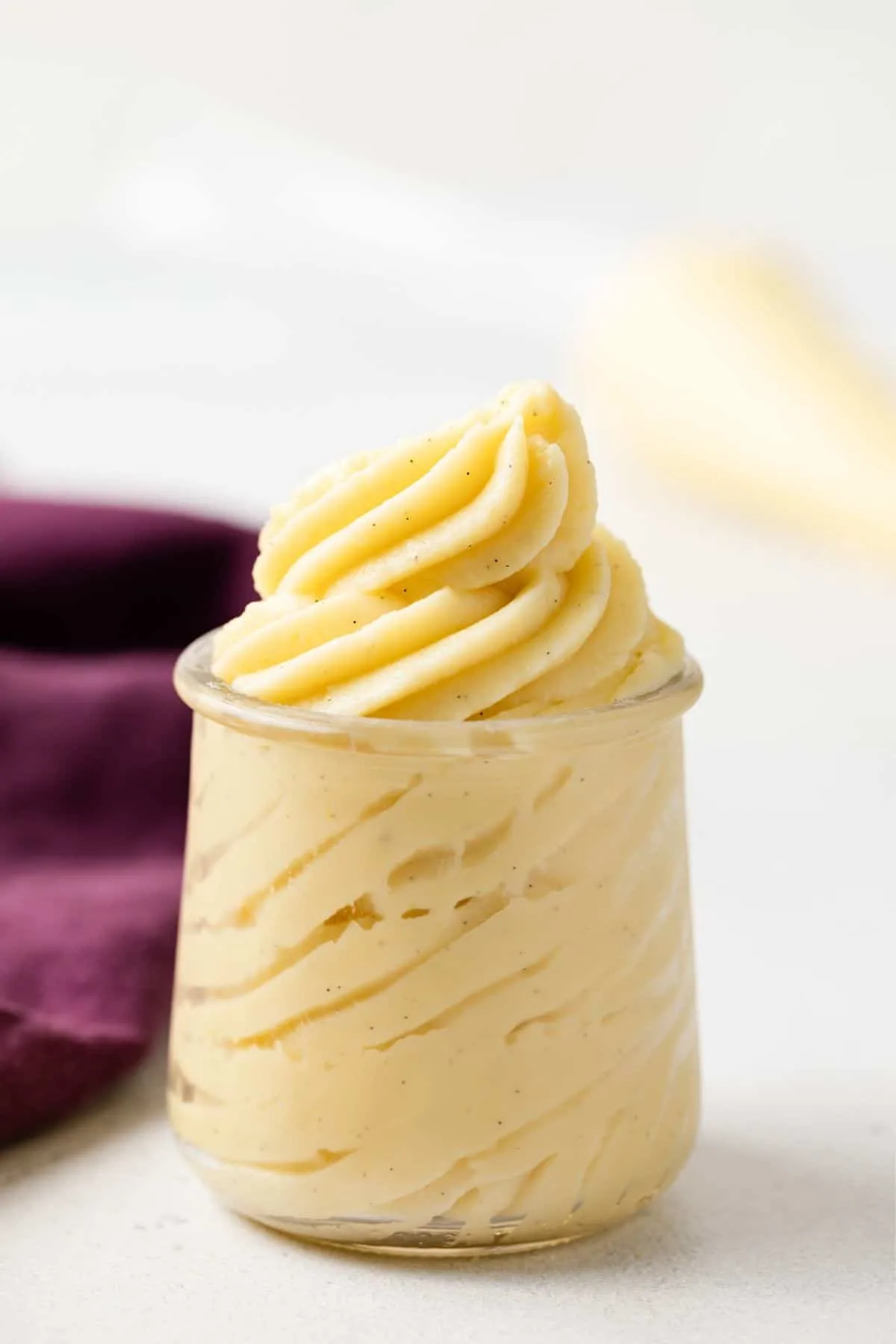 You need just a few staple ingredients and the flavoring of your choice to make bakery-style creme patissiere at home. It's an easy recipe that uses a not so traditional method for thickening the cream. This makes it super simple for the inexperienced baker.
Creme patissiere, commonly known as pastry cream, is a rich creamy custard. It's made with sugar, milk, eggs, and a thickener such as flour, cornstarch, or a combination of both.
My recipe uses only cornstarch as a thickener. This method is less traditional but is guaranteed to work every single time.
There are a variety of ways to flavor the cream. I kept it simple and used vanilla bean paste but you can use extracts, liqueurs, chocolate, espresso/coffee powder, or fruit. I've included recipe variations in the notes of the recipe.
You can make the cream lighter by folding in whipped cream once it's thickened and cooled. This is called diplomat cream.
How to use pastry cream?
Pastry cream is a filling. It has a smooth and creamy texture that is thick enough to remain stable at room temperature.
It's commonly used to fill pastries made with pâte à choux (French pastry dough). Profiteroles, cream puffs, and eclairs are few common examples. But you can also use it to fill cakes and fruit tarts. The possibilities really are endless. Try it in boston cream pie!
Is creme patissiere the same as pudding?
Pastry cream is similar to pudding/custard in that the cooking process is the same. Both are cooked on the stovetop, stirring constantly to ensure the egg doesn't scramble and curdle the cream.
However, the cream is much thicker than pudding. This means it can be used in more ways and holds up longer at room temperature.
---
Ingredients
Here's what you need to make my pastry filling recipe. Nothing special, just basic pantry ingredients.
Sugar: Use regular granulated sugar. There's just enough to make the cream sweet without it being cloying.
Cornstarch: Using corn starch instead of flour is the cheater's way. But, it always works and tastes no different than the traditional methods.
Milk: Use only whole milk. You need the richness that full-fat milk offers.
Egg yolks: You only need the yolks. Save the whites to make macarons or macaroons.
Butter: Unsalted butter is added to give the cream a creamier consistency.
Vanilla: I prefer to use vanilla bean paste instead of soaking a vanilla bean pod in the milk. Pure vanilla extract can also be used. Avoid anything imitation!
Can I use flour instead of cornstarch?
Traditionally, flour is the thickener used for creme patissiere but it takes practice and experience to get good results every time. However, if you wish to try it, you will need 3 tablespoons of flour to replace every 1 tablespoon of cornstarch.
Keep in mind, I have only made this recipe with cornstarch so I can't guarantee how it will turn out.
Can I make dairy-free pastry cream?
You can turn this into a dairy-free version by replacing the milk with your favorite dairy-free alternative. And vegan butter can be used in place of regular butter.
These changes will affect the overall richness of the custard.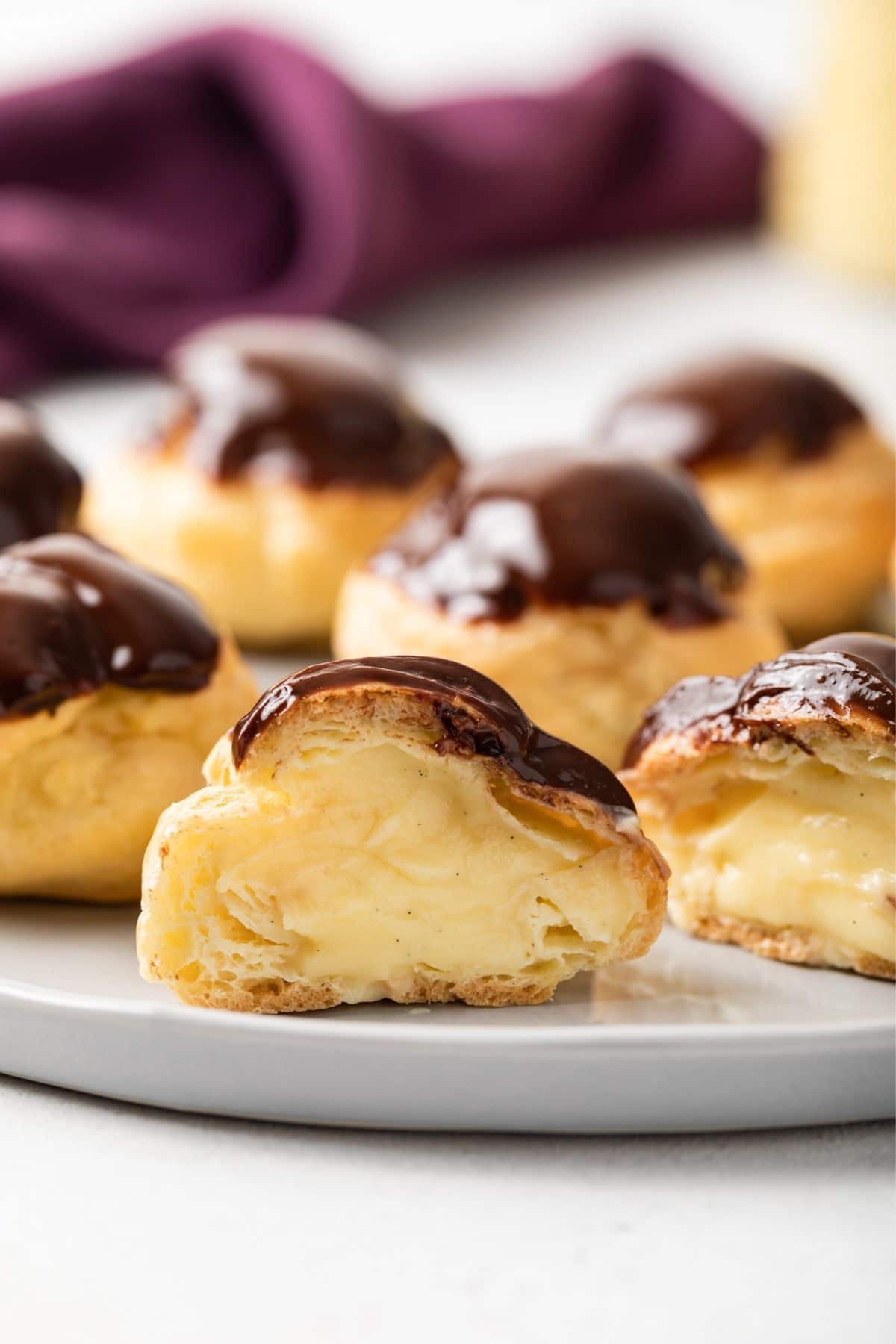 Tools needed
Heavy bottom saucepan: Choose a saucepan with a heavy bottom. Thin bottomed pots tend to develop hot spots that can burn the custard as it cooks.
Mixing bowls: You'll need a small mixing bowl for the wet ingredients and another medium bowl for the cooked custard.
Whisk: A large balloon whisk works perfectly.
Fine-mesh sieve: I prefer to press the cooked custard through a fine-mesh sieve to remove any bits of egg that may have scrambled. If your pastry filling looks perfectly smooth, you can skip this step of the recipe.
---
How to make pastry cream
Combine the cornstarch and sugar in a pot.
Whisk the milk and egg yolks together then add to the sugar mixture along with the butter.
Cook over medium heat, whisking constantly until just boiling and thickened.
Remove from the heat and whisk in the vanilla.
Press through a sieve into a bowl. Cover with plastic wrap and refrigerate.
How to tell if creme patissiere is done?
In order to get a thick custard that won't turn soupy once cooled, you must let it get hot enough. You will notice a few bubbles burst through the surface once it has reached the correct temperature. And the custard will be thick and glossy.
You can also check for doneness with an instant-read thermometer. Once the custard reaches 200°F, it is ready to come off the heat.
How to store pastry cream
It's best to use the filling within 24 hours of making it. However, you can keep it stored for up to 2 days. Cover the custard with plastic wrap touching the surface to prevent a skin from forming and keep it refrigerated.
If I know I'm not going to use the custard within a day, I'll add a second layer of plastic wrap. This is to make sure the cream doesn't dry out.
My creme patissiere is too thick after refrigerating it.
It is normal for the custard to become congealed or rubbery after refrigeration.
When you are ready to use it, simply let it sit at room temperature for 30-45 minutes. Then whisk it until it is smooth enough to pipe.
Never let the custard sit at room temperature longer than 4 hours.
Did you try this recipe? I would love for you to leave me a 5-star rating or comment. This way, I have a better understanding of which recipes you like and can create more of them.
Please take a moment to follow me on Instagram, Pinterest, Facebook, Youtube or sign up for my free newsletter to never miss the newest recipes and blog updates.
You can also shop my favorite baking tools. Thank you so much for your support!