This post may contain affiliate links. Read the full disclosure here.
Cream Puffs, with their crispy golden brown exterior and sweet whipped cream filling, add a glamorous French touch to any meal. This cream puff recipe uses basic pantry ingredients, such as flour, water, butter, and eggs to make a dessert that is anything but basic. Your family and friends are sure to say "Merci!"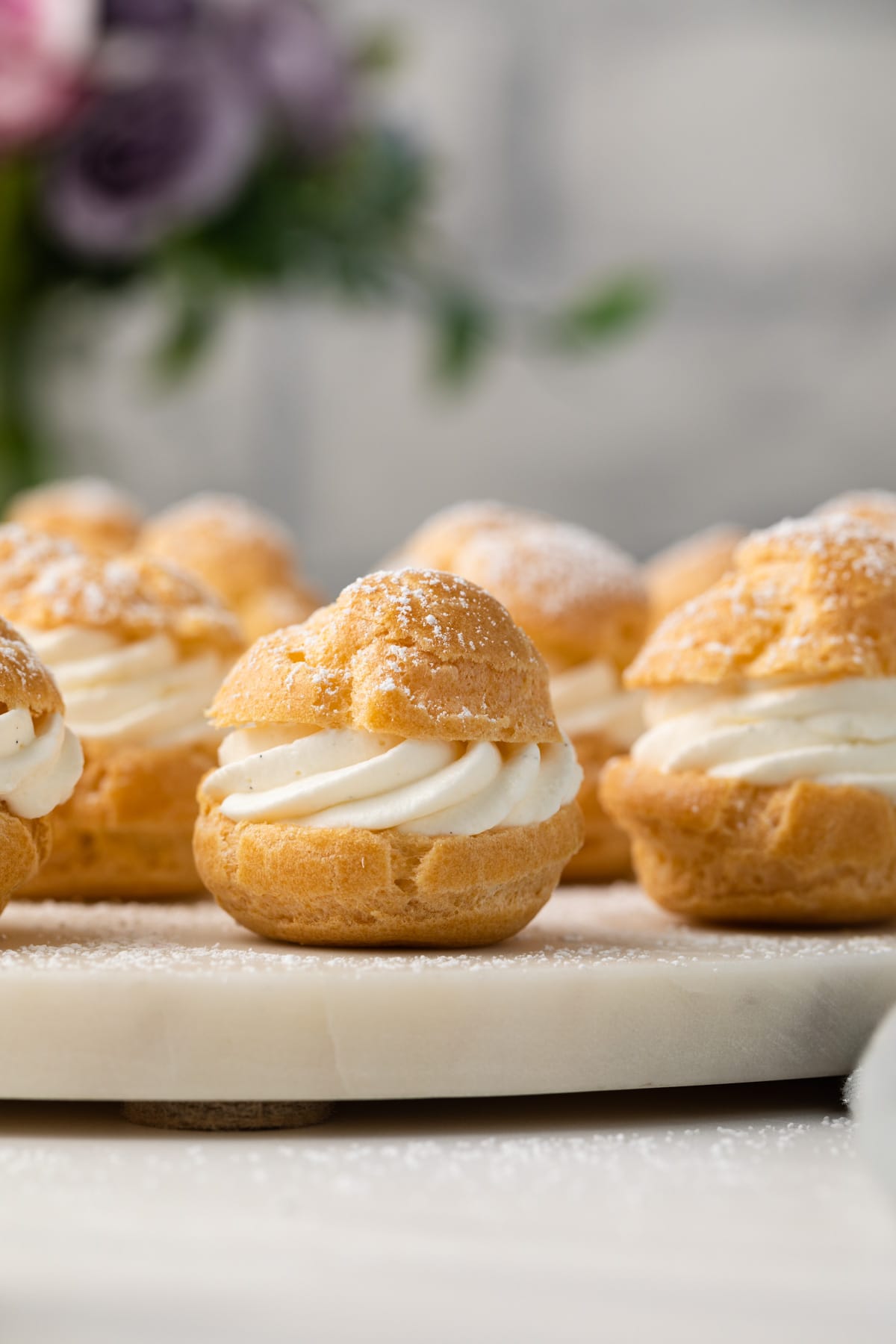 I am a sucker for French desserts. This cream puff recipe uses a fancy-sounding but easy pate a choux (pronounced "shoo") for the pastry shells, and standard whipped cream for the filling.
Pate a choux is the foundation for cream puffs, profiteroles (which have ice cream or pastry cream as the cream puff filling), and chocolate eclairs (elongated cream puff shells with a pastry cream filling).
There is a delicious savory direction you can take also – yummy appetizers like gougères (cheese puffs) will wow at your next cocktail party. If you have never had gougères, try my bacon garlic ones – so much amazing flavor.
Why This Recipe Works
This cream puff recipe is made made by first piping choux pastry dough on a baking sheet and cooking it to a golden brown. Once cooled, the shells are filled with a sweetened whipped cream. You can use my stabilized whipped cream if making in advance.

The traditional way of making these uses only water. There are other recipes which use half milk and half water, which gives the final pastry a rich golden color. But we're sticking with water.

Instead of using a rising agent, the dough uses steam released during cooking to cause the pastry to puff up.
They are truly an incredible treat that's light and perfect for special occasions. Or you could make them for yourself.
What You'll Need
Ingredients
Here's what you need to make this classic cream puff recipe and cream puff filling recipe. Nothing special, just simple pantry ingredients.
Water: Water is traditional.

You can use half water and half whole milk. The milk will give the final pastry a richer color, but don't use only milk. Water creates the steam which makes the pastry rise.


Butter: Unsalted butter is best. I recommend cutting it into small pieces so it will melt quickly once heated.

You can make this cream puff recipe dairy-free by replacing the regular butter with vegan butter. I haven't used this method or tested it so I can't guarantee it.


Salt: Add small amount of salt is for flavor.

Flour: Make sure to use unbleached all-purpose flour and sift it well. Sifting will remove any large clumps making it easier to mix thoroughly.

Eggs: Make sure the eggs are at room temperature. This will make them easier to mix into the dough.

Heavy Cream: For the whipped cream.

Vanilla Paste: To add flavor to the whipped cream. You can substitute with vanilla extract if you prefer.

Confectioners' Sugar: I always use confectioners' sugar to sweetened whipped cream as it blends in smoothly and won't leave any crunch, as granulated sugar might.
Recommended tools
Heavy bottom saucepan: I prefer to use a nonstick pan for easy cleanup but stainless steel is best for beginners

Wooden spoon: All you need for mixing is a wooden spoon.

Piping bag with tip: You need a large pastry bag to pipe the pastry and a Wilton 1A piping tip. If you don't have a pastry bag, you can use a gallon-sized plastic bag, with about ¾ inch of the corner cut off.

Scoop: I prefer to scoop my dough for cream puffs, but you can use a large spoon. For this, you need a 1.5 tablespoon scoop.
How to Make Cream Puffs
Put water (or milk/water mix if using), butter, and salt in the sauce pan and bring to a boil.

Add the flour and stir vigorously with a wooden spoon. Cook for 5 minutes while stirring constantly until the paste forms a ball. The dough will easily pull away from the sides of the pot. A film will be visible on the bottom of the pot.

Remove from heat and allow to cool slightly.

Stir in the eggs in three additions, mixing fully after each addition. It is important that you mix eggs before, and do not add the eggs one at a time. Cool completely – for 30 minutes – before using it.

Transfer dough to the pastry bag or plastic bag, if using, and pipe or scoop into 2 inch mounds, then bake until golden brown and firm.
Mix the heavy cream, vanilla and confectioners' sugar in a metal mixing bowl and chill in the fridge for 20 minutes.

When chilled, whip the cream with a mixer until stiff peaks form.

Split the pastry shells in half and pipe whipped cream into the bottom half, then place the top half of shell on the cream.

Dust with confectioners' sugar, serve, and wait for the compliments.
Tips for Success
Make cream in advance. Mix the heavy cream, vanilla and sugar while the pastry shells are cooking. Allow the mix to chill in fridge so it is ready to whip while the shells are cooling. My stabilized whipped cream recipe can also be used if you want to make the whipped cream in advance.

Pastry bag. If you don't have a pasty bag, you can still make this cream puff recipe! Use a gallon plastic bag with the corner cut off as an alternative. It's best to have a pastry tip, but it will work even if you don't have one. Check out this video for details.
Recipe FAQs
How Do You Fix Runny Dough?
Runny cream puff dough happens when you don't cook the dough long enough, or you add too much egg.

Make sure to cook the dough after adding the flour until a film forms at the bottom of the saucepan. This can take up to 5 minutes. If you're new to making choux, use a stainless steel pot because the film won't form on a nonstick pot.

You may not need to add all the eggs. The eggs are added in 3 additions and you only use as much as you need to get a shiny dough that is the right consistency. The batter should fall off the spoon in a v-shaped ribbon.

Why Did My Cream Puffs Not Rise?
First, allow the water/flour mixture to cool before adding the eggs. If it's too warm, it will cook the eggs and the dough won't rise in the oven.

Next, make sure not to add too much egg. You only need enough to get the dough the correct consistency.

Finally, DO NOT open the oven as the shells bake. This will release the steam and cause them to deflate.
How Do You Keep Cream Puff Shells From Getting Soggy
Immediately upon removing the pastries from the oven, use a skewer to poke a hole all the way through. This will allow steam to escape and help prevent the pastries from becoming soggy.

You can also place the skewered pastries back into a warm (but off) oven, and let them dry out for 5-10 minutes. This will keep them crisp.
---
Storage & Freezing
Store prepared cream puff dough for later use. Allow the dough to cool to room temperature. Cover it tightly with plastic wrap touching the surface and refrigerate for up to 3 days.
Baked and unfilled shells can be stored in an airtight container at room temperature for up to 1 day or frozen for up to 2 months.
Store the filled shells in an airtight container in the refrigerator for up to 2 days – but they really do taste best when filled shortly before serving.
Did you try this recipe? I would love for you to leave me a 5-star rating or comment. This way, I have a better understanding of which recipes you like and can create more of them.
Please take a moment to follow me on Instagram, Pinterest, Facebook, Youtube or sign up for my free newsletter to never miss the newest recipes and blog updates.
You can also shop my favorite baking tools. Thank you so much for your support!